Every year for as long as I can remember, since way back in my childhoodI always went to Union Square in San Francisco for "Black Friday". My Grand parents, (both dead now) used to take me. It was our SPECIAL time together, and I looked forward to it for months. I would call weeks ahead of time and wonder on the phone what Tiffani's might do, or Saks Fifth Avenue might have new mechanics.
Black Friday was about hearing the bells of the Salvation Army Volunteers collection donations at every corner around Union square, kneeling with my Gramps at the corner of Geary and to hear the Cable Car past, riding up the elevators at St. Francis Hotel, and having tea at Mark Hopkins surrounded by the Ginger Bread houses, it was about seeing the pets in the Macy's SPCA windows, about standing as close to Santa as possible to see if one could overhear the little one's Christmas wishes. And it was about service, about helping out ad serving lunch at Glide Memorial Church.
It was about windows shopping, about people watching, and about being with my Grandparents whom I loved dearly. This Black Friday I was too sick to drive to SF Union Square to carry on the tradition, now having moved to the little northern California town of Chico, about 3 good hours north of SF.
So I did the next best thing, to keep the memory of my Grandparents and the tradition alive. My first stop was St. John's church, (in SF it was always Grace Cathedral, where Gramps and I would kneel at the alter and give thanks, in later years it was Nana and I kneeling at the AIDS Memorial Alter remember those that we had lost that year, we would name them and bless them one by one, and then go around the corner to the stained glass window of the Virgin Mary, and light a candle to the memory of each person we lost that year. But Nana always started with Gramps, she lost him year after year I guess. This year I started at St. John's church here in Chico, where I kneeled at the alter and named off the people that I had lost this year, and especially remembered my special and dear old friend Barbara who died about 6 weeks ago, then I lit a candle for my Gramps, Raymond Roberts, and said a prayer to God, before wishing him a happy black Friday, and as many blessings as the good lord could spare!
Next, still on my knees at the alter, I lit a candle in memory of my Nana, Margret Roberts, and said a prayer to God, giving thanks for allowing her in my life, and telling him of all the joy she had brought me, and reminding him of some of my "happy thoughts and memories" of her, and asking him to bless her too, but I mean Alot dear Lord, I mean ALOT!" For she was my special person, and this was "our" day. I asked God if he could do me a favor, and squeeze her hand and tell her how much I loved her, as she always did after we remembered those we had lost, Its been a couple of years now, but I still have a huge void in my life that she used to fill. I won't lie, I teared up at this point, and I knew that my Nana was a special blessing in my life, and something that would never be able to be replaced, and though the pain of her death at 98 has lessened I still feel it!
Then I said another prayer for a friend that had recently died, Barbara Cole, who Saturday night, some 6 weeks after her death, Facebook had decided to let me know that she had accepted my Friendship request, and marked me as "Family". Over that I had a good cry, (thanks FACEBOOK, now fix your software!) I wanted to offer up a prayer in her memory, and thank the Good Lord for bringing her into my life, and for the time we had together. And I thanked the dear lord for finally bringing her home to end her suffering, she had a lot of medical issues, and towards the end was in horrible chronic pain. I thanked God too that he turn he gently as she kicked back in her recliner and watched TV.
From there I went down to the Old Town of Chico to check out the Christmas windows, just like my family did in our "hometown's" Union Square.
I had already decided that next weekend when I was feeling better I would drive to SF and do my annual picture taking and visit the windows at Union Square, but this Black Friday I just couldn't sit at home, sick or not, I had to get out and see some "Christmas", and as I have done since I can remember, give thanks and spend the day with my Grandparents, Gramps and Nana. Somehow it just felt right to be walking around a quaint old town like Chico, looking at Christmas windows. It is slower, the people friendly, and the windows quainter than SF.
Well old town Chico is not SF's Union Square, but there is a certain charm, and it does have a sense of humor.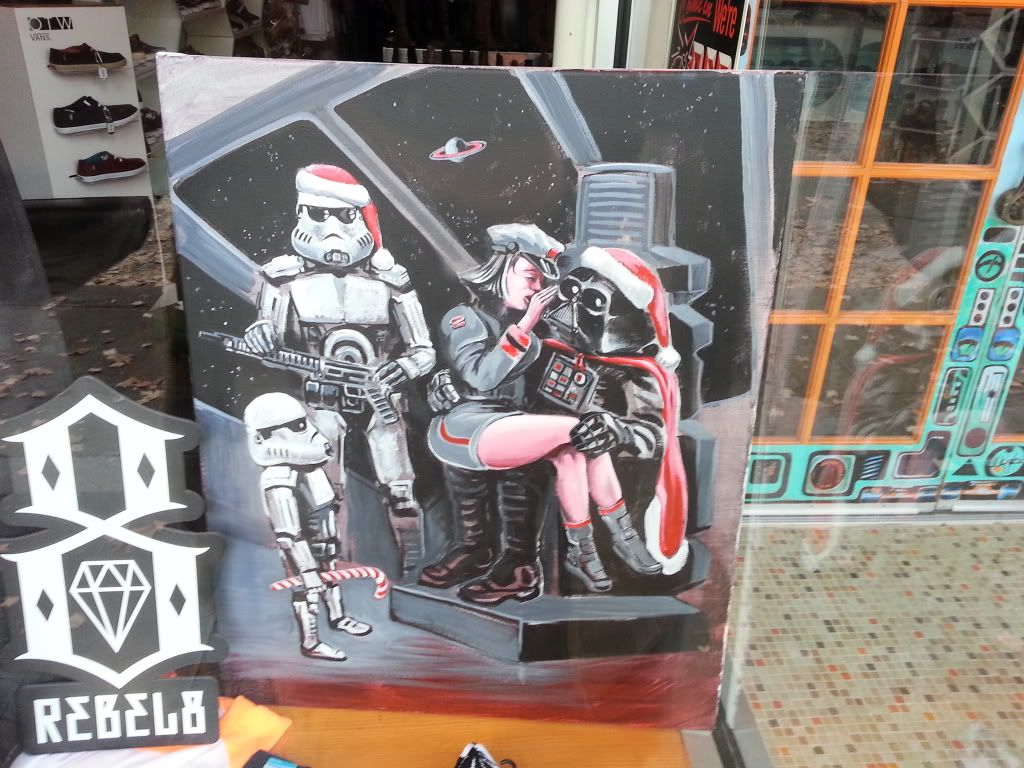 A lot of the shops sit empty, some didn't even decorate their windows for Christmas,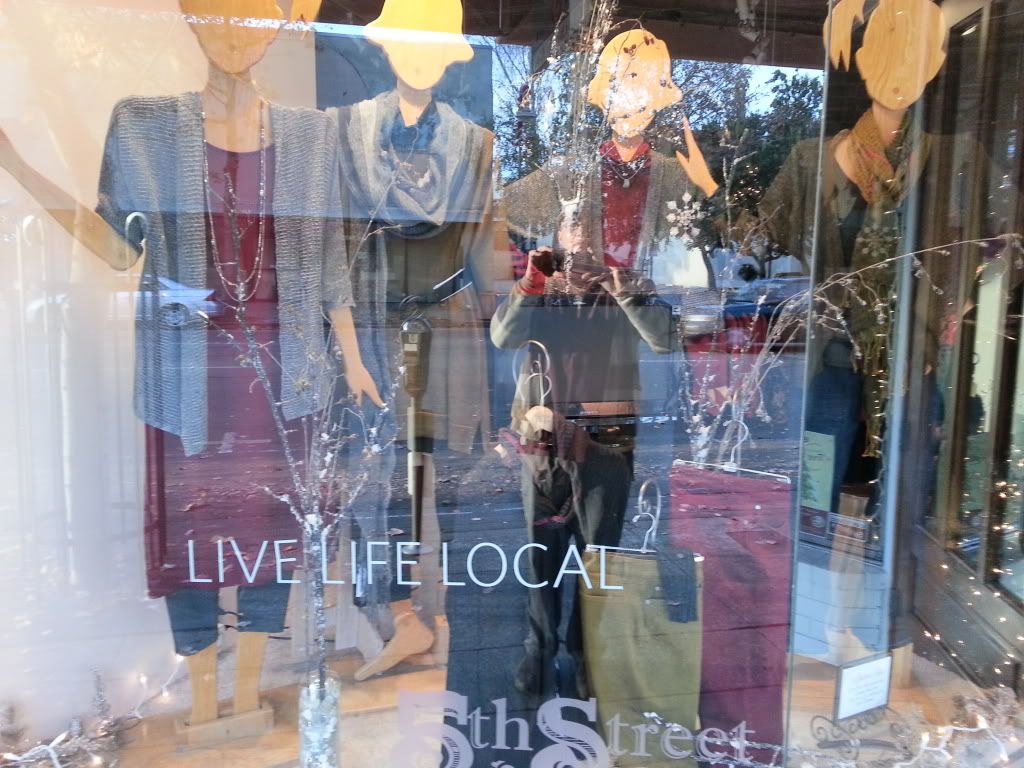 Some threw up some lights and called it a day,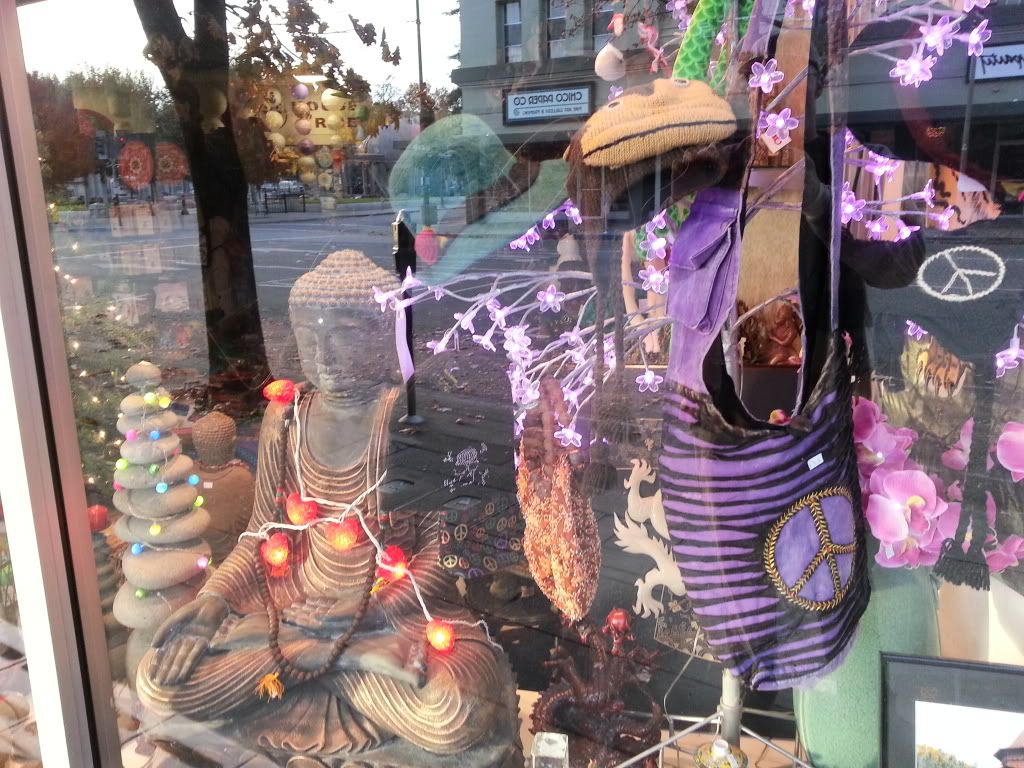 but some went all out and did some interesting things.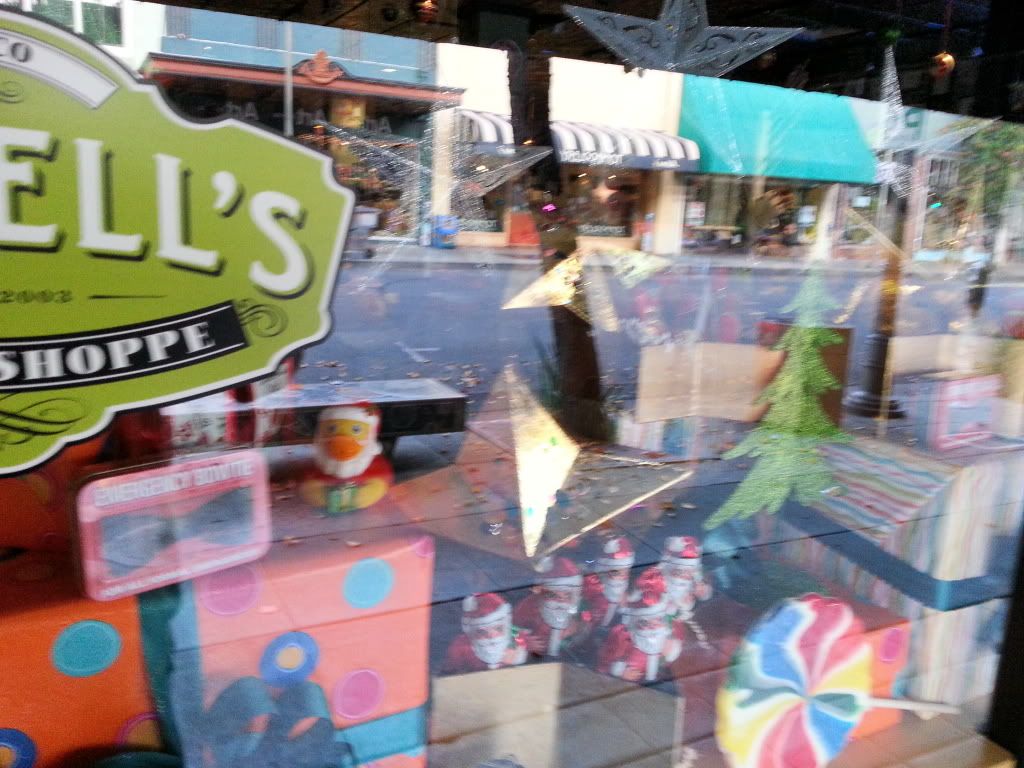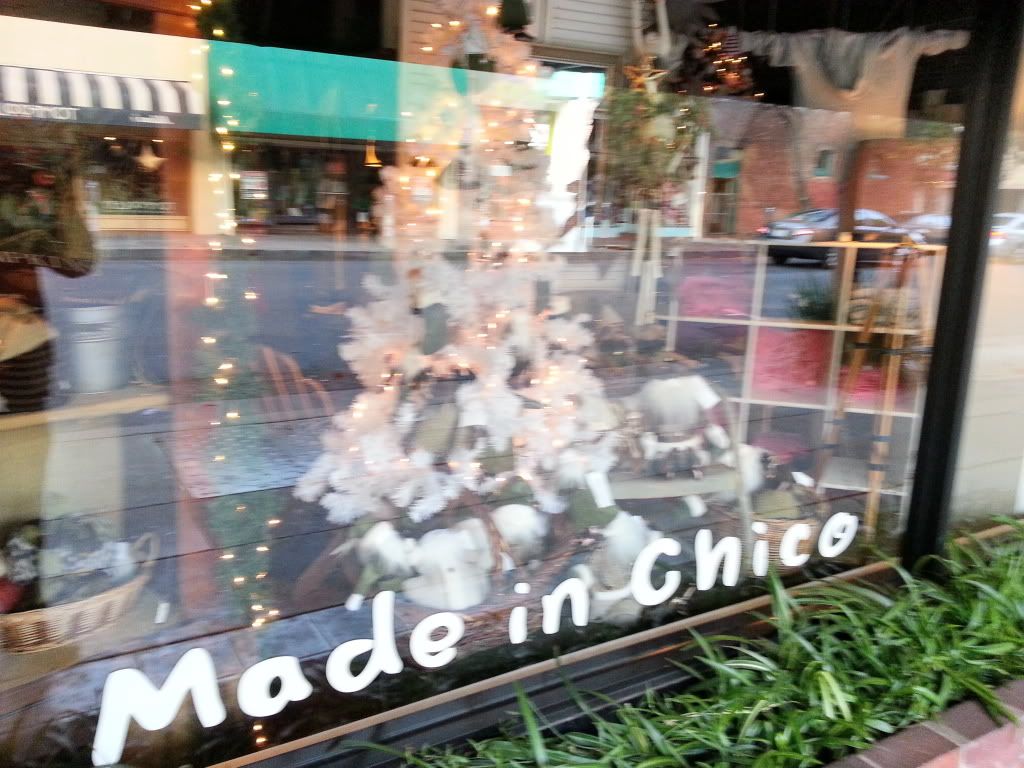 There was no denying the God Lord's work was the most beautiful of all. The weather was perfect, the trees shone in wonderful colors,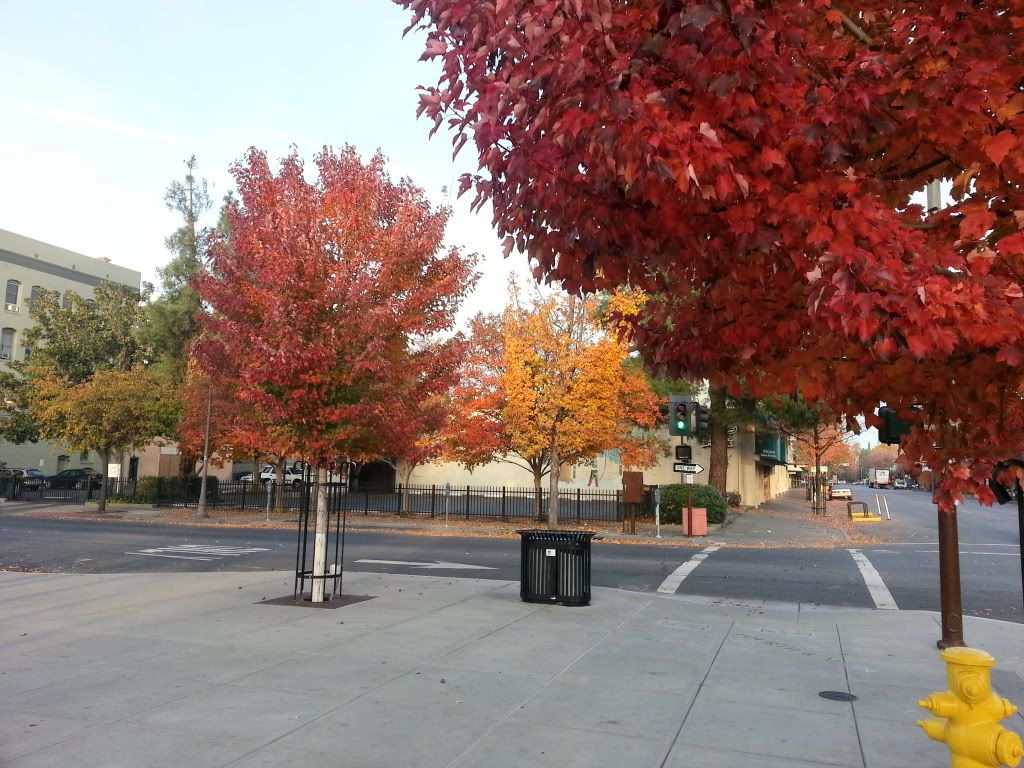 I looked and looked, but the the only thing close to Macy's SPCA windows were these: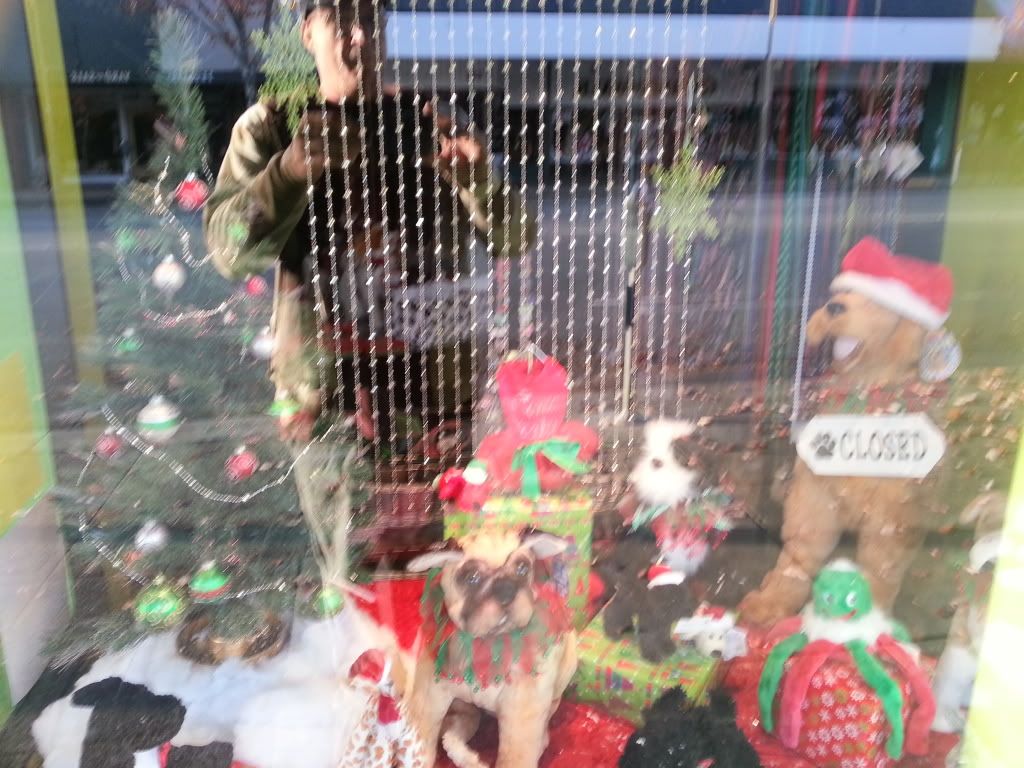 Well next weekend I will do SF's Union Square, but Chico's Old Downtown was a nice fillin, when Location and Health were mitigating factors in carrying out the long standing tradition!
3:12 PM PT: WOW - what an honor to be posted to the Community Spotlight again! I am always amazed that people even read what i write, and more amazed that people like it.
Today I am going to Nursery to see about buying a LIVING, potted Christmas tree that I can plant in the back yard after the season has past. I think it will be a new tradition, as I line the back fence with "Christmas Trees". I have always felt it was a waste to kill a tree to decorate one's home for a little over a month, then toss it to the curb unwanted and unloved after the season had past. So I am going to "find me" a living tree and make this a new living tradition, as I start anew in my new Hometown.