This is Alyssa.
If you read my diaries you might remember Alyssa from this account.
Alyssa also used to write Haiti diaries here on Daily Kos as allie123. She's had multiple sclerosis for many years now, and eventually it got bad enough that she couldn't write them any more. But she can still tweet! Now she is Occupy Oakland's unofficial official tweeter.
Alyssa needs medication that costs $30,000 a year to allow her to keep going strong. Her insurance company, PacificCare, is supposed to handle that.
This is PacificCare.
This is how PacificCare operates.

California regulators are seeking fines of up to $9.9 billion from health insurer PacifiCare over allegations that it repeatedly mismanaged medical claims, lost thousands of patient documents, failed to pay doctors what they were owed and ignored calls to fix the problems.

In court filings and other documents, the California Department of Insurance says PacifiCare violated state law nearly 1 million times from 2006 to 2008
This is PacificCare's profit for the year:
$5,000,000,000
(that's right, billion).
Despite (or because of) this, PacificCare has multiple assholes in it. They play the same game with Alyssa every three months, denying her a prescription refill, hoping she'll give up in frustration. After days of persistence on Alyssa's part, calling and holding, calling and holding, they ultimately give her what she is entitled to by law -- her medicine. And they've been playing this cruel game for years.
Below is Alyssa's latest story. It took place over the span of about four hours two days ago, and like all of Alyssa's stories nowdays, it is a tale told in tweets.
Woven through it, though, is a much bigger lesson than simply one of persistence. It a lesson of why health insurance companies like those that exist in America are a plague on society, a horrible cancer on the economy, a pyschological nightmare to millions of Americans, and the real death panel to hundreds of thousands, if not millions, of others. And why they need to go away.
Let us begin.

Alyssa @alyssa011968
yesterday I spent over 10 mins on hold w/specialty pharmacy for Avonex http://www.nationalmssociety.org/... -- then gave up. I'm trying again on hold 8min now

Alyssa @alyssa011968
I know insurance companies (CrimeFamilies) have caused a lot of people not to take it. Saves insurer money #ObamaCare gives them more power

Alyssa @alyssa011968
No controversy in med com about the med. I don't know of a neurologist who doesn't recommend treatment 2 slow multiple sclerosis progression

Alyssa @alyssa011968
I've been on hold for 12 minutes now. And this is just the beginning of process of trying to get prescriptions refilled

Alyssa @alyssa011968
ok I finally got thru. I'm making them ship it overnight just to fuck w/them.

Alyssa @alyssa011968
ok now the asshole says insurance won't cover it. refused to give his name and Say's have to wait 10 min on hold to speak 2 his sup.

Alyssa @alyssa011968
I should have known it was too easy at first.

Alyssa @alyssa011968
So I've been on phone over 22 minutes today, 10 min yesterday. Annoying but no big deal when not working (I'm sure AT&T appreciates it)

Alyssa @alyssa011968
Now supervisor said he see's that it is covered but has to figure out why not going thru and will call back. All while I don't get my treatmnt

Alyssa @alyssa011968
Now the pharmacy is just one of 3 or 4 places that has to authorize & reauthorize every 3months even though need it forever since no cure 4 ms

Alyssa @alyssa011968
When I was working this was a lot 2 deal w/esp considering Pacific Care denies everything at 1st hoping people 2 sick or sick of them 2 appeal
That's right. If you goal is to squeeze every last dollar out of your "customers" then there is no sense in providing them with the medicine they need if it costs more than the premiums they pay. Better to hope they continue to pay their premiums while you deny them treatment and tie them up in endless appeals. Or better yet that they drop their coverage. Or better yet that they just up and die so they can't sue you at some point in the future.
Alyssa @alyssa011968
And MS symptoms change, sometimes frequently. So get prescribed diff med 2 treat diff symptom & have 2 fight 4 everyone 2 get covered

Alyssa @alyssa011968
And you guys, I've had ms since 4/2000 and have been prescribed Avonex since then. So almost 13 years of this same fight.

Alyssa @alyssa011968
I can't tell you how many times I've been reassured that the "problem" is solved and won't have problem getting it again - but it never ends

Alyssa @alyssa011968
The thing that pisses me off the most is that ms not of progressed so much, if I had gotten treatment reg-it is supposed2 slow progression

Alyssa @alyssa011968
AS PacificCare denies treatment legally required to give, I wold like to know @whitehouse where are the riot police now?
Alyssa was arrested twice for absolutely no reason during Occupy protests, once on October 25th, 2011 and once on January 28th, 2012. But when insurance companies kill people because they deny claims where are those who motto is 'protect and serve' to either protect the people or serve them? Where are the federal and state regulators?
Alyssa @alyssa011968
insurance claims i'm moving in2 different phase of coverage frm dough-nut hole to catastrophic. I was told to call insurance co. here we go.

Alyssa @alyssa011968
So now I get to call Pacific Care.usual pattern is after waste bunch of time w/them they tell me2 call medical grp that tells me 2 call pharmacy

Alyssa @alyssa011968
The thing is what about the people who are too sick to do this? Or already struggling to manage ms while maintaining full-time employment?

Alyssa @alyssa011968
thing is w/ multiple sclerosis have to choose what I do/ how spend energy cuz don't have that much. How much should go 2 fight insurance?

Alyssa @alyssa011968
When I talked w/CA insurance reg agency &they said insurance co have 2 cover this. The women told me people w/cancer get denied chemo regularly
The answer to Alyssa's and my question as to where the people are who are supposed to prevent this insanity is that they are nowhere to be found. If anything they are protecting the insurance company executives who make the decisions that make people suffer and die so that their profit margins can go up.
What possible sense does a health care system that creates massive incentives for those at the top to kill the people it is allegedly trying to serve make? Why does no one understand, even otherwise sensible progressives, let alone wingnuts, that profit and health care are a deadly combination?
In every other industrialized nation on this planet health care functions reasonably and more equitably -- and less expensively -- without a profit motive.

Alyssa @alyssa011968
back on hold for Pacific Care. I know these tweets r somewhat boring but this is what I go thru all the time. Rep just got on phone.

Alyssa @alyssa011968
Welcome to ObamaCare. Only reason for profit insurance companies exist is to deny, delay treatment. Lets see how long they delay this time

Alyssa @alyssa011968
I"m on hold. And remember I've been taking this med for over 12 yrs!

Alyssa @alyssa011968
with all pacific care's "incompetence," they have no trouble taking $424.83 premium out of check every month +medicare takes $125

Alyssa @alyssa011968
phone over 10 min w/Pacific Care.O hold again. Told don't know what happened? 12yrs of this shit & Obama calls riot police on me when I protest

Alyssa @alyssa011968
Right now people to sick to do this shit are being denied medicine/like chemo that could save their lives.

Alyssa @alyssa011968
Insurance say's I have to pay since I've reached the catastrophic level. WTF. This is bs. Now I'm on hold again. Asked to speak to sup.

Alyssa @alyssa011968
I hung up on the Pacific Care supervisor. couldn't stand it anymore. Now this is normal. may not seem like big deal but it wears on u.

Alyssa @alyssa011968
And when you are really sick you just can't do it. Now I just have to call my Doc after lunch.

Alyssa @alyssa011968
I think I'm going to let Pacific Care win this one. But just know when CEO gets mills$ bonus, @ least $2000 came from denying me treatment
When I saw this I tweeted her back: "WTF???"
Alyssa @alyssa011968
@jpmassar I just started feeling better and don't feel like spending the time calling dr and insurance to deal w/it.

Alyssa @alyssa011968
@jpmassar And I know I'm going to get real sick when I take it cuz of the break in treatment. But I hate that they r allowed 2 do this.

Alyssa @alyssa011968
And as ObamaCare gets into full force, insurance companies will grow much stronger and it will only get worse.
Yes!! PacificCare wins! Time to Celebrate!
Wait. Hold on! What? That isn't how the story is supposed to end... The heroine slays the dragon one more time. The greedy corporate executives are forced to cough up a minute fraction of their profits for the greater good, and all of us reading this far get to feel that the world is just a tad better than it was a few minutes ago.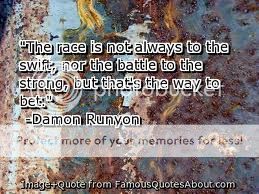 Except this time the race did go to the swifter, the battle to the stronger... or at least the more diabolical.
The battle to create a health care system that does not depend on profit -- call it single payer, call it Medicare, call it -- GASP! -- socialized medicine, is just beginning anew, rising up from its ashes at the birth of Obamacare. As Alyssa tweets, Obamacare still leaves us all at the mercy of insurance companies. It will help many people, and I'm positive millions of lives will be saved because it will go into effect. But we can do better. If we are willing to keep fighting -- for the sake of those who can no longer continue to fight in their despair and frustration, for the sake of those who have yet to get sick, for the sake of those yet unborn, we can do better.
As I understand it, Alyssa will be able to get this particular prescription again starting January 1st. But she may still have to undergo a similar battle for the other medicines that she needs from now until then. And meanwhile her MS gets worse.
Thanks for listening to her story.