The day after Thanksgiving we left Santa Fe, NM and traveled through the enchanting lands of many first peoples, and many of those miles were through the historical lands of the Navajo.
A vibrant, semi-autonomous nation of hardy people exists within the boundaries of these United States, unbeknownst to many. Their land was once more vast than the legal area that now straddles four state lines.
No Area 51 secret this Navajo Nation, but might as well be since few will ever have either the means or desire to leave their urban homes to experiences this country within a country.
This is a land of stark beauty, endless beautiful vistas, some would say of harsh lands. The Navajo have lived here for many years, practiced agriculture, thrived and waned. They have fought in US wars as documented in the surprisingly excellent WWII Navajo Code Talker museum within the Burger King (!) in Kayenta.
We love camping in this amazing country, and do our best to get out here at least once a year from Santa Fe.
However we have only traveled through and by the Navajo Nation proper. Over the years and numerous trips focused on camping we have had little interaction with them but when we did it was very pleasurable.
On the first night of the current trip we were sitting in the Windy Mesa bar in Page, AZ (home of one of the worst dirty coal power plant offenders but also to the awesome Lake Powell/Glen Canyon National Recreation Area) and after several draft Shock Tops and catching breath from dancing, I turned to the big Navajo dude with the awesome black pony tail beside me and said that I thought this was one of the most beautiful parts of the planet. He enthusiastically agreed, and shared that he had grown up near Navajo Mountain.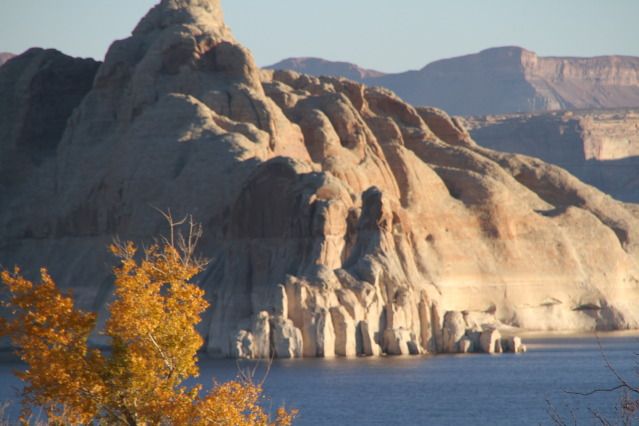 Lake Powell, Glen Canyon National Recreation Area, November 2012 by divineorder
Besides the incredible scenery and the interesting Navajo towns (including a beautiful new hospital and regional high school) on our 9 hour road trip from Santa Fe, we also see huge coal fired power plants in both NM and AZ which undoubtedly were a welcome source of jobs over the years for the Navajo and others.
Downer is that around Page and the stunning vistas of Lake Powell in the GCNRA the sky is often stained with terrible yellow streaks of deadly power plant byproducts......
Wanted: New Clean Energy Jobs For the Navajo, Jobs For All of Us
With climate science confirming that we need to Power Past Coal, Navajo activistsand others have joined hands to move forward into a more sustainable future. Groups of stakeholders have supported the EPA in closing some of these death creating coal plantsin the Four Corners
Area. More need to close, and those jobs need to be replaced with sustainable energy jobs and our Party should continue to lead the way.

Dirty Air, Dirty Energy, Dirty Money
What keeps our Party from doing so is, you guessed it, campaign cash from Big Coal and Big Oil. Our Party's elected officials continue to take this dirty money, and we need to insure that this stops stat..
Big Oil/Mineral = Big Tobacco
According to Bill McKibben, we need to change the perception people have of these Climate Criminal Big Oil and Big Coal Companies to one like many now see Big Tobacco.
If you have not already hope you get to either to see the 350.org Do the Math Tour, or, if its not in a city near you, do like we did and attend a livestream event.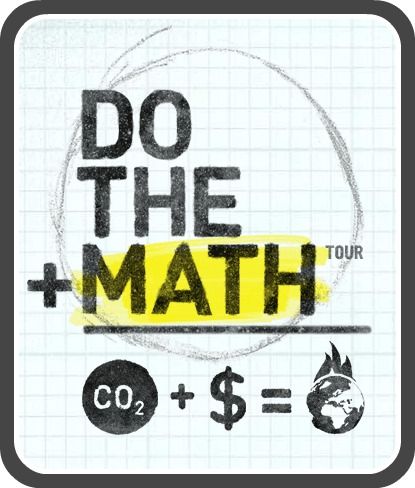 Credit: Common Dreams http://www.commondreams.org/...

[We've hit] the road to jumpstart a new movement.

It's simple math: we can burn less than 565 more gigatons of carbon dioxide and stay below 2°C of warming — anything more than that risks catastrophe for life on earth. The only problem? Fossil fuel corporations now have 2,795 gigatons in their reserves, five times the safe amount. And they're planning to burn it all — unless we rise up to stop them.

This November, Bill McKibben and 350.org [has hit] the road to build the movement that will change the terrifying math of the climate crisis. Join us.

Not Your Grandma's Change Movement
Now this is not 'just' some bunch of old hippies with dreams and hopes for change (like brought us, por emplo, the EPA0 , this tour is a hybrid of old and young, including hot top names like Naomi Klein out pushing a huge new planto put the brakes on the Big Oil and Mineral Climate Criminals runaway juggernaut and shift the climate movement forward to a better way.
Heh, you may say, been at this for 30 years, this is not news. Whoa, there podna, this action is based on important new science:
IEA Confirms Bill McKibben's "Do The Math" Numbers

Oakland — Today the International Energy Agency released its World Energy Outlook and confirmed estimates that the overwhelming majority of known fossil fuel reserves (75-80%) will have to be kept in the ground to avoid 2 degrees Celsius temperature rise. 350.org founder Bill McKibben, who is on a national tour discussing this math, issued the following statement:

"A week after we launched the nationwide "Do The Math" tour, the planet's chief energy watchdogs put out a huge report that essentially confirms what we've been saying: most of the carbon in the fossil fuel industry's reserves has to stay below the ground if we're going to keep the planet from disastrously overheating.(1)

"For American leaders, keeping carbon in the ground means blocking the Keystone XL tar sands pipeline, stopping coal ports on the Pacific Coast, ending mountaintop removal, and cracking down on rampant fracking. Easy long-term gestures aren't enough any more; we've delayed so long that we have to stop exploiting new extreme energy.

"This is the basic, horrifying math of the planet we live on. Business as usual will bust it–that's why we're on the road all month and why a divestment campaign is suddenly building out of nowhere.(2)

"Our math–from Rolling Stone and 350.org–is suddenly the mainstream math. It's the fossil fuel industry that's the outlying radical fringe."

CONTACT: Daniel Kessler, 350.org, +1 510-501-1779.

NOTES:

1. More information on the tour is at math.350.org.

2. 350.org and partners are building a nation-wide campus divestment movement. Endowments at the country's universities exceed $400 billion and they should not be invested in an industry that is cooking the planet. More information is at http://gofossilfree.org/ .
350.org is now a huge international grassroots movement with boots on the ground in 180 plus countries, and numbers in the energy hawg countries like our own are sure to grow geometrically as
people realize storms like Sandy
are likely to continue to have drastic effects on their lives, remove their heads from the sand, and begin to demand leaders step up to the challenge.
Land of the Ancients In Ruins, Ours Up Sooner Than We Ever Thought Possible?
While the Navajo live in modern homes and watch TV like many other of there fellow Americans, one of the sobering experiences in the greater Navajo area are the many famous ruins, big and small, interesting leftover reminders of collapsed civilizations.
Epic droughts are nothing new in geological time, but today we may face droughts that are more dangerous to our survival than coastal storms.
Dr. Jeff MastersWunderblog

Drought: civilization's greatest natural enemy
People fear storms, and spectacular and devastating storms like Hurricane Sandy and Hurricane Katrina have stirred more debate in the U.S. about taking action against climate change than any other weather event. But I argue that this attention is misplaced. Drought is our greatest enemy. Drought impacts the two things we need to live--food and water. The history of civilization is filled with tales of great storms that have killed thousands and caused untold suffering and destruction. But cities impacted by great storms inevitably recover and rebuild, often stronger than before. I expect that New York City, the coast of New Jersey, and other areas battered by Sandy will do likewise. But drought can crash civilizations. Drought experts Justin Sheffield and Eric Wood of Princeton, in their 2011 book, Drought, list more than ten civilizations and cultures that probably collapsed because of drought. Among them: The Mayans of 800 - 1000 AD. The Anasazi culture in the Southwest U.S. in the 11th - 12th centuries. The ancient Akkadian Empire in Mesopotamia. The Chinese Ming Dynasty of 1500 - 1730. When the rains stop and the soil dries up, cities die and civilizations collapse, as people abandon lands no longer able to supply them with the food and water they need to live.

Credit: http://www.wunderground.com/...
Figure 2. Ruins of the Cliff Palace at Mesa Verde National Park in Colorado. Beginning in 1150 AD, North America experienced a 300-year drought called the Great Drought. This drought has often been cited as a primary cause of the collapse of the ancient Anasazi civilization in the Southwest U.S., and abandonment of places like the Cliff Palace.

The coming great droughts

We should not assume that the 21st century global civilization is immune from collapse due to drought.If we continue on our current path of ever-increasing emissions of carbon dioxide, the hotter planet that we will create will surely spawn droughts far more intense than any seen in recorded history, severely testing the ability of our highly interconnected global economy to cope. The coming great drought disasters will occur at a time when climate change is simultaneously creating record rainfall and flooding in areas that happen to be in the way of storms. Global warming puts more heat energy into the atmosphere. That means more more water will evaporate from the oceans to create heavier rains and make storms stronger, and there will be more heat energy to increase the intensity of heat waves and droughts. It all depends upon if you happen to lie on the prevailing storm track or not which extreme you'll experience. In the future, if you're not being cooked in a record drought, you're going to be washed away in a record flood. Just ask the residents of the Midwest. In 2011, residents of the Midwest endured the largest floods on record on their three great rivers--the Mississippi, Missouri, and Ohio. In 2012, the same region endured their worst drought since 1954, and a top-ten warmest summer.
Again, the money quote from Masters:

We should not assume that the 21st century global civilization is immune from collapse due to drought.
Corn production took a major hit this year,
may even no longer even be able to be grown here in many places in the very near future.
As I type this I keep looking up out the window at the beautiful scenery of Zion National Park an think what the hell am I doing inside....
It will be dark soon and we have to ride our bikes back to the campground so I better bring this to a close.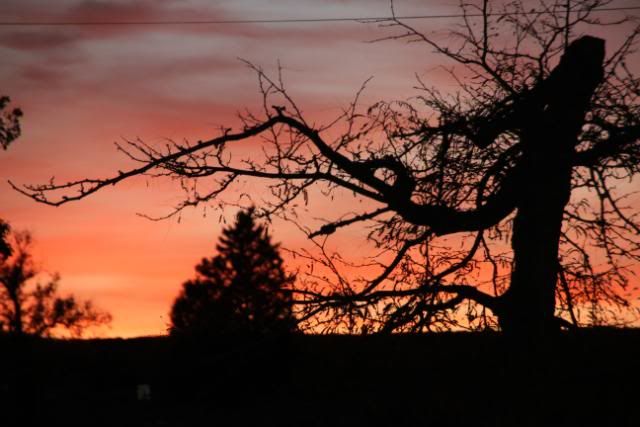 by divineorder
The Navajo are to be saluted for having adapted and survived the growth of the United States of America in and around them. However, they, like we are in the final analysis merely earth people, plunging through space together on this beautiful planet, strong but not immune to the challenges of this huge climate change challenge.

Will we pull them down with us into a cataclysmic collapse? Or will we all join together to move forward, create a better way?
5:34 PM PT: Just checked email and got this from Bill Mckibben:
Greetings from the Do The Math tour bus!
We're bouncing up the road to Madison, WI right now after another sold-out show in Chicago last night.
As you might already know, one of the goals of this tour is to launch a new fossil fuel divestment campaign at colleges and universities across the country -- it's a critical way to fight back against corporate polluters.
Here's how you can help:
If you're a current student, please click here to join or start a campaign on your campus on our brand new website: gofossilfree.org
If you're an alumnus/alumna, please click here to tell us where you went to school and join the national campaign. We'll be in touch soon about how you can connect with and support students at your alma mater.
And if you're not a student or an alum, don't worry -- there will be lots for everyone to do in the weeks ahead.
Why divestment? Well, we know that fossil fuel companies are principally concerned about two things: their bottom line and their public image. A nationwide movement forcing our schools to divest from fossil fuels will deal a serious blow to both.
Over 100 campuses have already joined the divestment campaign, and it's generating real excitement everywhere we go. From big schools like the University of Wisconsin to small colleges like Middlebury, the campaign is picking up speed (at Harvard, a student resolution supporting divestment just passed with 72% of the vote!).
Now, it's absolutely crucial that we keep the momentum going -- click here to get involved: www.gofossilfree.org
Many, many thanks,
Bill
P.S. You can also follow along with the divestment work on our brand-new Fossil Free Facebook and Twitter accounts.