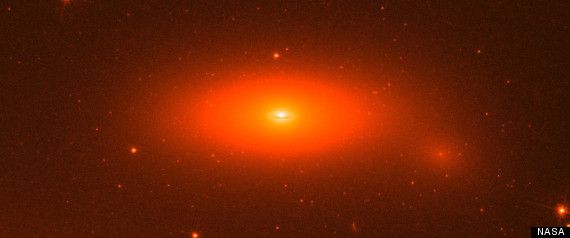 I'm spacing out on some out-of-this-world discoveries. Researchers at the University of Texas have discovered NGC 1277, one of the largest black holes ever found, 250 million light years from earth, with a mass equivalent to 17 billion suns, and NASA has announced the discovery of water on the poles of Mercury.
Andres Jauregui reports a Supermassive Black Hole In NGC 1277 Galaxy Among Biggest Discovered

The black hole's event horizon -- the "point of no return" within which nothing can escape -- has a diameter 11 times greater than Neptune's orbit around the Sun, according to a written statement issued by the university's McDonald Observatory in Austin.

Its mass is equivalent to that of 17 billion suns, accounting for about 14 percent of the galaxy's mass. A black hole of more typical size might represent 0.1 percent of its host galaxy's mass. ...

"It is definitely the black hole with the largest ratio of black hole to galaxy mass," Gebhardt told The Huffington Post in an email. "The ratio is about 100 times larger than typical galaxies."

Researcher Gebhardt says, "It really is the chicken and the egg problem as to what comes first, the black hole or the galaxy," and implies that the enormous ratio of this this black hole's mass compared to the galactic mass makes this question a much "bigger" deal, so to speak. (sorry for this silly little bit of cosmic humor. Oh, did you also notice that hole spelled backwards is eloh?)
For those super geeks concerned that the black hole in the picture looks orange, I should clarify that my understanding is that this is a color enhanced rendition as real black holes have such strong gravitational fields even photons can not escape making them look sort of like big dark spots, or "black holes" just hanging out in space. Leading to much less impressive space photos.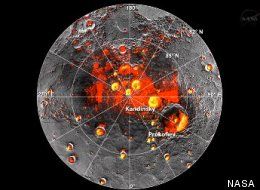 Andres Jaurequi also tells us that the Messenger probe has discovered Water On Mercury: NASA Announces Discovery Of Ice At Planet's Poles.

In the announcement, Sean Solomon, principal investigator for the Mercury Messenger program, said the probe had uncovered new evidence that deposits in permanently shadowed regions of Mercury's poles is water ice. The ice is found predominantly in impact craters, according to data obtained by Messenger.

According to a NASA press release, the tilt of Mercury's rotational axis is almost zero -- less than one degree -- so there are pockets at the planet's poles that never see sunlight. Scientists suggested decades ago that there might be water ice at Mercury's poles, but the new findings provide"compelling support" for that claim. ...

"The neutron data indicate that Mercury's radar-bright polar deposits contain, on average, a hydrogen-rich layer more than tens of centimeters thick beneath a surficial layer 10 to 20 centimeters thick that is less rich in hydrogen," wrote David Lawrence, a Messenger scientist based at the Johns Hopkins University Applied Physics Laboratory. "The buried layer has a hydrogen content consistent with nearly pure water ice."

And, finally from the European Space Agency some super cool photos. ESA PHOTOS: Highlights From European Space Agency Images

NASA is well-known for the awesome space photos snapped by its spacecraft and astronauts—in fact, the administration has an entire website devoted just to space imagery. But it's not the only space agency known for spectacular photos of the cosmos.

The European Space Agency (ESA), an organization comprised of 20 member states, has collected more than its share of eye-popping multimedia. From the Cassini-Huygens probe's austere photos of Saturn and its moons to Envisat's visions of our own planet, images from ESA spacecraft span the whole wondrous range of space science.
Below please enjoy these composite enhanced photos from the ESA.

The European Space Agency's Herschel Space Observatory took this infrared image of the Andromeda Galaxy, showing rings of dust that trace gaseous reservoirs where new stars are forming.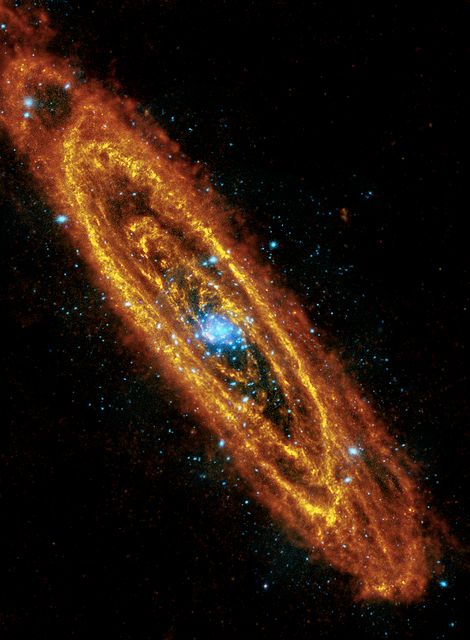 And, finally the Eagle Nebula:

This composite of far-infrared and X-ray images shows how hot young stars in the Eagle Nebula are interacting with the surrounding ultra-cool gas and dust.
This composite infrared and x-ray image of baby stars being created in the Eagle Nebula may be the closest those of us in our generation are ever going to get to space sex. Our children will probably get to experience this in a total immersion multi-media interactive body-gloves in full IMAX resolution.
I hope these "enhanced images" of amazing space photos have cheered you up as much as they have me this evening.