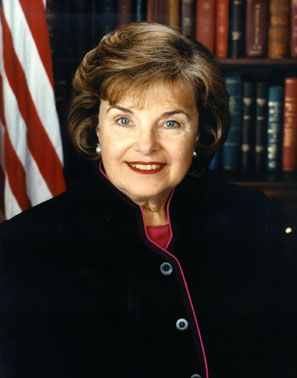 The Senate overwhelmingly approved the Feinstein-Lee Amendment to the National Defense Authorization Act of 2013, this morning, 67 to 29, specifying that American citizens and legal residents suspected of terrorism should not be held indefinitely without a trial.
Feinstein, Lee Amendment Passes

(Washinngton, D.C) - Senate overwhelmingly passed an amendment sponsored by Senators Mike Lee (R-UT) and Dianne Feinstein (D-CA) that protects Americans from indefinite detention. By a vote of 67 to 29, the amendment was added to the National Defense Authorization Act and insures that American citizens and permanent legal residents apprehended on American soil will be charged and have access to a trial. It was the result of more than a year of collaboration by the California Democrat and Utah Republican in an effort to protect Americans' due process rights.

Senator Mike Lee

"I am pleased to see a large bipartisan majority of the Senate support basic protections for all Americans," said Lee after the vote. "Once again we prove that increasing security does not have to result in diminished liberty. Today we have reaffirmed our constitutional values and shown we are committed to being both free and safe."
This is a significant step in the right direction, however, civil liberties activists have issues with some of the details of the language.
Micheal McAuliff reports:

The key sentence in her measure says: "An authorization to use military force, a declaration of war, or any similar authority shall not authorize the detention without charge or trial of a citizen or lawful permanent resident of the United States apprehended in the United States, unless an Act of Congress expressly authorizes such detention."

First, the rights groups argued, the measure does not provide justice for all, because it does not apply to non-citizens or Americans caught overseas.

"The constitutional requirements of due process of law apply to all persons within the United States," a coalition of 20 groups wrote in a letter to Feinstein Thursday. "The 5th Amendment to the Constitution states that 'No person shall be…deprived of…liberty…without due process of law.'"

The civil rights groups also raise concerns about the part of the sentence implying that Congress can override foundational constitutional rights in the future with mere legislative votes.
McAuliff also reports that the House version of the defense authorization bill contains no similar restrictions and it is unclear if it will be possible to pass in the House.
Yesterday, I reported that Senator Diane Feinstein's amendment was also supported by Sens. Kirsten Gillibrand (D-N.Y.), Rand Paul (R-Ky.), Dean Heller (R-Nev.), Mark Udall (D-Colo.), Jon Tester (D-Mont.), Mike Lee (R-Utah), Chris Coons (D-Del.), Susan Collins (R-Maine), Mark Kirk (R-Ill.) and Frank Lautenberg (D-N.J.).
In another article yesterday, Micheal McAuliff reported:


The authority to detain anyone on suspicions that they backed Al Qaeda was codified in law for the first time in the NDAA last winter, although the two most recent White House administrations have asserted since 2001 that the military has always had that authority, stemming from Congress' Authorization to Use Military Force (AUMF) passed after the 9/11 attacks.

President Obama signed the measure, despite opposing it and promising never to use the power.

Sen. Dianne Feinstein (D-Calif.), who helped write that amendment, declared Wednesday that it is not good enough, and recalled seeing Japanese Americans jailed in horse stalls at a racetrack when she was a girl. .. "I believe that the time has come now to end this legal ambiguity, and state clearly, once and for all, that the AUMF or other authorities do not authorize such indefinite detention of Americans apprehended in the U.S.," Feinstein said.

Libertarian Senator Rand Paul complained of a recent report from one of our controversial new "fusion centers" now in every state to coordinate domestic spying on U.S. citizens that would have been illegal prior to the Patriot Act which Paul said:


"From this fusion center comes a document that says beware of people who have bumper stickers supporting third party candidates," Paul said. "Beware of people who believe in stricter immigration laws. Beware of people who support the right to life. They might be terrorists.

Senator Rand asks, "Do we want to give up the right to trial by jury when we're being told that somebody who keeps food in their basement might be a terrorist?"
Protecting our constitutional rights is sufficiently important that we should advocate to pass similar legislation in the House and get this improvement into a bill the President can sign. Yes, it's worth the extra trouble it will take to make this happen, despite the improbable impression we have now from the House.