Yesterday the Pacific Gateway flexed their financial clout to pack the fourth Scoping Hearing for its proposed coal export maga-terminal at Cherry Point. Pacific Gateway bussed in paid placeholders from Seattle arriving at 7AM, they were hired that morning at day labor employment agency. One of the project's opponents I spoke to said he had arrived at mid-day and one of the hired placeholders had approached him and told him what was going on. Gateway Pacific even rented an office in the same building the hearing was held and set up a buffet for their hired placeholders and supporters. I talked to a woman from Ferndale opposed to the coal port project who arrived at 11 AM for the 3 PM hearing, and as she approached the entrance to get her speaking slot number a large male supporter of the project blocked her way allowing an number of late arriving supporters to cut the line. When she finally did get in she got number 97 out of the 100 available. These underhanded tactics gave the first 60+ coveted speaking spots to coal port supporters.
Supporters wore green opponents wore red. Supporters carried signs that read "Power past fear mongering" to answer opponents signs that said "Power past coal" with an belittling insult.

Coal terminal backers make strong showing at Ferndale meeting

By the time the meeting got under way at 3 p.m., coal terminal opponents may have been in the majority in the Ferndale Events Center crowd of more than 1,000, clad in red "Power Past Coal" shirts. But backers of the project showed up first to get a bigger share of the 100 available time slots for testifying at the microphone.
Some coal port supporters didn't stay to give their comments providing extra time for 20 additonal comments, so I got a chance to make one. I was #103 following James Wells who was #102.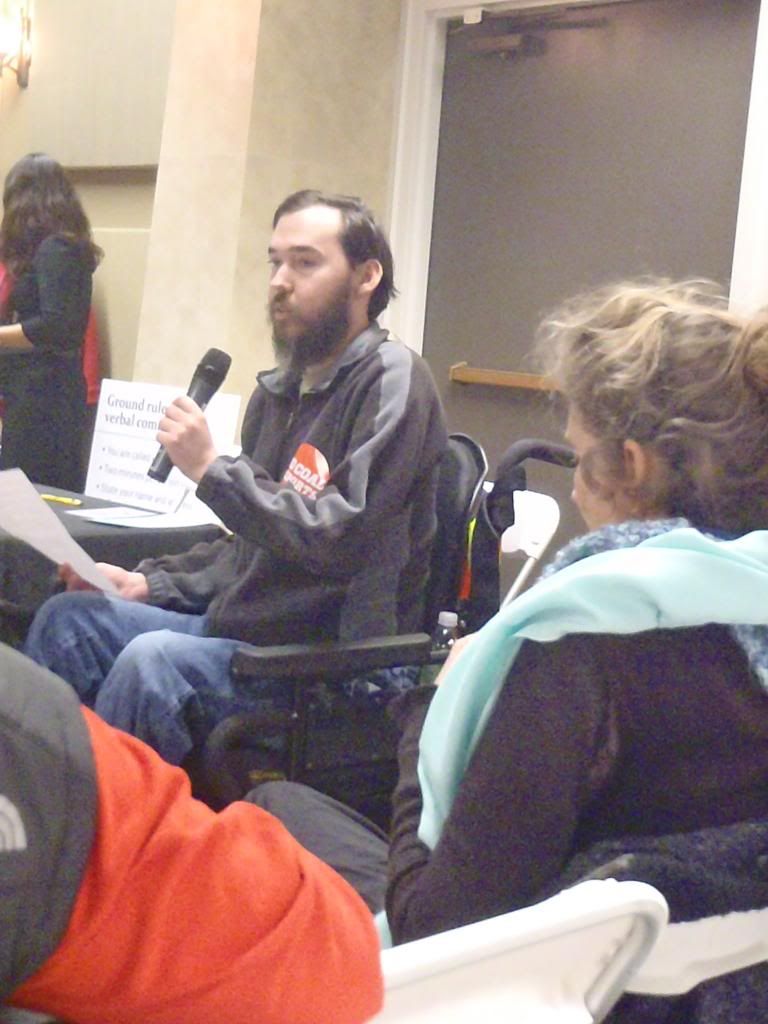 An opponent speaks against the coal port
I spoke about all the people unhappy with this coal port's impacts who were too far from these seven scoping hearings to attend one in person. I spoke about living in a low lying area of Whidbey Island with a salt marsh across the street and how driving to the hearing I'd heard on the radio that early estimates were 60% too low and that sea levels would likely rise by 2 or 3 FEET by the end of this century that would turn my front yard into a beach!
As I was writing, this latest local news item makes wonder how much more train traffic dirty energy corporations want to send through our state for export?
Move over coal - oil is rolling west

by GARY CHITTIM / KING 5 News

Two companies have already started the application process to construct tank farms and rail facilities at the Port of Grays Harbor County.

Port of Grays Harbor and Hoquiam City officials say the move could bring millions of dollars in revenue and up to 80 jobs in the area that took an economic punch to the gut when the timber industry fell flat in the 1980s