President Obama and House Minority Leader Pelosi hit back hard, yesterday, at Republican grandstanding by Speaker of the House John Boehner, who has refused to advance a specific proposal for a "grand bargain," but instead, has demanded that Democrats volunteer "entitlement cuts" equal to, or greater than, any revenue increases the GOP "heroically" agrees to. The GOP has been successful in advancing this false "equivalent sacrifice" meme into the media narrative over these last few weeks. Please remember, just one part of this falsehood is the idea that the GOP is making a concession because the Bush tax cuts expire automatically on January 1. The other falsehood is that the only way to cut government spending is by cuts to social spending and not the military spending expansions that were half the real cause of the problem.
Our Democratic leadership responded wisely by changing the focus of attention by demanding that Speaker Boehner allow a vote in the House on the Senate bill to make the middle class tax cuts for those making less than $250,000 permanent. (Correction update: the first $250,000 of income for everyone.) Republicans then whined that President Obama isn't playing fair, In Latest Campaign, Obama Takes Deficit Battle to the Public.
At the K'Nex toy factory President Obama said,

"We've got some disagreements about the high-end tax cuts, right?" he said of his insistence on raising taxes on the top 2 percent as part of a broader deficit reduction deal. "That's a disagreement that we're going to have and we've got to sort out. But we already all agree, we say, on making sure middle-class taxes don't go up. So let's get that done. Let's go ahead and take the fear out for the vast majority of American families so that they don't have to worry about $2,000 coming out of their pockets starting next year." ...

"If we can just get a few House Republicans on board, we can pass the bill in the House, it will land on my desk, and I am ready. I've got a bunch of pens ready to sign this bill… There are no shortage of pens in the White House," he joked.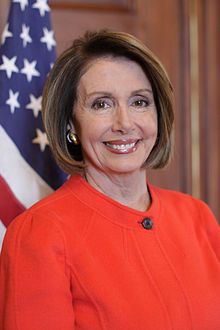 Late Friday afternoon, House Minority Leader Nancy Pelosi brilliantly escalated this focus with the threat of bypassing John Boehner, with a discharge petition if he doesn't bring the Senate bill to a vote by Tuesday.

Pelosi called on House Republican leadership to bring that legislation to the floor, next week, and threatened that if they do not schedule a vote on the Senate bill, Democrats will file what's known as a discharge petition on Tuesday to force a vote on the measure in her chamber. If Democrats successfully obtain 218 signatures on the discharge petition, it would automatically force the middle income tax cut bill to the floor for a vote.

"We believe that not [bringing the Senate bill to the floor] would be holding middle income tax cuts hostage to tax cuts for the rich," Pelosi said. "Tax cuts for the rich which do not create jobs, just increase the deficit, heaping mountains of debt onto future generations."

"This is really very important," she added, noting that the middle income tax cut extension is just one piece of what needs to be done before the holidays.
http://www.dailykos.com/...
So last night, I went onto RedState for some opposition research and discovered that Republicans are now shocked, truly shocked, indignant, and even dismayed, that we Democrats are not responding in "good faith" to their great sacrifice of "permitting" us to raise revenues, by taking up their over half century long plan to slash what they call entitlements and taking up their banner and proposing our own cuts to Social Security, Medicare, and Medicaid.
But, a surprising number seem resigned to giving us the middle class tax vote, and then think they should go home without negotiating anything else, rather than fall on their swords in a losing battle, believing our much deserved punishment will be a collapse of the U.S. economy, after going off the "fiscal cliff" and creating a debt crisis that they can exploit in 2014 and 2016. Many recognize they will lose big with the voters if we force them to specifically name the $1 to $1.5 trillion in "entitlement cuts" they want us to volunteer and take the hit for.
If the GOP wants entitlement cuts, let them spell them out in a specific proposal they will sign, and take the responsibility for demanding. Instead, they prefer to play hard to get, suggesting we start voluntarily listing cuts and other compromises until they eventually, at some unknown point, decide we've sacrificed enough - but also after we've taken the hit with the voters for betraying our social program recipients, who would now blame us rather than the Republicans. No, this is not the way we are going to "negotiate" this time.
Put up or shut up Republicans. You do not want to take the public hit of elaborating the over $1 trillion in specific cuts to social program you want, but instead want Democrats to volunteer this for you? Well, forget about it, Republicans, we are not going to do it. You want cuts? Then spell them out in a total package you will say yes to if we agree, take responsibility for this position (that you are now beginning to recognize is so untenable the voters will not agree to it), and then let the negotiations begin in ernest, and in public. Otherwise, give us these middle class tax cuts now.
We are not going to betray our base by playing the game of suggesting cuts and making unilateral concessions until you are happy, when our BATNA, (best alternative to a negotiated agreement) is to let the Bush Tax cuts expire automatically on January 1, and let you explain to the American people why you are fighting against and even blocking our heroic attempts to give middle class families a $2,000 tax cut.
Oh, and by the way, if you would prefer to do it this way, we can play the same game with the so called "doctor's fix," "debt-ceiling," "payroll tax extensions," and "sequestration," and you will lose every time.
But smarten up, Machiavelli advised his noble prince to get bad news over quickly, but draw out good news for as long as possible. We Democrats are prepared to play this game though out the holidays and all winter, if you insist. Or, you can agree to President Obama's very reasonable and real proposal as is. It is not just an opening gambit, but close to the best deal you, and our nation, will get, at this phase. Yes, we need to balance the budget but not all at once in an austerity bomb that will crash the economy.
In the meantime, it is absolutely critical that we Democrats remain firm and do not go leaping off the cliff like fearful lemmings volunteering compromises that are not in the best interest of the country and not necessary. Yes, we need to balance the budget, but we do not need to eviscerate social spending to achieve it. To the extent we agree to spending cuts, they should be focused on reductions to the vastly expanded military spending that was half of the cause of the Bush administration's demolition of Clinton's surplus economy and budget. We will look, and actually be, stupid and weak if we allow ourselves to be duped into these false and unwise "compromises."
Let's focus on the real concrete obstacles in front of us now. The tax cuts on the middle class are about to expire on January 1, and we have a straightforward, quick, and painless solution - bring the already passed Senate bill extending them for the first $250,000 of income to the floor next week and allow 20 or so Republicans to join us in approving it. The rest of the GOP can abstain, or vote no and then skulk away and pretend like they weren't even there.
Let us have the vote John Boehner! Stop holding the gun to the heads of the American people trying to hold us hostage to your extremist ideology. Let us pass the middle tax class cut we all agree on, so we can make the rest of the negotiations easier.
Speaker Boehner, "tear down this wall of GOP obstructionism!" Americans want to celebrate the holidays without being held hostage to more of these Republican blackmail threats to harm our nation in the name of ideological zeal and purity.