This is an Open Thread / Coffee Hour and all topics of conversation are welcome. Today's suggested topic is Cats That Paint.
-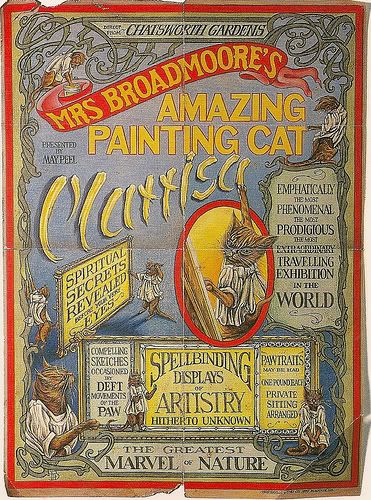 This lithograph poster made around 1887 - Museum of Animal Acts in Wisconsin.
-
What is for dinner? How are you doing? What is on your mind. If you are new to Street Prophets please introduce yourself beyond the fold in a comment. This is an Open Thread / Coffee Hour and all topics of conversation are welcome.
From Matissa, the painting cat pictured above, to the recent guide to cat artists profiled in "Why Cats Paint" cats that paint have captured our hearts and imaginations.
-


Cover of Why Cats Paint: A Theory of Feline Aesthetics by Heather Busch and Burton Silver.
-
Several theories of feline art have been put forward over the years, and this volume may serve as an excellent introduction to the uninitiated. Influential feline artists are discussed and their work reprinted in glorious detail.

There is, however, a strong bias towards the mainstream of cat art. Important, indeed vital, underground movements are completely ignored. The street art of alley cats is sadly overlooked, perhaps reflecting the authors deference to the curators of that ivory tower, the Museum of Non Primate Art.

Also lacking is any serious discussion of Queer Theory, so vital in the deconstruction of any mammalian artistic representations. Yet in spite of these flaws, Why Cats Paint remains an important and influential volume that no connaisseur of feline aesthetics can afford to ignore.

From the reviews at Amazon Books
-
This is such a significant movement that painting kits for cats are now on the market:
-
-
So the next time you rush to clean up the tracks left on your floor by your kitty stop and consider that you may be erasing the next major work of art by Pawcasso. Happy Monday.