The Murder of Fred Hampton: The Attempt to Kill the Rainbow, Commentary by Black Kos Editor Denise Oliver-Velez
Today is the anniversary of the murder of Fred Hampton, Deputy Chairman of the Illinois Black Panther Party in 1969, and I am thinking, not just of his assassination, but of the reasons behind it, and what he meant in the history of radical struggles in the U.S.
Fred Hampton was gunned down while asleep "in his apartment during a raid by a tactical unit of the Cook County, Illinois State's Attorney's Office (SAO), in conjunction with the Chicago Police Department (CPD) and the Federal Bureau of Investigation (FBI)"
No one from any of these agencies has ever been convicted for his death.
I am thinking about Chairman Fred because of the recent Panther scare farce promoted by Fox News and wingnuttia who attempted to instill fear in the white voting population with a media blitz surrounding "Black Panthers" (members of a small group calling themselves the New Black Panther Party - I call them fake Panthers) and their alleged "voter intimidation".
I realized that though I take it for granted that everyone on the left knows who and what the real Black Panther Party stood for and who Fred Hampton was, that is probably a mistake on my part. I have no idea how deeply the false news has embedded itself in people's heads - I wonder if there are those who have bought the propaganda that the Black Panther Party was some kind of black racist group who hated white people. But even if my readers today don't have those perceptions, I would guess that many people have seen those statements.
Time for us to dispel the lies.
Most of you know I am a former member of the BPP.
I never met Chairman Fred. I didn't join the BPP till 1971. However, Fred Hampton is directly related to my political life, growth and development. He is one of the people mainly responsible for my belief in coalition building. Were it not for Fred Hampton, I would never have become a member of the Young Lords Party. Were it not for Fred, the Young Lords of Chicago would probably have remained a street gang, in a city that had some of the most powerful gangs in the nation, one of which, the Almighty Black P Stone Nation reputedly had 30,000 members.
It was in an issue of the Black Panther Paper, that a group of us in NY read about the YLO in Chicago, and several of us traveled to Chicago to meet up with Cha Cha Jimenezand that was the birth of the NY YLO, which later became the YLP.
Fred had a vision.
His vision was to build a Rainbow Coalition (not the one that Jesse Jackson later co-opted). That rainbow would be forged from an alliance between groups like the Young Patriots (which became the Patriot Party) and Rising Up Angry who were poor whites, The Young Lords (Puerto Rican) and later included the Brown Berets (Chicano - CA) and I Wor Kuen (Asian American-NY) and the American Indian Movement (AIM).
Examine the faces in the audience in this trailer clip from the documentary film "The Murder of Fred Hampton" Listen to what Chairman Fred had to say.
I hear the echo of his words in the voices of young people today who are speaking out against corporate elites, and who are seeking justice for all our communities.
In 1971 I traveled to Cannes France with Kathleen Cleaver where the documentary was being premiered. The impact of the film on the European audience assembled in Cannes was profound. People asked us - why is there no justice for black people in the States?
That was 1971. We still have no justice for those who were slain.
The Murder of Fred Hampton began as a film portrait of Hampton and the Illinois Black Panther Party, but half way through the shoot, Hampton was murdered by Chicago policeman.

In an infamous moment in Chicago history and politics, over a dozen policeman burst into Hampton's apartment while its occupants were sleeping, killing Hampton and fellow Panther Mark Clark and brutalizing the other occupants.

Filmmakers Mike Gray and Howard Alk arrived a few hours later to shoot film footage of the crime scene that was later used to contradict news reports and police testimony.
Fred Hampton was building a powerful rainbow. He was forging ties between groups who those in power did not want to see united.
And so, they decided he had to die.
He died in a hail of bullets along with Mark Clark.
But Fred Hampton's vision, and memory has never died.
People in Chicago tried to name a street after Fred Hampton in 2006.
They wanted to call it "Fred Hampton Way".
The Battle for Fred Hampton Way

In early February, Chicago Ald. Madeline Haithcock proposed to name one city block in honor of Fred Hampton, the Black Panther leader who died on the block in an infamous 1969 police raid. She was acting on a request from Fred Hampton Jr., who was born just three weeks after his mother survived the pre-dawn assault on the Panther apartment.

Haithcock's ordinance to name a block of Monroe Street "Chairman Fred Hampton Way" unanimously breezed through a City Council committee. After all, there are nearly 1,300 honorary street signs in the city already; a tradition since 1984, they are an easy way for aldermen to win the favor of constituents.

But a furor erupted when the Fraternal Order of Police (FOP) heard of the proposal. "It's a dark day when we honor someone who advocated killing policemen and who took great advantage of the communities he claimed to have been serving," said FOP President Mark Donahue. The police union organized relatives of cops killed in the line of duty to lobby aldermen against the ordinance and several white aldermen expressed misgivings about the honorary designation.

Meanwhile, a coalition of black Chicagoans, including the city's three black Democratic congressmen–Reps. Bobby Rush, Jesse Jackson Jr. and Danny Davis–came together to urge that Haithcock's ordinance be passed. The newly formed coalition contains a wide spectrum of supporters and genuinely represents community sentiment.
Meteor Blades made
this comment
in a diary here at Daily Kos discussing the resistance to the street naming:
Having grown up in a region ... (4.00)
...and at a time when there were no black cops and white cops were often working with or actual members of the Ku Klux Klan - the era in which the Black Panthers were founded - I have to admit that my own feeling about Fred Hampton's pre-dawn assassination is still tinged with more than a bit of anger. Not so long ago, blacks were murdered by vigilantes in fairly large numbers in this country, and police forces often ignored or participated in these crimes.

Whatever their mistakes and whatever their actual and rhetorical excesses - and both were many - the Panthers didn't arise in a vacuum. Their advocacy of self-defense wasn't some game; it was a response to the reality of racist oppression of the black community.
J. Edgar Hoover's racist FBI and the Chicago Police (as well as other police forces) did their best to destroy the Panthers and their alliances with other radical organizations, including infiltration and provocations that led to internecine killings.
Fred Hampton and Mark Clark were themselves murdered - the forensics evidence is proof of this - no matter what the jury said.
That the police union and others in the community take it as affront that a street would be named after Hampton indicates either their willful ignorance about Chicago's Finest 40 years ago, or their view that what the cops did that day was just and proper. Either way, it sucks.
In the 1980's Lenox Ave in NYC became Malcolm X Boulevard.
Do the police in Chicago think that just because they block the naming of a street after Fred that we will forget?
You cannot kill a rainbow.
We will keep on building those coalitions.
We will be that rainbow.
One day we will have justice.
~~~~~~~~~~~~~~~~~~~~~~~~~~~~~~~~~~~~~~~~~~~~~~~~~~~
News by dopper0189, Black Kos Managing Editor
~~~~~~~~~~~~~~~~~~~~~~~~~~~~~~~~~~~~~~~~~~~~~~~~~~~


~~~~~~~~~~~~~~~~~~~~~~~~~~~~~~~~~~~~~~~~~~~~~~~~~~~
Our current national argument over taxes, the debt, and the fiscal cliff is nominally about balancing spreadsheets and the arcana of economic formulas, but it's all so about race. ColorLines: On Race and Taxes, Both Parties Insist Upon Speaking No Evil
~~~~~~~~~~~~~~~~~~~~~~~~~~~~~~~~~~~~~~~~~~~~~~~~~~~
Democrats and Republicans alike are today silent on this link between race and taxes, but for different reasons.
Since the 1980's, Republicans have effectively won the debate over tax rates by successfully racializing it. They aimed to cleave working class whites away from the Democratic Party by stereotyping it as a defender of the undeserving. Ronald Reagan was the first winning Republican presidential candidate to make this assertion stick. He blamed high tax rates on government support for the poor, and absurdly claimed that black "welfare queens" lived off $150,000 a year. Most Americans bought it and the cliche lives on to this day.
Once in office, Reagan used his bogus racial archetypes to justify tax cuts for the rich.
The tax rate that the wealthiest Americans paid was 20 percent lower by the time he left office. More dangerous was the fact that taxes on money made from investments were far lower than money earned from actual work. This has the impact of moving the U.S. towards a caste system in which those born into wealth enlarge their holdings and those struggling to climb into the American dream—especially people of color—find it much harder to do so.
As Reagan's tax policies were informed by race, they would come to have disastrous racial consequences.
Reagan's policies have been adhered to and amped up by both Democratic and Republican presidents since Reagan left office 24 years ago, and they have created the dangerous imbalance that wiped out a generation of black and Latino wealth.
Black and brown wealth is the lowest ever measured, and another generation will pass before net worth in these communities comes back in any recognizable form. Both parties are complicit in this destruction.
This is where Obama's muteness on race and taxes comes into play. It reflects the fact that Democrats conceded the ground on Reagan's arguments long ago.




Majority Leader John Boehner stands near a portrait of Ronald Reagan at National Republican Committee headquarters in Washington, D.C., on March 16, 2010. Photo: Jonathan Ernst/Getty Images


~~~~~~~~~~~~~~~~~~~~~~~~~~~~~~~~~~~~~~~~~~~~~~~~
Rightwingers are going crazy on twitter about this picture the White House tweeted in honor of the the 57th anniversary of Rosa Parks' refusal to move to the back of the bus because..... they're rightwingers.
~~~~~~~~~~~~~~~~~~~~~~~~~~~~~~~~~~~~~~~~~~~~~~~~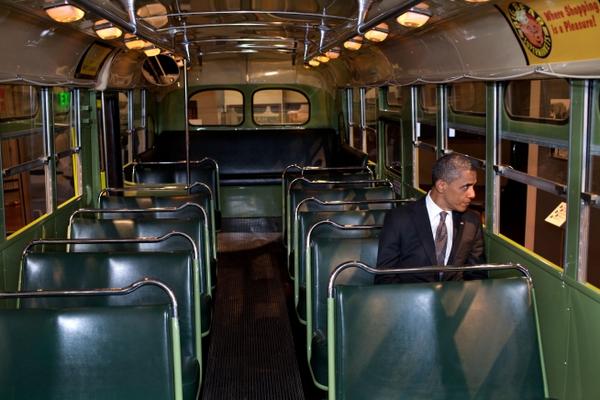 ~~~~~~~~~~~~~~~~~~~~~~~~~~~~~~~~~~~~~~~~~~~~~~~~~~~


~~~~~~~~~~~~~~~~~~~~~~~~~~~~~~~~~~~~~~~~~~~~~~~~~~~
Debra Fraser-Howze talks about the rowdy, heart-wrenching early days in the fight against the epidemic. The Root: A Pioneer Activist on World AIDS Day.
~~~~~~~~~~~~~~~~~~~~~~~~~~~~~~~~~~~~~~~~~~~~~~~~~~~
This year marks the 25th celebration of World AIDS Day, and according to activists like National Black Leadership Commission on AIDS founder and current OraSure Senior Vice President of Government Affairs Debra Fraser-Howze, it's been a tumultuous but rewarding journey.
In the early 1980s, Fraser-Howze was working with the Urban League to reduce teen pregnancy when a young man who was HIV positive came into her clinic. He had a pregnant girlfriend and another child by a different woman. At the time, U.S. safety rhetoric told people that condom use would reduce the spread of sexually transmitted diseases, but Fraser-Howze knew that the large number of teen moms meant few people were following that advice. And when a co-worker asked her whether the young man could've spread HIV to both of his partners as well as his children, she knew an epidemic was on the horizon.
Gathering the major players of New York's health, religious and political sector, Fraser-Howze soon began the National Black Leadership Commission on AIDS and has worked tirelessly to fight the HIV/AIDS epidemic in the African-American community ever since. This battle included a few harried moments where activists of color faced off against white gay male activists who thought HIV was chiefly their community's concern. According to Fraser-Howze, at one particular confab the Fruit of Islam even had to act as security guards for her and her colleagues.
Now, as a senior vice president of government affairs at OraSure, which recently released the first at-home HIV test, called OraQuick, Fraser-Howze hopes that the product, which can be purchased at pharmacies such as CVS and Walgreens, can help the more than 200,000 Americans who are HIV positive but don't know it.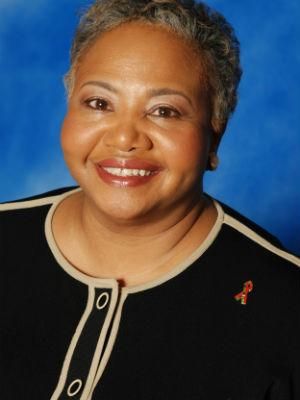 Debra Fraser-Howze


~~~~~~~~~~~~~~~~~~~~~~~~~~~~~~~~~~~~~~~~~~~~~~~~~~~


~~~~~~~~~~~~~~~~~~~~~~~~~~~~~~~~~~~~~~~~~~~~~~~~~~~
At Haiti's most popular political talk show, 'Ranmase,' movers and shakers who make the news engage in a verbal free-for-all. Miami Herald: It's a political firefight on Haitian radio.
~~~~~~~~~~~~~~~~~~~~~~~~~~~~~~~~~~~~~~~~~~~~~~~~~~
They arrive one by one, taking their seats around the expansive table with worn chairs and color-coded microphones, ready to shred opponents in the battle to shape public opinion.
Every Saturday, on the Haitian radio version of CNN's Crossfire, politicians, pundits, critics and want to-be kingmakers vie for a chance to lob accusations, cross verbal swords and debate Haiti's future. Bickering politicians drop in unannounced, pro-government operatives fire off text messages defending the administration and everyone tries to avoid the shrapnel from the latest political bombshells.
This is Ranmase, where there is no studio audience, no applause meter and no stop clock — just the amplified sound of Creole-accented voices emanating throughout the city.
In taxi cabs and beauty shops, from Port-au-Prince to Paris to Miami and Montreal, listeners tune in for the political firefight. And it's all happening in a country where free speech historically has been repressed.
"This is a Saturday ritual. You have to listen in," said Steven Benoit, a maverick senator and frequent guest. "After the show, you go on the Internet or into the streets, and everybody is talking about what was said on Ranmase."
Moderating the show is Jean Monard Metellus, a respected journalist who at times is more a quiet ringleader than a referee.




Former Port-au-Prince Mayor Evans Paul, left, discusses his views as Jean Monard Metellus, right, host of the popular weekly radio program, Ranmase, listens closely. Paul was among several opposition leaders who joined a government supporter to discuss the government on Ranmase Saturday.
Carl Juste/Miami Herald


~~~~~~~~~~~~~~~~~~~~~~~~~~~~~~~~~~~~~~~~~~~~~~~~~
Rebels in eastern Democratic Republic of Congo have withdrawn from the key city of Goma under a regionally brokered agreement. BBC: Rebels in DR Congo withdraw from Goma.
~~~~~~~~~~~~~~~~~~~~~~~~~~~~~~~~~~~~~~~~~~~~~~~~~
The M23 rebels boarded trucks and headed out of the city, 11 days after seizing it from government troops backed by UN peacekeepers.
The deal calls for the rebels to withdraw towards the town of Kibumba.
The M23 rebels deserted from the army in April, with some 500,000 people fleeing their homes in ensuing unrest.
The last remaining 300 rebels sang as they left Goma on flat-bed trucks, AFP news agency reported.
"Now Congolese government policemen are controlling the central bank, the governor's office and the border post," Ugandan Brig Jeffrey Muheesi, who serves on a mission sent by regional leaders to observe the withdrawal, told the Associated Press news agency.
More than 270 Congolese policemen have arrived in the city port as part of the transition.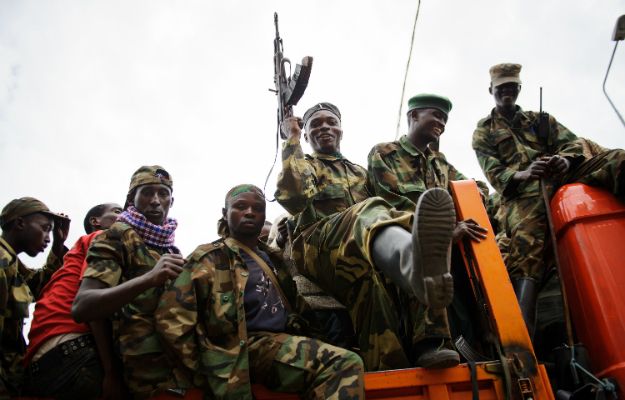 ~~~~~~~~~~~~~~~~~~~~~~~~~~~~~~~~~~~~~~~~~~~~~~~~~~~

~~~~~~~~~~~~~~~~~~~~~~~~~~~~~~~~~~~~~~~~~~~~~~~~~~~
Call it black blindness. Miami Herald: Another case of 'black blindness'?
~~~~~~~~~~~~~~~~~~~~~~~~~~~~~~~~~~~~~~~~~~~~~~~~~~~
It is a kind of myopia that afflicts some of us — too many of us — whenever we gaze upon a dark-skinned man. It causes some of us — too many of us — to see things that are not there, and to miss things that are. Sometimes, it is fatal.
Such was the case for Amadou Diallo, the African immigrant who died in a hailstorm of gunfire in 1999 after police mistook his wallet for a gun.
We cannot yet know if black blindness was the cause of death for Jordan Davis, a 17-year-old black kid who was killed the night after Thanksgiving. But there is reason to suspect it was. Davis was shot by a 45-year-old white man, Michael David Dunn, who says he saw a rifle. At this writing, police have recovered no such weapon.
The altercation began with an argument in a gas station in Jacksonville. Dunn had pulled in so his girlfriend could go to the convenience store. In an SUV next to him were Davis and three other teenagers playing their music too loudly. Dunn told them to turn it down. An argument ensued. Dunn's attorney, Robin Lemonidis, says the teenagers peppered him with obscenities and insults. Then, she says, Davis poked a rifle through an open window, threatened her client and began to open the door of the SUV. Dunn reached for his pistol and came up firing. The SUV peeled out. Dunn kept shooting at it because, his lawyer says, he feared the teenagers might come back after him.
"There is no racial motivation here whatsoever," she told The New York Times. But even if you buy that, Dunn's story still has holes in it you could drive a shot-up SUV through.
Consider: someone's got a gun trained on you, about to shoot, yet you have time to reach for your glove box, open it, unholster your own weapon and bring it up? Not even Little Joe Cartwright was that fast on the draw.
Then there's the fact that afterward, Dunn and his girlfriend went to a hotel. You've been threatened, you had to shoot to save your life . . . and you go to a hotel? You don't alert authorities about this SUV full of dangerous kids roaming the streets?
Dunn, says Lemonidis, did not realize he had killed Davis until he saw the news the following morning. Yet, he still did not contact authorities, instead driving home to Satellite Beach, about 175 miles south, intending to turn himself in to a neighbor who has law enforcement ties. Police, who had gotten his license plate number from witnesses, soon arrived to arrest him.


~~~~~~~~~~~~~~~~~~~~~~~~~~~~~~~~~~~~~~~~~~~~~~~~~~~~~~~~~~
Voices and Soul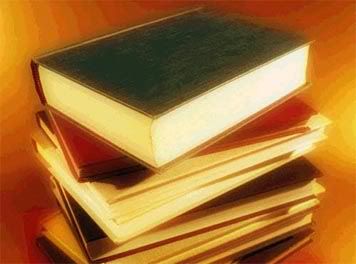 by Justice Putnam
Black Kos Poetry Editor
I resent this War on Women. I resent the men and ideas behind it.
I resent my sisters and aunts, my cousins and nieces, my mothers, grandmothers, girlfriends and ex-wives must endure this never-ending subjugation as chattel, objects to be sanctified and abused in some sick equal measure for some sick evil minds.
I resent it.
Oh, did I mention about a Reckoning?

Poem about My Rights

Even tonight and I need to take a walk and clear
my head about this poem about why I can't
go out without changing my clothes my shoes
my body posture my gender identity my age
my status as a woman alone in the evening/
alone on the streets/alone not being the point/
the point being that I can't do what I want
to do with my own body because I am the wrong
sex the wrong age the wrong skin and
suppose it was not here in the city but down on the beach/
or far into the woods and I wanted to go
there by myself thinking about God/or thinking
about children or thinking about the world/all of it
disclosed by the stars and the silence:
I could not go and I could not think and I could not
stay there
alone
as I need to be
alone because I can't do what I want to do with my own
body and
who in the hell set things up
like this
and in France they say if the guy penetrates
but does not ejaculate then he did not rape me
and if after stabbing him if after screams if
after begging the bastard and if even after smashing
a hammer to his head if even after that if he
and his buddies fuck me after that
then I consented and there was
no rape because finally you understand finally
they fucked me over because I was wrong I was
wrong again to be me being me where I was/wrong
to be who I am
which is exactly like South Africa
penetrating into Namibia penetrating into
Angola and does that mean I mean how do you know if
Pretoria ejaculates what will the evidence look like the
proof of the monster jackboot ejaculation on Blackland
and if
after Namibia and if after Angola and if after Zimbabwe
and if after all of my kinsmen and women resist even to
self-immolation of the villages and if after that
we lose nevertheless what will the big boys say will they
claim my consent:
Do You Follow Me: We are the wrong people of
the wrong skin on the wrong continent and what
in the hell is everybody being reasonable about
and according to the Times this week
back in 1966 the C.I.A. decided that they had this problem
and the problem was a man named Nkrumah so they
killed him and before that it was Patrice Lumumba
and before that it was my father on the campus
of my Ivy League school and my father afraid
to walk into the cafeteria because he said he
was wrong the wrong age the wrong skin the wrong
gender identity and he was paying my tuition and
before that
it was my father saying I was wrong saying that
I should have been a boy because he wanted one/a
boy and that I should have been lighter skinned and
that I should have had straighter hair and that
I should not be so boy crazy but instead I should
just be one/a boy and before that
it was my mother pleading plastic surgery for
my nose and braces for my teeth and telling me
to let the books loose to let them loose in other
words
I am very familiar with the problems of the C.I.A.
and the problems of South Africa and the problems
of Exxon Corporation and the problems of white
America in general and the problems of the teachers
and the preachers and the F.B.I. and the social
workers and my particular Mom and Dad/I am very
familiar with the problems because the problems
turn out to be
me
I am the history of rape
I am the history of the rejection of who I am
I am the history of the terrorized incarceration of
myself
I am the history of battery assault and limitless
armies against whatever I want to do with my mind
and my body and my soul and
whether it's about walking out at night
or whether it's about the love that I feel or
whether it's about the sanctity of my vagina or
the sanctity of my national boundaries
or the sanctity of my leaders or the sanctity
of each and every desire
that I know from my personal and idiosyncratic
and indisputably single and singular heart
I have been raped
be-
cause I have been wrong the wrong sex the wrong age
the wrong skin the wrong nose the wrong hair the
wrong need the wrong dream the wrong geographic
the wrong sartorial I
I have been the meaning of rape
I have been the problem everyone seeks to
eliminate by forced
penetration with or without the evidence of slime and/
but let this be unmistakable this poem
is not consent I do not consent
to my mother to my father to the teachers to
the F.B.I. to South Africa to Bedford-Stuy
to Park Avenue to American Airlines to the hardon
idlers on the corners to the sneaky creeps in
cars
I am not wrong: Wrong is not my name
My name is my own my own my own
and I can't tell you who the hell set things up like this
but I can tell you that from now on my resistance
my simple and daily and nightly self-determination
may very well cost you your life

-- June Jordan
~~~~~~~~~~~~~~~~~~~~~~~~~~~~~~~~~~~~~~~~~~~~~~~~~~~~~~~~~~
Welcome to the Front Porch!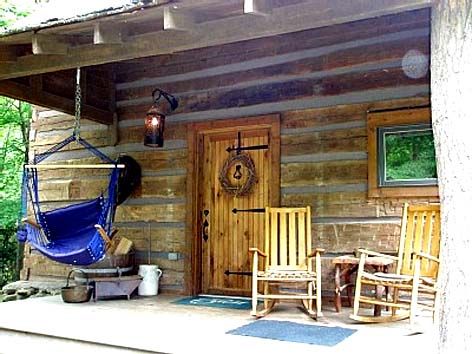 We may have quite a few newcomers to the porch today, so thought it might be a good time to repost just what our front porch is all about. To those of you who haven't been here for a while - welcome back!

There's an old tradition in our community of gathering on the front porch, sometimes to just "set a spell" and talk with kin folk or neighbors. Sometimes just to watch the world pass by. Or read the newspaper. Other times it's a good place to get some work done–shelling peas, or plucking chickens, mending or sitting one of the kids down to braid their hair. We gossip, talk about the news of the day, recite poetry–hum, or sing or even pray. Some folks bring instruments, and impromptu music sessions occur.

We love music cause it feeds the soul.

Now it isn't always a porch–in the city it might be a stoop, or a fire-escape.
In cyberspace it's a string of letters–but never forget that there are real people behind the fonts.

Sometimes that slips our minds.

Whether country, or city or cyber–the front porch is a place where we can gather together. In harmony. Doesn't mean we always agree–we have had many a heated discussion on porches, but they should always be rooted in love and respect.

Folks bring food, in the spirit of sharing. Folks bring their problems–in the spirit of caring.

We call today's porch Tuesday's Chile 'cause Tuesday's child is full of grace (we have a Southern accent so child is spoken "chile"). On Friday's we gather at 4PM EST to review the week and celebrate the weekend to come.

We know a lot about grace. It gets us through the day.

We welcome everyone to the porch–somehow some folks have gotten the impression that only black folks are gathered here. That's far from the truth. We are a bit like gumbo–a heady mix of ingredients goes into the pot and we wind up with a savory stew.

We ask newcomers to introduce themselves when they drop by. Most of us have known each other for quite a while, but we are always open to expanding the family. And we are a family. We tend to call each other brother or sister. It's not a church thing–it's a kinship thing. It helps strengthen the bonds of friendship and community.

We have comfy chairs, a rocker in the corner and a glider. There's a hammock slung from the beams–but it is usually occupied. We figger if you find a comfortable place to sit–you'll stay awhile and make some new friends.