Today would have been my brother's 66th birthday. We should have been making arrangements for him to be down here for Christmas with his only daughter, three grandchildren, son-in-law and only sister. We should have been making final arrangements for him to be moving down here to be near us. Instead we are trying to get through the first birthday without him.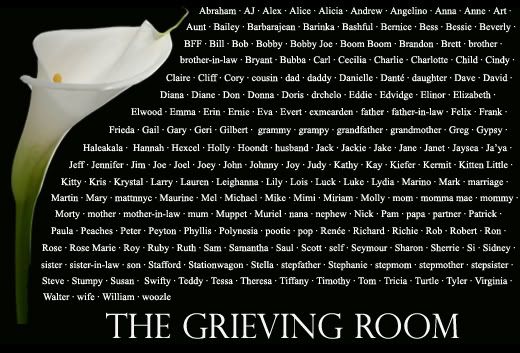 A special welcome to anyone who is new to The Grieving Room. We meet every Monday evening. Whether your loss is recent or many years ago, whether you have lost a person or a pet, or even if the person you are "mourning" is still alive ("pre-grief" can be a very lonely and confusing time) you can come to this diary and process your grieving in whatever way works for you. Share whatever you need to share. We can't solve each other's problems, but we can be a sounding board and a place of connection.
Mike and I were 16 months apart. We were very close. Mike was very competitive with me and was always trying to see if he could top me on something, anything. He was frustrated that I was an artist and he couldn't draw a straight line with a ruler as he put it. Eventually he decided that he would pursue his own things and not try and compete with me. Unfortunately one of the things he wanted to be was a writer. He wrote a lot. I got published. He would complain that the heroes in my stories never made great world changing decisions. Dad would tell him that at least my stories were not boring.
Mike excelled at his job even though his people kept taking advantage of his good nature. He loved his work. When he retired he was totally at a loss. He didn't know what to do with his time. Unfortunately he turned to drink. His so-called friends took advantage of him and he squandered most of his daughter's inheritance on a business that is doomed to failure. I had to clean everything up after him.
It is hard knowing that if he had told me what was going on instead on lying to me I could of come up and helped him get down here to be with his family where he belonged. I would have realized these people were taking advantage of him and put a stop to it. There was an episode of Doctor Who where one of the characters said that "if" is the biggest word in the English language. If I had known but I didn't.
Now comes the part where we all try to heal. We try to remember the good things about my brother. We remember that he is no longer in pain from his time in Vietnam. His daughter told me the other day that by virtue of the fact that I am the oldest I am now Mom to her and Grandma to the kids. She was only partly kidding. I am now her sole emotional support here in North Carolina.
I had bought him a special present. Friends overseas make L'arpies (Little 'appy Rock People) to help in the fight against child abuse and pornography. I had them make a Knights of Columbus one for him. He was so proud of being a Knight. I was so looking forward to seeing his face when he opened it. I miss him terribly.
So happy birthday, Mike, I'll take the best care I can of your only child and your three grandchildren.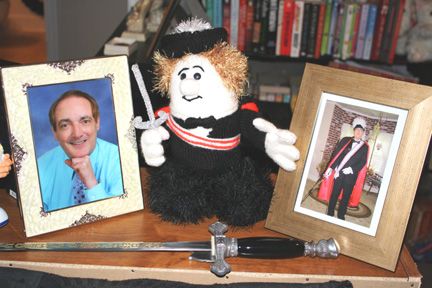 "A link to all previous Grieving Room diaries."
Upcoming Hosting Schedule
12/10: laurustina
12/17: Aji
12/24: JupiterSurf
12/31: Dem in the Heart of Texas
1/7: TrueBlueMajority
All dates after 1/7/2013 are open. Please volunteer for a hosting date by replying here or sending a PM to TrueBlueMajority, the new series coordinator.