Black Pete (Zwarte Piet) versus Balthazar: thoughts on blackface in holiday traditions and iconography
Commentary by Black Kos Editor Denise Oliver Velez
As the Christian holiday season kicks in around the world celebrations abound, with many cultural variations. But there are also debates that swirl around "tradition' and one that has in recent years caused quite a bit of angst is the tradition in the Netherlands, and Belgium of dressing up in blackface to represent Zwarte Piet (Black Pete).
See the happy blackened afro-wigged gold earring wearing young Dutch folks above.
Zwarte Piet (Black Pete), Sinterklaas' helper
Sinterkauss (Saint Nicholas) comes every year on December 5 with his black servant Pete, and good boys and girls get gifts and bad children will be punished.
In recent years voices have be raised in protest, not against Sinterklaus, but in response to Black Pete.
There is growing discussion in the press. Here are a few, read them if you have time.
A traditional Sinterklaas debate: Is 'Black Pete' racist?
Should Black Pete still be part of Dutch Christmas?
Black day for Santa as most Dutch remain slaves to tradition
Like the Golliwog, Zwarte Piet is a racist relic, so why is it part of the modern Dutch Christmas?
Zwarte Piet: Opposition Grows To 'Racist Black Pete' Dutch Christmas Tradition
I'll grab a quote from the Guardian:
Black Pete exposes the Netherlands' problem with race: White people dressing up as fools with black faces is not the harmless Christmas fun that the Dutch make it out to be

In America you have Santa Claus, in the UK he's Father Christmas, and in the Netherlands he's called Sinterklaas. Unlike the other Santas, though, the Dutch Sinterklaas arrives with his slave/servant called Zwarte Piet. The slave-servant comes dressed like a renaissance minstrel: black face, painted red lips, afro wig. The arrival is a huge event: Sinterklaas and the Zwarte Pieten make a grand entrance, and the whole parade is broadcast on public television. Sinterklaas sits tall on a white horse while his black servants share out candy to the kids on the sidelines, and families from all over the country turn up to watch. Or course, there are always several Black Petes, typically played by white people, all in blackface, with red painted lips and afro wigs.

The transformation, however, is not complete with the outfit and greasepaint. The character must speak poor Dutch with a stupid accent, and must act childlike and mischievous when performing. And from mid-November, when Sintaklass and his servants arrive, you can see Zwarte Pieten all over, on television programmes and commercials and on the streets, acting the fool.

At schools across the country, children sing songs referring to the skin tone and character of the black servant "...even if I'm black as coal I mean well…", "Saint Nicolas, enter with your black servant", etc, and there are other old songs about Zwarte Piet in which he's made out to be a little bit stupid, a little bit clumsy, more akin to a child than an adult, the same generalisations previously applied to black people, but which can no longer be made explicitly.
Reading these critiques, and watching the protests each year as an outsider, got me to thinking about why I have never reacted to the blackface, used in the celebrations in Spain, Latin America and the Caribbean of Three Kings Day (
El Día de los Reyes Magos
) on January 6.
Sometimes these days an actual black person plays the part of Balthazar.
There has been a campaign in Spain for "No más Baltasares pintados" (No more painted Balthazars)
Perhaps my reactions to Bathazar were partially shaped as an art student and art history major. As Henry Louis Gates points out

While Africans were systematically enslaved in the Middle East and Europe from time immemorial, and in the New World from 1502 onward, in art they have often been presented as noble figures, even as gods and other mythic figures, and as saints and kings. The master-slave relation between Europeans and black Africans, it turns out, was just one theme among many others in Western art.
Or it has perhaps more to do with my own childhood. We had a carved nativity scene that we put under the tree each year, similar to the one below. My favorite "king" was Balthazar. He was black like me, not white like the baby Jesus and the rest.
Plus he was a king. Royalty.
Bearing rich gifts.
One of my parents favorite Christmas carols served to re-enforce that feeling.


We three kings of Orient are
Bearing gifts we traverse afar.
Field and fountain, moor and mountain,
Following yonder star.
Black Pete's day has passed. The Three Kings have yet to reach Bethlehem this season.
I can't imagine putting on blackface, but I have painted some black statue faces white. Nothing to do with holidays, but I remember protesting black lawn jockeys by going out with a group of kids and painting all of them in my neighborhood white. Later I learned the history of real black jockeys that won the Kentucky Derby. I've fought racist blackface images from Mammy and Sambo to Aunt Jemima to those that are used by TeaPublicans and others to demean our President.
Star of wonder, star of light....
I still wish on stars. I wish we could end racism.
But no longer a child I know wishes are not enough. It takes action.
Best wishes to all during the season, and here's hoping for more action in the year ahead.
~~~~~~~~~~~~~~~~~~~~~~~~~~~~~~~~~~~~~~~~~~~~~~~~~~~
News by dopper0189, Black Kos Managing Editor
~~~~~~~~~~~~~~~~~~~~~~~~~~~~~~~~~~~~~~~~~~~~~~~~~~~

~~~~~~~~~~~~~~~~~~~~~~~~~~~~~~~~~~~~~~~~~~~~~~~~~~~
The fifth installment of CNN's "Black in America" looks at the kickstater funded work of Dr. Yaba Blay. ColorLines: CNN Contributing Producer Probes Lingering Pain of the 'One Drop' Rule.
~~~~~~~~~~~~~~~~~~~~~~~~~~~~~~~~~~~~~~~~~~~~~~~~~~
Keep the concept of privilege-clinging in the back of your mind as you check out the work and words of Dr. Yaba Blay, the driving force behind "Who Is Black in America?" the fifth installment of CNN's "Black in America" series. Using Blay's Kickstarter-funded multimedia collaboration with photographer Noelle Theard as a starting point, the show focuses on how people of African descent practice colorism, enforce identities based on appearance and the challenges of self-definition for multiracial people who aren't recognizably black. I caught up with Blay, an assistant professor of Africana Studies at Philadelphia's Drexel University (and, full disclosure, a Facebook-buddy-turned-friend), a few days after she co-hosted a special screening of the program on campus. Here, an edited, condensed version of our discussion.
So what's the origin of the (1)ne Drop Project?
Oftentimes we do research that's reflective of our lived experiences. So I've been personally impacted by colorism growing up as a West African, dark-skinned girl in New Orleans where you've got [self-described] black, white and Creole [cultures] and skin color politics are at the forefront of our social relationships there. I've always been very aware that I'm dark-skinned, in fact very dark-skinned. … I looked at colorism from the standard direction as far as how we look at the disadvantages of having dark skin in a racialized society. But there was always a part of me that wanted to explore the other side of this. … And actually, the first iteration of this project was called "The Other Side of Blackness," but "(1)ne Drop" just emerged [as a] more catchy name. I've always known that light-skinned people were having their own experiences with skin color politics, but I wasn't necessarily sure how to approach the question. There are black people all over the world, but the imagery connected to [blackness] has been more nebulous. If I take my students on study abroad, say in Brazil, will they be able to recognize the black people? Or are they just living with the idea that the black people are the ones who look familiar?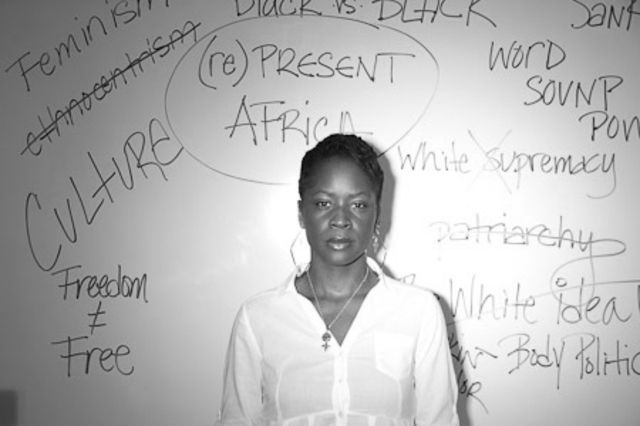 Portrait of Dr. Yaba Blay Photo: by Rashid Zakat, courtesy of BlackStarCreative LLC


~~~~~~~~~~~~~~~~~~~~~~~~~~~~~~~~~~~~~~~~~~~~~~~~~~~


~~~~~~~~~~~~~~~~~~~~~~~~~~~~~~~~~~~~~~~~~~~~~~~~~~~
The NAACP is going on the offensive on education. Black Voices: NAACP Volunteers To Push For Biggest Education Overhaul Since Brown v. Board Of Education.
~~~~~~~~~~~~~~~~~~~~~~~~~~~~~~~~~~~~~~~~~~~~~~~~~~~~
The NAACP is going on the offensive on education, deploying volunteers across the country in its biggest push for a public education overhaul since the nation's classrooms were ordered desegregated in 1954, the civil rights group said Thursday.
The volunteers, who have been trained for the past two years, will lobby at the state and county levels for four educational priorities:
_ Extended school hours and years in school
_ Improved teacher training
_ Improved preschool programs
_ Better targeting of spending to the neediest of students
Such changes for all children, not just minorities, are the only way to ensure an educated American workforce and a thriving economy, said NAACP president and CEO Ben Jealous.
"We will always play defense on Brown (vs. Board of Education)," Jealous said, invoking the 1954 Supreme Court decision that ended legal school segregation and became a civil rights milestone. "We will always play defense when folks who are disproportionately disciplining our children harshly in ways that do not help them. You know what we are playing offense on? We are playing offense on these four things."




Associated Press


~~~~~~~~~~~~~~~~~~~~~~~~~~~~~~~~~~~~~~~~~~~~~~~~~~~


~~~~~~~~~~~~~~~~~~~~~~~~~~~~~~~~~~~~~~~~~~~~~~~~~~~
Nelson Mandela's failing health is leading to introspective thinking in South Africa. Washington Post: As frail Nelson Mandela is hospitalized, his South Africa finds itself at political crossroads.
~~~~~~~~~~~~~~~~~~~~~~~~~~~~~~~~~~~~~~~~~~~~~~~~~~~
Inside a Catholic church that once served as a major rallying point for anti-apartheid activists, the image of a gray-suited Nelson Mandela appears in stained-glass window that also features angels and the cross.
Worshippers here prayed Sunday for the hospitalized 94-year-old former president, who remains almost a secular saint and a father figure to many in South Africa, a nation of 50 million people that has Africa's top economy.
Mandela's admission to the hospital this weekend for unspecified medical tests sparked screaming newspapers headlines and ripples of fear in the public that the frail leader is fading further away.
And as his African National Congress political party stands ready to pick its leader who likely will be the nation's next president, some believe governing party politicians have abandoned Mandela's integrity and magnanimity in a seemingly unending string of corruption scandals. That leaves many wondering who can lead the country the way the ailing Mandela once did.
"When you have someone that's willing to lead by example like he did, it makes things easier for people to follow," said Thabile Manana, who worshipped Sunday at Soweto's Regina Mundi Catholic church. "Lately, the examples are not so nice. It's hard. I'm scared for the country."



~~~~~~~~~~~~~~~~~~~~~~~~~~~~~~~~~~~~~~~~~~~~~~~~~~~


~~~~~~~~~~~~~~~~~~~~~~~~~~~~~~~~~~~~~~~~~~~~~~~~~~~
The upcoming fight in the Supreme Court of voting rights. ColorLines: Voting Rights Icon Lawrence Guyot's Death Animates Fight Over Future .
~~~~~~~~~~~~~~~~~~~~~~~~~~~~~~~~~~~~~~~~~~~~~~~~~~~
Few people have taken as many fists and gun butts to the head, kicks to the gut and hours of torturous treatment as Lawrence Guyot, an original civil rights soldier who continued struggling all the way up to his death on Nov. 23, at the age of 73.
In the early 1960s, he worked with the Student Nonviolent Coordinating Committee, as a native son of Mississippi, and became the director of the Freedom Summer Project in Hattiesburg. He also was a founder of the Mississippi Freedom Democratic Party that courageously worked to change the state's Democratic Party from exclusively white to inclusive of African Americans. For his work in registering black people to vote alongside freedom fighters such as Fannie Lou Hamer, Dorie Ladner, Medgar Evers and June Johnson, he was bloodied and beaten by white police, sometimes within a hair of death. Susan Glisson, executive director of the William Winter Institute for Racial Reconciliation at the University of Mississippi, offers a moving tribute to Guyot that you should read.
The blood he shed, and his organizing around voter registration, is the clay from which the Voting Rights Act of 1965 was formed. Guyot was engaged to the end, and brought himself to vote one last time in this November's elections, as he was battling diabetes and heart disease. Avis Thomas-Lester, executive editor of the black D.C. newspaper The Afro wrote in his obituary for Guyot:

After moving to Washington D.C., he continued to lobby for voting rights, becoming one of the foremost experts on the topic and a staunch believer that Blacks needed to be vigilant to ensure that their voting rights weren't compromised. He watched in consternation and concern as state after state moved, by Republican machinations, to limit access to the polls for the November 2012 election and was elated that Obama was reelected despite them.
After Guyot's death, Constitutional Accountability Center's Doug Kendall and Emily Phelps wrote a post about why the Supreme Court should consider his legacy in their upcoming review of the Voting Rights Act. Wall Street Journal columnist James Taranto pounced on CAC's argument, accusing them of romanticizing Guyot's death and suggesting that the civil rights struggles of the past are irrelevant to the voting rights matter before the Court today.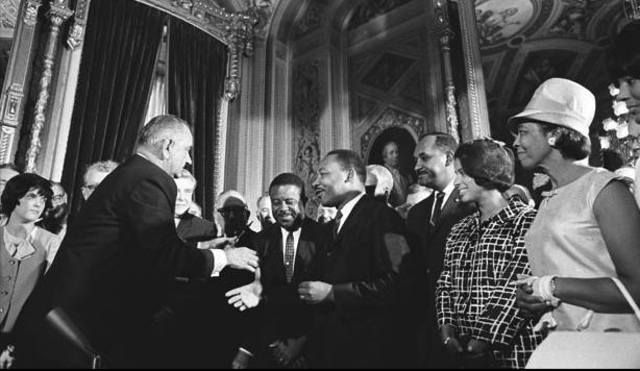 LBJ courtesy of Color Lines
~~~~~~~~~~~~~~~~~~~~~~~~~~~~~~~~~~~~~~~~~~~~~~~~~~~~~~~~~~
Voices and Soul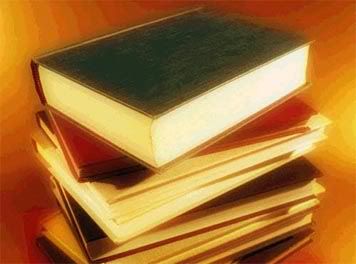 by Justice Putnam
Black Kos Poetry Editor
While people around the world demand equality and economic equilibrium, the acolytes of St Ronnie genuflect at the Altar of the Southern Strategy and the Chicago School of Economics. A mantra of self-interest causes them to fall into an almost trance-like state, so they meditate on their place in the Universe.
In the dream-land of the Master and in his dream-time as the Lord of Servants; the cosmology of existence is predetermined and exact. Daddy Petrol Warbucks and his Trophy Wife strut through their palace of opulence, spilling dry cocktail gin on ancient marble; while their cruel children, Paris Brittany and Golden Brooks, play a cruel game of tearing off the wings of butterflies. When the children's supply runs low, more butterflies are delivered by military contractors, hired just for the occasion. Beyond the moats and the gates, across the outer estates and in the valleys around his expansive expanse, Soma drugs and televisions are delivered to the plebeians by the Big Brownshirt Delivery Corporation, a subsidiary of Daddy Petrol Warbucks, Incorporated.
In the dream-land of the Master and in his dream-time as the Lord of Servants; his happiness is bestowed by God. Why else would he be Daddy Petrol Warbucks, the anointed Master and Lord of Servants? Because he realizes the world depends on his well-being and ever-increasing largesse, he hires expeditionary forces to scour the lands for more largesse, which makes him even more happy. So happy, that his happiness spills over and baptizes the world below.
It's a happy world he has created; the plebes have their distractions, his wife has her Chanel and the children have their butterflies.
So happy. So very, very happy.
In theory, of course.
The Trickle-Down Theory of Happiness

Out of heaven, to bless the high places,
it falls on the penthouses, drizzling
at first, then a pelting allegro,
and Dick and Jane skip to the terrace
and go boogieing through the azaleas,
while mommy and daddy come running
with pots and pans, glasses, and basins
and try to hold all of it up there,
but no use, it's too much, it keeps coming,
and pours off the edges, down limestone
to the pitchers and pails on the ground, where
delirious residents catch it,
and bucket brigades get it moving
inside, until bathtubs are brimful,
but still it keeps coming, that shower
of silver in alleys and gutters,
all pouring downhill to the sleazy
red brick, and the barefoot people
who romp in it, laughing, but never
take thought for tomorrow, all spinning
so when Providence turns off the spigot
and the sky goes as dry as a prairie,
then daddy looks down from the penthouse,
down to the streets, to the gutters,
and his heart goes out to his neighbors,
to the little folk thirsty for laughter,
and he prays in his boundless compassion:
on behalf of the world and its people
he demands of his God, give me more.
~~~~~~~~~~~~~~~~~~~~~~~~~~~~~~~~~~~~~~~~~~~~~~~~~~~~~~~~~~
Welcome to the Front Porch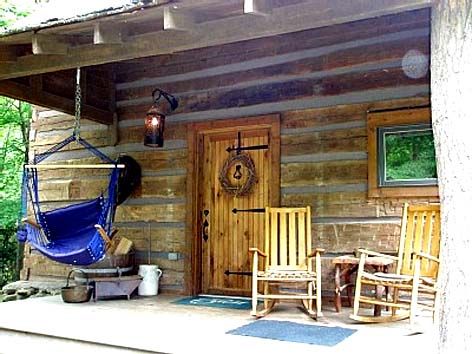 There's an old tradition in the black community of gathering on the front porch, sometimes to just "set a spell" and talk with kin folk or neighbors. Sometimes just to watch the world pass by. Or read the newspaper. Other times it's a good place to get some work done–shelling peas, or plucking chickens, mending or sitting one of the kids down to braid their hair. We gossip, talk about the news of the day, recite poetry–hum, or sing or even pray. Some folks bring instruments, and impromptu music sessions occur.

We love music cause it feeds the soul.

Now it isn't always a porch–in the city it might be a stoop, or a fire-escape.
In cyberspace it's a string of letters–but never forget that there are real people behind the fonts.

Sometimes that slips our minds.

Whether country, or city or cyber–the front porch is a place where we can gather together. In harmony. Doesn't mean we always agree–we have had many a heated discussion on porches, but they should always be rooted in love and respect.

Folks bring food, in the spirit of sharing. Folks bring their problems–in the spirit of caring.

We call today's porch Tuesday's Chile 'cause Tuesday's child is full of grace (we have a Southern accent so child is spoken "chile"). On Friday's we gather at 4PM EST to review the week and celebrate the weekend to come.

We welcome everyone to the porch–somehow some folks have gotten the impression that only black folks are gathered here. That's far from the truth. We are a bit like gumbo–a heady mix of ingredients goes into the pot and we wind up with a savory stew.

We ask newcomers to introduce themselves when they drop by. Most of us have known each other for quite a while, but we are always open to expanding the family. And we are a family. We tend to call each other brother or sister. It's not a church thing–it's a kinship thing. It helps strengthen the bonds of friendship and community.

We have comfy chairs, a rocker in the corner and a glider. There's a hammock slung from the beams–but it is usually occupied. We figger if you find a comfortable place to sit–you'll stay awhile and make some new friends.