Good morning, Bombsters! Is it just me, or does this week seem to be going faster than last weeK? Of course, I cheated by missing a day of work...
Come on in and have a seat, have a cup of coffee or tea. Try the imaginary scones, they're great (and calorie free!).
Looking forward to Allen West's cameo in the new Red Dawn.

— Chris Dashiell (@cdashiell) December 10, 2012
My dogs are always so excited to see me they would probably FREAK OUT if they saw a celebrity.

— Jolly Chiller (@Pauly_Miller) December 10, 2012
Lots of snow & zero visibility up here. Haven't seen whiteout like this since @gop convention.

— Mudflats (@Mudflats) December 10, 2012
Grover Noquist's childhood neighbors remember him for his pledge to only eat dessert.

— LOLGOP (@LOLGOP) December 10, 2012
Once Michigan gets rid of unions, it's going to take a hard look at electricity and soap. #MIUnion

— Andy Borowitz (@BorowitzReport) December 10, 2012
I find it hard to believe that there's empirical data demonstrating that autocorrect fixes more errors than it creates.

— Miles Kurland (@Malacandra) December 10, 2012
If an athlete's photographed with a bong it's an embarrassment; if he's photographed with a beer it's an endorsement.

— John Fugelsang (@JohnFugelsang) December 11, 2012
The Cost of Ending Homelessness
Now, on to the history lesson!

On This Day
In 1787, Pennsylvania became the second state to ratify the United States Constitution.
In 1901, Guglielmo Marconi received the first transatlantic radio signal at Signal Hill in St John's, Newfoundland.
In 1941, Adolf Hitler announced his plans for extermination of the Jews at a meeting in the Reich Chancellery.
In 1950, Paula Ackerman, the first woman appointed to perform rabbinical functions in the United States, led the congregation in her first services.
In 2000, the United States Supreme Court released its decision in Bush v. Gore. Anti-depressant sales skyrocketed.
Born on This Day
1799 – Karl Briullov, Russian painter (d. 1852)
1805 – William Lloyd Garrison, American abolitionist (d. 1879)
1805 – Henry Wells, American banker (d. 1878)
1821 – Gustave Flaubert, French writer (d. 1880)
1863 – Edvard Munch, Norwegian painter whose most famous work, The Scream (which he did several versions of), is much parodied. (d. 1944)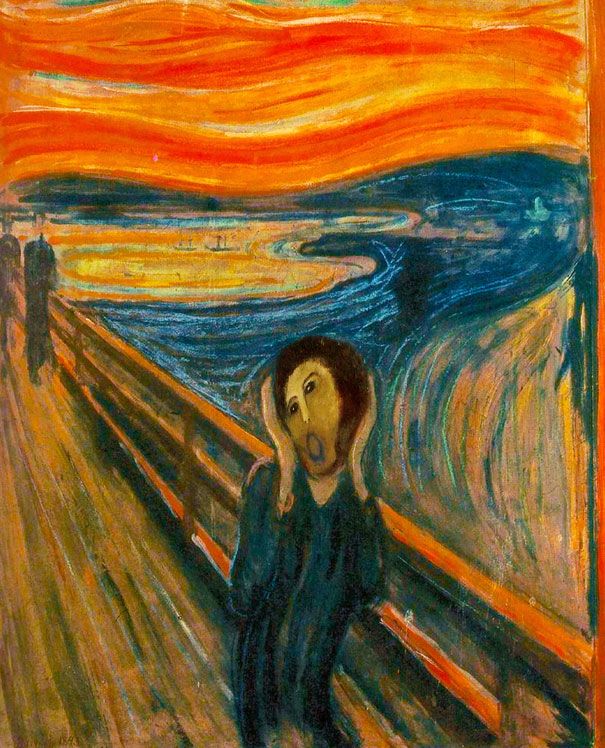 1881 – Harry Warner, American studio executive (d. 1958)
1893 – Edward G. Robinson, American actor (d. 1973)
1900 – Sammy Davis, Sr., American dancer (d. 1988)
1909 – Karen Morley, American actress (d. 2003)
1910 – Richard Sagrits, Estonian painter (d. 1968)
1915 – Frank Sinatra, American singer and actor (d. 1998)
1918 – Joe Williams, American singer (d. 1999)
1929 – John Osborne, English dramatist (d. 1994)
1940 – Dionne Warwick, American singer
1943 – Grover Washington, Jr., American saxophonist (d. 1999)
1944 – Rob Tyner, American singer, songwriter and activist (The MC5) (d. 1991)
1949 – Bill Nighy, English actor
1957 – Sheila E., American musician
1968 – Rory Kennedy, American documentarian
1970 – Mädchen Amick, American actress
1972 – Brandon Teena, American murder victim (d. 1993)
1975 – Mayim Bialik, American actress
Died on This Day
1889 – Robert Browning, English poet (b. 1812)
1923 – Raymond Radiguet, French author (b. 1903)
1939 – Douglas Fairbanks, American actor (b. 1883)
1968 – Tallulah Bankhead, American actress (b. 1902)
1978 – Fay Compton, English actress (b. 1894)
1985 – Anne Baxter, American actress (b. 1923)
1998 – Mo Udall, American politician (b. 1922)
1999 – Paul Cadmus, American artist whose work is often NSFW, but definitely worth seeing. (b. 1904)
1999 – Joseph Heller, American author (b. 1923
2008 – Van Johnson, American actor (b. 1916)
Today is
Poinsettia Day
Ding A Ling Day
Gingerbread House Day
Festival of Unmentionable Thoughts
National Ambrosia Day
National Popcorn String Day