Since this week seems to be "dust off your old fantasy maps week" on DKE, I wanted to post this beauty I constructed using the state's partisan average of 2004-2008 statewide races as a guide. Unlike the actual, horrific looking GOP gerrymander that whittled us down to just 5 seats to their 13, this map reverses that ratio. While it's clearly gerrymandered, none of the districts comes remotely close to being as ugly as the actual 7th district, among others. Again, keep in mind that I'm relying on the partisan average rather than Obama numbers because Obama underperforms local Dems significantly in southwestern Pennsylvania and overperforms considerably in the Philadelphia suburbs.

(click through for larger size)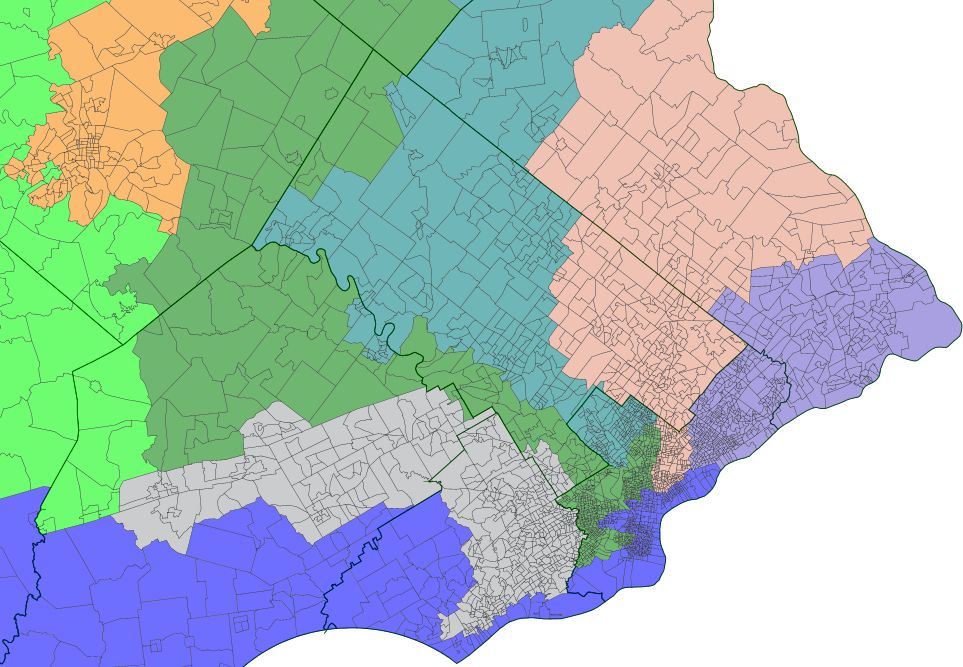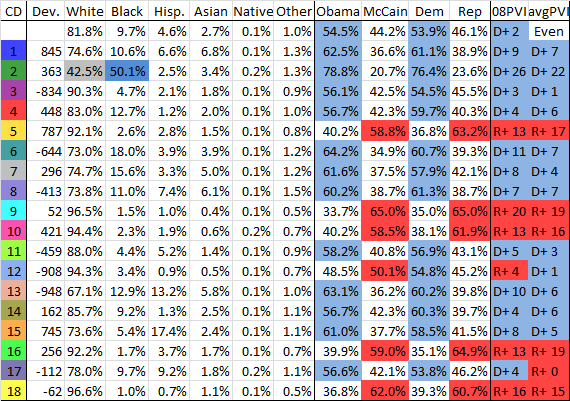 1st - Bob Brady (D) The 1st gets unpacked by dropping heavily Democratic parts of Delaware County and Hispanic parts of northeastern Philly in exchange for heavily conservative Pennsylvania Dutch country. A year and a half ago I would have said this was a flagrant VRA violation, but the real map dropped the black percentage drastically as well so... Anyway, Brady no longer has to worry about a primary challenge from a black Dem (though I may have drawn his home out, not that it matters).
Safe D
2nd - Chaka Fattah (D) This seat also needed to be unpacked which is hard since it has to be majority black. This is the only Dem vote sink on the map but I used it to utterly dismantle Jim Gerlach's old seat. Now it's just ridiculously Democratic instead of among the top 5 in the nation.
Safe D
3rd - Open (R-held) This district is the weakest of all the Dem seats thanks to it being open. Though it's technically the district of Mike Kelly (R), he would run in the neighboring 18th which is a GOP vote sink and contains his base as well as the bulk of his constituents in the primary. Given how Obama held up relatively well in Erie, I'm confident we'd have picked this up, whether with Kathy Dahlkemper or maybe someone a little more liberal.
Lean D pickup
4th - Jason Altmire (D) Altmire might actually hate this since it gets about 12% more Democratic than his old seat, but if he moved to the left and started voting like Mike Doyle I think he could have survived a primary since there's no Mark Critz. Anyway this is beyond safe D given how strong Altmire is in the suburbs north of Pittsburgh, but it would be safe Dem even if it's open.
Safe D
5th - Open (Scott Perry-R)
This GOP vote sink takes the place of the old 19th/new 4th and is essentially the same seat minus parts of York. Scott Perry won the actual 4th, so he'd probably win the primary here.
Safe R
6th - Jim Gerlach (R)
I honestly think Gerlach would have bailed on this seat for the 16th or statewide office seeing as he represented very little of it previously and it's over 7% more Dem than his old one and 12% more than his actual new one. Either way though, neither he nor any other Republican is winning here and the real action would be in the Dem primary.
Safe D pickup
7th - Pat Meehan (R)
Unlike Gerlach, Meehan is not nearly as entrenched in a blue seat and thus his seat is less Dem than the 6th. Still, it's quite Democratic at D+4 compared to statewide and nearly 10% more Dem than his real seat. Meehan would undoubtedly put up a fight, but he wouldn't win.
Likely D pickup
8th - Mike Fitzpatrick (R)
Fitzpatrick gets a significantly different seat by swapping upper Bucks County for northeast Philly and accordingly his district gets 10% more Democratic than the one where he won 56.6% of the vote, so I have no doubt that he'd lose. Interestingly, this is the only eastern PA district where Obama actually underperformed the Dem average.
Likely D pickup
9th - Bill Shuster (R)
The second GOP vote sink gets packed even further than the old 9th and far more than the new one. Shuster would be strongly favored in the primary though as no other incumbent Republican has much base to run on.
Safe R
10th - Tom Marino (R) vs. Glenn "GT" Thompson (R)
GOP vote sink number 3 sees the other member vs member GOP primary, though this one is thanks to reapportionment. If Thompson could make hay out of Marino's past ethics issues he might be able to keep it close or eke out a win, but the geography here heavily favors Marino. Fine by me since he'll never win statewide.
Safe R
11th - Lou Barletta (R)
This seat is just a tad more Democratic than either the old version or what a fair map might produce and is 11.5% more Dem than the one where Barletta won 58.5% this year vs. a 3rd tier candiate. Furthermore, it gives Barletta's base of Hazelton to the 17th and without a damaged incumbent to run against Barletta would be toast.
Likely D pickup
12th - Mark Critz (D)
This seat is the only Dem one on the map that McCain won, but it's nearly 6% more Dem than the one Critz nearly won this year and contains much more of his old district. I had wanted to boost the Dem % a little bit more, but the lines became too ridiculous looking. Most importantly, this district and the neighboring 18th try to prevent fellow incumbent Tim Murphy (R) from posing a serious threat to Critz. Were Murphy to run here, Critz would still be a strong favorite seeing as Murphy only represents 23% of the district to Critz's 66.5% and in the actual 12th, Critz nearly won despite previously representing just 29% of it.
Likely D
13th - Allyson Schwartz (D)
The 13th gets unpacked about 4% from reality to help out the other Dem pick ups. It's still nearly 3% more Dem than Schwartz's old district and she or any other Dem would have no trouble winning here.
Safe D
14th - Mike Doyle (D)
Along with Altmire, Doyle might dislike this one, but it's still safe D, not really trending right, and allows Altmire to be much better on economic issues (or just get primaried by an actual Democrat).
Safe D
15th - Harvey Charlie Dent (R)
This is the last Democratic pick up and like Gerlach would be in a more Republican district (than his old one) Dent is pretty well entrenched. This seat drops the most conservative parts of the Lehigh Valley district and adds heavily Democratic Reading to give Dent a district that is 5% more Democratic than his old one and 9% more Democratic than the one he won this year with 56.7% against a some dude. Like Fitzpatrick, Dent would certainly put up a fight but would ultimately lose.
Likely D pick up
16th - Joe Pitts (R)
This is the 4th GOP vote sink and draws a heavily Republican seat in Pennsylvania Dutch country. Pitts would almost certainly run here but since it contains a ton of new territory he would almost certainly face a credible primary challenge.
Safe R
17th - Tim Holden (D)
This is hands down my favorite Democratic district in the map (though the 12th is a runner up). It's clearly the most gerrymandered on the map and looks kind of like an upside down hammerhead tortoisegiraffe. It draws Holden's base of Holdengrad Schuylkill County and Harrisburg from his old district together with the Democratic inner parts of Lancaster and York as well as Barletta's base in Hazelton. Holden is much better positioned to win the primary here despite the district getting 9% more Dem than his old one since it contains a lot of his old district and doesn't have a lot of established Democrats in the new section. Obama overperformed local Dems who aren't Holden in this district, but thanks to Holden's lock on Schuylkill County this seat is his as long as he wants it.
Safe D
18th - Tim Murphy (R) vs. Mike Kelly (R)
This 5th and last GOP vote sink is also my hands down favorite Republican district since it draws together two Republican incumbents while preventing them from threatening Dems in their neighboring/old districts. It draws Murphy's base in southern Allegheny County in with Kelly's base in Butler County and though Kelly represents more of the district, Murphy is much more established and a lot of the constituents are new to each.
Safe GOP
So there you have it. 13 districts that would have been pretty solid for Democrats in 2012, up from the 7 we had beforehand and the 5 we won in reality. All of the eastern PA districts would be solid until the next redistricting, while the 3rd, 4th, and 14th, would likely remain stagnant. Only the 12th is clearly trending away from us, but hopefully Critz would have been able to get entrenched there like Holden was in the 17th.