| | |
| --- | --- |
| | Tonight on TDS, Kristen Stewart ; and on TCR, Sister Simone Campbell Executive Director of Network a.k.a #nunsonthebus,and Jeff Tweedy, Mavis Staples, Sean Lennon with music. |
Enter the @aafracking #DontFrackNY Video Contest to win lunch w/ @yokoono & @seanonolennon + your film on TV! Details - bit.ly/AAFvideo

— Sean Ono Lennon (@seanonolennon) December 11, 2012
Tonight, Wyatt Cenac's final Daily Show piece includes: sunshine, murder, salsa, @jaketapper, and...SCANDAL.

— Miles Kahn (@mileskahn) December 13, 2012
FYI: Wyatt's last piece killed. Watch tonight's Daily Show. He is a superior human being. I will miss him immensely.

— Miles Kahn (@mileskahn) December 14, 2012
Tonight: Wyatt Cenac celebrates his final report with a hand up his backside. 11/10c.

— The Daily Show (@TheDailyShow) December 14, 2012
Tonight: Jon welcomes actor Kristen Stewart. 11/10c.

— The Daily Show (@TheDailyShow) December 14, 2012
Don't forget- tonight @sr_simone will be on the @colbertreport!Tune in to Comedy Central at 11:30 pm to see it! #nunsonthebus

— NETWORK Lobby (@NETWORKLobby) December 13, 2012
Backstage at Colbert Report! About to sing with Mavis Staples! twitter.com/seanonolennon/…

— Sean Ono Lennon (@seanonolennon) December 13, 2012
Christmas Carol Week wraps up tonight with Sean Lennon, Mavis Staples, Jeff Tweedy and The Harlem Gospel Choir. twitter.com/ColbertReport/…

— The Colbert Report (@ColbertReport) December 14, 2012
Yes, it's true:
for weeks of 12/17, 12/24 & 12/31, the shows will be DARK!

No new shows between Dec. 14 and Jan. 7.
So it's time for my midwinter blog-cation (which is almost like my midwinter blogging, except without scanning twitter for appropriate cut-and-past-isms). But I've got a bunch of pictures I haven't used yet. So:

Not sure which I like better, but I finally went with the fade-into-the-background (um) background.

And then there are a bunch of these:

Couple of these:
And I never got this one quite right (I think it needs a log cabin, with a side cut out to show Grinder lying in wait below the chimney):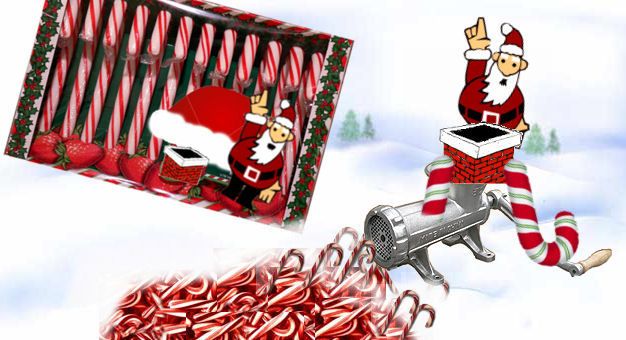 Working title for that was the secret source of candycanes.