A cheapskate is a miserly or stingy person, particularly one who tries to avoid paying a fair share of costs or expenses. Cheapskates, also known as misers, penny pinchers, pikers, skinflints, and tightwads, are reluctant to spend money, sometimes to the point that it is detrimental to their own wellbeing. The eminent psychiatrist Sigmund Freud attributed this type of behavior to toilet training in childhood. According to Freud, some infants would attempt to retain the contents of their bowels, thus creating an anal retentive personality that would be obsessed with retaining their wealth in later life.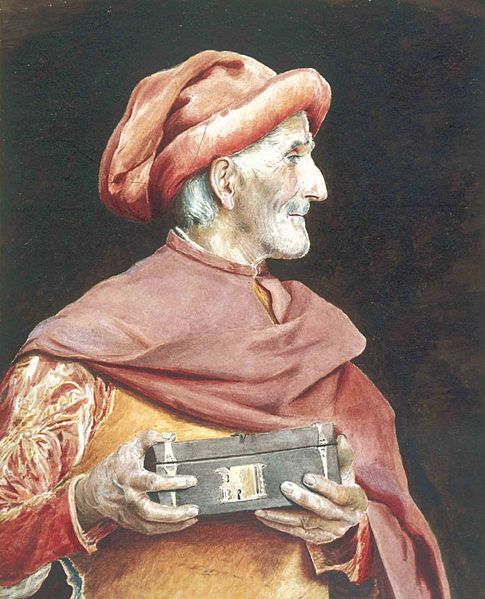 Shown above is a painting entitled "Miser" by Empress Maria Feodorovna of Russia.

In Confucianism, people who are overly concerned with money—particularly landlords and merchants—are viewed as a low order of society, deemed inferior to those who work for a living.
Since this concept seems to describe wealthy Republicans, I thought it might be fun to look at cheapskate and related terms.
Cheap:
The basis of cheap seems to be the Latin "caupō" which meant "tradesman." German then borrowed the term which became "kaufen" meaning "buy" and from here it entered Old English as "cēapian" meaning "trade." In Middle English this became used in phrases such as "good chepe" meaning "good bargain." In the sixteenth century, "cheap" had become an adjective meaning "inexpensive." The original sense of the word, meaning "trade," can be seen in the surname "Chapman." Up until the nineteenth century, "chapman" was used as a noun meaning "trader" and this is the source of the later "chap" meaning "fellow."
Cheapskate:
The meaning of "cheap" in "cheapskate" is fairly obvious and thus the etymological challenge is to determine the origin of "skate" which is a homonym, meaning that it has lots of unrelated definitions. The meaning of "skate" in "cheapskate" seems to come from British slang and refers to "chap, fellow." It is based on the Scottish term "skyte" which means "a contemptible person" and this, in turn, comes from an older term that means "excrement". Etymologically, therefore, cheapskate really means "cheap shit." Cheapskate first appeared in print in the late nineteenth century (1896).