Happy Doomsday Eve, F-Troops! I'm sure you are all quaking in your boots (or Vans, for the stylishly challenged) waiting for the end.
Let's see what Twitter has to say:
romney wins #unskewed person of the year

— Oliver Willis (@owillis) December 19, 2012
IDEA: Let's designate one person to point out once yearly that Hitler was also Time's man of the year.

— Simon Maloy (@SimonMaloy) December 19, 2012
If only there were more men around, like the one who pissed his pants when he saw the kid in the hoodie.

— David Waldman (@KagroX) December 19, 2012
The focus is always on what music mass killers listen to, or what video games they play. Never what newspapers they read. Weird, that.

— Dean Burnett(@garwboy) December 19, 2012
It should be limited to one apocalypse joke per person on Friday. Otherwise people will be making jokes like there's no tomorrow.

— Amelia⚡ (@EpicMeli) December 19, 2012
People who exaggerate are worse than Hitler.

— John Fugelsang (@JohnFugelsang) December 19, 2012
Tell you what: I'll stop confusing an automatic weapon with a semi-automatic weapon if you stop confusing the Constitution with the Bible.

— serious fun (@seriousfun8309) December 20, 2012
If I don't see you before, here's wishing you and yours a wonderful apocalypse.

— Tim Siedell (@badbanana) December 20, 2012
Now let's get to the history lesson!
On This Day
In 1803, the Louisiana Purchase was completed at a ceremony in New Orleans. We haven't taken very good care of our purchase lately.
In 1860, South Carolina became the first state to attempt to secede from the United States.
In 1946, It's a Wonderful Life premiered in New York City. It was not initially a success, and lost money on its first release, though it did receive several Oscar nominations.
In 1989, the United States invaded Panama to overthrow government of Manuel Noriega.
In 2005, US District Court Judge John E. Jones III ruled against mandating the teaching of "intelligent design" in the case of Kitzmiller v. Dover Area School District.
Born on This Day
1629 – Pieter de Hooch, Dutch painter (d. 1684)
1792 – Nicolas Charlet, French painter (d. 1845)
1833 – Dr Samuel A. Mudd, American physician (d. 1883)
1861 – Ivana Kobilca, Slovenian painter (d. 1926)
1865 – Elsie de Wolfe, American socialite and interior decorator (d. 1950)
1898 – Irene Dunne, American actress (d. 1990)
1908 – Dennis Morgan, American actor (d. 1994)
1918 – Audrey Totter, American actress
1933 – Jean Carnahan, former U.S. Senator
1948 – Alan Parsons, British music producer and artist

1952 – Jenny Agutter, English actress
1955 – Ed Kuepper, German-born Australian musician (The Saints, Laughing Clowns)

1957 – Billy Bragg, English singer-songwriter

1957 – Mike Watt, American bassist

1966 – Chris Robinson, American singer (Black Crowes)

Died on This Day
1954 – James Hilton, British author (b. 1900)
1961 – Moss Hart, American dramatist (b. 1904)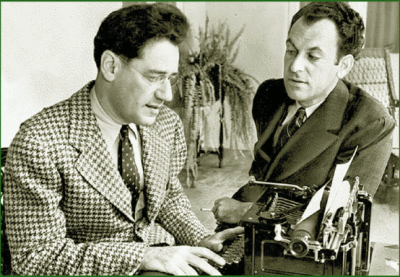 1968 – John Steinbeck, American writer, Nobel Prize laureate (b. 1902)
1973 – Bobby Darin, American singer (b. 1936)

1976 – Richard J. Daley, American politician (b. 1902)
1997 – Dawn Steel, American film producer (b. 1946)
1998 – Irene Hervey, American actress (b. 1909)
2010 – Steve Landesberg, American actor and comedian (b. 1936)
Today is
International Human Solidarity Day
Go Caroling Day
Mudd Day
National Sangria Day
National Fried Shrimp Day