I post a weekly diary of the historical notes, arts & science items, foreign news (often receiving little notice in the US) and whimsical pieces from the outside world that I featured this past week in "Cheers & Jeers". For example .....
By Request SEPARATED at BIRTH from the coloradocomet - The Who singer Roger Daltrey as well as Bill Clinton - whaddya think?
OK, you've been warned - here is this week's tomfoolery material that I posted.
ART NOTES - an exhibit entitled The Way We Live - highlighting Native American art of the Great Basin and Sierra Nevada - is at the Nevada Museum of Art in Reno through March 31st.
ALTHOUGH he is most known for his party reaching the South Pole first, the three-mast ship Maud - long abandoned in the Canadian Arctic ice by the Norwegian explorer Roald Amundsen - will be salvaged and repatriated to Norway by mid-2013.
JUST IN TIME for your holiday shopping: the 2013 Conservative women's calendar - published by the Claire Booth Luce Institute - will make a fine last-minute gift for the liberal who has everything.
WEDNESDAY's CHILD is Sable the Cat - a Washington state kitteh who has served (for the past year) .... as an assistant school crossing guard.
FOR YEARS it has been on display in the Baseball Hall of Fame, but one writer delves into the issue of whether that bat - used by Roberto Clemente when he got his 3,000th hit - is the real one, after all.
JEERS TO ..... ahh, nobody: it's Christmas! My posting next week will be spotty; will be back to usual after New Year's. If you celebrate it: Happy Hanukkah, and Merry Christmas. And to all: a wonderful 2012.
ART NOTES - a collection of agriculture murals by George Beattie as at the Georgia Museum of Art in Athens through January 6th.
LEST YOU THINK that chain restaurants are multiplying like weeds: one survey looks at five disappearing restaurant chains throughout the USA.
WHILE IT'S home to 800 different languages, New York is also a rich hunting ground for those trying to document languages threatened with extinction - as several languages have been uttered for the very last time in New York.
THURSDAY's CHILD is Sassee the Cat - an Australian kitteh who was rescued by a member of her family from .... a python who had begun to attack Sassee (and who is now on the mend).
RAIL NOTES - plans to build a new commuter train tunnel underneath the historic centre of Munich have taken a big step forward after the Bavarian state government said it would help close the funding gap for the €2 billion project.
GLAD to learn that progress in sub-Saharan Africa battling malaria - which in Central America used effective water drainage/management - involve nationwide distribution of insecticide-treated bed nets and the provision of new diagnostics and medications, as the means of transmission differ greatly from elsewhere.
SEPARATED at BIRTH - former REM lead singer Michael Stipe and the veteran political blogger Andrew Sullivan.
EVEN THOUGH studio executive Lew Wasserman was apoplectic over cost overruns by the 1980 release that director Jon Landis was filming - actually, he was shielded by his subordinates from the news that part of the overruns for the Blues Brothers film were caused by John Belushi's cocaine budget - the film made a large cultural impact ... plus a 400% profit for Wasserman's studio.
BRAIN TEASER - instead of the weekly 7 question quiz ..... the BBC is running a four-part Quiz of the Year's News ....with Part One at that link.
FRIDAY's CHILD is Clair the Cat - a Washington state kitteh who had gone missing for a year, but whose microchip ... led to the happy reunion in the photo.
...... and finally, for a song of the week ......................................... with such a busy week, I'll simply reprise my annual holiday profile. One reviewer called him "the most listened-to jazz pianist of all time" and with the Christmas season upon us, it might well be true that Vince Guaraldi achieved that status - in a quiet way - due to a certain comic strip of note.
A San Francisco native, Guaraldi attended San Francisco State College and worked as an Army cook in the Korean War. His career began in 1956 (playing in Woody Herman's band) and went on to perform with such varied musicians as Nina Simone, Cal Tjader, Stan Getz, Jimmy Witherspoon, Paul Winter and Mongo Santamaria before forming his own piano trio. In the "File under Impossible Tasks" department, it was written that his first important gig was .... "filling-in for Art Tatum". Yikes!
His breakthrough hit (in more ways than one) was the 1963 Grammy-winning tune Cast Your Fate to the Wind - a gorgeous melody that eight years later the James Gang's guitarist Joe Walsh - later to join The Eagles - worked into a medley (most improbably) with a hard rock song entitled The Bomber in 1971.
In the early 1960's, Vince Guaraldi was successful in the jazz world, yet comparatively unknown to the American public. But that changed - dramatically - with a 1965 cab ride that TV producer Lee Mendelson took across the Golden Gate Bridge.
In much the same way that The Sopranos producer David Chase decided upon his show's theme song - by hearing the UK band "Alabama 3" perform it on the radio - Lee Mendelson heard "Cast Your Fate to the Wind" on the radio in that cab ride. He asked for help from the noted music writer Ralph Gleason (who helped co-found Rolling Stone magazine later that decade) - and was thus able to contact Guaraldi about composing for the upcoming Charlie Brown Christmas special.
Sixteen TV shows (and one feature film) later, the music of Vince Guaraldi is an integral part of the Peanuts experience - with the theme song Linus and Lucy plus the irresistible song Skating among his best-loved Peanuts music.
Vince Guaraldi died in 1976 (at only age 47) in-between sets of a gig in Menlo Park California. The musician David Benoit cites Guaraldi as an inspiration, and it's difficult to imagine Peanuts with any other music backing it. For the trumpeter Wynton Marsalis "Peanuts" was the only chance to hear jazz on TV in his youth. Wynton was also excited that his pianist father Ellis - the patriarch of the quite talented Marsalis musical family - knew Vince Guaraldi. "Our father knew somebody who was connected to television!", he later exclaimed.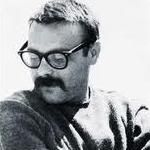 While most of Vince Guaraldi's work is instrumental: appropriately for the season, the song Christmas Time Is Here had lyrics written by the show's producer Lee Mendelson for kids to sing. A nice grown-up version was recorded a few years ago by Diane Reeves - the featured nightclub singer in the film "Good Night and Good Luck". And below you can hear Vince Guaraldi's original version.

Christmas time is here
Happiness and cheer
Fun for all that children call
Their favorite time of year

Snowflakes in the air
Carols everywhere
Olden times and ancient rhymes
Of love and dreams to share

Sleigh bells in the air
Beauty everywhere
Yuletide by the fireside
And joyful memories there

Christmas time is here
We'll be drawing near
Oh, that we could always see
Such spirit through the year ...