Thomas Friedman thinks the Republican Party has troubles, deep troubles, that will require it to undergo a painful decades long rebuilding process, similar to what he suggests President Clinton and the D.L.C. did with the Democratic Party in 1985, if they wish to ever have the chance to win back the White House. In Send in the Clowns Friedman castigates the G.O.P. for failure to ratify The U.N. Convention of the Rights of People With Disabilities, which was negotiated by former President George Bush, while former Republican Sensate majority leader Bob Dole, a veteran, watched in a wheelchair to show support, and sees this as a new watermark for how low the GOP has sunk.

But if Republicans continue to be led around by, and live in fear of, a base that denies global warming after Hurricane Sandy and refuses to ban assault weapons after Sandy Hook — a base that would rather see every American's taxes rise rather than increase taxes on millionaires — the party has no future. It can't win with a base that is at war with math, physics, human biology, economics and common-sense gun laws all at the same time. ...

The G.O.P. today needs its own D.L.C. The Democratic Leadership Council was founded by a group of Democratic governors and activists, led by Bill Clinton, in 1985 to lead the party back to the center from a failing leftward course that had resulted in it being repeatedly shut out of the presidency, except after Watergate. I asked Clinton's pollster, Stan Greenberg, what Republicans could learn from the Clinton/D.L.C. experience.

"There is a lot of pain," said Greenberg. "You can't change the party without pain. You can't just make some head-fakes to Hispanics." The D.L.C., he noted, started by building an organization over 10 years and by running more centrist Democrats "in the primaries." It didn't just wait to pivot to the center in the general election. It fought for and educated the Democrat base in the primaries, by D.L.C. candidates running in support of free trade, Nafta and welfare reform. "With Clinton, we won the primaries in a way that defined us, so that he could run in the general election as the candidate of broad appeal." That fractured the party and produced Ralph Nader, which cost Al Gore the 2000 election. But after losing that election, said Greenberg, the Democrats came together around a moderate-left core and did not engage "in dysfunctional primaries."

Friedman closes by warning that "we don't have a decade to wait for a G.O.P. D.L.C." to emerge, and calls for existing Republican Party leaders to stand up and propose sane compromises on the budget battle right now. Up until this point, Friedman's analysis was developing a compelling credibility, which he sadly loses in this last fanciful sentence. Sadly, the G.O.P. does not appear the have any political leaders with the pre-requisite combination of wisdom, sanity, and courage to stand up to take up this banner to lead the GOP in a more rational direction.
But, he has stimulated my creative juices so much, a potential breakthrough idea popped out. Seeing how problematic the D.L.C.'s role has been for the more progressive wing of the Democratic Party, what if we donated it to the GOP? Perhaps, this could be the kind of win-win breakthrough solution we've all been looking for? They could hit the ground running with the same center-right proposals they already have been running for the last decades and wouldn't even have to print up new literature. And, then, the rest of us in the Democratic Party could move back in a left-ward direction towards where the "center" used to be.
Perhaps, not as far to the left as former Republican Presidents Dwight D. Eisenhower, and Ronald Reagan, but steps, in the right direction. We have to start where we are.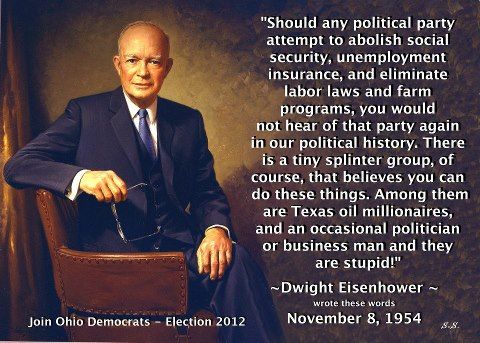 P.S. My understanding is that a Homeland Security S.W.A.T. team, of combined F.B.I, C.I.A, and N.S.A. agents has dug up former President Eisenhower's body, and is holding it for questioning and forensic analysis at an undisclosed State intelligence "fusion center" for suspected communist or terrorists influences. {snark alert - some elements of this last sentence may contain satire not intended to be a factual rendition of actual classified domestic intelligence operations.}