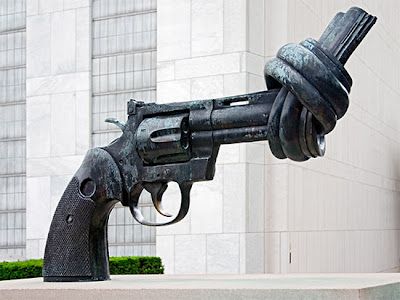 who blogs at Dirigo Blue and Kennebec Blues
Follow @BruceBourgoine on Twitter
No matter one's beliefs this holiday season, there will be no joy in it for so many families in Newtown, Connecticut. There are gifts that will not be opened and far more importantly arms not able to close around a loved one.
More than a gunman visited Sandy Hook School. Society's failed responsibility to shield the innocence of children from a nation awash in killer weaponry also found its way into the imagination and fears of children's lives everywhere in this place we call the United States.
We are left with the need to explain these terrible circumstances to ourselves, each other, and most urgent and grim, our children. Shall we just say with resignation in our voices, "Yes Virginia, there is a man with a gun," and somehow just let the stark present reality stand as something to be unfortunately accepted?
That cannot be our answer to horrible questions from innocence destroyed if we are a responsible society. The impulse to make it right, to protect, and to reestablish the trust of children that the world into which we thrust them can be trusted is surely being felt by all of us.
Yet a few of us are ready to protect the instruments of death at all costs it seems. In those minds an ill mind is deftly parsed from the weapons used to assault the innocent. There's a misguided belief that we can cure one half of the equation and solve the problem. Reasoned and rational gun controls are not necessary is the thinking or perhaps far worse, like in our wars abroad, there simply will be a certain amount of "collateral damage" in order to deliver to society a steady sure supply of unregulated overkill gun power.
Worst still are the few who want to exploit our protective impulses and cure one half of the equation by increasing guns on one side in a mad scheme to resolve "the problem" with an addition of guns both everywhere and specifically in schools. They propose fighting firepower with firepower and believe no one innocent will be slain, mistakes will not occur, crossfire "collateral damage" is a reasoned price to pay, and the added weapons will not ever fall into ill use. They desire to foist a diversionary simplistic "good guys and bad guys" mythology on a matter of immense complexity.
The moment has come not only for an explanation to our children but to take actual real steps forward in a multi-facetted process that may take a generation to effect a reduction mass gun violence and its oft ignored twin, the steady background drumbeat of everyday gun violence. Impotent inaction is the current course that we have been treading. Arms escalation is another that some are contemplating and promoting.
We have to choose a better path within the gun half of the equation. Let us ensure that hunters can hunt and even those who feel a need for personal protection in their homes are able to secure it. But let us accomplish that by rational regulation that employs trustful and solid background checking, reasoned limits on quantities, reducing the presence of guns in the public sphere, the outlawing of rapid delivering lethal firepower, regulating the manufacture of certain gun types and designs, closing all gun purchase loopholes which are in reality alternative methods for getting guns in the wrong hands, closing down the gun show and tell business, eliminating private unaccounted for sales, and establishing well funded buyback and seizure programs to steadily reduce illegal weapons.
Indeed, we have arrived at the intersection of truth and remedy. We are faced with a huge, challenging task; let us expend some of our prized "American exceptionalism" on it, for we have children that deserve answers.