What is the economic value of trust?
The old saying goes that a liar doesn't trust anyone. Another old saying is that there is no honor among thieves.
What happens when liars and thieves run the entire show? When liars and thieves are in all the positions of economic and political power?
Eventually the honest and trusting public will catch on. The rules have changed, and now there aren't any rules.
That's when society starts changing.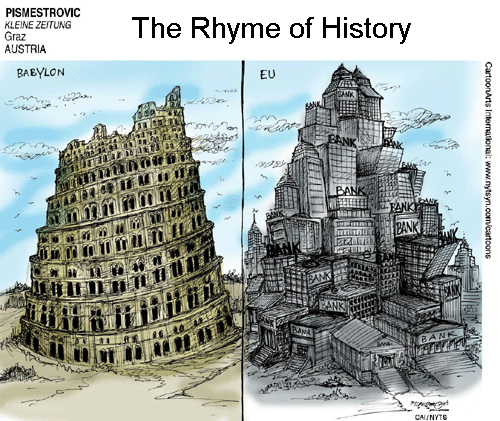 So what is the economic value of trust?
Stephen Knack, a lead economist at the World Bank, once commented that, "basically all the difference between the per capita income of the United States and Somalia" could be explained by trust. These currently amount to 46,546 US dollars and 220.30 US dollars respectively (UN 2009/2010); a difference of over 46,300 US dollars and a large amount, if Knack is correct, to attribute to one five-lettered word.
In a low-trust society entrepreneurs spend their time monitoring their counterparts for theft and fraud instead of investment opportunities. They won't take as many risks. The economic system stagnates.
Liars and thieves don't value trust, but they should. It's a lot harder to steal from someone who won't trust you.
The rampant and unpunished fraud on Wall Street is causing regular people to lose faith in banks, especially the major banks. That loss of faith has a price.
The customers that say they're likely to switch banks hold an average of nearly $30,000 in deposits — "30% higher than the balances for customers who indicate they are unlikely or very unlikely to switch," Javelin says, amounting to $675 billion overall.
It won't bring down these enormous banks, but it does cause a dip in retail revenue. The beneficiaries of this monetary movement is
small credit unions
.
Some 650,000 customers have opened credit union accounts and deposited about $4.5 billion since Bank of America announced its now-canceled $5 monthly debit card fee in late September, according to a survey of 5,000 credit unions by the Credit Union National Association released Thursday.
Churches
are also getting into this moral act.
However, Wall Street has never been about retail banking and never will be. That isn't their power source, nor is it the source of all this fraud and corruption in the regulatory agencies.
A good example of this lack of law enforcement is the recent HSBC money laundering case.
HSBC will enter a deferred-prosecution agreement, the WSJ reports, which is essentially probation: The company will admit to violating the Bank Secrecy Act and the Trading with the Enemy Act. It will get a stern warning and promise to clean up its act.
Such a deal would make a "mockery of the criminal justice system," former Treasury Department official Jimmy Gurule, now a University of Notre Dame law-school professor, told Reuters last week.
In July, bank officials apologized to the U.S. Senate for their lax money-laundering controls, which allowed Mexican drug cartels to launder billions of dollars over a period of seven years, according to a Senate subcommittee report. The bank may also have been used to send money to Iran and to terrorist groups, according to the report.
The lack of law enforcement is so blatant, that a recent Bloomberg news article came with the headline
Why Does the SEC Protect Banks' Dirty Secrets?
Wall Street is first and foremost about stocks, and that's why this development is most interesting.
Defying decades of investment history, ordinary Americans are selling stocks for a fifth year in a row. The selling has not let up despite unprecedented measures by the Federal Reserve to persuade people to buy and the come-hither allure of a levitating market. Stock prices have doubled from March 2009, their low point during the Great Recession.

It's the first time ordinary folks have sold during a sustained bull market since relevant records were first kept during World War II, an examination by The Associated Press has found.

"People don't trust the market anymore," says financial historian Charles Geisst of Manhattan College. He says a "crisis of confidence" similar to one after the Crash of 1929 will keep people away from stocks for a generation or more.

The implications for the economy and living standards are unclear but potentially big. If the pullback continues, some experts say, it could lead to lower spending by companies, slower U.S. economic growth and perhaps lower gains for those who remain in the market.

Since they started selling in April 2007, eight months before the start of the Great Recession, individual investors have pulled at least $380 billion from U.S. stock funds, a category that includes both mutual funds and exchange-traded funds, according to estimates by the AP. That is the equivalent of all the money they put into the market in the previous five years.
Retail investors have been dumping all this money in low-yield, but much safer, bonds.
It isn't just individuals that are selling. Pension funds, state and local governments are also selling.
Private pension funds, like those run by big companies, have cut stocks more: from 70 percent of holdings to just under 50 percent, back to the 1995 level.
The people buying stocks are the same companies that are selling them. Stock buybacks account for $656 billion. Now you know what companies are doing with all that cash they saved by not giving raises or hiring people full-time.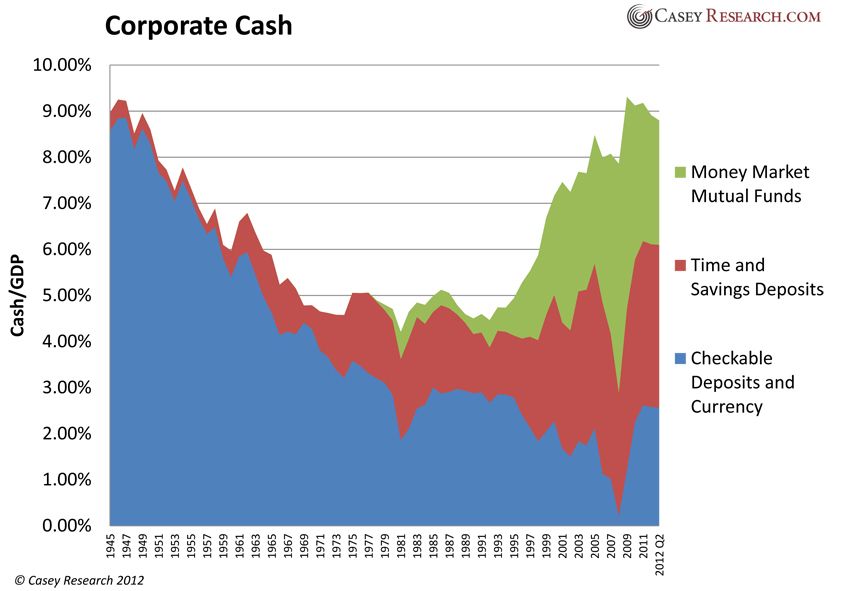 The number of shares traded each day has fallen 40 percent from before the recession to a 12-year low, according to the New York Stock Exchange. That's cut into earnings of investment banks and online brokers, which earn fees helping others trade stocks.
"People aren't looking to swing for the fences anymore. They're getting less greedy."
- Gary Goldstein, executive recruiter on Wall Street
Well, retail investors are less greedy anyway. The people on Wall Street are still as greedy as ever.
That's not to say that the government isn't actively working against the average investor and for Wall Street.
When Federal Reserve Chairman Ben Bernanke launched the first of three bond-buying programs four years ago, he said one aim was to drive Treasury yields so low that frustrated investors would feel they had no choice but to take a risk on stocks. Their buying would push stock prices up, and everyone would be wealthier and spend more. That would help revive the economy.

Sure enough, yields on Treasurys and many other bonds have recently hit record lows, in many cases below the inflation rate. And stock prices have risen. Yet Americans are pulling out of stocks, so deep is their mistrust of them, and perhaps of the Fed itself.

"Fed policy is trying to suck people into risky assets when they shouldn't be there," says Michael Harrington, 58, a former investment fund manager who says he is largely out of stocks. "When this policy fails, as it will, baby boomers will pay the cost in their 401(k)s."
While the Fed has been hurting the mom and pop retail investor, they've done wonders for the
wealthy hedge funds
, thus windening the gap between rich and poor.
Monetary policy has been indirectly, surreptitiously helping the top and hurting the bottom," Stiglitz said.
"It's redistribution from consumers to owners of these resources, from a car owner to a sheik," he said. The negative consequences fall hardest on low-income people, who spend a higher percentage of their income on food and fuel than better- off people, Sharma said.
It's been the insiders who have benefited from the stock market boom since 2009, as is normal.
However, eventually there will be a correction. The stock market will eventually drop again. When that happens it is normal that the insiders get out first and push the losses onto the retail investor.
But if the retail investor isn't buying, nor has the retail investor investor been buying for the last 5 years, then the insiders won't be able to push their losses onto suckers.
[Update: There's been some effort to defend the lack of prosecution of HSBC that I mentioned above. Here is my response:
For starters, let's answer your question. From the article I linked above:
As for the penalty, it will amount to a little more than half of the $3.5 billion in pre-tax profits the bank earned in the third quarter of 2012. The bank earned $16.8 billion in net income in 2011.
So as you can see, the fine was token given the size of the bank.
But as for the reason why there were no criminal prosecutions, well, allow me to enlighten you. This is from the Justice Department statement:
"Had the US authorities decided to press criminal charges, HSBC would almost certainly have lost its banking licence in the US, the future of the institution would have been under threat and the entire banking system would have been destabilised.
Translated, it means Too Big To Jail. It wasn't jurisdiction problems. It wasn't a lack of evidence. It was because the institution was so large that if it was treated as equal under the law, they might destabilize the financial system.
Think about that, and then see if you have any confidence in the system.