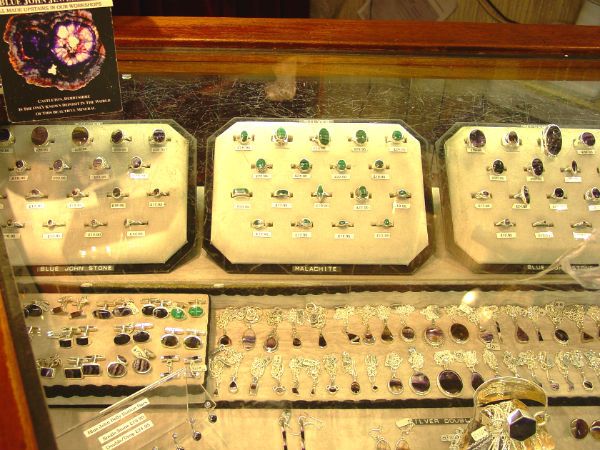 This is what Castleton is all about…not the brooding Peveril Castle, the staggering Winnats Pass, the hulking Mam Tor - an Iron Age hill fort, but the caverns where the world's only supply of a certain form of fluorspar, called Blue John, is found. This striking gemstone was prized by the Romans, who mined this area for lead – one of their most treasured metals, used in their aqueducts, roofing and much more – and found this sparkling semi-precious gemstone. Two vases of Blue John were supposedly found in the ruins of Pompeii.
Unfortunately, the Victorians mined it using dynamite, and huge spoil heaps were caused thereby, underground. The largest Blue John pieces, including vases and tables, date from this period; indeed, what gemstone is being utilised by the modern jewellery workshops in town is, in the main, extracted from the Victorian spoil heaps, although there is limited careful mining.
There are two private museums featuring the mineral in Castelton, as well as other examples in collections around the country - it is interesting to note that Blue John pieces can command staggering prices. A pair of George III white marble and Blue John candelabra by Matthew Boulton, and dating from 1771 (similar to a pair in the Royal collection at Frogmore House) were sold by Christies in New York for $385,000. It is known that other pieces are held by the House of Windsor.
Here you can see a typical display case inside one of the stores on Cross Street, Castleton, Derbyshire. Although there are some malachite pieces, the vast majority of jewellery features Blue John stones, with its delightful random patterns of purple, royal blue, white, violet and yellow bands. To prepare the stone for setting, it is carefully polished and buffed, then given a sealing coat to protect and consolidate the surface. Remember, do NOT shower or wash with your Blue John, it can become dulled by this! A leaflet on the care of your jewellery is given with each piece.
One of the most inventitive of the designers/shops in town is ASD Jewellers, and I usually visit their store first. It is customary amongst many Derbyshire families to give Blue John to the bride, matron-of-honour and bridesmaids at a wedding (my cousin Peter did this, and it is a pretty custom!)
Be warned gentlemen; don't take your lady into one of these shops without being prepared to suffer some 'damage' to your credit card! As night follows day, she will be entranced.
http://shortfinals.wordpress.com
post scriptum Sorry for use of the term 'jewellery', its just that I have grave difficulty thinking of it spelt any other way! SF