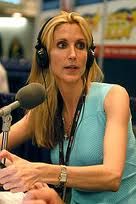 Ann Coulter crosses a line of public decency as she demanded we see public lists of women who have had abortions so mothers in the neighborhood can see who in the neighborhood supports murder, then compounded her insensitivity by lamenting that we can not see lists of criminals and the mentally disturbed. Sean Hannity has previously demanded that anyone with any "mental illness" have to identify themselves to airline and other public transportation officials so they can be "watched."
In Huffington Post's article, Ann Coulter Loses It On Guns; Wants List Of Women Who Had Abortions So Mothers Know Who Would 'Murder A Child.'
Coulter appeared on Sean Hannity's Fox News show last night angrily striking back at the decision by a New York newspapers publication of the names and addresses of those with gun permits.

"Why can't we get a record of women who have had abortions?" Coulter asked. "They get money from Planned Parenthood; they get money from Medicare and Medicaid, much of these are tax subsidies. I think mothers might want to know what other women on their street might be willing to murder a child." ...

She then likened gun control advocates to "hysterical women" who "refuse to go after criminals." She said:

They will not do anything about manifestly crazy people—no, no, no—we have to let [them] walk the streets of Manhattan, defecate in the street, you have the ACLU defending crazy people. All of these shoot-ups, this precious protection for obviously mentally-disturbed individuals, there is certainly no effort to reduce single-motherhood, something that is also a contributing factor in many of these cases. In New York City, you can't take a subway without somebody getting pushed onto the tracks by mentally disturbed individuals. And liberals won't let us go after the criminals, no they specifically go out and try to harm people who by definition do not have criminal records so that their guns can be stolen by criminals!

Huffington offers a hat tip to Josh Feldman, of Mediate who first reported Coulter Tears Into Liberal Gun Hypocrisy: Why Can't We Publish List Of Women Who Get Abortions? Here we also learn:

Coulter said she was baffled at how little action liberals want to take against criminals and the mentally disturbed, as opposed to how much they want to crack down on guns. Hannity said that liberals always call for more government following each mass shooting, and asked Coulter how conservatives can effectively counter anti-gun hysteria on the left. Coulter said liberals seem "completely unaware" of the Second Amendment, pointing out that almost every single mass shooting in recent history has taken place in gun-free zones and people "should care about concealed carry."

Hannity was bewildered that there are armed guards in many areas of American society, but everyone freaked out when the NRA suggested such a program at schools. Coulter said it's not that crazy of an idea, but did admit it is problematic because the guard could easily be the crazy person with the gun and, if someone had a gun at a school with a guard, it would be "very easy to know who to take out first."

Why is it still considered to be socially acceptable for public broadcasters, such as Fox News, to continue to provide a public forum for Ann Coulter after so many outrageously offensive remarks against so many groups of people? These remarks would seem to border on hate speech.
I do not favor censorship but it is another thing to give a platform to those with long histories of spewing incendiary and hateful views as if they are just normal members of society with "diverse" opinions. If a major, publicly licensed broadcaster were to repeatedly interview members of the KKK, and then professed to be "shocked, truly shocked' that they spew racist hate speech, would we not suggest lack of responsibility or sensitivity?
To the best of my knowledge there is no evidence that the one of four Americans who seek treatment for mental illness sometime in their lives are more prone to violence than any other groups. An FBI profiler on CNN recently said they do not yet have a sufficient profile to predict who will engage in gun massacres. So it does not seem right, or helpful, to spread the idea that we should start public lists of those who seek therapeutic advice. This spreads an irresponsible stigma, is not factually based, and may cause many who not to see psychiatric help, with what is for most people just another health issues of the brain, similar to other health issues.
How sad that Ann Coulter, and Fox News continue to spread hurtful misinformation and repeatedly engage in incendiary hate speech against fellow respectable citizens.