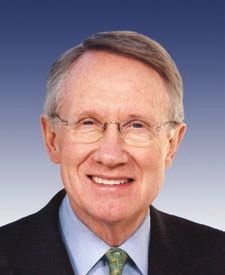 Here are two articles reporting that both Senate Majority Harry Reid and House Minority Leader Nancy Pelosi have signaled President Obama that they will support him if he decides to remain true to his promise not to negotiate with Republicans over the debt-ceiling, although it is not entirely clear what exactly this means into terms of what would be done to avoid defaults.
In Harry Reid Would Back Obama If He Bucks GOP On Debt Ceiling: Source


WASHINGTON -- Senate Majority Leader Harry Reid (D-Nev.) has privately told other Democrats, including President Obama, that if the administration used its constitutional and executive authority to continue paying its debts in the face of House Republican opposition, he would support the approach, according to a source familiar with Reid's message to the president.

The simplest escape route out of the debt ceiling impasse is for the president to direct the Treasury to find a legal way to pay its debts. The Treasury then has a variety of options. One gaining particular attention relies on a law that allows the Treasury to mint a coin of unspecified value and deposit it with the Federal Reserve. Those funds could then be used legally to pay debts.

It would be possible, however, for that statement to be true and for the president to pay the debts by citing 14th Amendment powers. If the president went the route of the so-called "platinum coin," he could use the 14th Amendment to tell Congress that the constitution gives him no choice but to find all legal ways to honor the "validity of the public debt." The Treasury could legally mint a coin worth enough to cover debts for several years and deposit that coin with the Federal Reserve. The funds would not be used for spending that isn't authorized and appropriated by Congress, but only to pay debts. The president, therefore, would not be ignoring the debt ceiling, because there would be no new debt subject to the limit.

While in the past presidential advisors have said the President will not pursue the platinum coins, the other major option to maintain operations would be a partial shut-down of government operations using just tax revenues.
The president has not gone in to any details of what his plan would be, other than to say he will not negotiate the debt ceiling.
In Pelosi on Raising Debt Ceiling Unilaterally: 'I Would Do It in a Second, But I'm Not the President' reports:

(CNSNews.com) – House Minority Leader Nancy Pelosi (D-Calif.) said Friday that she would raise the debt limit unilaterally "in a second" if she were president of the United States.

Pelosi and other Democrats have suggested that the president could bypass Congress and unilaterally raise the debt ceiling by invoking the 14th Amendment of the Constitution, which states, "The validity of the public debt of the United States…shall not be questioned." ...

"I would do it in a second," she said. "But I'm not the president of the United States."

The forth section of the 14th Amendment to the Constitution states:

"The validity of the public debt of the United States, authorized by law, including debts incurred for payment of pensions and bounties for services in suppressing insurrection or rebellion, shall not be questioned."

So some, including former President Clinton, believe this could empower the President just to unilaterally raise it without even using PCS coinage or some other mechanism.
The hard deadline on the debt-limit is reported to be February 28. The delayed sequestration hits March 2, and a new continuing resolution to extend budget funding is due late March.
Given how much fun everyone seems to be having with this continuous emergency, perhaps one solution would be for Congress and the President to agree to extend all fiscal clliff 60 more days. But, by that time we should probably call it the permanent fiscal roller coaster?
7:20 PM PT: Thanks to ferg and several others who helped advance my thinking on this by creating a list of options. Since it's late Friday night I'm invoking the "Now For Something Completely Different" rule that late evening humor trumps decorum, that allow me to set copy this silly comment, intended to be humorous, instead of rewriting it for affect congruence with the post above. Anyone concerned about this can read the comments to discern the evolution of my mood, which is substantially improved. from the previous despair and anxiety about this.
So this makes three scenarios for what might (0+ / 0-)
happen.
1) Partially shut down the government and run the core operations on the 88% of budget that can be sustained on tax revenues.
2) Tell Treasury and maybe also the Federal Reserve to continue issuing debt in defiance of the Congressional debt limit, or,
3) Use PCS coinage to raise deposits in Treasury to continue paying bills with no increase in debt.
Sorry, I realize this now obvious set of options so clearly before, each with their own strengths and weaknesses.
BTW I really like listing and numbering things as if we understand "truth" in such solid ways that we can assign numbers to our insights. lol
"And, low, let it be heard! The President has declared that the number of the options for not negotiating with Congress over the debt-limit shall be 3!" "And, so 3 shall be the number of the options. And, the advisors shall now go and discuss and evaluate these options and make recommendations!"
This really makes me feel so happy. I'm serious. I know it makes me look silly, but this has been the source of a week-long depression, that only needed another week to be clinically significant with my history.
But, not I'm relieved. We have three perfectly good options any one of which could work fine for me, as long as President Obama choses one and sticks to it without backing down.
And, this list of three options now makes so many other things make sense. I usually find it depressing if I can't understand all things after concentrating enough on them. So, this "I will not negotiate over the debt thing was starting to get me down" But, now I'm fine. Better than fine. This would explain why Harry Reid gives such as curiously worded, but non-specific endorsement would it not? He saying to the president, we have not idea which of these you are thinking about, but we do not care which it is, we will support you in any of these options.
Nancy Pelosi too, but in a slightly different style that may appear to option 2. But, she also probably means any of the others if he choses. That's why she not flustered by the reporter saying advisors already said he wouldn't do option two, because in back of her mind, she's thinking, no problem, then he must be thinking of 1, or 3.
Because if it took us, (me) this long to make a list of three options, when before we thought there were less than three and maybe zero, then it is perfectly plausible to think there might very well be 4, or some unknown additional options we don't even know about yet.
See, this is why I like making numbered lists of options because we can say, if our list is growing by a new option every hour of discussion, then sampling theory might suggest others may be on there way.
What a great conversation. I am really pleased not. Thanks to everyone who help me advance my understanding and thinking about this.
So 3 shall be be the current numbers of options. Ha! Most excellent, indeed.
"Let the kingdom rejoice for we have 3 options! Each one even better than the others."
7:23 PM PT: There are much greater insights in these comment discussions than the above, but this is the most succinct way of me to organize them in my mind. You will see many observations in the comments about the constitutionality, liklihood, etc of each one, which I will eventually put in a matrix which is even better than a list. But, until I get some kind of framework to keep things organized I find it more taxing to think about complexity.