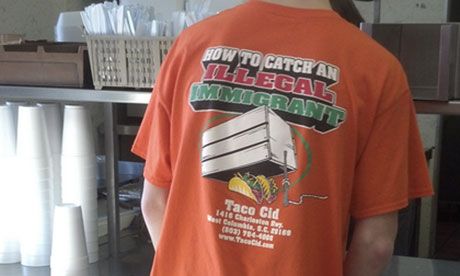 CORRECTION: Restaurant is in West Columbia, S.C., not Charleston. I'm too blind to read properly, apparently.
Sorry, all; I'm sicker than the proverbial dog, so I haven't been around much and won't be yet today, either, but I wanted to get this out there. I had to get it from The Guardian; I haven't seen this anywhere in U.S. media, quelle surprise.
If you can't see the T-shirt well enough in the photo, here's the deal: It's a T-shirt worn by a worker at Taco Cid's, a fast-food taco joint in Charleston West Columbia, S.C. (Apparently they also sell them to the public; it's unclear whether they are mandatory or optional dress for the employees.) On the back is a cartoonish rendering of a bait trap: crate and deadfall, with the bait consisting of a couple of Taco Cid's tacos. Above, in all capital letters, are emblazoned the words "How to catch an illegal immigrant," with "ILLEGAL" in much larger red letters, and "IMMIGRANT" in much larger green letters.
So much racist fail in one T-shirt.
The company response is even better more fail-riffic.
According to The Guardian, a local high school teacher went into the restaurant and saw an employee wearing the shirt. Offended, he took a photo, and posted it online. Once the criticism began, the restaurant responded predictably:
"Our T-shirts were created as a witty and comical statement regarding ILLEGAL immigrants," the statement said. "There are NO racial nor hate remarks towards any specific ethnic group."
Of course not, dearie. Just references to a food specific to Mexico, with scary huge all-capital letters in that country's colors.
The Guardian notes wryly:
The message on the Taco Cid website appears alongside photographs of an open-mouthed cow and a hearty-looking tostada. For clarity, the statement adds that "Taco Cid and it's [sic] employees are not racist".
Predictably, Taco Cid's facility with the English language, to say nothing of its grammar and syntax rules, falls a bit short of one should be entitled to expect from an entity so incredibly worried about a potential invasion of
ILLEGAL IMMIGRANTS
undocumented immigrants:
"As most tax paying Americans we do believe ILLEGAL immigrants are taxing the system we support and live under, thereby, causing us to work harder and pay more taxes in support of their illegal activities which our government has simply chosen to look the other way.

"Is it racist to disagree with those who are not supporting the American system?"

Taco Cid is closed on Sundays in observance of a day of worship, according to the text. The note ends with a warning to potential restaurant visitors: "If you do not agree with our views on ILLEGAL immigrants, please do not visit our establishment."
Honey, I got news for ya: If I should ever happen to get to
Charleston
West Columbia, you can rest assured that I'll never . . . ahem . . .
darken
your door.
Doesn't mean I won't stand outside with a picket sign, calling you out for the racists you are, though.
To top it all off, they're greedy: Those cheap, tawdry T-shirts? They're selling 'em for thirty-five bucks a pop, PLUS tax.
[Sigh] the depressing thing is, they're no doubt selling like hotcakes. Mostly to the people screaming loudest about how they can't afford anything anymore because of Kenyan Muslim Communist Fascist Antichrist Blackity-Blackity-Black in the White House.
Wanna let Taco Cid's know what you think? You can do that here. There's a phone number on the main page and a street address at the very bottom under "Coupons." [Keep it clean and polite, please. We don't need to get down in the muck just because they do.]