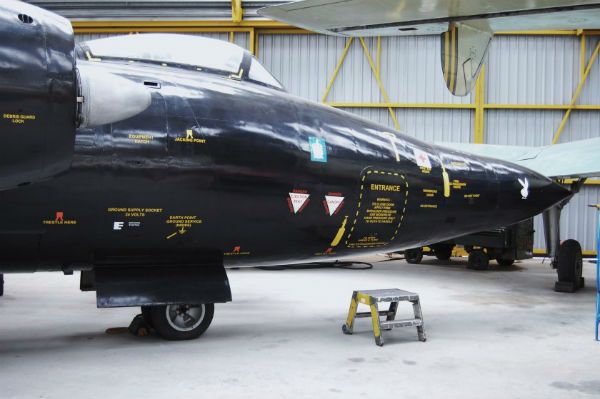 In the immediate post-WW2 era, the United Kingdom was in a terrible situation. Severe damage to various cities, no foreign currency reserves, a worn-out infrastructure, and initially, food rationing more strict even than that imposed during the war (even bread was rationed, for a while) . It would seem that Britain had helped to win the war, but had lost the peace. Hundreds of thousands of service personnel were 'de-mobbed' (left the Service), and the Royal Air Force bomber fleet was reduced by 1950 to only five, long-range, heavy bomber squadrons of Avro Lincolns (a development of the famous Lancaster). The situation was so bad that the U.S.A. had to loan Britain 88 refurbished Boeing B.29 and B.29A Superfortress aircraft; these were known as the Boeing Washington B. Mk 1, and bridged the gap until the first of the RAF's jet bombers, the English Electric Canberra, arrived.
The Canberra was designed to Spec. B.3/45, and the prototype was first flown at Warton, Lancashire, in May, 1949. The pilot was the famous WW2 fighter ace Wing Commander Roland Prosper Beamont, CBE, DSO and Bar, DFC and Bar, Croix de Guerre (Belgian), RAF (Ret'd) – I was later fortunate enough to have a long lunch with 'Bee', but that is another story! The Canberra was a twin-engined bomber with a very low-aspect ratio wing, which gave extreme manoeuverability at high altitude from where it was supposed to deliver a single 'Red Beard' tactical nuclear weapon (15kT to 25kT yield, depending on version), or 6,000 lbs of conventional bombs. Power was supplied by two Rolls-Royce Avon 101 turbojets, each producing 6,500 lbs thrust, which gave a top speed of 570 mph at 40,000 ft. Service introduction occurred on May, 1951, when the first Canberra B. Mk 2 (the first production version) was delivered to No. 101 Sqn., RAF. Like its illustrious predecessor, the de Havilland DH.98 Mosquito, the Canberra carried no defensive armament, relying on speed and manoeuverability to survive.
As with the Mosquito, the number of Canberra variants multiplied swiftly. Photo reconnaissance, trainer and bomber versions proliferated, and were joined by a 'day/night-intruder' version of the B. Mk 8 (a few B. Mk 6 aircraft preceded them) in 1954. These were known as the B. (I) Mk 8, and carried an underfuselage gun pack containing either 4 x 20mm Hispano cannon, or 4 x 30mm Aden cannon. There was a single 'fighter-style' canopy on the port side of the nose, a visual bomb-aimer's station, and the bomb load could consist of either 3 x 1,000 lb bombs or one tactical nuclear weapon (usually a U.S. produced Mark 7). This were the last bomber version of the Canberra to serve, the final examples being withdrawn from Royal Air Force Germany (RAFG) squadrons in 1972.
Some of the B. (I) Mk 8 intruders were converted from B. Mk 2 aircraft, and the example shown above was one of these. WV787 was built as a B. Mk 2 in 1952 at the English Electric factory at Preston, then re-built as a B. (I) Mk 8 for radar trials with Ferranti. The aircraft was fitted with a Blackburn Buccaneer radome to simulate the nose which was eventually fitted on the T.22 Canberra. She stayed a trials aircraft, and was transferred to the Aeroplane & Armament Experimental Establishment of the Royal Air Force at RAF Boscombe Down, Wiltshire (there have been several name changes since then). A & AEE aircraft were rarely confined to one task, and usually modified on a regular basis. WV787 was fitted with a long external hose connecting a water tank in the bomb bay to a 'spreader bar' full of nozzles, just beneath and behind the tailplane. This was used to spray water onto a trailing aircraft; the effect of this icing was recorded using a rear-facing TV camera. In this configuration, it must have been one of the most visually unusual RAF aircraft! WV787 flew into the International Air Tattoo at RAF Greenham Common, Berkshire in June 1981 whilst fitted out with this equipment.
WV787 is now on display at the Newark Air Museum, Nottinghamshire, in its final all-over black scheme. The many warning placards and safety notices on the airframe give a surprisingly artistic effect. 'Trestle Here', 'DANGER: Canopy', 'DANGER: Ejection Seat', 'Debris Guard Lock', 'Fire Extinguisher Here', 'First Aid Here' and many more, produce a rather pleasing pattern on the black background.
However, there is just one sign I am uncertain of…..that is the meaning of a certain set of rabbit ears on the nose cone!