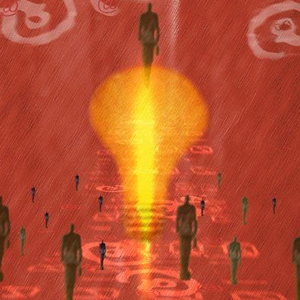 Commentary: African American Scientists and Inventors
by Black Kos Editor, Sephius1


Long Island, New York native James McLurkin loved working with Legos, models, and bicycles as child. But his tinkering went beyond mere child's play. Soon he was assembling parts and creating new toys from objects he found around the house. As a teenager he was inspired to build his first robot, "Rover," which he completed during his sophomore year in high school. By the time he finished high school he had created three robots on his own.
(con't.)
McLurkin was admitted to MIT, where he pursued a degree in electrical engineering. As a student there in 1991, he began working in the university's Artificial Intelligence Lab, where he first began developing his idea for "Robot Ants." These tiny machines (one inch or less per side) would each house internal computers and motors, with sensors that would allow them to detect objects in their paths that they could pick up or avoid. Each robot would also have an internal communication system using infrared emitters. These characteristics would give the robots "intelligence"—theoretically they would be able to work together to play games and accomplish tasks.
McLurkin, who believes that the greatest inspiration comes from observing nature, studied the behavior of real ants in ant colonies as a basis for his programming. He would keep "ant farms" on his desk at school and watch how the creatures worked together. He examined the ways in which the insects structured their workloads so they could succeed even when some members of the group were no longer able to perform.
McLurkin left MIT after receiving his B.S. in Electrical Engineering and pursued graduate studies at the University of California, Berkeley. Next he returned to MIT to pursue his PhD in Computer Science, all the while continuing to work on his robot colonies. As part of his doctoral research, McLurkin is developing algorithms and techniques for programming "swarms" of autonomous robots, which would be programmed to mimic the behavior of bees, including their abilities to cluster, disperse, follow and orbit
.....Read More
~~~~~~~~~~~~~~~~~~~~~~~~~~~~~~~~~~~~~~~~~~~~~~~~~~~
News by dopper0189, Black Kos Managing Editor
~~~~~~~~~~~~~~~~~~~~~~~~~~~~~~~~~~~~~~~~~~~~~~~~~~~


~~~~~~~~~~~~~~~~~~~~~~~~~~~~~~~~~~~~~~~~~~~~~~~~~~~
Dany Laferrière's memoir of the Haitian earthquake. Slate: Shaken and Stirred.
~~~~~~~~~~~~~~~~~~~~~~~~~~~~~~~~~~~~~~~~~~~~~~~~~~~
On Jan. 12, 2010, the Haitian-born novelist Dany Laferrière was in Port-au-Prince, having traveled there from his home in Montreal as a member of the advance team of a French literary organization called Etonnants Voyageurs, or Astonishing Travelers. Etonnants Voyageurs sponsors an annual festival at St. Malo, a medieval town in Brittany, celebrating French and international writers. The group has also organized festivals in Israel and Mali, acquiring some familiarity with challenging situations abroad. Their first festival in Port-au-Prince, planned as part of bicentennial celebrations of Haitian independence in 2004, was postponed thanks to the violent collapse of the Haitian government that year, and eventually took place in 2007. Most members of the 2010 advance team had helped organize the 2007 event as well. By 2010, things in Haiti were finally looking up.
"Life seems to have gotten back to normal after decades of trouble," Laferrière writes in his surprisingly calm and measured new memoir, The World Is Moving Around Me.
Laughing girls stroll through the streets late into the evening. Painters of naïve canvases chat with women selling mangos and avocados on dusty street corners. Crime seems to have retreated. In lower-class Bel-Air, criminals aren't tolerated by a population exasperated by everything it has gone through over the last fifty years: family dictatorships, military coups, repeated hurricanes, devastating floods, and random kidnappings.
For the first time in a decade or more, political turmoil had receded from the Haitian consciousness, leaving space for the country's extraordinary rich reserves of literature, music, and visual art to claim attention. In the background of Laferrière's street-level observations there were more promising developments. President René Préval's administration looked far more stable than any of its recent predecessors, while Obama's administration in Washington was far more friendly to its Caribbean neighbor than previous U.S. governments had been. The new empowerment of the Clintons, Hillary as secretary of state and Bill as United Nations special envoy to Haiti, bids fair to clear a new pathway toward durable economic development, again for the first time in 15 years or longer.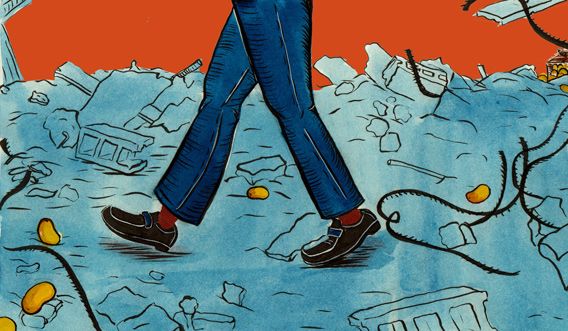 Illustration by Nicole Georges.



~~~~~~~~~~~~~~~~~~~~~~~~~~~~~~~~~~~~~~~~~~~~~~~~~~~
Catching up with a few of the influencers determined to change the global image of the continent. Ebony: AFRICA BY THE AFRICANS: Young Tastemakers Aim to Challenge Stereotypes.
~~~~~~~~~~~~~~~~~~~~~~~~~~~~~~~~~~~~~~~~~~~~~~~~~~
56 years ago, Kwame Nkrumah led Ghana to Independence from British colonial rule determined to "prove to the world that when the African is given the chance, he can show to the world that he is somebody". This legacy of the misrepresented African was formed more than 200 years prior, when Europe and, later, America made the mad dash to Africa for natural resources and cheap labor to keep pace with the demands of the West's rapidly industrializing economy. Today, as American and European economies flounder in the global recession, scarcity of jobs/opportunities coupled with forecasts of Africa's economic growth is making Africa look really shiny again.
Discovery Channel's "Jungle Gold" reality series depicts "rookie American gold miners" seeking their fortunes in "the dangerous and gold-rich jungles of Ghana" after losing everything in the 2008 real estate crash. The Washington Post recently noted a wave of Portuguese citizens heading to Mozambique, quoting one Portuguese official as saying, "Everyone is feeling the pinch of the economic crisis, and Mozambique offers a lot of opportunities… People think this is El Dorado."
The fashion industry is also taking serious interest in not only the styles popular on the continent, but in creating strategic business alliances as well. In 2012, for the first time Mercedes-Benz Fashion Week sponsored African Fashion International's annual event in South Africa. Likewise, Vogue Italia co-sponsored the inaugural Ghana Fashion and Design Week. Editor-in-chief Franca Sozzani reportedly "initiated distribution of African fashion products through shops in Europe and America as well as through QVC" as a UN Goodwill Ambassador of Fashion 4 Development.
Under Sozzani L'Uomo Vogue dedicated its June 2012 issue to the continent, the cover line assuming responsibility for "Rebranding Africa." Sozzani explained in a Huffington Post piece about the issue: "Africa needs to rebuild a new image, far removed from the one the media usually convey reporting on wars and famines that, although actually occurring, are not the only side to show."
What's different about this juncture in history as it relates to the renewed global interest in Africa is Africans can far more easily shut down foreign assumptions and misinformed initiatives even as they create their own platforms to define the continent, and themselves, on their own terms.
When L'Uomo Vogue's issue hit stands, Jacobs' (blog) Africa is a Country published a scathing review. Calling the issue "an embarrassing and insulting shambles," the blog post systematically, and convincingly, undermined the "Rebranding Africa" premise.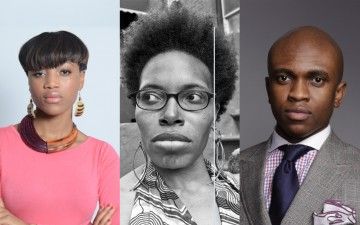 Sandra Appiah, Ngozi Odita and Issac Babu-Boateng, courtesy Ebony.com


~~~~~~~~~~~~~~~~~~~~~~~~~~~~~~~~~~~~~~~~~~~~~~~~~~~


~~~~~~~~~~~~~~~~~~~~~~~~~~~~~~~~~~~~~~~~~~~~~~~~~~~
As we count down the days to a second term, a look at the president's record on black colleges. The Root: How Will Obama Handle HBCUs?
~~~~~~~~~~~~~~~~~~~~~~~~~~~~~~~~~~~~~~~~~~~~~~~~~~
Between now and the inauguration on Jan. 21, The Root will be taking a daily look at the president's record on a number of policy issues, including his first-term accomplishments and what many Americans hope to see him accomplish in a second term. Today: the war on drugs. See previous postings in this series here.
Background: Today 105 historically black colleges and universities educate 135,722 male and 238,685 female students across the United States, according to the most recent data from the Integrated Postsecondary Education Data System. Historically, HBCUs have played a vital role in providing educational opportunities for traditionally underrepresented groups. Since the 1830s, they have been instrumental in preparing black people to make significant contributions to the economic, intellectual and cultural landscape of the nation.
Research demonstrates that HBCU graduates enjoy greater financial success in their careers, and U.S. rankings consistently show that HBCUs are among the top producers of students who continue their educations through graduate and professional schools. My own research (pdf) indicates that for black students, HBCUs are clearly superior to predominantly white institutions for promoting positive student-faculty relationships and students' sense of belonging among science, technology, engineering and mathematics majors.
Notwithstanding those benefits, many HBCUs have suffered financially because of declining enrollment, the economic recession and other fiscal challenges. Federal investment in HBCUs is critical for them to realize their respective missions; achieve long-term financial stability; and develop programs, policies and practices that promote recruitment, retention and graduation among the black students they so diligently serve.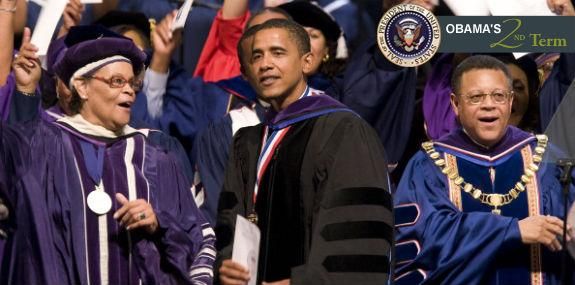 Barack Obama at Howard University (MCT/Getty Images)


~~~~~~~~~~~~~~~~~~~~~~~~~~~~~~~~~~~~~~~~~~~~~~~~~~~

~~~~~~~~~~~~~~~~~~~~~~~~~~~~~~~~~~~~~~~~~~~~~~~~~~~
What Is It Like To Be Black in America? Slate: Answer by Aaron Ellis.
~~~~~~~~~~~~~~~~~~~~~~~~~~~~~~~~~~~~~~~~~~~~~~~~~~
Before answering this, I just want to say that I love being black, I love America, and I love being black in America. Most of the time, I am just another person in this great country. But, in the recent words of one of my close friends, "Every now and then, you get a reminder that you are black in America."
I got a reminder just two weeks ago, on Christmas Eve. My best friend, who was in town from Atlanta, wanted to go to a local mall just to hang out. He invited me and another good friend to meet up with him.
So that's the setting: three clean-cut, college-educated black men in their 30s at a nice outdoor mall the day before Christmas. We were dressed fairly conservatively, wearing sweaters, jeans, and dress shoes. We were all done with our Christmas shopping, so we were just strolling around the mall to be around people, enjoy some snacks, catch up with each other, and just feel the winter air.
After a few hours, we decided to leave. While walking out, we noticed that people were standing outside one of the businesses as though something had just happened. Mall security was busy taking witness accounts. We went in for a closer look. We overheard a witness say that a man was beaten up. Tragic, but honestly, it's the kind of crime that is common around the holidays, especially in malls.
We headed to the parking lot. I arrived at my car first, so I said my goodbyes and they walked towards their cars. But before they could go 30 feet, several police cars sped in and surrounded us, lights shining bright on our faces. We had no idea what was happening. An officer started barking orders at us. "Turn around!" "Hands up" "Show me your hands!" They made us come over.
They then started giving us conflicting orders. One officer would say, "Put your hands up." We put them up. The other would say "Put your hands down." We put them down. But then one would say "Who told you to put your hands down?! Get your hands up!" Back up go our hands. I felt like I was doing the Hokey Pokey dance.
They asked us questions about where we were at a specific time. We had an alibi: We were at the Yard House and had the receipts to prove it. But that wasn't enough. The questions continued. We asked if this was about the assault that happened. The questioning officer then acted as though our knowledge that a crime had occurred was an admission of guilt. He threw accusations at us and began a very aggressive line of questioning, hoping to get us to confess to being involved or catch us in a lie.





Aaron Ellis


~~~~~~~~~~~~~~~~~~~~~~~~~~~~~~~~~~~~~~~~~~~~~~~~~
Chief Keef's new album sparks a nasty debate about race and music criticism. The New Republic: Is It OK for White Music Critics to Like Violent Rap?
~~~~~~~~~~~~~~~~~~~~~~~~~~~~~~~~~~~~~~~~~~~~~~~~
Chief Keef is black, as are a disproportionate number of gun-violence victims in this country, and his music has been criticized for glorifying guns, which it does. He has also been criticized for being a poor rapper. His lyrics are terse and simple and delivered in a blunt, heavily slurred monotone. The Associated Press' Jonathan Landrum called Keef's major-label debut "woeful" and "borderline unbearable." Nevertheless, when that album, Finally Rich (a sublimely ridiculous title, considering Keef's age), came out in December, it had its supporters, too. Pitchfork's Jayson Greene awarded it a 7.5 rating, calling it "ruthlessly effective." Spin's Jordan Sargent gave it an 8, praising Keef's "unalienable artistic skill that so many people are invested in making you believe he doesn't possess." Cocaine Blunts blogger Andrew "Noz" Nosnitsky chose "Don't Like" as his third favorite rap single of the year and tweeted, "chief keef made a fun album. i don't know what the rest of you critics are listening to." 

Greene, Sargent, and Noz are white, a fact that did not go unnoticed by Keef's detractors. Ted Bawno, who's either a wealthy older white media mogul who founded ego trip magazine in the early '90s or a fictional construction of ego trip's non-white staff members, took to Twitter to say, "white people love chief keef because he is the Chief of Nothing and only poses a threat to other blacks in down-trodden neighborhoods." Brian "B.Dot" Miller, who is black, and an editor at Rap Radar, took Sargent to task directly, tweeting at him to "please stop writing about MY culture," bemoaning "cultural tourists writing about the music of MY culture" and "outsiders like yourself in hipster media that get a hard-on by overanalyzing black music." An anonymous reader of Noz's blog, meanwhile, wrote him to ask: "Has anyone ever told you that because you are a white supremacist you're promoting minstrel show music like Chief Keef, Wacka Flocka and whatnot on your blog, because you want to make sure your white race stays ahead … ?"


Noz responded thoughtfully, saying that he takes pains to avoid glorifying the violent content in the music he writes about—"I take a pretty hardline stance against moralizing any art"—but chafing at the idea that the music doesn't warrant serious consideration. "As if Chief Keef's music is so empirically horrible that there isn't any possible way for a reasonably intelligent human to enjoy it without an agenda—-despite the fact that thousands of people do just that!" he wrote. "Many of his detractors are simply coding their aesthetic objections as moral ones."


Sermons of the Side Eye blogger Judnikki, who is black, agrees with Noz in theory about the amorality of art appreciation. "Fuck moralizing art," she wrote, in a self-described "rant" on Twitter. But then she raised the problem of emotional perspective—a problem that speaks to B.Dot's use of the all-caps, implicitly exclusive "MY." There is an aspect of ownership in black people's relationship to black music, she says, even if they don't choose it, because whites in America have for so long pigeonholed the black experience. "When ppl have a history of being stereotyped and generalized they lose that sense of individual privilege …" It's impossible, Judnikki argues, for her to divorce herself from Chief Keef's blackness—to not see her own reflected in it. American society won't let her. So it's impossible for her to listen to his music free of an agenda. Thus, she does apply moral concerns to her experience of art, as much as she doesn't want to.



~~~~~~~~~~~~~~~~~~~~~~~~~~~~~~~~~~~~~~~~~~~~~~~~~~
One of those small interesting tidbits of history. The New Republic: How the New York Times Screwed Martin Luther King Jr.
~~~~~~~~~~~~~~~~~~~~~~~~~~~~~~~~~~~~~~~~~~~~~~~~~~
Harvey Shapiro would have likely preferred to be remembered as a poet, and perhaps also as one of the better editors of the New York Times Book Review. But his Jan. 7 Times obituary plays up another aspect of his life of which I was previously unaware. It was Shapiro, then an editor at the New York Times Magazine, who assigned Martin Luther King Jr. to write his 1963 "Letter From Birmingham Jail," which today ranks as one of the preeminent literary-historical documents of the 20th century.
The assignment would have assured Shapiro a place in magazine-editor heaven if the Times Magazine had published the result. But it didn't. Rejected, the letter ended up (under the headline, "The Negro Is Your Brother") in the Atlantic. The Times Magazine's role here ranks well above William Styron's rejection, as a reader at McGraw-Hill, of Thor Heyerdahl's Kon-Tiki as one of the great busted plays in American publishing.
According to Diane McWhorter's Carry Me Home: The Climactic Battle of the Civil Rights Revolution, Shapiro phoned the offices of King's organization, the Southern Christian Leadership Conference, in July 1962. King was doing jail time in Albany, Georgia, on charges of disturbing the peace while protesting the segregation of public facilities. Shapiro suggested that King write a "letter from prison" modeled on those of early Christian saints; Shapiro may also have been thinking about another 20th century political martyr and Christian minister, Dietrich Bonhoeffer. But (according to Taylor Branch's Parting The Waters: America In The King Years, 1954-1963) one of King's lawyers, Chauncey Eskridge, worried that the letter might get published before King was released from jail and compound his legal problems. Before a decision could be made, King was set free.
The following May, King was once again in jail for staging a nonviolent protest, this time in Birmingham, Alabama. King remembered Shapiro's offer and was anxious to reply to "An Appeal For Law and Order and Common Sense," a muddle-headed brief for compromise published in the Birmingham News a few days before by eight white Alabama clergymen. King scribbled a response in the margins of the newspaper, on toilet paper, and and on other scraps that his lawyers sneaked out to the SCLC's executive director, Wyatt Walker, who got it transcribed. Walker passed drafts back and forth through the lawyers until King was satisfied.
Up north at the Times Magazine, Shapiro was eager to publish, but (according to McWhorter) he "could not get the letter past his bosses at the Times." Way to go, Gray Lady!



~~~~~~~~~~~~~~~~~~~~~~~~~~~~~~~~~~~~~~~~~~~~~~~~~
~~~~~~~~~~~~~~~~~~~~~~~~~~~~~~~~~~~~~~~~~~~~~~~~~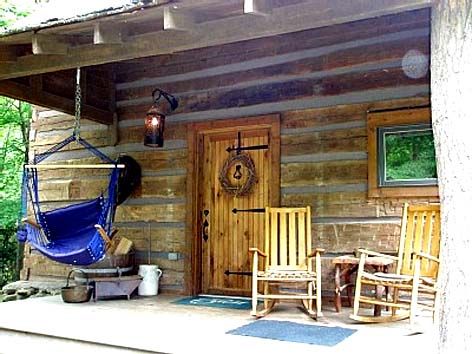 Welcome to the porch, where it's always warm, and the conversations are just fine.