Not quite a month ago I published a "diary," Redington Pass, which contained not a single word of text. A simple series of barely adequate photographs I took during a day outing in the mountains just a few miles east of here.
As you may recall, a month ago the GOS was consumed, once again, with partisan side taking. Accusations and Hide Ratings flew from both sides of this latest installment in our ongoing soap opera. Poutrage, on both sides, was the emotion du jour.
I'm speaking, of course, of the aftermath of the Newtown shootings. Last month's Tastes Great/Less Filling was, no doubt inadequately expressed, Gun Control vs. 2nd Amendment. It's a lot more complicated than that, but you know which DK epic pie fight I'm referring to.
I pretty much stayed out of the debate, even pretty quickly quit reading the screeds for either side. A national tragedy had occurred, emotions were rubbed raw, heartfelt feelings were prominently displayed.
Let's just agree that dispassionate Reason wasn't ruling the day.
But I did happen to journey into the Coronado National Forest, with a camera, and while there was overwhelmed by a facet of the debate I hadn't particularly heard or read. So I posted a few pictures of Redington Pass.
Not that I suppose it matters, but my purpose in going up to Redington Pass that day was first to enjoy a day relatively away from the hustle and bustle with my sweetie. I brought the camera along because the peaks of the Santa Catalina and Rincon mountains, whose intersection is Redington Pass, were covered with, for these parts, a pretty good snowfall. From the valley floor in Tucson they looked inviting. A perfect get away for a late morning. I thought I'd get some Nature shots.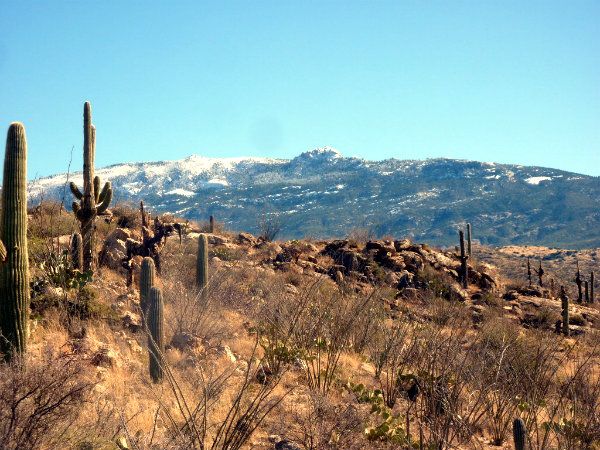 We thought we were leaving Newtown, and the contentiousness it engendered at DK, behind us.
But, of course, we can never really get away from anything. Wherever we go we take it with us. And so it was with the gun problem, and tragic death.
I knew the shooting ranges were up there. I knew what they looked like. Years ago I worked on the crew that installed culverts where the road through the pass crosses many of the washes, improving the drainage and slowing the erosion of the road. It was a good job, high up in beautiful country, out in the cool sunshine and fresh air, doing something useful for man and nature. I spent a lot of time in Redington Pass.
I write that we installed culverts in many of the washes. The reason we didn't place them in all the washes was that the job came to an abrupt halt the day Miguel, the young migrant I'd brought to work that day in my car, was killed in an avoidable accident. Perhaps fifty feet in front of me his head was run over by a roller, the big flat wheeled machines we use to smooth and compact asphalt or dirt.
Miguel was far from the first person I'd seen die, suddenly, violently. Every now and then my PTSD is adaptive, shielding me from the worst of the emotional impact. But for the purposes of this diary it's sufficient to note that revisiting the scene of sudden, needless, avoidable death, right in front of my eyes, had more than a little effect on my present state of conciousness. Then, later, even now.
Of course I relived Miguel's untimely demise last month as we passed that spot in the road. Of course I was looking at the mountain, and the road, through the lens of another day, another time, another way it might have been. That's part of what PTSD does.
As a young man I'd been privileged to serve with many Marines who'd been at the Chosin Reservoir during the Korean War, the "Frozen Chosen." Completely surrounded by a vastly numerically superior force, in temperatures that would castrate a brass monkey, they fought their way out carrying their dead and wounded with them. Those are my heroes, my role models. If you go out with them, you come back with them. Nothing more, nothing less. People you can truly count on, no matter what. No Matter What!
So even though I had been one of the loudest voices decrying the practice that got Miguel killed, "if they'd only listened to me he would have still been alive" I can tell myself in good conscience, "if I'd only complained more, or louder" I berated myself, I assumed a boatload of guilt when I drove home that evening, the seat beside me empty where it had been filled that morning. I'd taken Miguel out with me, and I was coming back without him. I had failed; Miguel, the Frozen Chosen and myself. An innocent young man lay dead where I left him on my supervisor's orders.
With that in mind, with the background of Daily Kos in flames about Sandy Hook Elementary, on the way into the Park we passed the sign

Guns, Death, packing back out what I'd packed in, Responsibility, and more were swirling through my being when we came upon the trash heaps that some folks around here are pleased to call "shooting ranges." I knew what I had to do, the pictures I had to take. The wordless diary I had to "write."
The only words I put on that diary were the tip jar,

Jes sayin'
responsible is as responsible does.
If you had asked me that day I'd have told you I thought I was making a comment on the lack of responsibility demonstrated by too many gun owners. "There." "There's your responsible gun owners, littering the beauty of a National Park with the detritus of their visitation."
Today I'm a little closer to viewing the detritus of my own visitation more dispassionately. Perhaps even more honestly. What I left on the mountain was far more significant than some shell casings or beer boxes. What I did and failed to do are scars on my soul, forgiven perhaps, but never forgotten.
And so it is with an incredible mix of emotions that I saw a message today that intimated that my diary might have borne connection to the National Park Service's decision to close those shooting ranges, fence them off, and clean them up. That was not my intent. Nor do I take too seriously the idea that my diary had any real world effect beyond the consciousness of a few Daily Kos viewers.
I genuinely regret, however, that the gun enthusiasts of Tucson hadn't responded to the diary by going to Redington Pass and demonstrating responsible gun enthusiasm by cleaning up after their fellows who are not so responsible. That opportunity has passed. They'll never get that one right.
Not now. It's too late.
"His name was Miguel, and he told me he came from 'Sud' . . ."