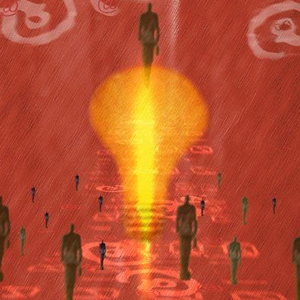 Commentary: African American Scientists and Inventors
by Black Kos Editor, Sephius1


Hildreth "Hal" Walker, Jr. has won fame as an innovative thinker, collaborator and role model, in the realm of energy technology, especially in applications of lasers.
Born in Alexandria, Louisiana in 1933, Walker faced two major challenges as a young boy. On the one hand, his family forebade him from seeing his estranged father; on the other, black persons were virtually forbidden from significant social or academic advancement. However, Walker visited his father on the sly, and on one memorable occasion received as a present a toy Buck Rogers ray gun; he also found a white family willing to let him work as an informal apprentice at their vacuum cleaner repair shop. Thus, by fighting the earliest obstacles he encountered, Walker gained both the inspiration and the experience that would lead him to a career in high technology.
(con't.)
Walker's family soon moved to Los Angeles, and through high school there, he sharpened his skills in mechanics and electronics. He had decided on a career in the film industry after graduating, but was shut out because he was black. He could find work only with the Navy, installing radar systems in fighter planes; but after the Korean War ended (1953), his four years' experience was ignored by employers.
In a few years, Walker got a long overdue big break. RCA hired him to help develop the US government's Ballistic Missile Early Warning System, designed to warn the US in the event of a Soviet nuclear attack (1959). Walker loved the work, and excelled at it; he went on to direct other global telecommunications projects, including the first television broadcast transmitted from Earth to a satellite and back to Earth again (1962).
In 1969 came Walker's most sensational success. Working for Union Carbide's Laser Systems division, he led a team that adapted a ruby laser for measuring the distance from the Earth to the Moon during the Apollo 11 mission. Walker's team trained a laser beam from Lick Observatory in California at a reflector mirror, only 18 inches wide, that Neil Armstrong and Buzz Aldrin had set up on the Moon's surface. Walker's team recorded by far the most accurate measurement of the distance ever, exact to within 5 meters. The equipment used for the experiment is now on permanent exhibit in the Smithsonian's National Museum of American History.....Read More
~~~~~~~~~~~~~~~~~~~~~~~~~~~~~~~~~~~~~~~~~~~~~~~~~~~
News by dopper0189, Black Kos Managing Editor
~~~~~~~~~~~~~~~~~~~~~~~~~~~~~~~~~~~~~~~~~~~~~~~~~~~

~~~~~~~~~~~~~~~~~~~~~~~~~~~~~~~~~~~~~~~~~~~~~~~~~~~
The web is allowing groups of people that have historically been shut out of film making to give life to their dreams. ColorLines: Keith Josef Adkins Is Making His Own Black Sci-Fi (and You Should Too).
~~~~~~~~~~~~~~~~~~~~~~~~~~~~~~~~~~~~~~~~~~~~~~~~~~
After my conversation with writer-director and playwright Keith Josef Adkins about his new sci-fi webseries "The Abandon," I ask him how much creative freedom he was granted during his tenure as a staff writer on the CW show "Girlfriends." "Freedom? TV?" he laughs. "The two don't go together!"
It's surprising, given Adkins' unapologetic embrace of his own creative instincts, that he's waited this long to write and direct his own series for the web, with no studio to give him notes. But it's also surprising that "The Abandon" had to wait for the web's freedom to come to be. With its solid sci-fi premise, sharp dialogue, and cliffhanger first episode, it's got mass appeal—unless you're a studio exec who claims that black people and sci-fi don't get along.
"The Abandon" is the story of five men who leave the city on a weekend camping retreat, only to find out via Twitter that aliens have landed back home, and they're not friendly. The friends have limited time and information to reassess their priorities, and their friendship. In many ways, it's not a show about the Black Experience; clever shifts in context (the lack of non-black characters and the looming presence of a non-human threat) place the story squarely upon the individuals and their interactions. But, as one fan said on Twitter, it's also that rare sci-fi show in which a character declares that "this is some bullshit!"
The pilot episode of "The Abandon" launched around Christmas, fueled by an $8000 Indiegogo crowdfunding campaign and filmed in upstate New York with a skeleton crew. I spoke with Adkins by phone about the recurring themes that creep into his work, the joys and challenges of working outside the whiteness-obsessed studio system, and what we can look forward to in forthcoming episodes.
~~~~~~~~~~~~~~~~~~~~~~~~~~~~~~~~~~~~~~~~~~~~~~~~~~~


~~~~~~~~~~~~~~~~~~~~~~~~~~~~~~~~~~~~~~~~~~~~~~~~~~~
How American tax dollars are keeping Arkansas rice growers fat on the farm and starving millions of Haitians. Foreign Policy Magazine: Subsidizing Starvation.
~~~~~~~~~~~~~~~~~~~~~~~~~~~~~~~~~~~~~~~~~~~~~~~~~~~~
In the wake of Haiti's devastating 7.0-magnitude earthquake exactly three years ago, former U.S. President Bill Clinton issued an unusual and now infamous apology. Calling his subsidies to American rice farmers in the 1990s a mistake because it undercut rice production in Haiti, Clinton said he had struck a "devil's bargain" that ultimately resulted in greater poverty and food insecurity in Haiti.
"It may have been good for some of my farmers in Arkansas, but it has not worked," he said. "I have to live every day with the consequences of the lost capacity to produce a rice crop in Haiti to feed those people, because of what I did."
Despite Clinton's dramatic confession and his role as the United Nations' special envoy for Haiti, little has changed in the last three years for the Caribbean country's farmers. If anything, they appear worse off. Before Hurricane Sandy hit the eastern seaboard, its rain and flooding caused $234 million in agricultural losses in Haiti. For a brief moment, coverage of the disaster in the American media shone a light on the miserable conditions that the country's farmers are faced with -- a lack of infrastructure, capital, and markets that could help their families and the country prosper.
Meanwhile, for the last year a piece of U.S. legislation that could have arguably changed the playing field for Haiti's farmers has been stalled in Washington, D.C. A new $500 billion, five-year farm bill that might have cut subsidies to American rice farmers was never passed. And in the final hours of 2012, politicians extended the old one for another nine months.
The move effectively kicked the can down the road for changes to America's decades-old agricultural policies -- changes that could represent the first challenge to the "devil's bargain" Haiti and Arkansas have been a part of for so long.




Foreign Policy Magazine


~~~~~~~~~~~~~~~~~~~~~~~~~~~~~~~~~~~~~~~~~~~~~~~~
The chains of debts. BusinessWeek: Debt Forges New Chains for South Africa's Miners.
~~~~~~~~~~~~~~~~~~~~~~~~~~~~~~~~~~~~~~~~~~~~~~~~
In 2008, James Ntseane borrowed 8,000 rand ($931) from African Bank Investments Ltd. (ABL) to pay for his grandmother's funeral in the South African village of Ganyesa. It seemed so easy the platinum miner took out two more loans, worth 10,000 rand, for a sofa and house extension over the following six months.
Four years later, he owes at least 30,515 rand, according to text messages he gets from African Bank, South Africa's biggest provider of unsecured loans. To make the payments, 1,700 rand is taken off his monthly salary of about 12,600 rand by his employer under a court-imposed garnishee order and given to the lender. He doesn't know how much interest he's paying.
"Even if they tell me 14 percent, I don't know how much that is," said Ntseane, 41, who works nights operating a rock- hauling machine almost a mile under the surface at Impala Platinum Holdings Ltd. (IMP)'s mine north of Johannesburg. "They are taking too much money from us. They don't even care how much you earn."
Ntseane is one of more than 9 million South Africans with a blemished credit record, their ranks swollen by an unsecured- loan boom driven by lenders including African Bank and counterparts Capitec Bank Holdings Ltd. (CPI) and Bayport Ltd. Rising indebtedness from interest rates of as much as 80 percent a year may have contributed to a series of strikes that led to the worst mining industry violence since apartheid ended in 1994, according to the government.





Residents wait inside a scrap metal merchant's office beside a money lender's advertisement for finance in Marikana. Photographer: Nadine Hutton/Bloomberg



~~~~~~~~~~~~~~~~~~~~~~~~~~~~~~~~~~~~~~~~~~~~~~~~
A war-torn country is not a broken country. How Liberia pulled off its 2005 election. Foreign Policy Magazine: Avoiding War Number Two in Liberia.
~~~~~~~~~~~~~~~~~~~~~~~~~~~~~~~~~~~~~~~~~~~~~~~
In August 2003, a peace agreement ended the civil war that had ravaged Liberia since 1989. In a country of roughly three million people, an estimated 250,000 had died in the conflict, and hundreds of thousands were displaced. The peace accord dissolved the government of Charles Taylor, who went into exile in Nigeria. The accord also cancelled the presidential elections that were slated for the fall of 2003 and named Charles Gyude Bryant as head of an interim government, which was responsible for implementing free, fair, and comprehensive elections in the recovering country.
To monitor the implementation of the peace agreement, the United Nations deployed 15,000 troops and 1,100 police -- at the time the largest peacekeeping mission in the world. Hundreds of civilian U.N. employees also assisted in aspects of post-war reconstruction. Taken together, the military and civilian operations constituted the United Nations Mission in Liberia (UNMIL).
The peace agreement banned officials of the interim government from running for office, dissolved the existing elections commission, and required Gyude Bryant to appoint seven new election commissioners to be confirmed by the interim Assembly. In an effort to create a neutral elections commission, the peace agreement stipulated that the commissioners be recommended by civil society groups and have either civil society or justice backgrounds. Gyude Bryant nominated Frances Johnson-Morris to head the new election commission. She had served as Chief Justice of the Supreme Court in 1997 during a lull in the civil war, and later headed an NGO dedicated to combating human-rights abuses. The Assembly approved her appointment in April 2004 -- 18 months before the crucial national elections. Johnson-Morris had built wide respect as a neutral broker during her tenure as chief justice, engendering trust in her ability to work in the national interest.




Foreign Policy Magazine


~~~~~~~~~~~~~~~~~~~~~~~~~~~~~~~~~~~~~~~~~~~~~~~~~~~


~~~~~~~~~~~~~~~~~~~~~~~~~~~~~~~~~~~~~~~~~~~~~~~~~~~
Inaugural revelers hoping to get close to President Barack Obama at a ball are going to have a lot of competition, with around 40,000 expected to pack the pair of parties. TheGrio: About 40,000 expected for Obama's inaugural balls.
~~~~~~~~~~~~~~~~~~~~~~~~~~~~~~~~~~~~~~~~~~~~~~~~~~~
While Obama has cut the number of inauguration night balls lower than any president since Dwight Eisenhower was first sworn into office in 1953, the two celebrations the night of Jan. 21 will be elaborate. The Inaugural Ball is expected to draw more than 35,000.
That's a lot of elbows around the cheese plate. And to think how that increases the chances of someone else wearing the same dress.
But it also reflects the quadrennial demand in Washington for a chance to celebrate the end of an election year and toast the president in person on such an historic day, if only from across a cavernous room packed with tens of thousands of his closest friends. The Inaugural Ball is being held across all 700,000 square feet of the Washington Convention Center's five exhibit halls, which four years ago held six separate balls.
The Commander In Chief's Ball, a tradition started by President George W. Bush to offer U.S. troops a chance to join the celebration, is being doubled in size over four years ago to about 4,000. It's being held on the third floor ballroom of the convention hall a mile from the White House. Tickets are free for invitees, including active duty and reserve troops, Medal of Honor recipients and wounded warriors. The increase in tickets for fighting men and women to enjoy an evening with their spouses reflects a focus by first lady Michelle Obama and Vice President Joe Biden's wife, Jill, on supporting military families.
Demand has been high for entry to the balls. Inaugural planners offered a limited number of tickets to The Inaugural Ball for sale at $60, and they sold out quickly Sunday night when Ticketmaster accidentally sent out an email ahead of time announcing they were available. Inaugural organizers are trying to stop a swift scalping business for the tickets that have been cropping up for sale online.





Photo by Chip Somodevilla/Getty Images



~~~~~~~~~~~~~~~~~~~~~~~~~~~~~~~~~~~~~~~~~~~~~~~~~~
Rep. Marcia Fudge on how the group will look out for Americans of all colors over the next four years. The Root: New CBC Leader: We're Not Just for Blacks.
~~~~~~~~~~~~~~~~~~~~~~~~~~~~~~~~~~~~~~~~~~~~~~~~~~
Rep. Marcia Fudge of Ohio took the chairperson's gavel from Rep. Emanuel Cleaver at a recent ceremonial swearing-in for members of the Congressional Black Caucus. With it, she inherited the responsibility to lead the group of African-American elected officials that has long considered itself the "conscience of the Congress" on issues that transcend race.
That's right -- the black legislators, many of whom represent diverse districts, are more concerned with the well-being of children, the disabled and anyone who is struggling economically than the public understands. "People mistakenly believe we only represent minorities," Fudge told The Root.
In her remarks about her plans for the group's priorities during President Obama's second term, she said, "The imperative is to define what is right and then do it." That, she explained when we spoke to her after the ceremony, means advocating for legislation that protects all of America's most vulnerable citizens.
We asked the new chair about the issues she'd like for the Caucus to work on with President Obama -- from gun control to fiscal issues -- her take on Tim Scott's failure to join the group and the advice she'd give to black leaders who are just embarking upon their work to change the country from the halls of Congress.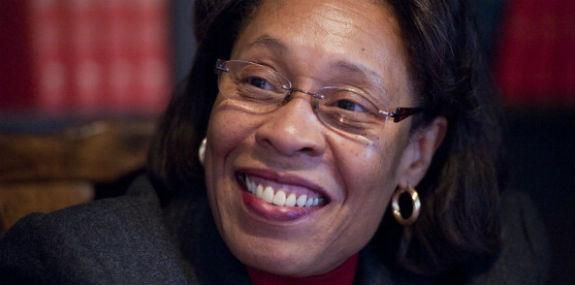 New CBC Leader Marcia Fudge (Tom Williams/CQ-Roll Call Group/Getty Images)


~~~~~~~~~~~~~~~~~~~~~~~~~~~~~~~~~~~~~~~~~~~~~~~~~
~~~~~~~~~~~~~~~~~~~~~~~~~~~~~~~~~~~~~~~~~~~~~~~~~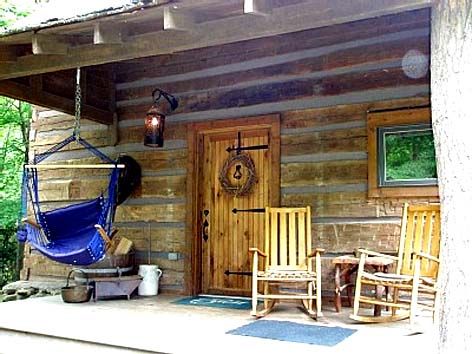 Welcome to the porch, where it's always warm, and the conversations are just fine.