Europe's financial problems aren't mentioned nearly as often these days. The reason is because the volatile bond market in Europe has taken a distinct upturn.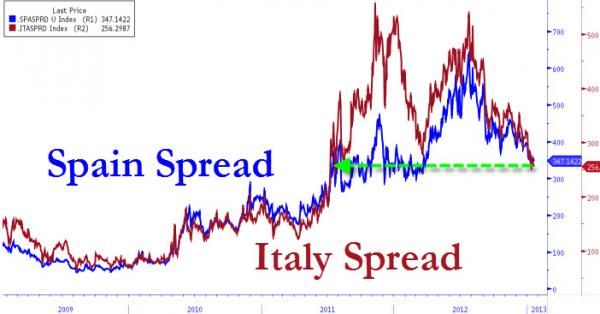 Did the markets decide that the economies of Italy and Spain are no longer at risk? No. The European Central Bank decided to make the decision for them about 3 months ago.
European Central Bank President Mario Draghi said policy makers agreed to an unlimited bond- purchase program to regain control of interest rates in the euro area and fight speculation of a currency breakup...
Bundesbank President Jens Weidmann issued a statement after Draghi's press conference saying the bond program is "tantamount to financing governments by printing banknotes" and may encourage them to postpone necessary reforms.
Draghi is right. If, say, Mexico made this announcement, their currency would collapse. As would any other 3rd world nation's currency.
In other words, the ECB is playing a dangerous game. However, for the moment, their bet has paid off. They have achieved their objective.
The devil in the details is their limited objective and its effects.
Unlike a 3rd world nation, their currency didn't drop. Ironically, the opposite happened in Europe.
Julian Callow from Barclays said the trade-weighted euro has risen 6pc since the third quarter of 2012. If sustained, this will lop around 0.4pc off eurozone GDP this year at a time when the economy is already contracting. The jobless rate has reached a record 11.8pc, rising to 26.6pc in Spain.
You see, the ECB is simply playing catch-up against the massive beggar-thy-neighbour policies of the Fed (and by extension every nation that pegs their currency to the dollar, including China), Japan, the Swiss, Norway, Korea, and most of the rest of the world.
While Europe's bond markets, and their wealthy bond holders, appear to be saved for the moment, the economies of Europe continue to sink into the abyss.
In just about every measure, the economic situation in Europe is worse than it was a year ago.
Eurozone unemployment reached an all-time high of 11.8% this month. Over 2 million more people are unemployed now than a year ago.A record 6 million are unemployed in Spain.
Youth unemployment hit 23.7%, up from 22.2% last year. Greece and Spain have the highest rates at 57.6% and 56.5% respectively. Italy's youth unemployment rate is 37%, an all-time high.
Manufacturing in France and Germany have contracted for 10 straight months. In Spain its contracted for 20 months in a row.
Overall, the economy of Europe is in recession for the 2nd time in 4 years.
"Overall I think it's remarkable that we haven't seen so far in the last year a stronger decrease in economic activity considering the strength of the euro-zone debt crisis," said Alexander Krueger, chief economist at Bankhaus Lampe in Dusseldorf.
The Greek economy has contracted for 17 straight quarters. Portugal is in the second year of recession.
The UK could be looking at an
unprecedented triple-dip recession
.
And yet with all this negative economic news economists are still saying things like this:
"I am confident that the euro zone is broadly on the right track back to financial stability and economic strength," said Josef Ackermann, a frequent Davos attendee who stepped down last year as chief executive officer of Deutsche Bank AG, Germany's biggest bank...
"We are now back in a normal situation from a financial viewpoint," European Central Bank President Mario Draghi said Jan. 10
So what is going on in Europe?
The same thing that is going on in much of the developed world: winners and losers are being chosen, and the working class isn't one of the winners.
The economists, the bankers, even the politicians are talking about certain economic and financial interests that effect their class. Specifically, their wealth has been protected. They aren't even taking into consideration things like middle class jobs.
If you want to know what the future holds for Europe, just look at the "success story" they are pushing: Latvia.
What they mean by "success" is slashing wage levels and leaving the tax burden primarily on labor and lightly on capital gains, without spurring a revolution or even Greek style general strikes.
Latvia still has an unemployment rate around 14%, which is quite an improvement from the nearly 24% unemployment rate it used to have.
Does that mean there are lots more jobs in Latvia? No. It means that 10% of the workforce has emigrated.
The problem was evinced in one Latvian student protest placard that read, "the last student out at the airport, please turn off the lights!"
The Latvian solution may work for a small, Baltic country, but who is going to take 10% of the workforces of Spain, Portugal, Greece, Ireland, and Italy? No one.