By now you've probably heard that last November, American voters chose to give Democrats control of the presidency and both chambers of congress in this past election. Wait, both chambers? No, Republicans maintained control of the House despite Democratic candidates receiving 1% more votes than Republicans. How could this possibly happen? Well thanks to gerrymandering, Republicans have an unfair advantage in the House of Representatives and were able to hold onto power when the public voted them out. Repeat after me, this is no different than when George W. Bush won the electoral college while losing the popular vote. The will of the people is being denied and Democrats need to WAKE THE F*CK UP and get angry the way we did after Republicans stole the election in 2000. Tell all of your Democratic and left leaning friends and even your annoying libertarian relatives that through legalized theft known as gerrymandering Republicans stole the House of Representatives.
Nationally, Democrats won 50.6% of the two party share of the House popular vote, but only won 46.2% of the seats. Breaking it down by some of the states we get: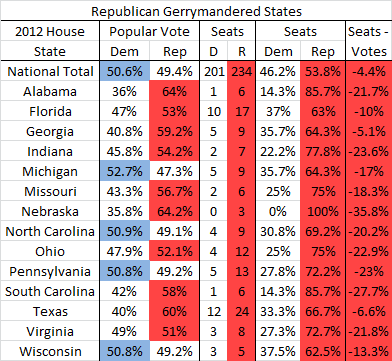 In every state, Republicans won a higher seat share than their vote share (Georgia and a few others are deflated since some Republicans were uncontested). Though gerrymandering didn't contribute a great deal in states like Georgia where drawing single-member districts is what screws us, there are others like Michigan, North Carolina, Ohio, Pennsylvania, Texas where gerrymandering cost us multiple seats per state.

In contrast, Democrats had far fewer opportunities and weren't nearly as ruthless and in Arkansas even gerrymandered a map that gave Republicans all four seats! In both Illinois and Maryland we could have gained 1 more seat with more aggressive maps.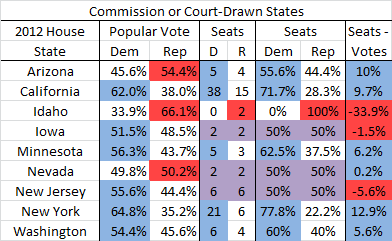 Looking at some states that had an independent or bipartisan commission or a court draw the map, on average the seat shares are much more representative of the partisan vote shares.
So what can we do, no what must we do, if we want to have a functioning democracy free of Republican hostage taking over the debt ceiling, harsh austerity, and institutionalized gridlock? Our immediate priority needs to be an organized effort to put non-partisan redistricting constitutional amendments on the ballot in states Republicans gerrymandered the crap out of. When the Supreme Court won't strike down partisan gerrymanders, establishing through ballot measure an independent citizens commission like that in California or that in Arizona is our best option over the near term. Longer term, we need to focus on winning the governor's office in states such as Ohio and Pennsylvania in 2018 to veto Republican maps. However, with the prospect of not being able to take the house until 2022 at the earliest under the current maps, redrawing the lines is the only way we have a shot at taking the house this decade.
Here's where you, me, the rest of the Daily Kos community, and Democrats in general come in. We need to get active in organizing these constitutional amendment initiatives in certain states, meaning fundraising, signature collection, and campaigning once these measures are on the ballot. Independent redistricting, when the campaign is properly funded, polls very well and is a slam dunk at the ballot box. Passing these amendments now can give us several more seats in the House and help even out Republicans' unfair advantage. The bang for the buck is tremendous compared to the average congressional campaign and if you've ever donated money to a federal Democratic candidate, your return on investment will be even better here.
Being just a college student in North Carolina, I don't have a budget or a political network of activists and volunteers at my disposal, but I do have time, motivation, and most importantly the facts. So to summarize:
The 3 states where initiatives will be most effective are 1. Michigan, 2. Ohio, and 3. Florida
The steps we need are:
1: Organization - we can start by planning a campaign to coordinate activists and volunteers so that we can start fundraising and circulating petitions. This is where those of you with experience working for and/or running campaigns, or the connections to those who have themselves will come in. Aside from fundraising, this will be the most important step as
2: Fundraising - Daily Kos users have contributed millions of dollars over the years to various Democratic campaigns at all levels. If we can tap into just a fraction of that potential, the return will be much higher than donating to any particular congressional candidate.
3: Activism - This could be as simple as informing your fellow Democrats of the fact that we won the house popular vote and gerrymandering is the reason Republicans are still in power. This is no different than had Obama won the popular vote and lost the electoral college and every Dem should realize this. Additionally, those of us in Michigan, Ohio, or Florida can help gather signatures and do the nuts and bolts things that constitute modern campaigning once the measures are on the ballot. So whether you just want to spread the word or go out and volunteer, please do something!
All in all, these three states could send anywhere from 7 to 13 more Democrats to Congress and give us a vastly improved chance at breaking Republicans' hold over the state legislatures in all three states
So if you're on board thus far and want to learn about specifics, follow me over the fold to see what the maps currently and might look like for each state and the steps required to place these measures on the ballot.
Edit - Thanks everyone for helping this get on the rec list :) I look forward to having discussions on how we can begin to organize these types of ballot measures.
Priority #1: Michigan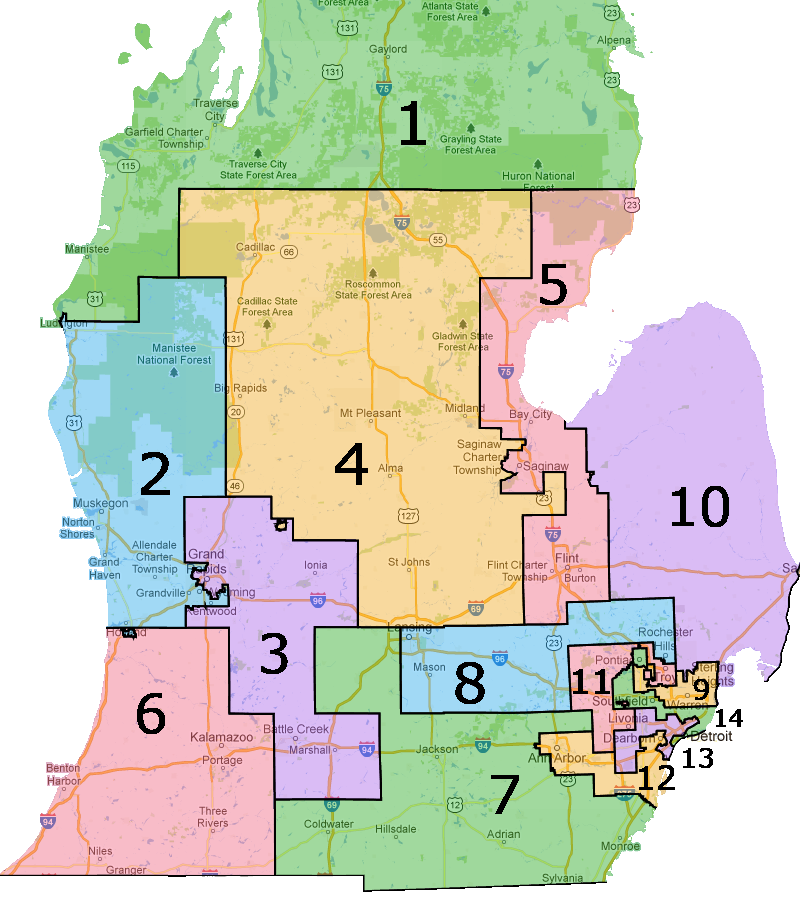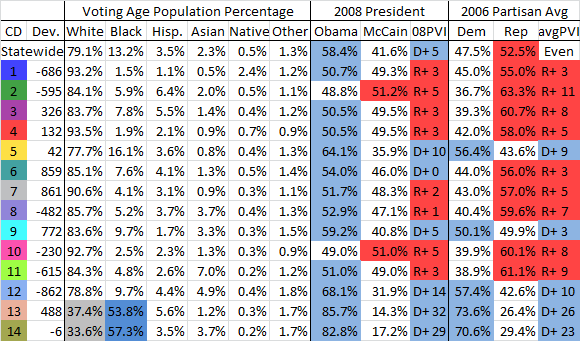 This is the Michigan congressional map (apologies to any Upper Peninsula folks) passed by the Republican controlled state legislature and signed by governor Rick Snyder (R), who recently signed Right to Work for less legislation into law. As should be immediately apparent, southeastern Michigan is a contorted mess. It also very efficiently packs Democrats into just 4 districts, leaving us 5 total while Republicans and Mitt Romney won 9 of the state's 14 districts in a state where Barack Obama won by nearly 10%.
What might a non-gerrymandered map of the state look like and how many seats could we expect to gain? Here is one plausible map I've drawn using Dave's Redistricting App that is similar to what a citizens commission might draw: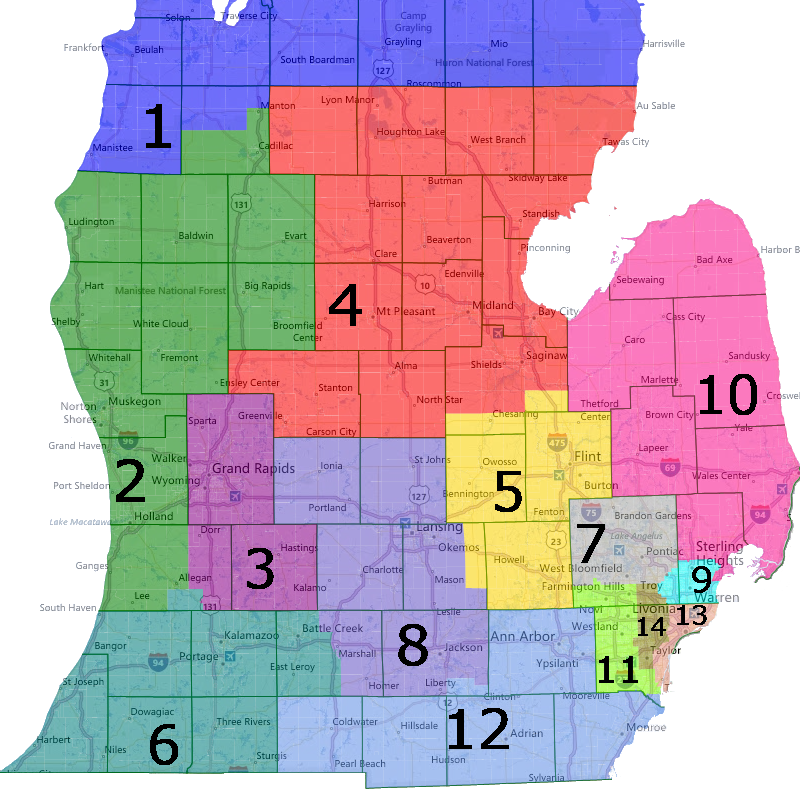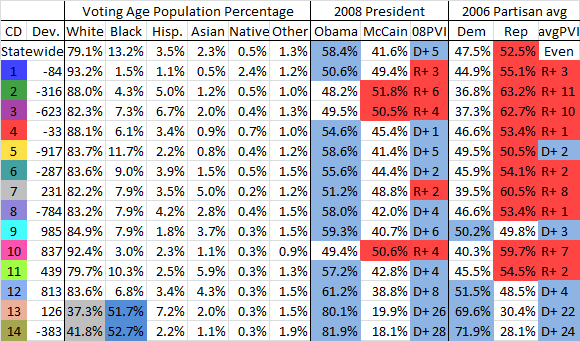 Had this map been in use for the 2012 elections, we might have won three more districts, the 7th, 8th, and 11th. Were it to be in place for this cycle's 2014 midterms, we would have a great shot at picking up the 11th where nutjob
Kerry Bentivolio (R)
's district shifts nearly 7% to the left. After that,
Mike Rogers (R)
's 8th district becomes a prime pick up opportunity without a gerrymander to crack Lansing, representing a 6% shift leftward. State Senate Minority Leader
Gretchen Whitmer (D)
would make an excellent candidate if she decided not to run for Governor or Attorney General instead.
That's two probable pick ups right out of the gate, but the benefits don't end there. The 4th district, represented by Republican Ways and Means Chairman Dave Camp (R) becomes 4.5% more Democratic with the unification of the tri-cities area. Camp is well entrenched, but with a strong campaign and the continuing unpopularity of congressional Republicans, this one could be competitive. Additionally Fred Upton (R)'s 6th district becomes nearly 2% more Democratic and after his surprisingly weak showing (for a long-time incumbent) last year, he could potentially be vulnerable. If a commission indeed drew Battle Creek into the district as I have, former 1 term Rep. and ex-state senate minority leader Mark Schauer (D) would make an excellent candidate. Furthermore, the 1st district, where tea partier Dan Benishek (R) barely eked out a victory over former state Rep. Gary McDowell (D), remains just as competitive. On the negative side, Paulista Justin Amash (R), who won by just single digits sees his 3rd district become 2% more Republican. Finally, 5th district freshman Dan Kildee (D) and Dean of the House John Dingell, Jr. (D) both see their districts weakened, but not enough to be vulnerable.
This doesn't even begin to cover the state legislature, where the Republican gerrymander in the state House of Representatives saved the party's bacon and where their state Senate gerrymander makes it impossible for us to ever win that chamber. This last point is what makes non-partisan redistricting have no drawback in Michigan. We will never be able to gerrymander the state ourselves so there's literally no reason not to prevent Republicans from doing so. As my area of expertise is federal politics, rather than at the state level, I can't say with any clarity how many seats we might gain, but if the map ended up looking anything like this it would be several. With Rick Snyder's sinking popularity and non-gerrymandered legislative maps, we might even be able to win the trifecta for the first time since the 1982 elections.
The Role for Activism
So how could this much improved map come to pass? Per Ballotpedia constitutional amendment initiatives require 10% of the number of votes cast in the previous gubernatorial election or 322,609 valid signatures (meaning we'd need to collect a decent amount higher as some will be thrown out). Petition gatherers must be registered voters in the state and we have a 180 day window to collect them all. This shouldn't be terribly difficult to achieve in a state that cast 2,564,569 ballots for Barack Obama, or nearly 8 times the required signatures. Primarily, clearing this hurdle will involve mobilizing volunteers or, if we could raise enough money, paid signature gatherers. Democrats successfully put measures on the ballot last year, such as an effort that attempted to enshrine collective bargaining rights in the state constitution (though it lost 57% to 43%) as well as a successful referendum that blocked the state's odious Emergency Manager law Republicans had passed to circumvent locally elected governments.
The hardest part of the process here will be collecting enough valid signatures. Once on the ballot we just need a few million dollars to run a campaign familiarizing people with the amendment and I guarantee it will pass the 50%+1 threshold with flying colors. Conveniently, Democrats are already planning on putting another amendment on the ballot, one to preempt the state's recently passed Right to Work for less law. It would be a great feat of efficiency if the labor movement would get involved here too as there are hundreds of thousands of union members in the state alone who could easily help us clear the signature hurdle.
So how can you help? One step would logically be for lawyers familiar with constitutional law and the initiative process in the state to formulate legal initiative language that will be constitutional (again I am not a lawyer). Then, as we did in the Wisconsin recalls in 2011-2012 and the Michigan and Ohio labor initiative campaigns from 2011 and 2012, we need organization. That means any of you who are politically active in Michigan should call your contacts, whether they be fellow activists, elected officials, union representatives, etc. and start formulating a plan to organize a signature drive. Once the signature petition process has been organized, we will need fundraising. The bang for the buck here is likely much better than any congressional race as just a few million can help us elect multiple new Democrats. Ideally, with a readership as large as Daily Kos has, front pagers like Markos will get involved here too as Daily Kos has been responsible for a good chunk of the money raised and volunteer hours spent during the Wisconsin recalls in particular. Were I living in Michigan, I would certainly volunteer, but my means of activism are limited to donations and the soap box, which is why I need you, fellow Kossacks, to get involved!
Priority #2: Ohio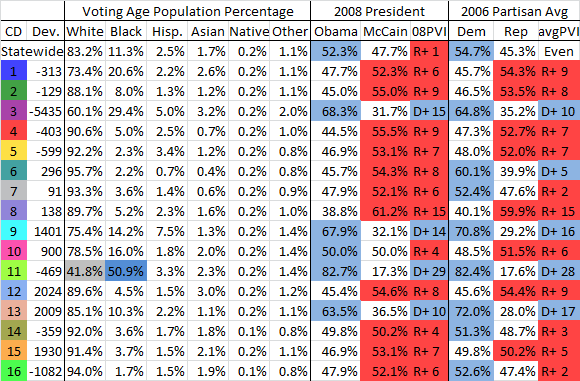 Even worse than in Michigan, Ohio Republicans and governor
John Kasich (R)
were able to draw a map that packed Democrats into just 4 of 16 districts in a state Obama carried. Northeast Ohio is a mess, Cincinnati is cracked, and Toledo is combined with western Cleveland. We were only competitive in two districts other than those we held, but both Betty Sutton and former Rep. Charlie Wilson lost. While there are many ways to draw the state, here is one version I feel is decently plausible: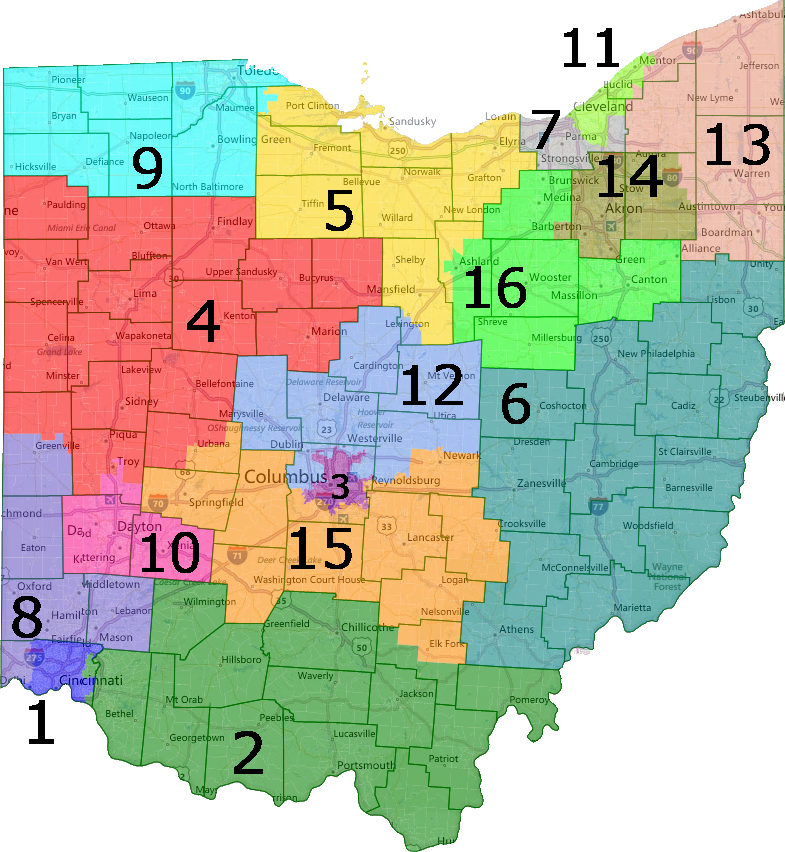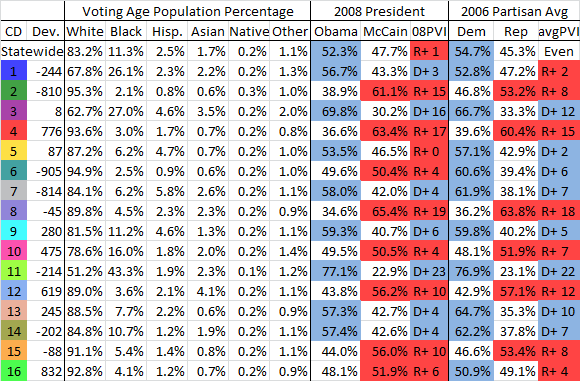 Of our four incumbents, the only one whose seat is no longer perfectly safe is Marcy Kaptur (D), but this area is trending Democratic and she is well entrenched and would have nothing to fear in 2014.
Of the seats we would be favored to pick up are the 1st, where Steve Chabot (R) gets a compact Cincinnati seat and would lose to someone like former Rep. Steve Driehaus (D). If Driehaus declined to run, Cincinnati mayor Mark Mallory (D), who is black, would make a great candidate in this 26% black district. In total, the district shifts 7% towards Dems and was easily carried by Obama.
Next comes the 5th district which is radically different than the actual gerrymandered version. Now, there are multiple ways to draw this seat and some aren't as favorable to us as this, but it's nearly 9% more Democratic with Obama carrying it both times and is essentially an open seat with incumbent Rep. Bob Latta (R) being drawn into the safely Democratic 9th district. This seat is by no means safely Dem, but with our current political environment Democrats should be modest favorites to pick it up.
Our third probable pick up is the 7th district. Incumbent Republican Bob Gibbs (R) sees his heavily gerrymandered seat dismantled and West Cleveland's district is restored. Former Rep. Dennis Kucinich (D) might try to run again here as this is now essentially his old district, but after his crushing defeat in last year's primary, his odd flirtation with running for congress in Washington State, and his latest venture as a Republican-meme-enabling "Democrat" on Fox News will probably prevent him from winning the primary were he to run. Regardless, Democrats will be heavily favored to pick up this district that easily gave Obama over 55% last year.
The fourth and final probable pick up sees a restored Akron-based seat ripe for the taking for former Rep. Betty Sutton (D). She ran a great campaign last year in a much more conservative district when her old one was shredded and would easily secure this seat for us.
Additionally, there is one more seat in which we would be more competitive, Bill Johnson (R)'s 6th district. Former two term Rep. Charlie Wilson (D), whom Johnson ousted in the 2010 wave, fought a good race last year losing by just 6.5% in a district Obama lost by nearly 13%. Without a GOP gerrymander, this district reabsorbs heavily Democratic Athens as well as parts of Wilson's old state senate district with places like New Philadelphia. Democrats in Appalachia took a beating this year, but with Obama's 2012 percentage increasing by 3.2% this district would have been a coin flip last year. Hopefully, if a map like this were implemented, Wilson would give Johnson another run for his money.
Finally, I should note that I do not believe that the 11th district should be required by the Voting Rights Act to be majority black as Republicans drew it. There is not enough racial polarization in northeast Ohio to require a Cleveland to Akron racial gerrymander. Black voters would clearly have the ability to elect the candidate of their choice in incumbent Rep. Marcia Fudge (D). Also, in this iteration of the map, freshman Rep. David Joyce (R) sees his district eliminated, but other plausible maps could instead eliminate 16th district Rep. Jim Renacci (R) while making Joyce's district much more favorable than the current iteration.
As with Michigan, Republicans also heavily gerrymandered the state legislature, similarly preventing us from possibly capturing the state House of Representatives last year and making it practically impossible to win the state senate. Any redistricting commission should also be tasked with redrawing state legislative lines in a fair and impartial manner as well.
The Role for Activism
So what can we do to help make a map like the one I drew a reality? Per Ballotpedia again, constitutional amendment initiatives in Ohio require valid signatures equal to 10% of the votes cast in the last gubernatorial election, or 385,247 valid signatures. This is equal to just 1/7th of the 2,827,621 votes Obama won last year. Unlike Michigan though, signature gatherers do not have to reside in the state meaning we can send volunteers from neighboring states in to help with the effort. Furthermore, there is generally no time limit for how long we have to collect signatures; they only need to be filed 125 days prior to the general election. Also, like Michigan, initiative amendments only need to clear 50%+1 to pass.
Unfortunately, good government groups with the half-hearted help of some Democrats actually placed an independent redistricting commission amendment on the ballot last year, but thanks to a wide lack of funding and Ohio's asshole Republican Secretary of State Jon Husted (R) giving the initiative intentionally misleading wording on the ballot, that measure went down to a huge defeat. If we place an initiative on the ballot again, all we need to do to counter Husted's trickery is run a well funded campaign around how we need to remove the ability for legislators to choose their voters and actually run ads showing the ridiculous looking map. With enough campaign funds and volunteer outreach, Democrats and Independents in the state should be enough to clear 50%+1.
So how can you help? Like with Michigan, I have no experience or political contacts in Ohio and wouldn't even know where to begin. If you're in Ohio and/or know people there who are politically engaged, inform them about the actions we can take to fight back against Republican gerrymandering. As with Michigan, we'll need to determine ballot language that is constitutional and then organize a campaign to collect valid signatures Unions in particular, who successfully waged a ballot campaign in 2011, can be a big help if they got behind the measure as could Democratic party bigwigs like former governor Ted Strickland (D). As with our past campaigns in Ohio and Wisconsin, above all we need organization, volunteers, and fundraising. If we can get this amendment on the ballot we can send 3-5 more Democrats to congress and have a chance to end Republicans' control of the legislature.
Priority #3: Florida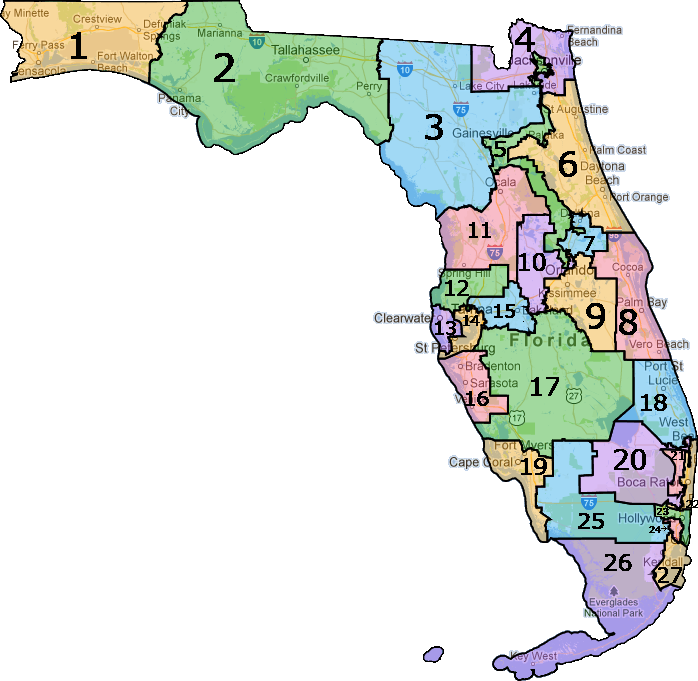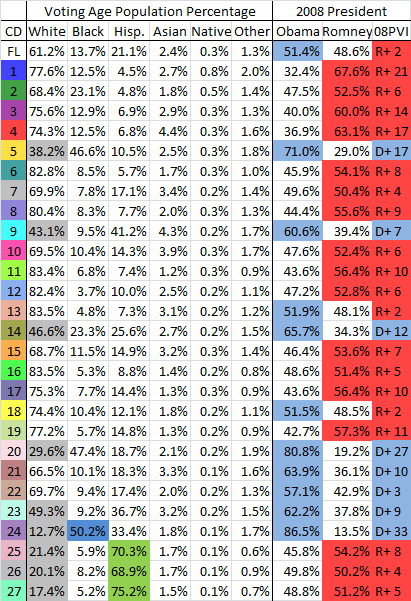 Finally, we have the congressional map passed by the Republican controlled legislature and signed by deeply unpopular incumbent governor and all around disgusting human being, Rick Scott (R). As is typical of (semi) southern states, Democratic votes are already quite heavily concentrated in certain urban areas, but the Florida map does its best to pack Democrats as much as possible into just 7 districts. Particularly grotesque is Corrine Brown (D)'s 5th district, which masquerading as a black minority district, stretches from Jacksonville to Gainesville to Orlando to soak up as many Democrats as possible. Another Democratic vote sink masquerading as a VRA required black district is Alcee Hasting (D)'s 20th district in southeast Florida. Finally, one of the more blatantly gerrymandered districts is Kathy Castor (D)'s Tampa-based 14th district which uses water contiguity to take in St. Petersburg in neighboring Pinellas County to protect long time incumbent Bill Young (R).
What makes this map even more ridiculous is that Republicans claim it adheres to the Fair Districts Amendment that voters passed via initiative in 2010. While Democratic groups have sued and the cases are currently working their way through the court system, there is no guarantee that the current map will get stuck down. Furthermore, even if the legislature is forced to redraw the lines they can still tweak them to favor the GOP somewhat. This should be totally unacceptable to Democrats and we need to push for a full-fledged independent redistricting commission.
Florida is a somewhat difficult state to map due to its peninsular shape and dense population clusters so there are many different maps a commission could realistically draw, but here is my best attempt at a map that ignores partisanship and tries to adhere to communities of interest and respecting local boundaries where practical: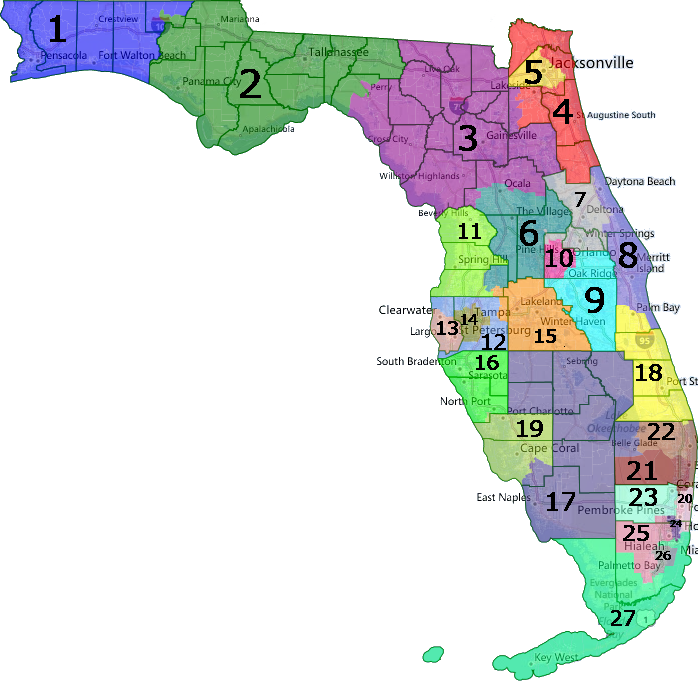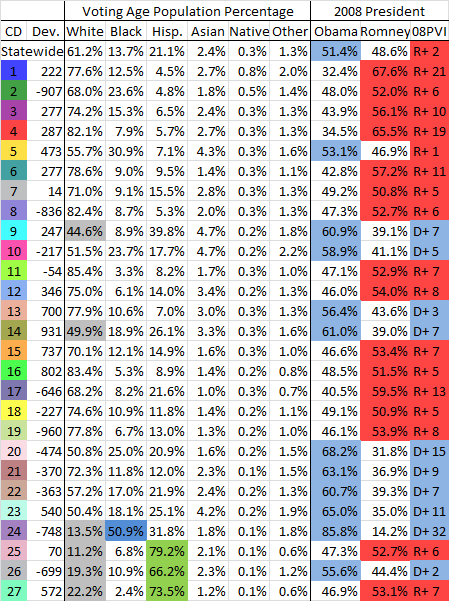 The biggest difference between my map and the currently used one is that I dismantled the flagrantly gerrymandered 5th district. Instead of meandering from Jacksonville to Orlando, it becomes completely comprised of just Jacksonville and some inner suburbs in Duval County. Corrine Brown would hate it, but given how she aided Republicans in trying to defend their own gerrymander in court, she deserves to lose her seat. Make no mistake though, this district would be solidly Democratic for a moderately liberal Democrat and current Jacksonville/Duval County Mayor Alvin Brown (D) would be a fantastic candidate and he has a lot of statewide potential as mayor of conservative Jacksonville anyway. While dismantling the 5th replaces one liberal Democrat with a more moderate one, the payoff is in Orlando where we get a very safely Democratic seat centered on western Orange County. Former Chief of the Orlando Police Department Val Demings (D) ran a great race against christian fundamentalist Dan Webster (R) last year in the 10th district and lost by just 3.5% in that conservative district. Under this map, Demings would easily win this much more Democratic seat and as a great potential statewide candidate, she and Alvin Brown together are well worth trading in Corrine Brown for.
Next comes the Tampa Bay area. The Fair District Amendment was clearly ignored by Republicans here and I've rectified that by adding St. Petersburg back to the 13th. 20-term incumbent Bill Young has long been rumored as wanting to retire with the GOP having to prod him every cycle into running again. He only won by 15% last year, his worst showing in 20 years and second worst ever, and with his district seeing Obama's 2008 performance increase by 4.5% I would be very willing to bet he would just retire. 2012 nominee, former congressional staffer and attorney Jessica Ehrlich (D) would be a strong candidate and even if Young doesn't retire would give him the fight of his life.
In addition to the previously mentioned districts, Steve Southerland (R)'s Tallahassee based 2nd district remains competitive for a Blue Dog as Alex Sink (D) won it in her 2010 gubernatorial race and Senator Bill Nelson (D) won it handily last year. Corrupt 16th district Rep. Vern Buchanan (R)'s district also remains largely unchanged and somewhat competitive as we came within 7% of beating him last year.
Moving on to south Florida, I encountered a lot of difficulty deciding how to draw the lines, so view this part map as a general guideline. What should definitely happen though is the dismemberment of the 20th district. Hastings would still have a good chance of winning the primary in any new Ft. Lauderdale district as he has been in congress for 20 years, has had little trouble in the past with primaries, and the district would retain a substantial black population, though no longer close to a majority. This should allow black voters in Palm Beach County to have a better shot at electing the candidate of their choice, though there really isn't enough racially polarized voting in southeast Florida (compared to north Florida) for that to really matter much.
Subsequently, first term Rep. Lois Frankel (D), a newly minted member of the Congressional Progressive Caucus, gets a much safer 22nd district. Unfortunately, at least for the way my particular map turned out, freshman Rep. Patrick Murphy (D), who defeated tea party firebrand and war criminal Allen West (R), gets a 2% more Republican district. Murphy will already be a target as this district was carried by Romney by a modest margin, but he's thus far proved a very talented politician and would have a decent chance to hold on.
Finally, we get to the three Hispanic VRA districts in Miami-Dade County. I'll admit I really had no idea how to draw the lines between the three of them, but given how A) Republicans tried to gerrymander all three to be as conservative as possible and B) all three trended heavily Democratic in 2012 and one sent Joe Garcia (D) to congress, I would have to imagine that either Garcia's seat gets a good deal more Democratic, or that one of the two Republicans, Mario Diaz-Balart (R) or Ileana Ros-Lehtinen (R) would get a more Democratic seat.
In total, we could probably expect to gain 1-3 seats with an independently drawn Florida map. As with both Michigan and Ohio, Republicans gerrymandered the state legislature too and I don't see how we wouldn't gain seats under fairer maps, though I doubt it would be enough to capture either chamber. Florida is one state where adopting an Arizona style redistricting commission that also valued competitiveness (in addition to communities of interest) would be worth pursuing over a California style strictly non-partisan one, though those familiar with Florida constitutional law would be better able to make that decision than I can.
The Role for Activism
Unlike the previous two states, voter initiated constitutional amendments in Florida have to clear a 60% supermajority threshold. While I actually like this idea as it can prevent hateful crap like North Carolina's recent Amendment 1, it does make passing redistricting reform in Florida somewhat more difficult. Nonetheless, both redistricting reform amendments passed this threshold in 2010 of all years, so I feel pretty good about our chances of winning at the ballot box in 2014.
The initiative process itself requires proponents to gather enough valid signatures equal to 8% of the total ballots cast in the last presidential election, or 676,811 signatures. For reference, Obama won 4,237,756 votes last year, more than 6 times the required number of signatures. Additionally, we need to collect signatures equaling at least 8% of the presidential vote in at least 14 of the state's 27 districts, which shouldn't be too difficult. Furthermore, signature gatherers do not need to be Florida residents or voters. Finally, while signatures stay valid for two years, they must be submitted by February 1st to be on the next general election ballot. Obviously, as with all petition gathering, we'll need more than the required number as some will be invalid, but as with the other states this hurdle should be easily cleared with enough resources. The fair district amendment campaigns of 2010 spent roughly $2 per signature in the process, or about $1,366,000 in total to put one of the initiatives on the ballot.
Unfortunately, activists have already tried to put a redistricting commission amendment on the ballot in 2006 and it was blocked by the state Supreme Court. However, that decision (pdf) was based on the initiative passing district standards as well and since amendments can only address a single issue the court blocked it. Fortunately the court did not oppose the merits of the commission itself and with the fair district standards having passed in 2010, my non-legal opinion is that we should have the green light to put an independent commission on the ballot.
Next of course comes organization and fundraising. The same as with both other states, we'll need people experienced running campaigns and ballot initiatives in the state to help organize volunteers and solicit donors to be able to execute the campaign.
To reiterate, an independent redistricting commission in Florida could net us 1 to 3 more congressional seats and help us in our goal of flipping the legislature.
Priority #4: Arkansas

While not nearly as worthwhile as any of the first three, Arkansas is a state where non-partisan districts could also help us. Arkansas was an absolute disaster when it came to redistricting; as I've previously detailed, Arkansas Democrats quite foolishly tried to keep 3 of the state's 4 districts winnable, rather than draw a 2-2 map. In addition to poor line drawing, we fielded very weak candidates in all three districts who predictably lost big. Now that Democrats have lost the legislature for the first time since Reconstruction and look set to lose the governor's office as well in 2014 (pdf), there won't be an opportunity for a do over.
However, Arkansas has the amendment initiative available and if we instituted a California style start-from-scratch commission here, we might get a map that looked something like this: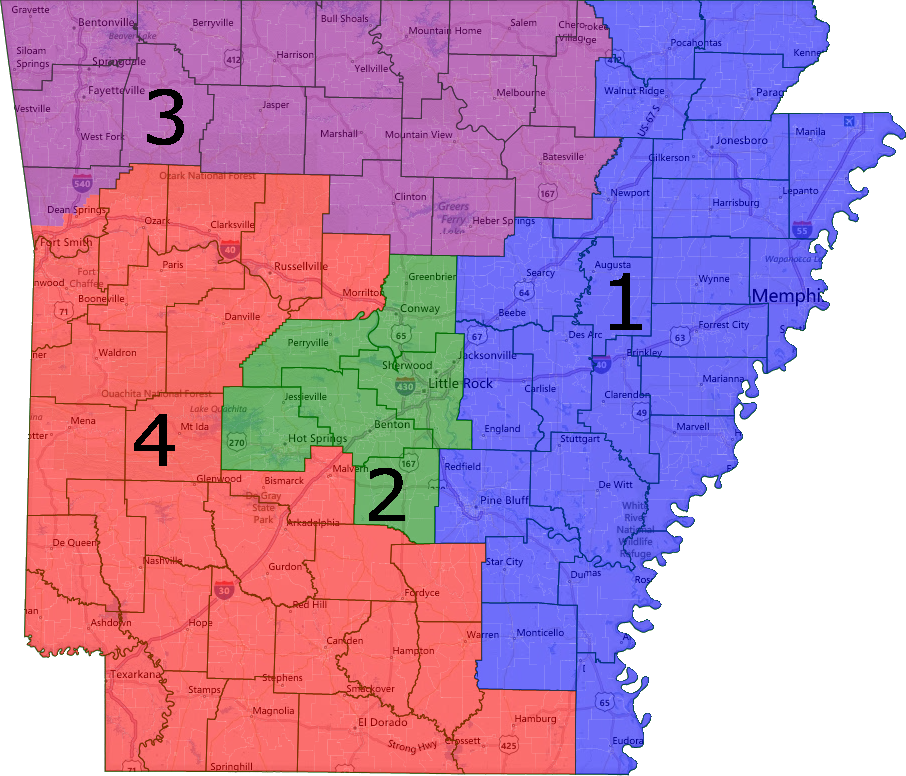 This map gives us a clear Democratic district with the Delta based 1st, which moves 4% towards Democrats thanks to adding Pine Bluff. With a stronger candidate like Chad Causey (D), our 2010 nominee and chief of staff to former Rep. Marion Berry (D), and not having Romney's coattails we could definitely beat incumbent Rep. Rick Crawford (R). Additionally, the 2nd district remains competitive though it becomes slightly more Republican (though Obama gets a higher percentage). Incumbent Rep. Tim Griffin (R) is not overly popular and as long as we don't nominate a liberal Dem we should at least be competitive in the 2nd. Yes, unfortunately neither of the two districts will yield a liberal, but I'll take a moderate Blue Dog over far right Republican any day of the week, especially when they represent another vote for a Democratic speaker. Lastly, enacting a commission now will prevent Republicans from drawing an actual Republican gerrymander for 2022 when they will likely control the process.
Priority #5: Nebraska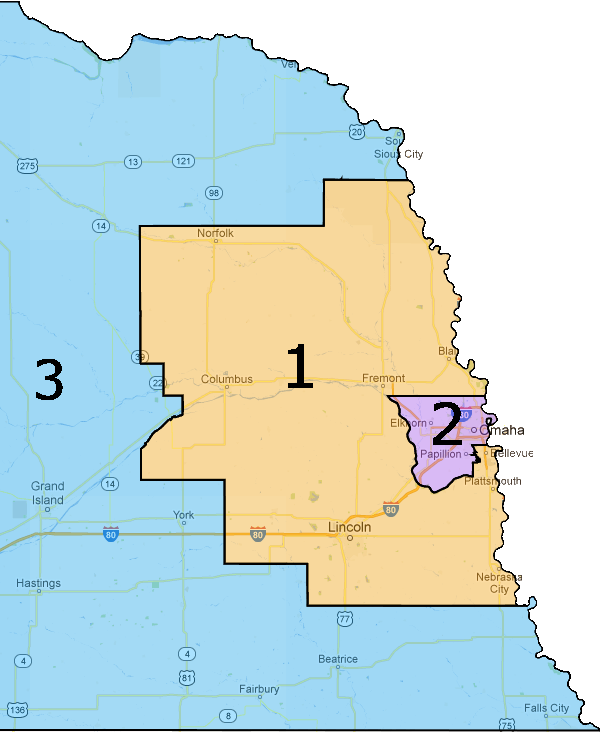 Similarly to Arkansas, Nebraska is a state where non-partisan districts will only be a mild boost. While the only competitive district is the Republican-leaning 2nd, incumbent Rep. Lee Terry (R) barely eked out a victory over Douglas County Treasurer John Ewing (D) with a winning margin of just 1.6%. While this district is hardly aggressively gerrymandered, Republicans did swap out relatively less Republican Bellevue and Offutt Air Force Base in eastern Sarpy County for even more heavily Republican rural areas in the western part of the county. A neutral map would not have done this and might have looked more like this:

Though the difference is rather small with Obama's 2008 performance increasing by just 0.6%, that small difference on paper could have narrowed Terry's margin to just 0.4%. If the race had been run under these lines it would have been a coin flip. Additionally, since Nebraska is one of just two states to split its electoral votes by congressional district, Obama would have had a slightly better chance of winning here. Maybe he would have invested more in the district, putting Ewing over the top, but we can never know. Still, Terry remains an appealing target as he habitually underperforms in what should be a fairly easy Republican hold and when every little bit makes a difference, pursuing independent redistricting can only help. The best scenario would be to pass an Arizona style commission that considers competitiveness as well; Terry would lose if his district were just a few points more Democratic and the electoral vote would be genuinely up for grabs.
Conclusion
So if you've made it this far thank you very much for reading and please, please get involved and help make this strategy a reality. While in an ideal world we would have fair districts nationwide with
mixed-member proportional representation
on top so that line drawing doesn't affect the partisan control of congress (and no senate or electoral college too), we don't live in an ideal world. I'll support independent redistricting in Illinois and Maryland when we get it in Texas, Pennsylvania, North Carolina, and Wisconsin, but when Republicans have institutionalized an unfair advantage in the House of Representatives, I adamantly believe that pursuing independent redistricting in these key states is the best way to counter what is essentially electoral theft. So please, spread the word and get involved!