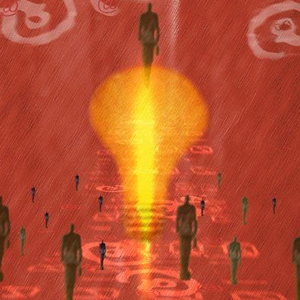 Commentary: African American Scientists and Inventors
by Black Kos Editor, Sephius1


Walter Lincoln Hawkins was born on March 21, 1911. A sister raised him after he was orphaned as a young child and he faced a difficult upbringing in a world where African Americans were often challenged to find adequate encouragement in education and at work. He attended the acclaimed, all-black Dunbar High School in Washington, D.C. where he showed promise in math and science and developed a sense of self-confidence that propelled him toward his dreams.
Hawkins pursued a degree in chemical engineering at Rensselaer Polytechnic Institute in Troy, New York, from where he graduated in 1932. He went on to complete a master's degree in chemistry at Howard University, and from there, a doctoral degree at McGill University in Montreal. His specialization was cellulose chemistry.
(con't.)
After completing his education, Hawkins took on a postdoctoral fellowship at Columbia University. In 1942, he was offered a position at AT&T's Bell Laboratories in Murray Hill, New Jersey, where he became the first African American scientist on staff. He developed a reputation over the course of his 34-year career at Bell Labs for adding years to the life of plastics, enabling universal telephone service, and, even more important to service providers, making it economical.
At Bell Labs, Hawkins conducted research on polymers, specifically thermal and oxidative stabilization of polymers for telecommunications. Up until about 1950, telephone cables were coated with a costly, as well as toxic, lead-based material. This was replaced with polyethelene, introduced after World War II by the British, but these early plastic coatings became brittle and breakable very quickly in sunlight.
With partner Victor Lanza, Hawkins invented a polymer in 1956 that had all the desired characteristics. This polymer was essentially a plastic containing a chemical additive composed of carbon and antioxidants that prevents the material from deteriorating, even in severe hot or cold weather conditions. The new material, today known as "plastic cable sheath," went into production in the 1960s and became widely used as an inexpensive, durable, and safe coating for telecommunications wire. It is still used today to protect fiber optic cable.
Hawkins was named head of plastics chemistry R&D at Bell Labs and later, assistant director of the Chemical Research Laboratory. In 1963, he became Bell Labs' Supervisor of Applied Research and in 1972, he was promoted to department head......Read More
~~~~~~~~~~~~~~~~~~~~~~~~~~~~~~~~~~~~~~~~~~~~~~~~~~~
News by dopper0189, Black Kos Managing Editor
~~~~~~~~~~~~~~~~~~~~~~~~~~~~~~~~~~~~~~~~~~~~~~~~~~~

~~~~~~~~~~~~~~~~~~~~~~~~~~~~~~~~~~~~~~~~~~~~~~~~~~~
Georges Exantus thought he'd never dance again. He was lucky just to be alive. The Grio: Haitian amputee makes comeback on dance floor.
~~~~~~~~~~~~~~~~~~~~~~~~~~~~~~~~~~~~~~~~~~~~~~~~~~~
The earthquake three years ago in Haiti's capital flattened the apartment where he was living and he spent three days trapped under jagged rubble. After friends dug him out, doctors amputated his right leg just below the knee.
Israeli doctors and physical therapists who came to Haiti after the quake sent him to Israel for surgery and rehabilitation.
Three years later, the 31-year-old professional dancer is back on the floor, spinning away as he does the salsa, cha-cha and samba. A prosthetic leg doesn't hold him back.
Exantus says he's the same person he was before the Jan. 12, 2010, earthquake struck southern Haiti.
But it's clear the life of the young man nicknamed "The Gladiator" has been changed by the disaster that killed tens of thousands of people and forced an estimated 4,000 to 6,000 survivors to undergo amputations because of gangrene-related infections.
Exantus walks with a slight limp. He can't dance as fast as he used to or balance as well or do some of his old moves, such as flipping his partner over his shoulder.
Exantus has also learned to ignore the long stares and quiet whispers, products of a longstanding stigma in Haiti for people with disabilities. Before the quake, few resources existed to accommodate Haiti's disabled, and many regard people with disabilities as misfits.




In this Jan. 17, 2013 photo, professional dancer Georges Exantus sleeps as his prosthetic limb lays on the floor in his bedroom in Port-au-Prince, Haiti. (AP Photo/Dieu Nalio Chery)


~~~~~~~~~~~~~~~~~~~~~~~~~~~~~~~~~~~~~~~~~~~~~~~~~~~
American Black Film Festival founder Jeff Friday says that festivals like his work year-round to find new ways to help promote the black stories and storytellers who are too often remain marginalized. Yet, he says, their very relevance is still regularly challenged. EBONY: Jeff Friday on the Relevance of Black Film Festivals.
~~~~~~~~~~~~~~~~~~~~~~~~~~~~~~~~~~~~~~~~~~~~~~~~~~~
We rally to build a strong network within the industry, to grow the power base and the opportunities. Yet, our efficacy is often challenged: "What's the relevance of Black film festivals?"
Black film festivals work year-round to find new ways to help promote our stories and storytellers who too often remain marginalized. We rally to build a strong network within the industry, to grow the power base and the opportunities. Yet, our efficacy is often challenged: "What's the relevance of Black film festivals?"
The same question is often asked of Black colleges. And across the board, it's a level response: Underlying their respective missions is the goal of creating a supportive community. And let's not fool ourselves – we can use all the support we can get! So, the next time those questions arise, let's remind ourselves of some of the success stories that have come from Black colleges (I'm focused on the Arts): Phylicia Rashad, Samuel L. Jackson, Debbie Allen,Spike Lee, Taraji P. Henson; and Black film festivals: Will Packer (named by Variety as one of their "10 Producers to Watch"), Rob Hardy, Roger Bobb, Sylvain White and Emayatzy Corinealdi, to name a few.
I prefer to reflect on the positive and then ask, "What have I done to contribute to our legacy in this country and what more can I do?" Not to toot our own horn, but in that traditional American way, I shall. Here's a quote, verbatim, from award-winning filmmaker Lee Daniels regarding the ABFF (17 years and counting), "I've been to film festivals all over the world and I can say, that this is the best."



~~~~~~~~~~~~~~~~~~~~~~~~~~~~~~~~~~~~~~~~~~~~~~~~~~
Rosa Parks, the late legendary civil rights activist, is receiving a special honor this year to commemorate what would have been her 100th birthday. USA Today: Post office debuts Rosa Parks stamp on 100th birthday.
~~~~~~~~~~~~~~~~~~~~~~~~~~~~~~~~~~~~~~~~~~~~~~~~~~
The first national unveiling ceremonies for a commemorative U.S. Postal Service stamp honoring civil rights icon Rosa Parks, will be held in Detroit and Dearborn, Mich., on Feb. 4.
Events at the Charles H. Wright Museum of African American History in Detroit and the Henry Ford Museum in Dearborn are expected to draw large crowds, including stamp collectors from around the country, on what would have been Parks' 100th birthday.
The first Rosa Parks Forever stamps will be sold at the Wright museum, with a dedication ceremony starting at 7:30.a.m. The Henry Ford Museum, where the Rosa Parks bus is on permanent display, will host the First-Day-of-Issue stamp event at 10:45 a.m., as part of a daylong celebration dubbed the National Day of Courage.
Parks made history on Dec. 1, 1955, by refusing to give up her seat to a white man on a Montgomery, Ala., bus -- an act that spurred a movement to end legally sanctioned racial discrimination. She and her husband Raymond moved to Detroit in 1957.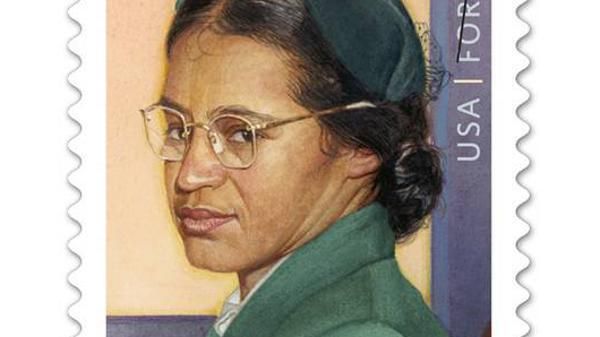 Rosa Parks commemorative stamp (US postal service)


~~~~~~~~~~~~~~~~~~~~~~~~~~~~~~~~~~~~~~~~~~~~~~~~~~~

~~~~~~~~~~~~~~~~~~~~~~~~~~~~~~~~~~~~~~~~~~~~~~~~~
Even though the media for some reason paid more attention to Viking's punter Chris Kluwe after the Maryland "controversies last year , Brendon Ayanbadejo in my opinions was always the bigger and better story. TheGrio: Ravens' Brendon Ayanbadejo to promote gay rights at the Super Bowl.
~~~~~~~~~~~~~~~~~~~~~~~~~~~~~~~~~~~~~~~~~~~~~~~~~
Brendon Ayanbadejo is not like other NFL players.
The Baltimore Ravens linebacker is not just a fierce competitor on the field, he's also an activist for an unlikely cause: gay rights.
Ayanbadejo, who will appearing in his first ever Super Bowl on February 3rd, hopes to use the media spotlight from the big game to promote his position against bullying and for marriage equality.
The New York Times reports that Ayanbadejo recently emailed gay marriage advocate Brian Ellner and Michael Skolnik, the political director for Russell Simmons, and asked: "Is there anything I can do for marriage equality or anti- bullying over the next couple of weeks to harness this Super Bowl media?"
The 36-year-old father of two children (with his longtime girlfriend) calls the message his "Jerry Maguire email," and hopes it spawns action in the same way that the Tom Cruise character sought to rally his co-workers with an earnest "mission statement."
He has been an outspoken supporter of the LGBT community for years despite rampant homophobia in NFL locker rooms and resistance on the national stage as well.
His persistence has seemingly paid off with polls showing Americans growing increasingly comfortable with same sex marriage and his home state of Maryland legalizing it last year.





Brendon Ayanbadejo #51 of the Baltimore Ravens (Photo by Jim Rogash/Getty Images)


~~~~~~~~~~~~~~~~~~~~~~~~~~~~~~~~~~~~~~~~~~~~~~~~~~~
Sloane Stephens is the athlete whom the US amateur's tennis coach left off of several teams because he declared her "overweight", even as she routinely crushed the competition and appeared to have the physique of a normal African-American woman. ESPN: Sloane Stephens upsets Serena Williams in Australian Open quarterfinal.
~~~~~~~~~~~~~~~~~~~~~~~~~~~~~~~~~~~~~~~~~~~~~~~~~~
After arguably the biggest win of her career, Stephens told ESPN that, "it's pretty cool. To be in the semis of a Grand Slam is definitely I say a good accomplishment. A lot of hard work."
"I'm almost relieved that it's over because there's only so much I felt I could do," Williams expressed in a comment after the game. "It's been a little difficult," she continued. "I've been thrown a lot of (curve) balls these two weeks."
One of her icons growing up, Williams' photo is on Stephens' wall at home.
"This is so crazy. Oh my goodness," a tearful Stephens said in a post-match interview. "I think I'll put a poster of myself (up) now."
Stephens will face No. 1 singles and defending champion Victoria Azarenka in the semi-finals of her first Grand Slam.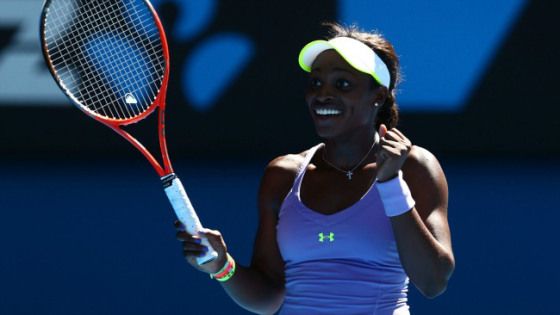 Sloane Stephens of the United States celebrates winning her Quarterfinal match against Serena Williams of the United States during day ten of the 2013 Australian Open at Melbourne Park on January 23, 2013 in Melbourne, Australia. (Photo by Mark Kolbe/Getty Images)


~~~~~~~~~~~~~~~~~~~~~~~~~~~~~~~~~~~~~~~~~~~~~~~~~
~~~~~~~~~~~~~~~~~~~~~~~~~~~~~~~~~~~~~~~~~~~~~~~~~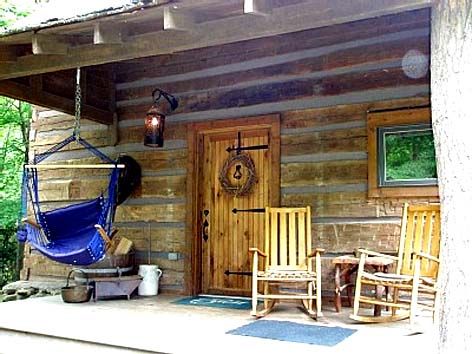 Welcome to the porch, where it's always warm, and the conversations are just fine.