Welcome to one and all! Has the week left your brain frizzled? It's been a rough time to be a caring Kossack and here we are at the end of another week. Was it a productive week for you? I had trouble concentrating on anything but my friends on Daily Kos. If you don't mind hopping over the Itzl flavored, elegantly whorled hairball I'd like to share a warm, fuzzy thought and perhaps a drawing from my week with you ... or just ignore my guff an dig right in to the comments and relax. It's an open thread so the floor is open. And an open floor means there are no chairs to trip over while you're dancing.
I go by the username of Marko the Werelynx around here. Lycanthropy for me is a way of viewing the world. It's a fuzzier way of looking at things; a blurring of boundaries and borders. In the computing world fuzzy logic is trying to get computers to break out of their horribly limiting binary, off or on, one or zero, black or white, view of the world.
And fuzzy is how I seem to be living my life. Just over 20 years ago I moved to the Czech Republic yet I've kept my US citizenship and spend entirely too much time on blogs based in the USA. My work as an illustrator mostly revolves around Czech people as does most of my social and family life. My sense of national identity is somewhat blurred. The few English speaking friends I do have over here are not your typical clueless expats. They've all been here a similar or even much longer amount of time than I have and, believe it or not, none of us have to ask for special menus. I don't live in an English language world. And my vocabulary is atrophying and I don't think my Czech will ever improve much beyond where it is now. My world is not American and it isn't entirely Czech either. I'm snuggled into one of the grey areas.
I'm not Czech so I can't vote where I live. I'm no longer a resident of Wisconsin so I can't vote in the state and local levels of the elections there. And yet, by law, I have to pay taxes here. I live a life of "taxation without representation" -- but last autumn I filled out my absentee ballot anyway.
I like to think that this lycanthropy of mine has brought me around to a fuzzy way of thinking. I think it's healthy to reject binary logic in most things. Binary thinking divides while fuzzy thinking combines. The world isn't black and white. There aren't any black or white people-- unless you count coal miners and mimes. C'mon, think about it: not even albinos are truly white and the darkest person ever born in Africa is weak tea compared to anything that is truly black. Trust someone who occasionally makes a few shekels painting portraits, it's always a blend of tones and shades. What color am I? On closer inspection a better question might be what colors I'm not-- it'd be a shorter list.
When you're fuzzy it's a lot harder to be a racist.
I refuse to live in a binary world!
In politics-- I choose! No blind, binary loyalties for me! It's just a shame that for every election of my adult life I've never been offered a Republican that I could vote for and still keep my breakfast in my belly.
Which reminds me of food and the thought that my favorite flavors are actually a blend of flavors. Imagine a sauce with one ingredient ... bleh. When the table offers salt or pepper I hop into the kitchen for the oregano.
Gender is another area where fuzzy thinking makes life easier. You can reject all the tired, worn stereotypes that your society tries to force upon you and just be yourself. Too many labels are just more binary bondage. Once you get past the genitalia what makes a man or a woman? Gender roles? Bah, it's not for the fuzzy-headed like me. You've got to follow your heart, not your gonads. Nothing but trouble those gonads... So says Marko, man, husband and father. I'm a stay-at-home dad, and I'm a man that does most of the cooking at home and chances are I've folded more t-shirts than you [full disclosure would indicate that I tell you I worked for a silk-screen printing company for several years... ]. I probably also own more chainsaws than you do, I own a forge -- yet I can't even pretend to be interested in sport teams that my children don't actually play on. What does it mean to be a man? What does it mean to be human for that matter?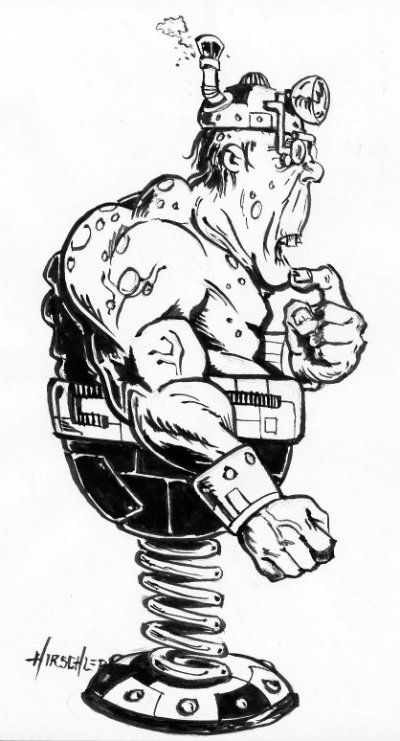 In some ways I do fall into the stereotypes. In other ways I wander off the beaten path and into the deep, dark forest. Yeah, I try not to let civilization shape me too much. When the clothing racks in the stores fill up with the, once every decade or so, flood of jeans with pre-torn holes in them I don't buy jeans.
Fuzzy thinking helps you to look at the world and discover that no person can be reduced to good or evil. Nothing is pure.
I suppose fuzzy thinking is part of why I find steampunk so appealing. The strange mixture of science and nostalgia; Victorian era submarines and steampowered robots. I have a particular love of the Hellboy series of films. A portion of the first film that ended up on the cutting-room floor was actually filmed in my neighborhood. I stopped by the set and introduced myself to the Assistant Director. And no, I'm not working on any films with him. But the experience helped cement my interest in the genre.
Even my life here within the Czech Republic is a life lived between worlds. Right now I'm in the country in a 200 year old farm house, much of my time is spent in the city in one of the last big pre-fab concrete housing projects built under communism in Prague. I was lucky to get that one picture posted with the quality of my connection tonight. I arrived several hours ago and started a fire in the stove. Finally getting warm. Just in time for my little family to arrive.
I'll be back in a few hours to read your comments. That's about the limit of what I can do with the internets for now. Spell-check has abandoned ship some time ago. Time for me to fade back into one of the many other worlds that my fuzzy life has taken me.