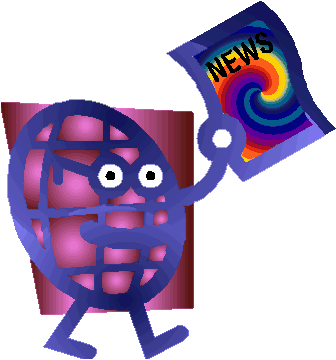 There often comes a time when there is a build up of new items I think should be more widely known...but which don't lend themselves to being the subject of a single diary. So I have published diaries under various title like Spring TransNews, TransNews South Asia, Trans News Dump, etc.
This time I couldn't think of anything cutesy to attract an audience.
So inside will be the good, the bad, and the ugly of life in the transgender communities around the globe. We will visit fashion runways, Oregon, Chile, and Israel for the good, Virginia, Ireland, and Vietnam for the bad (or at least less than good), and Milwaukee, WI for the truly ugly.
The Good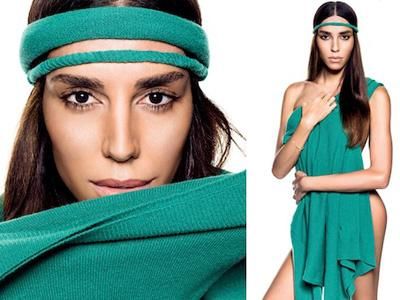 Benetton's spring and summer ad campaign will feature, among others, Brazilian transgender model Lea T.
The campaign theme was to feature people with "incredible personal stories."

The route they followed in order to get [to fashion success] was a very unusual route, a different route.

--Alessandro Benetton
Also featured are Alek Wek, a refugee from the war in Sudan; German model Mario Galla, who has a prosthetic leg; elletra Wiedemann, daughter of Isabella Rosellini and granddaughter of Ingrid Bergman; Kiera Chaplin, granddaughter of Charlie Chaplin and great granddaughter of Eugene O'Neill; and others. The campaign was photographed by Giulio Rustichelli.
The playful campaign and motley cast are a clear pitch to renew relations with younger consumers, a market key to Benetton's success during its heyday, when Oliviero Toscani was churning out shocking, and ultimately iconic, campaigns for the brand in the 1980s and 1990s that included a nun kissing a priest, death-row inmates, and AIDS patients.
Lea T
Oregon will become the first state to cover the medical needs of transkids under Medicaid.

Beginning October 1, 2014, services covered by the new health care plan will include not only mental health counseling and pediatric evaluation, but also medication, procedures, and follow-up care related to the suppression of puberty.

Pubertal suppression provides transgender adolescents the option of avoiding unwanted, irreversible, and deeply distressing changes that come with birth-sex pubertal development. Far too often trans adolescents experience increased suicidal ideation as a result of these changes and the indifference of others about the impact these changes have on trans youth.

Thanks to this common sense, safe, and medically-recommended action by the Oregon Health Plan, lives will be saved

--Jenn Burleton, TransActive
Transgender activist Valentina Verbal
has announced her candidacy for Chilean Congress. If she wins, she will be South America's first transgender legislator. She is shown in the photo with presidential candidate Andrés Allamand.
In Chile if you're male, you have to be masculine. If you're female you have to be feminine. If you're not it's weird.

I want to end the cultural and institutional discrimination against transgender people.

--Valentina Verbal
Verbal says her main goal is to change national identification laws to acknowledge more forms of sexual and gender identity. She thinks such acknowledgment should be a government-guaranteed right.
For a change of gender to be recognized, the state, the courts, the justice system require you to have genital surgery,. That shouldn't be the case. We have to change the law that recognizes the sexual identity of transgender people without the state obligating them to have an actual sex change.

When a trans person has a card or national identity card that doesn't reflect their social sex in practice it means they are undocumented. Since they appear to be one sex and their card says another, it can be difficult to find employers who don't see it as a problem. They can't get a job and they don't have access to work, which is a basic human right.

--Verbal
Verbal will be running as a member of the center-right National Renewal Party (RN). She appears to have libertarian views.
Israel has celebrated its first public wedding between a transwoman and a cisgendered man.
Chen Arizona runs a beauty salon near Tel Aviv. She was born into a traditional Orthodox Jewish family, one of four siblings. Chen says thought she would end up living on the margins of a society that rejected her. Many of her friends support themselves with sex work.
Her husband was married with three children prior to their relationship. And he appears to have a strange facial anomaly.

Every man that likes transgenders would have loved to stand in his [her husband's] shoes, but not everyone has the courage to do it, and say "I do". He went all the way with his decision and for that; I take my hat off for him'

--Chen
Chen's mother and sisters attended the wedding but her father did not. The groom's family was also not in attendance.
Post-op transgender men and women can register their gender and legally marry the opposite sex in Israel.

However, transgender men and women in transition or who have not had an operation face discrimination; they cannot legally register their gender.

In addition there is a problem for mixed sex-couples where one of the partners transitions; the Israeli state would not enable them to register as a couple as same-sex marriage is not possible in Israel.

The Israeli state needs to allow transgender people to register their gender irrespective if they are pre or post-op, as well as solve the marriage issues by allowing same-sex marriage.

--Shabi Gatenio, chair of the Israel LGBT organization Aguda
The Bad
The Advertising Standards Authority of Ireland (ASAI) has agreed with local transgender groups that mobile phone company Meteor has used television advertisement to depict transgender people negatively by promoting stereotypes for the sake of a "good laugh."
The ASAI ruled that the advertisements caused offense on the basis of sexual orientation and also violated the part of the code that states that groups should not be subject to "ridicule or offensive humour".
A separate complaint against broadband provider PermaNet was also upheld. That ad depicted climbing onto his roof to obtain a better signal as he tris to view his "perfect mate", who turns out to be a man in a frilly white dress, red lipstick, and a blond wig…which causes the man to "recoil in a manner that portrayed a very negative message in relation to the person depicted in the photograph."
A US district judge has ruled that a lawsuit alleging sexual abuse against the Virginia Department of Corrections will proceed the trial. Transgender inmate Ophelia De'lonta has alleged that Buckingham Correctional Center officer Sarah Pruitt abused her.
Of the Virginia DOC, Young says:

You treat me just like a female, but you don't house me with females. You're dangling the carrot in front of the rabbit. You put me at substantial risk for assault,
Young claims Pruitt engaged in a pattern of abuse, including the following:
She reached toward me, between my legs, and touched me. I said, 'that don't work.' She made the comment, 'I'll make it work."
Pruitt tried to get the case thrown out, claiming "qualified immunity."
The ACLU says it is significant that District Judge James Turk wants a trial, saying the case may be a violation of the 8th amendment.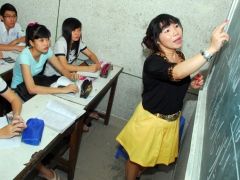 Vietnam's first recognized transwoman says she will appeal a January 21 ruling by Binh Phuoc province's People's Committee that the 2009 recognition of her as a woman was illegal and should be revoked.

I was deeply shocked. I could not sleep. Four years since I changed my name and re-defined my sex, I have done nothing wrong nor lost the virtue of a Vietnamese woman.

--Pham Le Quynh Tram
Tram reported that before her gender confirmation surgery, people would knock on her door in the middle of the night, pelt her house with stones while she was sleeping, and socially ostracized her.
Now all of her legal and personal papers display her new name and new sex.

I don't know why they want to revoke the decision that recognized me as female. I'm inter-sex so I am allowed to re-define my sex in accordance with the government's Decree No 88.

--Tram
The Committee decision claims that by going to Thailand for surgery, she did not have surgery in an "authorized hospital" according to the Vietnamese government.
Quynh Tram said she was born with both male and female organs but was defined as a boy. "When I reached puberty, my body changed into a woman. My breasts kept growing. I was very frightened and did not tell anyone. I tried to hide it by eating a lot to gain weight," she said.

In 2006, medical tests showed that she had high female hormone volumes and female characteristics in her sexual organs so, doctors advised her to go to Thailand for a transgender operation.

In mid-2008, she underwent a successful surgery in Thailand. She is now working as a math, physics and chemistry teacher in Ho Chi Minh City.
The Ugly
Milwaukee police now have five suspects in custody in the case of the disappearance and killing of transman rapper of Evon Young.
Young rapped under the name Yung LT. Here he is, rapping:
Billy Griffin (28), Ashanti Mcalister (18), Victor Stewart (27), Ron Allen (37) and Devin Seaberry (23), all of Milwaukee, have been charged. Young disappeared on January 2.
Griffin and Young were roommates. Young returned home from work on the evening of New Year's Day. Mcalister, Stewart, Allen and Seaberry, all members of the Black P-Stones, arrived some time later. Stewart allegedly pointed a gun at Young and Griffin and told Griffin he could return to the gang if he killed Young.
Action moved to the basement after Griffin complained of the mess that would be made if Young was shot in the kitchen. Griffin reports that a bag was put over Young's head and that Young tried to fight back. Then two of the men strangled Young with a chain while striking and kicking him. Griffin said that after he returned upstairs, he heard three gunshots.
Stewart later told Griffin that Young's body was put into a dumpster, which was then set on fire. Griffin said Stewart called later to say, "The deed is done."
This video (WTMJ) displays the disrespect a dead transperson can expect from the media. Local news has made a big deal out of the fact that Young was "really a woman" and using his birth name.
The murder reportedly was not connected to Young's trans status, but rather to his participation in a robbery.
Police will be searching a landfill for the remains. The following news story (WISN) treats Young much better.