The Portland, Oregon, Art Museum recently held an exhibition of more than 120 items from the British Museum's collection of Greek and Roman art. Shown below are some photographs of the ancient art from this exhibition.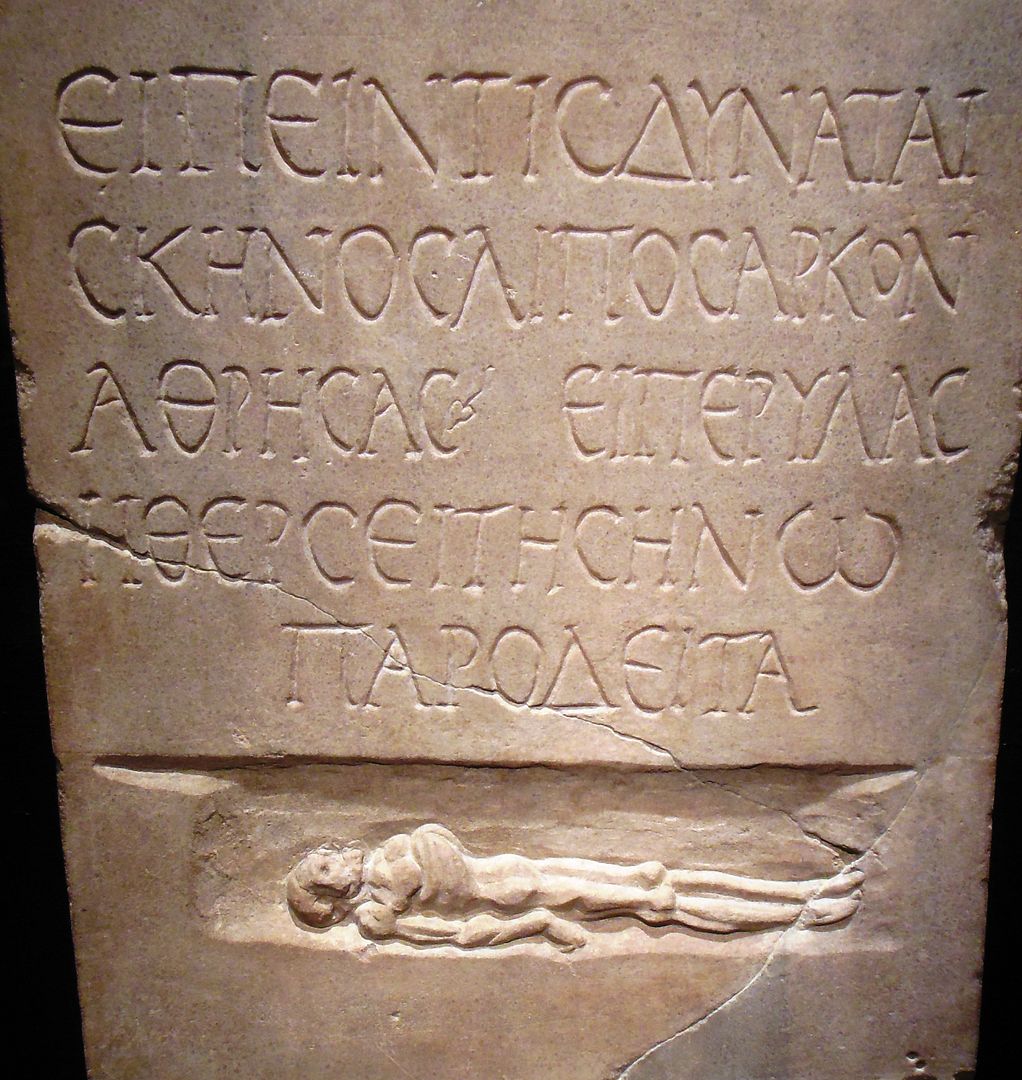 Shown above are grave markers.
Shown above is a mirror case depicting the abduction of Ganymede by Zeus.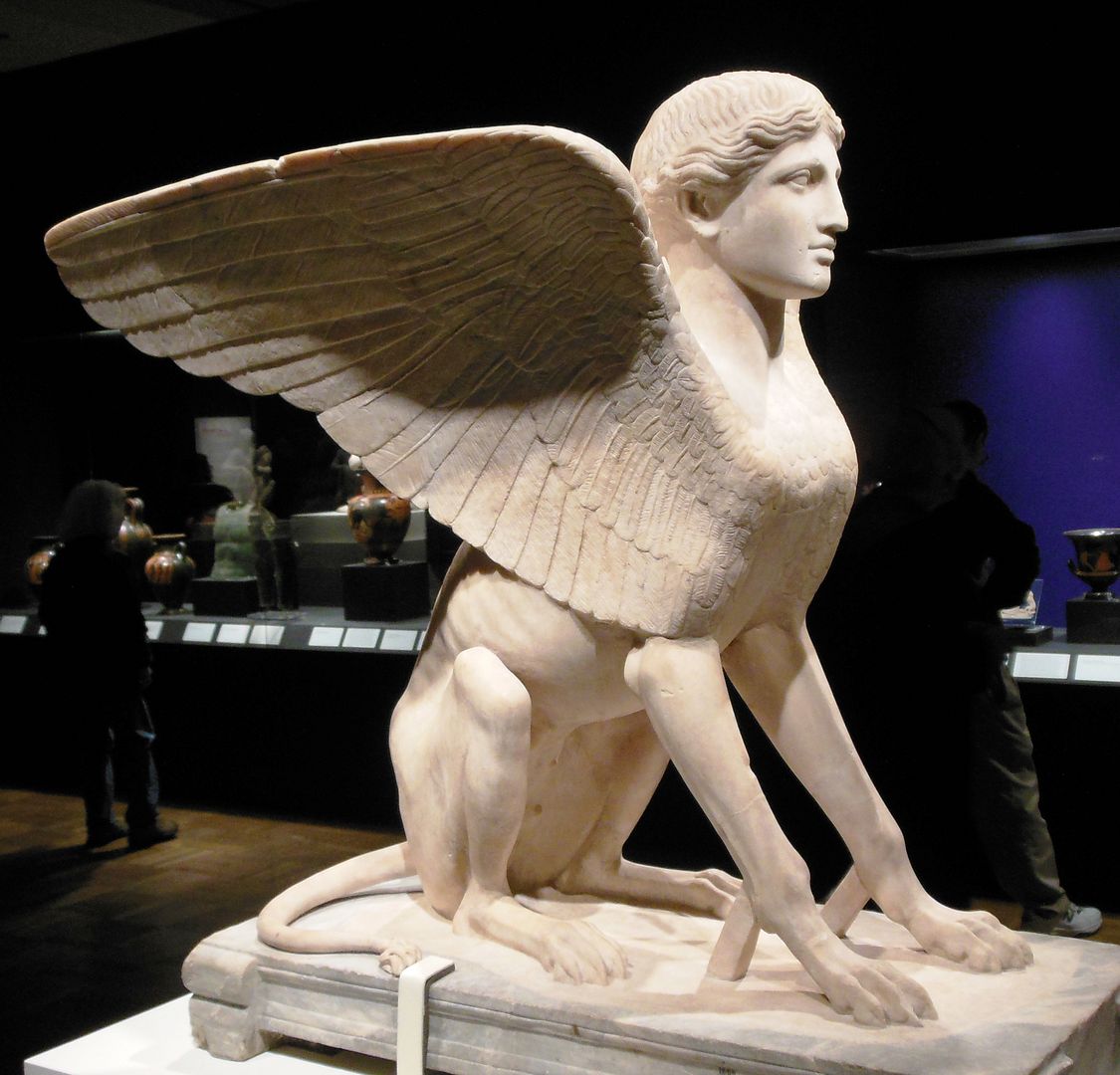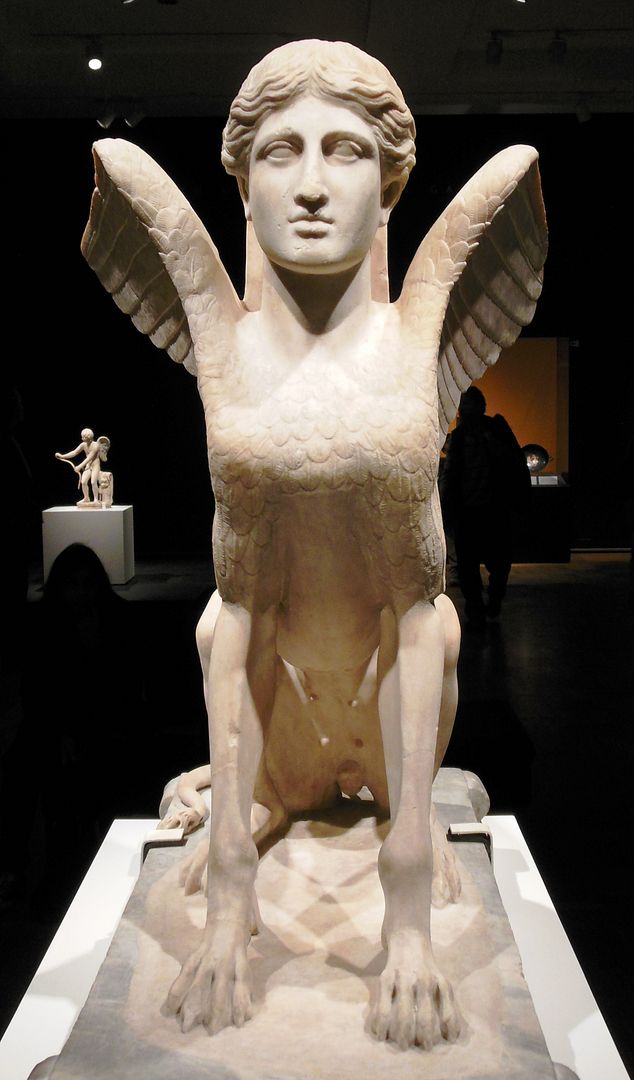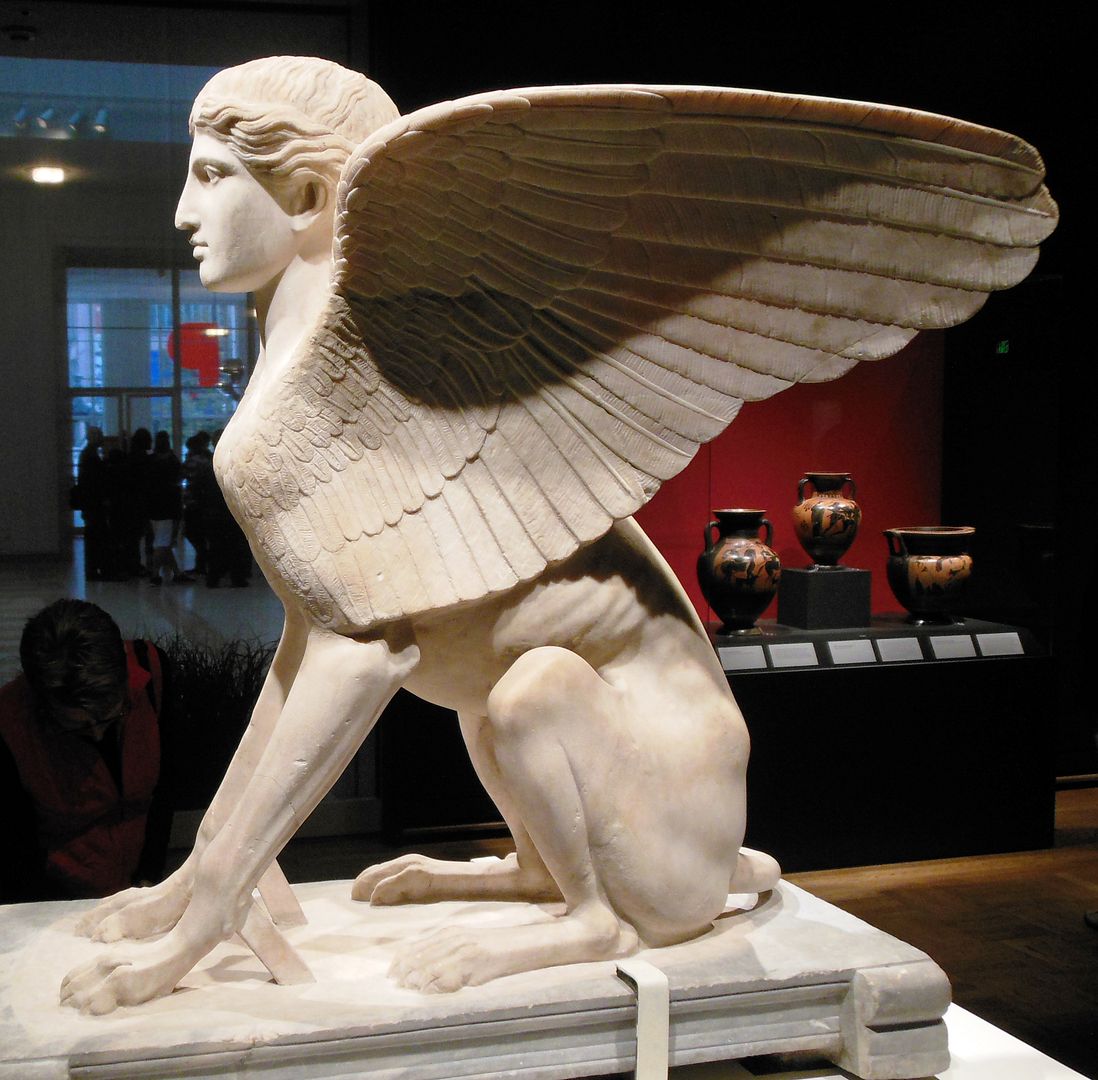 In Greek mythology, the sphinx combined the head of a woman, body of a lion, and wings of an eagle. The sphinx, as guardian of the tomb, was often featured on grave markers. The sphinx shown above is actually Roman, made about 120-140 CE, and probably used as a table support.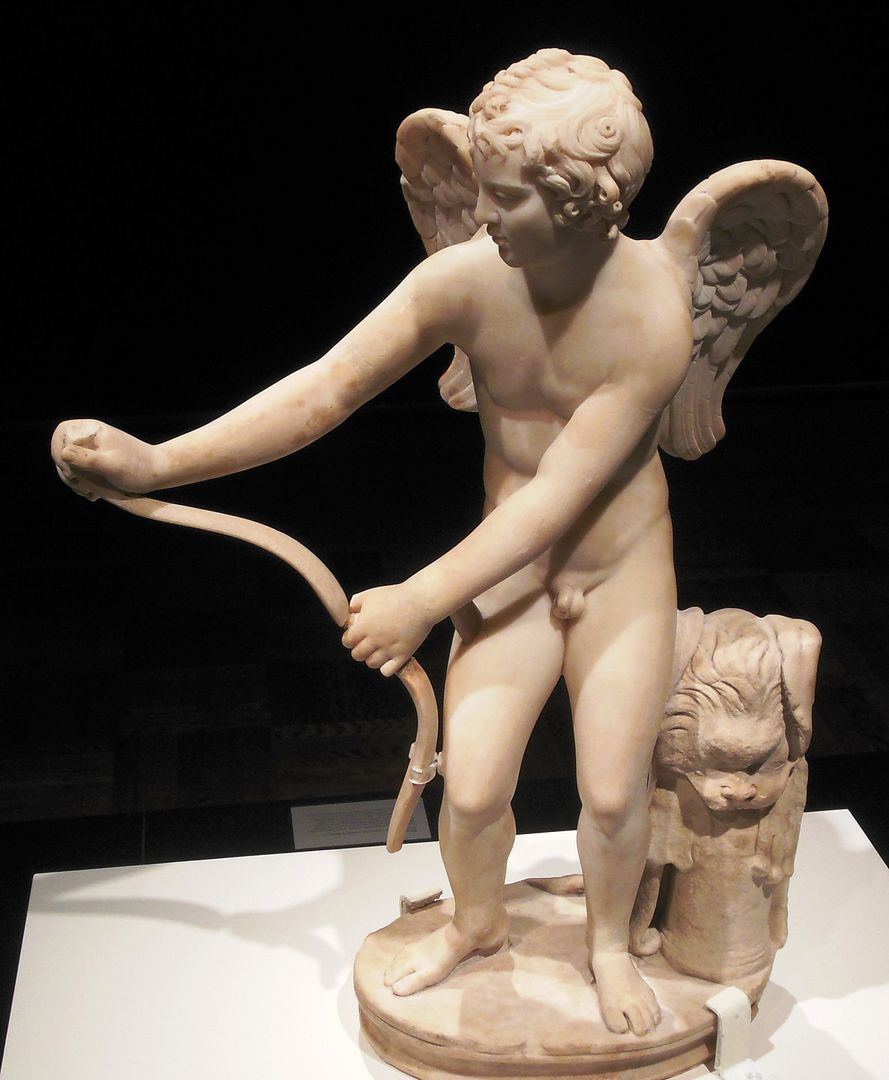 Eros, the son of Aphrodite, is shown stringing a bow in the statue shown above. Eros personified desire, including love between men and youths. He is often portrayed by the Greeks as a winged adolescent boy who shoots arrows to inflame his victims with desire. In the gymnasiums, where young men were often admired and seduced, statues of Eros were often displayed.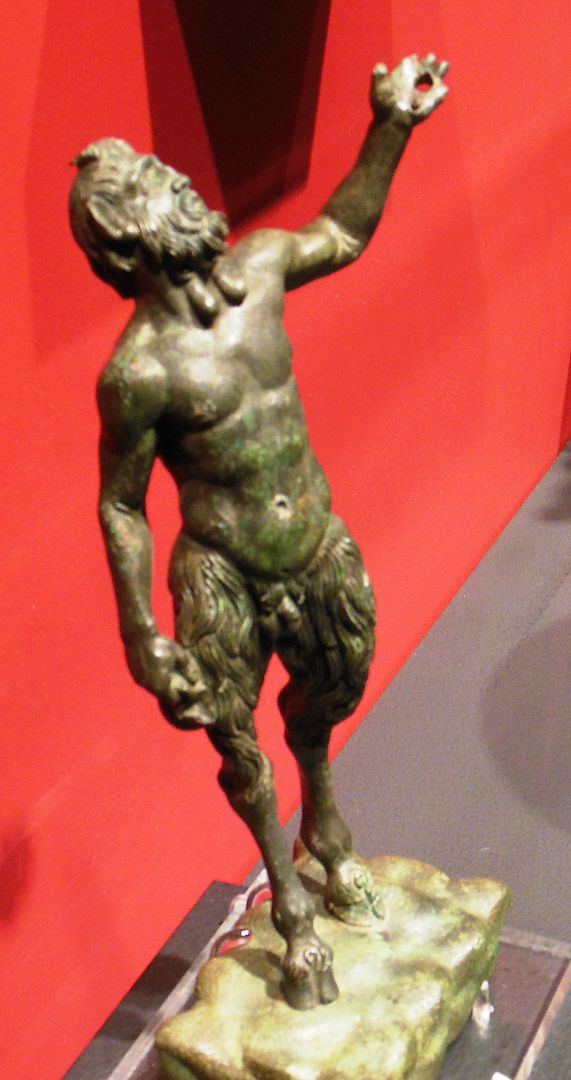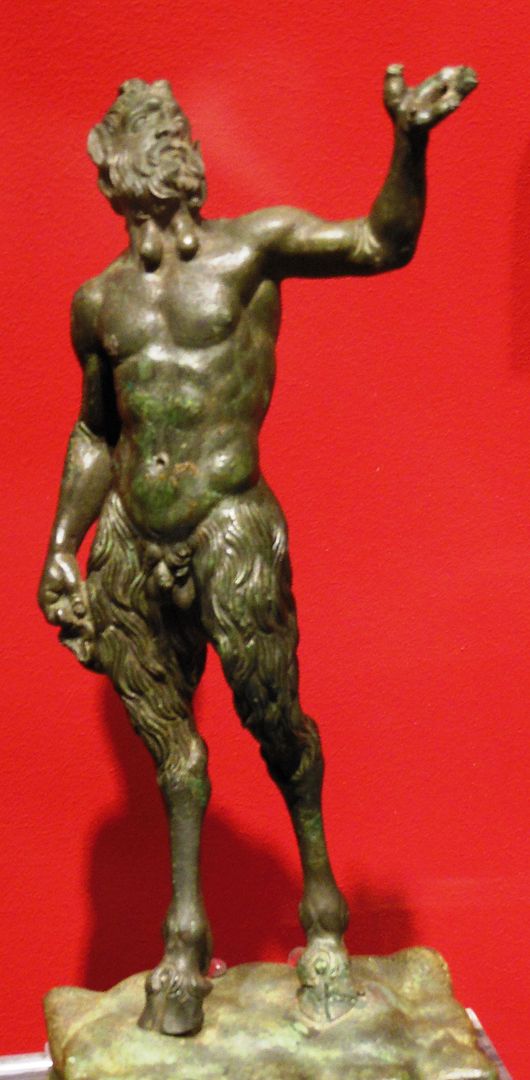 Pan, the god of shepherds and goatherds, is shown above. He is said to be the son of Hermes and is portrayed as partially goat himself. His name forms the root of the English word "panic" as he had the power of inspiring groundless fears which caused people to behave like stampeding animals.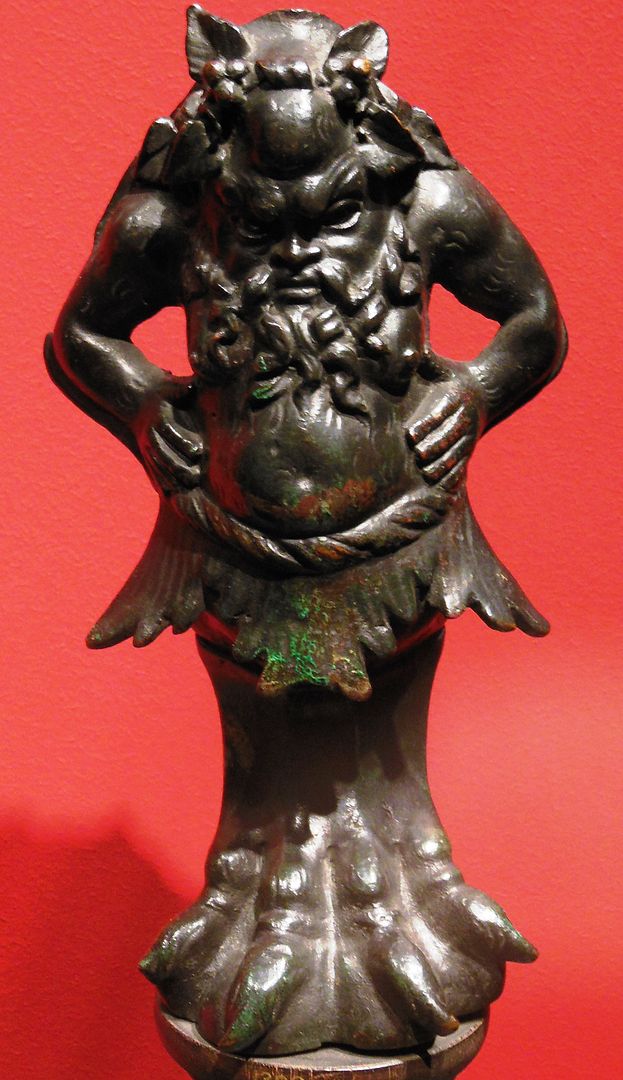 Seilenos (shown above) was part of the retinue of the wine god, Dionysos, and was more prone to excessive drinking. His prominent potbelly reflects his taste for wine.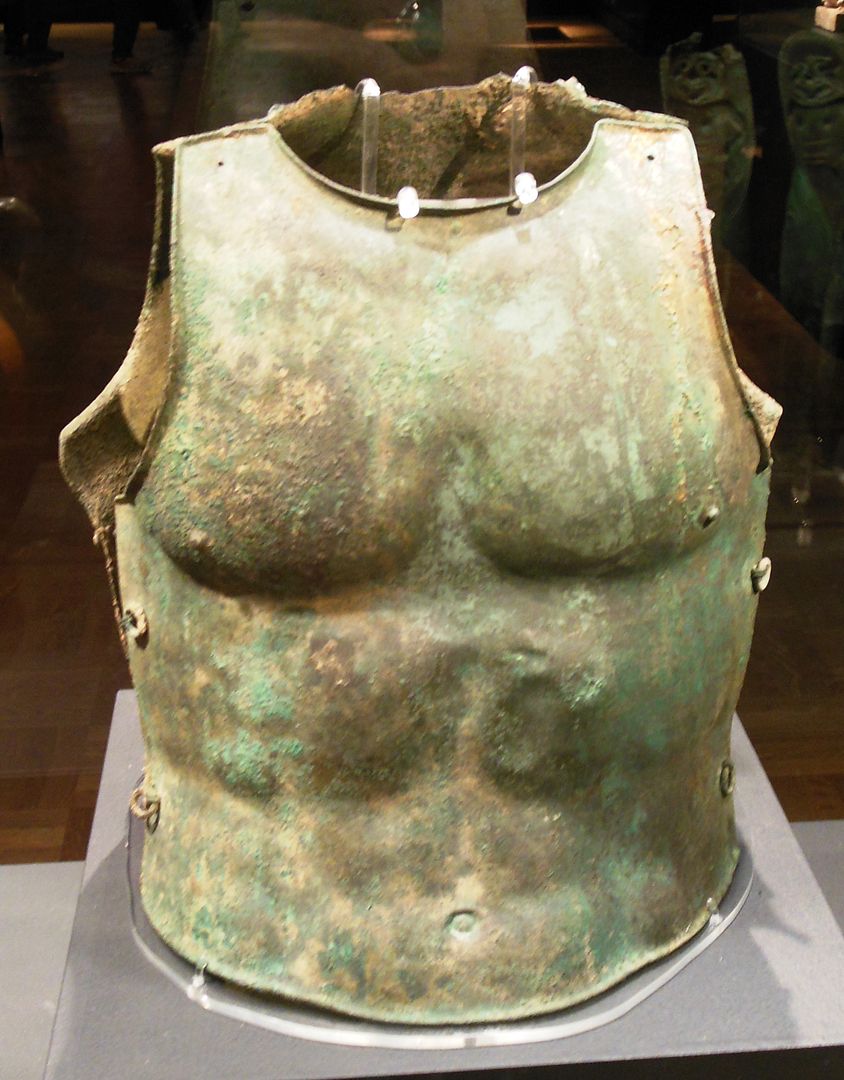 Shown above is a bronze cuirass (back and breastplate) which dates to about 350-300 BCE.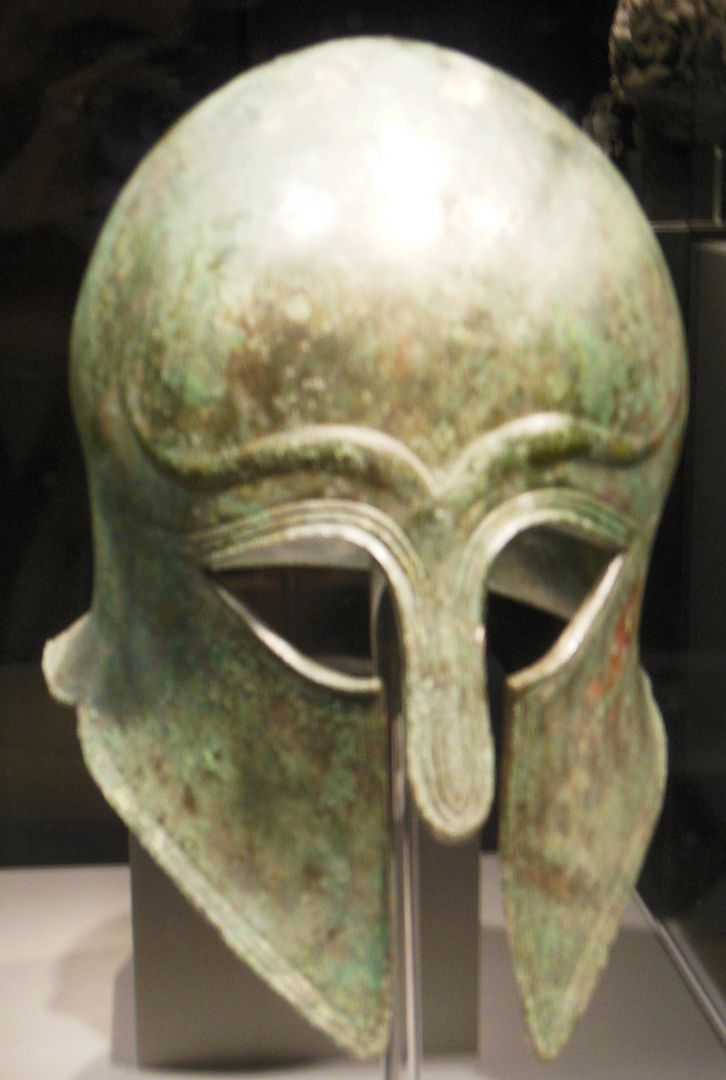 Shown above is a bronze helmet.
In ancient Greece, a wedding was a rite of passage which marked a girl's transition from virgin to married woman. The wedding ceremony featured a mock abduction ritual in which the groom took his bride by force.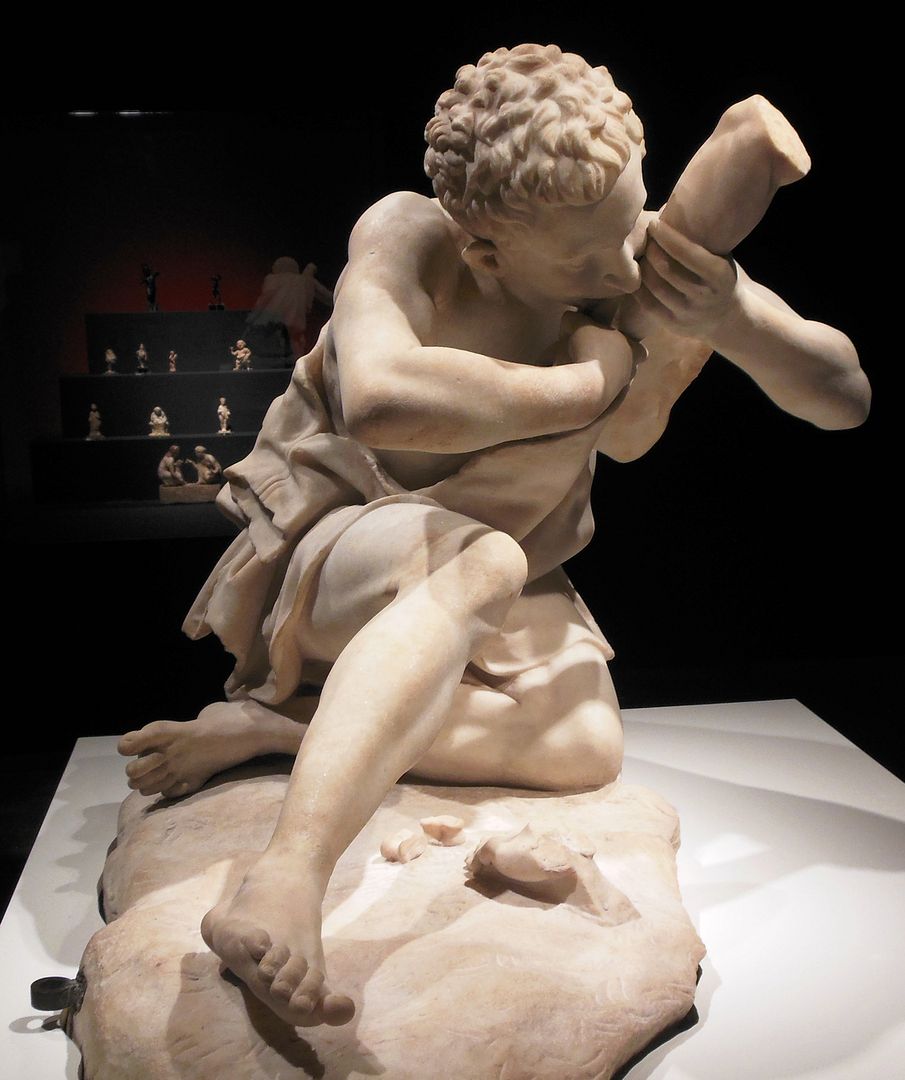 This sculpture originally showed two youths having a falling out over a game of knucklebones. The original was probably made during the second century BCE. Shown above is a Roman reproduction made during the first century CE.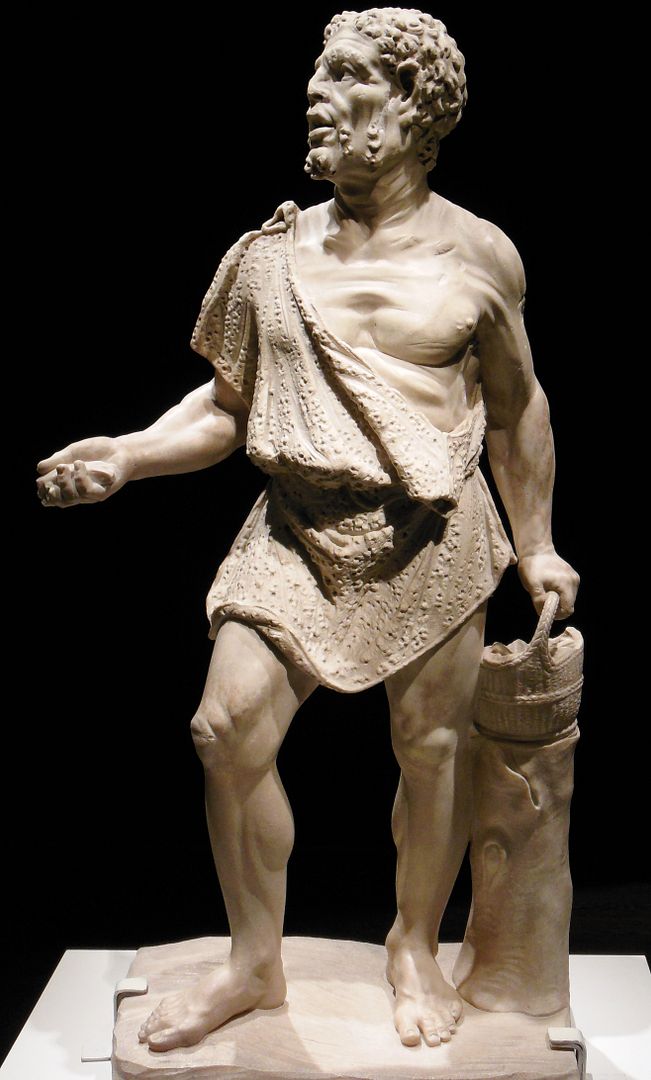 Shown above is a realistic portrayal of a fisherman selling his catch.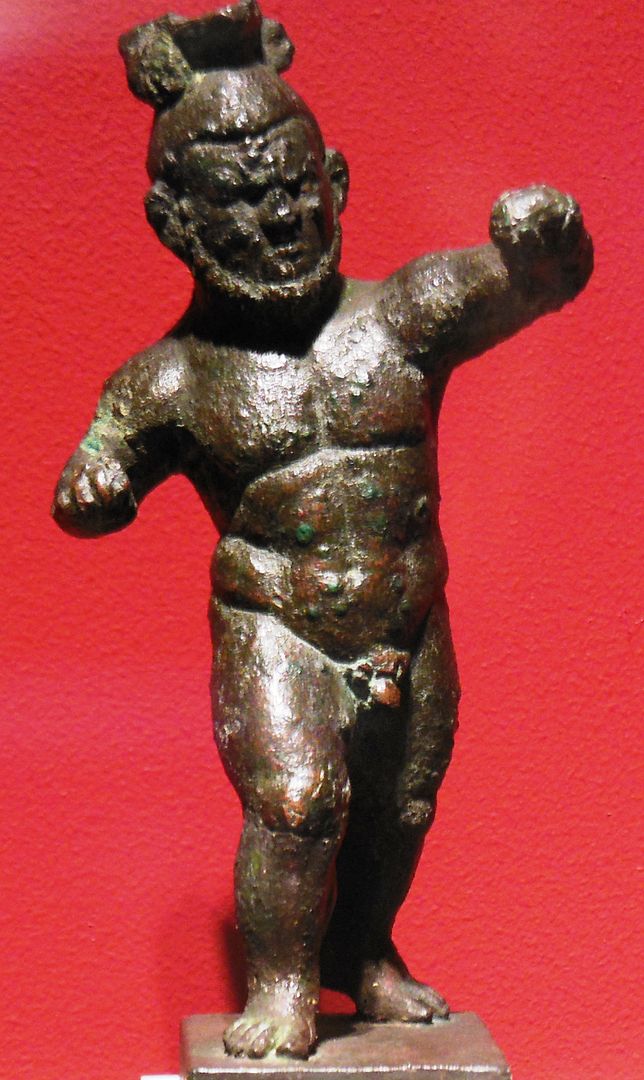 Shown above is a dwarf boxer.
This is a mosaic showing a dwarf boxer. This piece dates from the Roman era in the second century CE.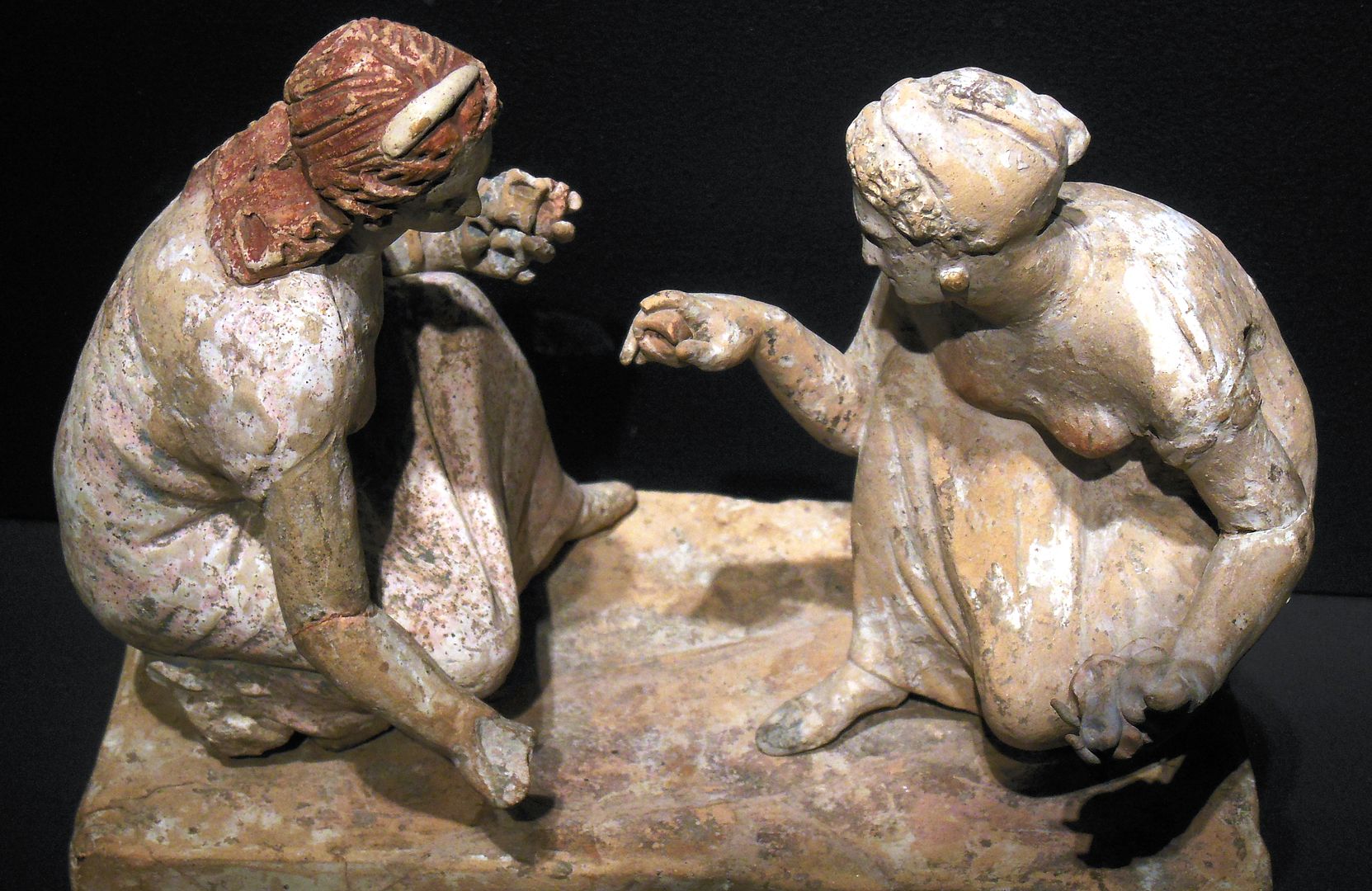 Shown above are two girls engaged in a game of knucklebones. This terra cotta piece dates to about 330-300 BCE.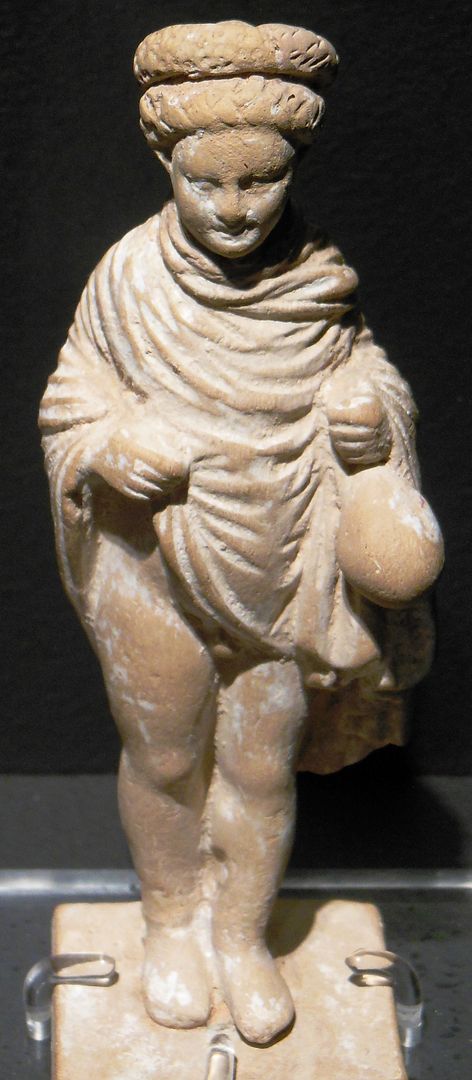 Shown above is a small terra cotta figurine of a young boy holding a bag of knucklebones.