Perhaps the prototypical hoax is Orson Welles's The War of the Worlds radio broadcast. The Wikipedia article suggests 1.7 million believed it to be true.
-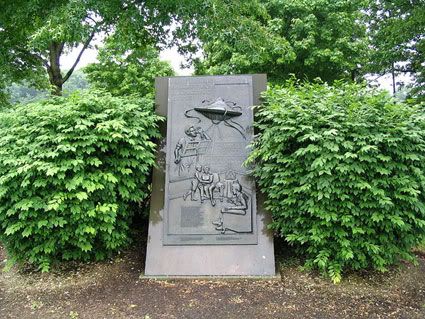 Monument erected October 1998 commemorating where the Martians "landed" in Van Nest Park, Grover's Mill, NJ. - Photo from Wikipedia
-
For today's coffee hour, beyond the fold, I'm asking everyone to share any stories of hoaxes you have fallen for. As always, what is for dinner? How are you doing today? What is on your mind? This is a Open Thread / Coffee Hour.
Some of the "proven" hoaxes in the poll are from a list of hoaxes found on Wikipedia. If you follow the links there is the "evidence" disproving the hoax.
Art's Parts and the Montauk Project are not on the Wikipedia list but are worth noting. Art Bell hosted a late night paranormal-themed radio program Coast to Coast AM. This show had on it guests that discussed many topics that some might consider hoaxes.
I loved the show because it stretched my imagination. And I guess enjoy all the alternative paranormal theories, and Art's hosting, because he never quite believed his guests, and he asked intelligent questions. He always left it up to the listener to decide for themselves if it was true.
Thank you for stopping by today. This is a Open Thread / Coffee Hour.