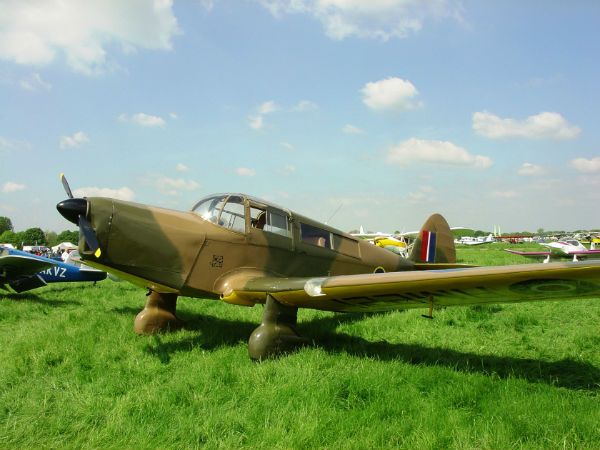 Behind the great bomber fleets and fighter wings of World War Two, there were simply hordes of aircraft performing vital roles as trainers, communications aircraft, radio trainers, target tugs, and all the multitude of tasks needed by a fighting force.
Edgar Wickner Percival was an extremely talented pilot and aircraft designer. Born in Australia, he set up his own business in Gravesend, England, where he produced a fine monoplane, called the Percival Gull. A developed version, the Vega Gull became a favourite mount of air racing and long distance flyers. The famous aviatrix Jean Batten flew from England to New Zealand in a Gull Six (a close relative of the Vega Gull) and broke the record (she also did the same on an England to Brazil flight). It was natural, therefore, that the Percival Aircraft Company would expand, and they chose the more centrally located Luton Airport. Vega Gulls were really successful then suddenly, World War Two broke out, and big changes occurred. Every Gull and Vega Gull that was available was impressed into the Service, but the RAF also wanted a military version of the Vega Gull as a three seat radio trainer, and a four-seat communications aircraft, which they called the Proctor.
The first Proctor 1 first flew on the 8th October, 1939 to Air Ministry Specification T.20/38; it had a slighter wider fuselage than the original Vega Gull and larger windows. The first 222 Proctors were built by Percival at Luton Airport, but the next 812 (all marks) were built by F. Hill & Sons at Trafford Park, Manchester, from 1941 to 1945. These were assembled and test flown from the nearby Barton Aerodrome.
In 1941, the Air Ministry issued a new specification for a 4 seat radio trainer; this was fulfilled by an upgraded aircraft from Percival. It was going to be called the Preceptor, but eventually, officialdom settled on the designation Proctor IV.
Here is a lovely example of the Percival Proctor IV, a radio trainer (sometimes used as a four-seat communications aircraft). It proved to be a solid aircraft with absolutely no vices, and was used by both the Royal Air Force and the Royal Navy until 1955. Powered by a De H Gipsy Queen 2 of 210 hp, it is still a viable touring aircraft today, with a range of over 500 nautical miles. This example is hangared at Biggin Hill International, which is appropriate, considering Biggin's pivotal role as a fighter station on the approaches to London, during the Battle of Britain; it is highly likely that the famous Royal Air Force station would have been visited by many Proctors during the war. Note the 'dark earth/dark green' early war camouflage scheme, with an all yellow underside – correct for second-line aircraft such as trainers and prototypes. Here she is, basking in the sunshine at the Great Vintage Flying Weekend at the former RAF Hullavington, which would have seen its fair share of Proctors during the war.
As well as the many aircraft sold onto the civilian market after the end of hostilities (very economical, and minimal hangarage as the wings could be folded back), a rather strange thing was done to three Proctors. Since no Junkers 87 'Stukas' were available for the 1969 film 'Battle of Britain', three Proctors were extensively modified in an attempt to recreate the German dive bomber. These so called 'Proctukas' turned out to be SO dangerously unstable in the air that they were scrapped, and large scale radio models were used instead.
The 1,143 Proctors produced certainly supported the Allied war effort in many ways. They might not have fought, but they made a significant difference. Oh, and there is a link to a previous diary - Ford built thousands of Merlin engines under licence from Rolls-Royce at the Trafford Park industrial estate - next door to the plant where the Proctors were being made!