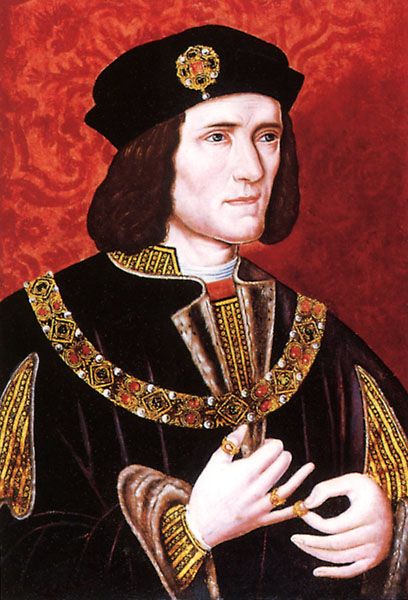 Tune in tomorrow (story here) when the University of Leicester will announce whether a body found in the recently discovered ruins of Greyfriars monastery is that of the last Plantagenet king, killed at Bosworth Field and replaced on the throne by Henry Tudor, afterward Henry VII (father of the better known Henry VIII).
The body, found under a parking lot, is that of a male who had been buried in the choir of the chapel, where Richard III was supposed to have been buried after his demise. The body also shows signs of war wounds, which include a sword-slice to the skull (probably the death blow) and an arrow-point lodged in the back. Even more interesting is that the spine shows scoliosis—Richard III was known to have an irregular spine, and is often referred to in Tudor chronicles as "Richard Crookback". As far as I can tell, Richard III is the only post-Conquest monarch whose burial site (as of yet) remains unknown.
He is widely reviled as the worst English king ever, mostly because of his role in the deaths of the "little princes in the Tower" of London, the eldest of whom was the direct heir to the throne when Edward IV died. (Though never crowned he is still regarded in history as an actual king—Edward V.) But Richard had the boys declared bastards and seized the throne himself, which he occupied for barely two years, 1483-85. The princes were never seen alive again, although their bodies were discovered crammed under a staircase during a 19th Century renovation.
But revisionist historians have tried for two hundred years to rehabilitate Richard's reputation, claiming that all the evil of his reign was perpetrated by others, and that his worst crime was trying to hold together and restore to prosperity a country that had been savaged by the Wars of the Roses for over a hundred years. There's even a worldwide society (here) dedicated to revising Richard's place in history.