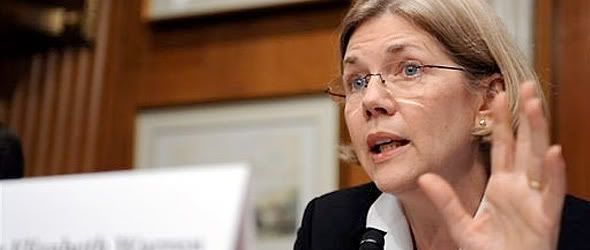 Our Favorite Senator
The banksters tried their best to keep her out of the action. She sidestepped them all and is now in the Senate. Just reading this headline at Naked Capitalism had me go "YES!":
Congress Begins Investigation of Botched Foreclosure Review Cover-Up Settlement
More after this strange squiggle...
A bit more from the link:
The more people look at the abruptly-arranged settlement of the OCC/Fed foreclosure reviews, the more they realize something does not smell right.

Elijah Cummings and Elizabeth Warren have started an investigation of the settlement:

Today, Senator Elizabeth Warren (D-MA) and Rep. Elijah E. Cummings (D-MD) sent a letter to Federal Reserve Chairman Ben Bernanke and Comptroller of the Currency Thomas Curry seeking documents relating to their recent settlement with mortgage servicers that ended the Independent Foreclosure Review (IFR) process.

"We believe that public confidence in the settlement – the confidence necessary to speed recovery of the housing markets – will exist only if the OCC and the Federal Reserve provide additional transparency into the process used and information gathered during the Independent Foreclosure Review process," wrote Warren and Cummings

Read more at http://www.nakedcapitalism.com/...
Of course you have read bobswern's diaries on Yves's takedown of this stinker:
Part I was republished at Daily Kos on Saturday, February 2nd, 2012, along with a lengthy preface from yours truly, and it's LINKED HERE.

Part II was republished at Daily Kos on Sunday, February 3rd, 2012 and it's LINKED HERE.

Parts IIIA and IIIB are available via the links below and, as I've noted at the top of the previous two posts, due to the quite granular nature of their content, they will not be republished at Daily Kos. Part V will be republished here approximately 24 hours after it's published at Naked Capitalism.

Parts I through IV, in their original format, are also available at Naked Capitalism by clicking upon the following links:
Here is a
link
to the latest, in case you missed them.
It appears that things have started shaking at the OCC. Another bit of fallout may be the sudden demotion of Michael Brosnan, who had been senior deputy comptroller of large banks at the OCC, who "resigned" to become examiner-in-charge of Zions Bank.
It just feels so great to have Ms. Warren in the Senate, taking care of the people's business. {{{WOW}}}