A look at one of my favorite tennis players, after the jump ......
But first: Top Comments appears nightly, as a round-up of the best comments on Daily Kos. Surely you come across comments daily that are perceptive, apropos and .. well, perhaps even humorous. But they are more meaningful if they're well-known ... which is where you come in (especially in diaries/stories receiving little attention).

Send your nominations to TopComments at gmail dot com by 9:30 PM Eastern Time nightly, or by our KosMail message board. Please indicate (a) why you liked the comment, and (b) your Dkos user name (to properly credit you) as well as a link to the comment itself.
I don't follow tennis that much anymore, which partly reflects my reduced following of sports in general. But it also reflects trends within tennis itself. My favorite sportswriter (John Feinstein) attributes it to the way that tournaments no longer let reporters into
locker rooms
- only allowing press conferences - which makes the players cloistered; unreachable figures. But he also acknowledges that it has to do with a winnowing number of
name players
whom the general public gets to know.
I can understand, as at the four Grand Slam golf events there is (often) an unknown player who is in contention (and who sometimes wins) ...... but in tennis (especially for the men) the same few names always challenge. That's one reason why last year's success of the Scotsman Andy Murray was so exciting: a new name among the elite. I suppose I am (at least most of the time) cheering on the underdog.
All of this is prologue for someone who became (along with Jimmy Connors) my favorite tennis player. And I'll admit: I first became aware of the Argentine player Gabriela Sabatini for a typical guy reason: she was an attractive young woman. Usually, that doesn't last (as there are many attractive female tennis players, all the time).
But I stayed with her, as I came to understand that (a) like my favorite Jimmy Connors, she suffered from a mediocre serve (which has become more of a handicap as each year passes, with the change in racket construction) but helped make up for it - again, like Jimmy Connors - with a superb backhand and return-of-serve, and (b) my aforementioned rooting for someone trying to break-in to the top. Years later, something else she did told me that my decision was wise, as we'll see.
Born in 1970 in Buenos Aires, Argentina to a middle class family, her father - a GM executive - gave up his job in order to further her career. At age 12, she went to Florida (knowing almost no English) to train. Finding early success, she (a) at age 13 became the youngest player (at the time) ever to win the Orange Bowl tournament, (b) had to drop out of school at age 14, and then (c) turned pro at age 15. I know, that's been around for awhile ... it still sounds strange. Her English was still halting, and for the first few years her companions were nearly all grown adults.
But she started to blossom, reaching the semifinals of both Wimbledon and the French Open in short order. She was a model of consistency: winning many tournaments on the professional tennis circuit, and seemingly in every major tournament's semi-finals (which will be summarized later on). As the tennis writer Bud Collins put it: she became the best South American female player since Maria Bueno, hitting top-spin returns that Chris Evert admitted were 'hard work' to return.
But she was unable to break-in to the Grand Slam winner's circle, as the lack of that dominant serve was a handicap. The other reason? She had the misfortune of playing in the Steffi Graf/Monica Seles era (along with Arantxa Sánchez Vicario, whose clay-court ability helped her win three French Opens). Still, Gaby was always in there, swinging her racket hard and - once again, like Jimmy Connors - unwilling to 'tank' matches, just giving a great performance.
She did win alongside Steffi Graf (sometimes a friend, as well as an arch-rival) the 1988 Wimbledon doubles title, and won the silver medal at that same year's Olympic Games in Seoul, South Korea (finishing second to .... who else, Steffi Graf) when tennis returned to the Olympics for the first time since 1924.
Gaby began her career primarily a baseline player, but was able to adopt to playing serve-and-volley later in her career. Conditioning was always a concern for her, and she had some self-doubts about her mental edge - but became one of the best-liked players on the tour.
At the US Open in 1990, I settled-in before the TV to see Gaby take on Steffi ... and waited for Steffi to just take control of the match. But when she didn't - playing well, but not overpowering - I sensed this might be the chance of a lifetime.
Gaby had already played a grueling 3-set match (against Mary Jo Fernandez) just to reach the finals, and during this hot day she said that - in the tie-breaker of the second set, on the edge of winning the championship - she couldn't afford to let it go further .... "I put everything into that shot ..... a third set would have been too much for me". But she made the passing shot to win the US Open title 6-2, 7-6 (tie-breaker 7-4), which established her as a great player once and for all.
That was the high-water mark of her career, although she kept her play at a high level the next few years. She retired in 1996 (at the age of twenty-six), with the announcement (as well as her farewell party) at Madison Square Garden in New York.
For someone who many saw as not achieving greatness, she managed the following:
* Had at least ten victories against every #1 player she ever faced
* Made the Top Ten in her second year: and stayed there for the rest of her career
* From 1990-1994: was a Grand slam quarter-finalist (at least) 15 times in a row
* Won a total of 27 singles tournaments (as well as 14 doubles titles), and
* Earned nearly $8.8 million in prize money
But it was in 1993 that I became more than just a fan of Gabriela Sabatini. For that was the year that one of the darkest moments in tennis occurred ..... and how she responded spoke volumes.
In North and South America (and Europe) the allure of major sports and betting would suggest that star athletes would often be the victims of sabotage. And I'm sure that their cocktails have been spiked, people have tried to start fights with them, etc.
But as the sportswriter Frank Deford noted (and which is no longer online) in terms of major events: the two most notorious cases of sabotaging professional athletes in the 20th Century took place less than a year apart, and both involved athletes who were ...........umm ........ female (odd, considering our male-oriented sports world).
And these were the 1994 attack on figure skater Nancy Kerrigan and - nine months earlier - the stabbing of Monica Seles (yes, stabbed in the back) at a match in Germany (for which her attacker never served a day in jail).
During her convalescence (which she never completely recovered from mentally) there was a proposal amongst the female tennis tour members: whether, in respect of the unique circumstances, Monica Seles's #1 ranking should be retained until more was known about her condition. The players voted unanimously against that idea except for ......... Gabriela Sabatini. "Gaby is a human being," Monica says. "The rest -- they treated it like it was a sprained ankle or something." And so for someone who was admittedly first drawn to Gabriela Sabatini for her outer beauty ....... well, it seems her inner beauty is greater.
Since her retirement, she lives most of the year back in Buenos Aires, with some time in Key Biscayne, Florida. Her major business interests are in real estate and in a line of perfumes which are available worldwide. In addition, she invests in children's tennis clinics in Argentina (as she wanted kids not to have to emigrate from Argentina in order to receive top-flight instruction, as she did). And she is also a major contributor to the Special Olympics, UNICEF and the Steffi Graf Foundation - which helps children and families who are victims of war, persecution and violence.
Gabriela Sabatini will turn age 43 this coming May, and in 2006 was inducted into the Tennis Hall of Fame - with the induction ceremony in Newport, Rhode Island including an introduction ... by Steffi Graf.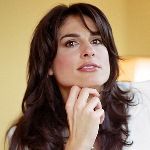 Now, on to Top Comments:
-------------------------------------
From chantedor:
In the diary by Horace Boothroyd III about police accountability leading up to today's shootings in Southern California - I nominate this comment made by PSWaterspirit as to whether the gunman the LAPD is after should be called a "mass shooter" or a "mass murderer".
And from
Ed Tracey
, your faithful correspondent this evening ........
In the diary by Proglegs about the Lutheran Church—Missouri Synod pastor in Newtown, Connecticut who was forced to apologize for his participation in an interfaith prayer vigil because it involved ..... well, other faiths: among the many parables offered was one by paz3 about the Good Samaritan and how it relates to this embarrassment.
TOP PHOTOS
February 6, 2013
Next - enjoy jotter's wonderful PictureQuilt™ below. Just click on the picture and it will magically take you to the comment that features that photo.


(NOTE: Any missing images in the Quilt were removed because (a) they were from an unapproved source that somehow snuck through in the comments, or (b) it was an image from the DailyKos Image Library which didn't have permissions set to allow others to use it.)
And lastly: yesterday's Top Mojo - mega-mojo to the intrepid mik ...... who rescued this feature from oblivion:

1) Hopefully this will lead to renewed embarrassment by DrTerwilliker — 264
2) And apparently the good pastor feels... by quiet in NC — 241
3) 401(k)s were a scam right from the start, by Azazello — 197
4) Good by Dallasdoc — 136
5) So to you there is no such thing as by Crazy Moderate — 123
6) Right on. by One Pissed Off Liberal — 120
7) The buddy system is fine - if you want to use it. by gustynpip — 110
8) I'm shocked, shocked by Steven D — 104
9) I thought I addressed some of that: by GreenMother — 95
10) Not a scam ? Well maybe not, by Azazello — 91
11) The Golden Rule... by bobswern — 90
12) Are the Phelpses allowed to see television, movies by Bob Love — 90
13) Not to mention by Dave925 — 88
14) Enlightened self interest by triplepoint — 85
15) My condolences on your loss by Noddy — 84
16) Obviously by BroadwayBaby1 — 83
17) With her upbringing by Cali Scribe — 82
18) Republished to Social Security Defenders, gladly. by Roger Fox — 82
19) It can't be easy re-learning reality. by Bob Love — 81
20) Hear, hear! by BroadwayBaby1 — 81
21) Yes, the republicans will rue the day by pollbuster — 80
22) That's basically the end of Westboro by Susan Gardner — 81
23) I have never worked in food service by Otteray Scribe — 77
24) The point is that dealing with a mentally ill by blue aardvark — 77
25) If/when Congress stops that crap by bfitzinAR — 76
26) What a sad story. by commonmass — 74
27) Nope, sorry, doesn't work by tecolata — 74
28) Having lived on several continents, by commonmass — 71
29) I am a solo female traveler. by srkp23 — 71
30) I'm one of those lone traveling women by woolibaar — 69
31) I used to travel alone all the time by Rogneid — 69