Update: Most recent diary is Not a Pipe Dream: TEX KOS Statewide Meet-Up This Saturday
Tex Kos Inaugural Gathering - March 2nd, 2013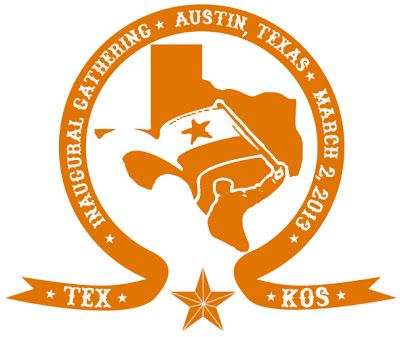 Please join Texas Kossacks in Austin on Saturday, March 2nd, for the Tex Kos Inaugural Gathering, our first statewide meet-up of Texas kossacks and honorary Texas kossacks!
We will meet at Opal Divine's Austin Grill: Penn Field, where teknohed has reserved a party room from 2:00-5:00 pm. And papa monzano has designed an awesome logo (at right) for t-shirts to commemorate the occasion!

Also, be sure to check out the Texas Democratic Party SDEC Meeting on Saturday morning and Austin's 84th Zilker Park Kite Festival on Sunday (details below).


Saturday, March 2nd!!
Tex Kos Inaugural Gathering in Austin

TIME: 2:00-5:00 PM

LOCATION: Opal Divine's Austin Grill: Penn Field
3601 S. Congress Ave • Austin

RSVP: Send kosmail to nomandates.


RSVPs:
1. nomandates
2. teknohed
3. papa monzano
4. Chrislove
5. Chrislove's BF
6. glorificus
7. politik
8. mr pea
9. anotherdemocrat
10. Odysseus
11. suesue
12. mr sue sue
13. blue armadillo
14. texasmom
15. texasdad
16. htowngenie
17. navajo (honorary TX Kossack!)
18. afisher
19. manoffire
20. Wino
21. Mrs. Wino
22. VinaMist
23. doraphasia
24. Urban Owl
25. Texdude50
26. icelus

27. entrelac
28. Mr. entrelac
29. JayRaye
30. cosette
31. belinda ridgewood (honorary TX Kossack!)
32. Carol in San Antonio
33. krwheaton
34. +1 from Harris County
35. KTinTX
36. TexMex
37. Musicman (honorary kossack)
38. freerad
39. freerad's guest
40. just another vet
41. rabel
42. 13Friday

Maybe's:
Mosquito Pilot
Over the Edge
yoduuuh do or do not
Libby Shaw
Mr. Libby Shaw

If you're planning to come, please post a comment or send me a kosmail (private message) and indicate whether you plan to bring any guests.
~☆~☆~☆~☆~☆~☆~☆~☆~☆~☆~☆~☆~☆~
T-Shirts for Tex Kos Inaugural Gathering
papa monzano
has designed an awesome t-shirt logo (featured at the top of this diary) for our meet-up. If you're interested in ordering one, be sure to
kosmail papa monzano
no later than
the end of this week
noon this Tuesday
so that he can place the order. The details are in his
TEX KOS Meetup! T-Shirt Design!
diary.
~☆~☆~☆~☆~☆~☆~☆~☆~☆~☆~☆~☆~☆~
SDEC meeting in Austin on March 2nd
At the
Houston Area Kossacks'
last meet-up,
krwheaton
announced that the
Texas Democratic Party
has scheduled its next
SDEC meeting in Austin on March 2nd
beginning at 8:00am.
JC Dufresne
, another SDEC member, also made a point of
inviting us to attend
in my last diary. Here's the schedule:

State Democratic Executive Committee (SDEC) Meeting
Saturday, March 2, 2013




Location: Texas Democratic Party Headquarters
4818 E. Ben White Blvd., 3rd Floor
Austin, TX 78741

8:00am Nominations Committee
Finance Committee
Legislative Affairs Committee

9:00am Grassroots Committee
Fundraising Committee
Resolutions Committee

10:00am Rules Committee
Convention Committee
Communications Committee

11:00am Legislative Update

1:00pm Lunch Break

2:00pm SDEC General Session (see link for Agenda)
I am planning to attend the SDEC meeting until 1:00, then head over to Opal Divine's for our meet-up at 2:00. Hope to see you there!
~☆~☆~☆~☆~☆~☆~☆~☆~☆~☆~☆~☆~☆~
Zilker Park Kite Festival on March 3rd
Sunday, March 3rd
Austin's 84th Zilker Park Kite Festival
TIME: 10:00am - 2:30pm
LOCATION: Zilker Park
2100 Barton Springs Rd. • Austin
ORGANIZER: Send a kosmail to papa monzano to connect at this event.
As far as I'm concerned, the timing of the Zilker Park Kite Festival couldn't be more perfect. Festival events include a Kite Making Workshop, Kite Flying Demonstrations, and Kite Flying Contests, followed by a Mass Kite Ascent. Here's hoping for a gorgeous, sunshiny day!
Regional Groups in Texas
The
TexKos-Messing with Texas with Nothing but Love for Texans
group, which formed in Feb. 2011, has 35 members. It helps us to meet one another, though, if folks see a more local group to join and/or to follow:

Houston Area Kossacks is for Kossacks living in the Houston metro area. It will be used to post and repost Houston-related diaries, organize meet-ups, and just keep in touch in general.


| | |
| --- | --- |
| | |

ETA: Houston Area Kossacks: Meet-Up Scheduled for Saturday, February 16!
~☆~☆~☆~☆~☆~☆~☆~☆~☆~☆~


CenTex Kossacks is a kossack group for Travis County and surrounding areas dedicated to keeping Austin weird, blue and orange.


| | |
| --- | --- |
| | |
~☆~☆~☆~☆~☆~☆~☆~☆~☆~☆~
Dallas Kossacks


A group for Kossacks living in the DFW region to get together and support each other!


Organizer: chancew vacancy
Founded on Nov. 21st

ETA: chancew has posted that he's no longer able to organize for the Dallas group. Please kosmail him if you're interested in taking over. Thanks.
Our state isn't done organizing!
shesaid
is forming a group for the
CapRock / Amarillo / Lubbock / Panhandle
area (group name still being considered).
And Yo Bubba has contacted navajo and will be starting a West Texas Kossacks group (El Paso and Big Bend)!
Please consider stepping up to organize if there isn't a group in your area.
If you want to join a group, kosmail the organizer. And be sure to follow your group by clicking on the ♥ beside the group name so that you'll get group diaries in your stream. (Unfortunately, being a group member won't make that happen.)

Tue Feb 12, 2013 at 3:04 PM PT: papa monzano has ordered our Tex Kos Inaugural Gathering t-shirts, plus a few extra. Price will be $12 each, and we can just pay him at the event.