Welcome to Day 2 of Daily Kos' weeklong blogathon "Forward on Climate" in the lead up to a huge Sunday, February 17th rally in Washington, D.C. cosponsored by Bill McKibben of 350.org, the Sierra Club and the Hip Hop Caucus.

Today's Top Climate Stories

Obama considering executive actions for some eco matters
President Obama is considering a series of new executive actions aimed at working around a recalcitrant Congress, including policies that could allow struggling homeowners to refinance their mortgages, provide new protections for gays and lesbians, make buildings more energy-efficient and toughen regulations for coal-fired power plants, according to people outside the White House involved in discussions on the issues.
Canadian Doctors Urged to Fight Climate Change
... medical professionals have begun to understand how a changing climate could lead to all sorts public health problems — increased mortality as heat waves become more intense and more common; a rising incidence of allergies; thespread of infectious diseases into new areas; and more. The latest evidence of this growing awareness: an editorial in the Canadian Medical Association Journal that lays out the facts and urges doctors to become more vocal in demanding action against climate change.
Security Risks of Extreme Weather and Climate Change
Feb. 11, 2013 — Increasingly frequent extreme weather events such as droughts, floods, severe storms, and heat waves have focused the attention of climate scientists on the connections between greenhouse warming and extreme weather. Because of the potential threat to U.S. national security, a new study was conducted to explore the forces driving extreme weather events and their impacts over the next decade, specifically with regard to their implications for national security planning. The report finds that the early ramifications of climate extremes resulting from climate change are already upon us and will continue to be felt over the next decade, directly impacting U.S. national security interests.

"Lessons from the past are no longer of great value as a guide to the future," said co-lead author Michael McElroy, Gilbert Butler Professor of Environmental Studies at Harvard University. "Unexpected changes in regional weather are likely to define the new climate normal, and we are not prepared."
Global Warming and Asteroids!
The threat of global warming may stretch so far beyond Earth that it affects meteorites millions of miles away in space -- at least according to one CNN anchor.

"Talk about something else that's falling from the sky and that is an asteroid. What's coming our way? Is this an effect of, perhaps, of global warming, or is this just some meteoric occasion?" CNN's Deborah Feyerick asked Bill "The Science Guy" Nye, head of the Planetary Society, in a Saturday segment.
350.org Share This Sign
Download this image and make it your Facebook profile or share it on other social media.

Climate Parents show bold climate leadership in their video supporting the Sunday Forward on Climate Rally in DC.

Today's Guests


Allison Fisher is the Outreach Director for Public Citizen's Energy Program and an "expert in engaging and organizing communities to challenge dirty energy sources at the local and state level and on issues such as the relapse of nuclear energy."
Rev. Lennox Yearwood Jr. is the President of the Hip Hop Caucus in Washington, D.C., a minister, community activist and one of the most influential people in Hip Hop political life. He works tirelessly to encourage the Hip Hop generation to utilize its political and social voice.

A national leader and peacemaker within the green movement, Rev. Yearwood has been successfully bridging the gap between communities of color and environmental issue advocacy for the past four years. With a diverse set of celebrity allies, Rev. Yearwood raises awareness and action in communities that are often overlooked by traditional environmental campaigns. The Rev. Yearwood's innovative stance has garnered the Hip Hop Caucus support from several environmental leaders including the National Wildlife Federation, Earthjustice, and former Vice President Al Gore's Alliance for Climate Protection.

In 2010, he was named one of the 100 most powerful African Americans by Ebony Magazine, and one of the 10 Game Changers in the Green movement by the Huffington Post. He was also named to the Source Magazine's Power 30, Utne Magazine's 50 Visionaries changing the world, and the Root 100 Young Achievers and Pacesetters.

Bill McKibben introduces the Rev. Yearwood at the White House XL Tar Sands Pipeline protest in 2011 where he speaks about our "lunch counter moment for the 21st century":

Follow on Twitter: #nokxl and #ForwardOnClimate
"Forward On Climate" Blogathon: February 11 - February 15, 2013
Diary Schedule - All Times Pacific
---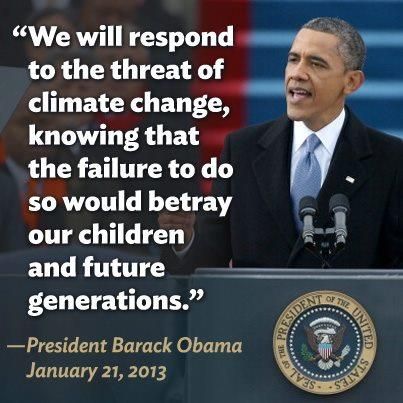 IT IS TIME TO TAKE A STAND
Please join tens of thousands of Americans on the National Mall in Washington, DC on Feb. 17 from 12:00 pm-4:00 pm to urge President Barack Obama to take immediate action on Climate Change.
President Obama has now listed Climate Change as an important part of his second term agenda. Legislative proposals and debate will occur in Congress. President Obama can take executive action to move Forward on Climate now; he can reject the toxic Keystone XL tar sands pipeline. A recent study in Canada has linked tar sands with cancer, something First Nations groups have reported for years - with the result being increased cancer rates, deformed wildlife, and a variety of other negative impacts. President Obama can also direct the Environmental Protection Agency to set carbon standards for power plants.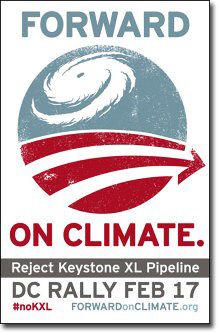 Let your voice be heard.
SIGN UP TO SUPPORT THE "FORWARD ON CLIMATE" RALLY IN WASHINGTON, DC ON FEBRUARY 17TH
Our Daily Kos community organizers (Patriot Daily News Clearinghouse, citisven, boatsie, JekyllnHyde, rb137, and peregrine kate) coordinated this blogathon with Bill McKibben of 350.org to help spread the word.
---
7:30 am: Keystone XL pipeline is not in the U.S. National Interest by A Siegel.
11:00 am: Forward on Climate: Time to Take a Stand! by citisven.
1:00 pm: Keystone XL Would Feed Superstorm Risk by Shaye Wolf, Climate Science Director for Center for Biological Diversity.
3:00 pm: Van Jones, President and Co-Founder of Rebuild the Dream. (will be rescheduled)
4:00 pm: Forward on Climate: 350 Silicon Valley...A Call to Action by Glen the Plumber.
5:00 pm: The Frog in the Boiling Water is Singing Outside My Window - Climate Change in a Microcosm by Kitsap River.
11:00 am: Allison Fisher, Outreach Director for Public Citizen's Energy Program.
1:00 pm: Rev. Lennox Yearwood Jr., President of the Hip Hop Caucus.
3:00 pm: gregladen.
5:00 pm: WarrenS.
11:00 am: Jeremy Bloom.
1:00 pm: Congressman Ed Markey, Democratic Candidate for 2013 United States Senate MA Special Election.
3:00 pm: FishOutofWater.
5:00 pm: Roger Fox.
11:00 am: Marty Cobenais (Ojibwe), U.S. Pipeline & Heavy Haul Resistance Organizer for Indigenous Environmental Network. Liveblogging with Tom Goldtooth (Dine' and Dakota), Executive Director of IEN and Oglala Sioux Tribal Vice President Tom Poor Bear.
1:00 pm: rb137.
3:00 pm: James Wells.
5:00 pm: jlms qkw.
10:00 am: Phaedra Ellis-Lamkins, Chief Executive Officer of Green For All.
11:00 am: Agathena.
3:00 pm: DWG.
5:00 pm: JekyllnHyde.
---
Please remember to republish these diaries to your Daily Kos Groups. You can also follow all postings by clicking this link for the Climate Change SOS Blogathon Group. Then, click 'Follow' and that will make all postings show up in 'My Stream' of your Daily Kos page.