November, 19, 2012, Rodanthe, Outer Banks, NC cut off by abnormally high tides
The Gulf Stream has been weakening continuously since 2004, accelerating sea level rise on the U.S. east coast, with the highest impact on sea level rise centered around Cape Hatteras according to a report, accepted for publication in the Journal of Geophysical Research. The International team of oceanographers led by Princeton & Old Dominion University professor Tal Ezer has 99.99% statistical confidence that the correlation between the Gulf Stream weakening and sea level rise is real.

Recent studies indicate that the rates of sea level rise (SLR) along the U.S. mid-Atlantic coast have accelerated in recent decades, possibly due to a slowdown of the Atlantic Meridional Overturning Circulation (AMOC) and its upper branch, the Gulf Stream (GS). ...The coastal sea level variations were found to be strongly influenced by variations in the GS on time scales ranging from a few months to decades. It appears that the GS has shifted from a 6-8 year oscillation cycle to a continuous weakening trend since about 2004, and that this trend may be responsible for recent acceleration in local SLR.
Examination of recent measurements of the strength of the Florida current segment of the Gulf Stream in south Florida waters reveals that high tides and flooding in south Florida and the Outer Banks, North Carolina happened when the Gulf Stream slowed way down for three weeks in November. From November 6 to November 26, 2012 the Gulf Stream weakened in two episodes. Major flooding took place during the week long second episode when Gulf Stream transport weakened over 35%. High water levels also slowed recovery in coastal areas of New York and New Jersey hit by the surge and waves from hurricane Sandy. Sea levels were extraordinarily high all the way from The Caribbean Sea to the Labrador Sea. This event affected the entire east coast of North America.


The Gulf Stream generates a voltage in a long cable in the channel between Florida and the Bahamas, in a way that's similar (not identical) to what happens when you walk through airport security with metal in your pocket. The salt ions are like the metal, the earth's magnetic field is like the field generated by the security system and the cable is like the security system's detector. AOML oceanographers filter out the effects of solar storms and other natural processes that affect the earth's magnetic field. With the noise removed, AOML accurately determines the strength of the Gulf Stream by the changes in the cable's voltages.

Since 1982 cables have been used to measure the transport of the Florida Current between Florida and the Bahamas near 27°N. Geomagnetic data from the San Juan, Puerto Rico, Fredricksburg, Virginia and Stennis, Mississippi magnetic observatories have been used during different segments of this time period to remove the magnetic field fluctuations from the voltage data.
Gulf Stream transport at 27.1 N averaged 20.6 Sv from November 18 - 24, 36% less, than the long-term average of 32.1 Sv. The table at the right shows daily Florida current transport in Sverdups in November, 2012. Zeros on the right hand side show that each datum met quality control specs.

"The ocean has swallowed portions of the sidewalk along A1A north of Sunrise Blvd. in Fort Lauderdale. ... Both northbound lanes have been closed to vehicular traffic. At the moment the southbound lanes are allowing one lane in each direction. R.C. White / IDS Inc." The Miami Herald reported destructive high tides in Fort Lauderdale Florida on November, 22, 2012.
Superstorm Sandy is gone. And the moon's pull has diminished.

But the ocean keeps pouring over State Road A1A in Fort Lauderdale and onto Alton Road in Miami Beach, causing problems in coastal communities where flooding has now been an off-and-on phenomenon for weeks.

On Thursday and Friday, water from the Atlantic pounded parts of the Fort Lauderdale strip. The power of waves destroyed chunks of a barrier wall and forced authorities to shut down northbound traffic from Sunrise Boulevard to Northeast 20th Street. It's the second time the road has been closed in about four weeks.
The Miami Herald reporter contacted a meteorologist who blamed the high water levels on the weather. The weather played a role, but the collapse of the Florida Current is the culprit.
Florida current transport in Sverdrups. Note the sudden weakening in November, 2012.
Here's a published image from Dr. Chris Menin that shows the high frequency Florida current transport over the 26 years from 1982 to 2008. This year's Florida current slowdown was exceptional but not unprecedented.
For about 2 years between 1998 and 2000 there are no data for Florida current transport volumes because of a lack of government funding. AOML scientists used satellite sea surface height measurements to fill in the gap. The long-term data set apparently uses a longer smoothing interval than the figure above. It doesn't show the extreme nature of the collapse of the Florida current in November, 2012. It does show several extended periods of slowing in the Gulf Stream in the early record before the break in measurements. These slowdowns may have been associated with relatively high tides, but ongoing sea level rise tied to warming oceans and melting glaciers made the recent extreme tides more destructive. NOAA's Dr. Chris Meinin clarifed via e-mail the differences between the Florida current transport figures.
I think you are correct that the differences in the two figures are due to temporal smoothing. The first figure (below) you mentioned is actually produced by a different person here at our lab, and he is unfortunately away from the office this week, but I believe that the altimetry based figure uses a low-pass filtering with a cut-off period of at least 7 or 10 days. The cable-based measurements that my group produces (above) also have a low-pass filter involved, but the cut-off period is only 3 days, so the record includes more high frequency energy.
Cable measurements of Gulf Stream strength follow the same trends as strength calculations based on altimetry but differ in the details.
A similar slowdown of the Gulf Stream took place in 1994. Note that this smoothed long-term data set doesn't show the very low current strength values of around 20 Sv that were observed for a week this November. That slowdown, which occurred for a longer period than the November 2012 event, may show up better with the longer period filtering. No matter how the filtering was done, the 1994 event didn't have as large a coastal impact because sea level was lower across the North Atlantic. This year's slowdown had maximum impact because
sea level was at record high levels in the North Atlantic.
Likewise, record high sea level made
hurricane Sandy's damage worse.
AVISO altimetry shows that sea level was about 1 foot above normal
along north Carolina's Outer Banks and Florida's east coast on November, 22, 2012. AVISO's image shows that sea level was well above normal along the whole east coast of north America. In fact, sea level was also significantly higher than normal along the Atlantic coast of north Africa and Europe.
NOAA's verified tide levels confirm the satellite altimetry data. Tide records for Beaufort, NC are shown here because Beaufort faces south. Regional north-east winds tend to blow side shore or offshore at Beaufort. The very high tides at Beaufort cannot be simply explained by the effects of onshore winds. However, they can be explained by the weakening of the Gulf Stream.
Satellite altimetry derived images of sea level developed by
NOAA's AOML
show that sea level was very high along the northern coast of South America and all along the coastlines of the Caribbean and Gulf of Mexico on November 19, 2012. This high sea level event affected thousands of miles of coastline.
Hurricane Sandy's enormous windfield developed an enormous fetch that generated huge waves which pounded North Carolina's Outer Banks. The waves damaged Rodanthe's fishing pier and removed the engineered dunes protecting the highway. They washed sand over the road, but they didn't destroy the road bed.
Highway NC-12 at S-Turns, Rodanthe, Outer Banks on October 30, 2012 after Hurricane Sandy. Blow up of air photo focused on S-Turns: http://www.flickr.com/...
The road bed was destroyed when the Gulf Stream collapsed and sea level rose over a foot above normal. Waves destroyed the road at high tide.
Highway NC-12 on November 19, 2012 when the Gulf Stream weakened and sea level rose.
These images of the Mercator Ocean's model of North Atlantic currents
show the collapse of the Gulf Stream that happened in fall 2012. On October 17 the Gulf Stream was moving at full strength.
On November 21 the Gulf Stream was very weak from Florida to North Carolina. The Loop Current in the Gulf of Mexico was also very weak.
The U.S. does not need Keystone XL for energy security. Stop it.
The U.S. is rapidly becoming energy independent without the Keystone XL importing dirty diluted bitumen from Canadian tar sands. It's all about profits to the Koch Brothers and big oil. It's about exporting refined products to foreign countries.
The U.S. is producing so much oil from shale that we will be energy independent in 5 to 7 years according to the chairman of the world's biggest refiner. All the horrific environmental damage from tar sands exploitation is totally unnecessary. It's about giving a few billionaires even more billions.
The U.S. had record exports of refined petroleum products in the last quarter of 2012. Increased fuel efficiency has cut demand while U.S. oil production has jumped up at record speed.
The U.S. is the world's largest fuel exporter.
We don't need to import toxic diluted bitumen from Canada.

A surge in U.S. oil production has made the nation the world's largest fuel exporter. Petroleum-product exports to Brazil grew by 59 percent in the first 11 months of 2012, to 255,000 barrels a day, according to data from the Energy Information Administration. Venezuelan imports from the U.S. rose 56 percent.

The U.S. met 84 percent of its own energy needs in the first 10 months of 2012, on track to be the highest annual rate since 1991, according to data from the EIA, the statistical arm of the Energy Department. The country's crude output grew by a record 766,000 barrels a day last year to the highest level in 15 years, the biggest annual jump since the first commercial well was drilled in Pennsylvania in 1859.
"Forward On Climate" Blogathon: February 11 - February 15, 2013
Diary Schedule - All Times Pacific
---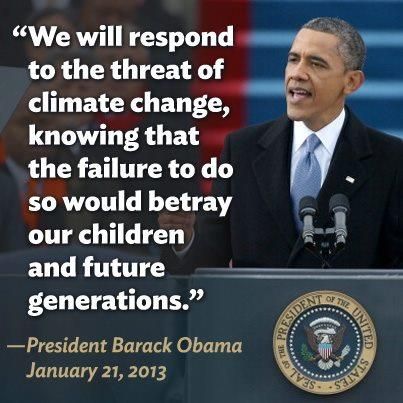 IT IS TIME TO TAKE A STAND
Please join tens of thousands of Americans on the National Mall in Washington, DC on Feb. 17 from 12:00 pm-4:00 pm to urge President Barack Obama to take immediate action on Climate Change.
President Obama has now listed Climate Change as an important part of his second term agenda. Legislative proposals and debate will occur in Congress. President Obama can take executive action to move Forward on Climate now; he can reject the toxic Keystone XL tar sands pipeline. A recent study in Canada has linked tar sands with cancer, something First Nations groups have reported for years - with the result being increased cancer rates, deformed wildlife, and a variety of other negative impacts. President Obama can also direct the Environmental Protection Agency to set carbon standards for power plants.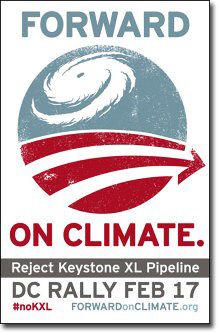 Let your voice be heard.
SIGN UP TO SUPPORT THE "FORWARD ON CLIMATE" RALLY IN WASHINGTON, DC ON FEBRUARY 17TH
Our Daily Kos community organizers (Patriot Daily News Clearinghouse, citisven, boatsie, JekyllnHyde, rb137, and peregrine kate) coordinated this blogathon with Bill McKibben of 350.org to help spread the word.
---
7:30 am: Keystone XL pipeline is not in the U.S. National Interest by A Siegel.
11:00 am: Forward on Climate: Time to Take a Stand! by citisven.
1:00 pm: Keystone XL Would Feed Superstorm Risk by Shaye Wolf, Climate Science Director for Center for Biological Diversity.
3:00 pm: Van Jones, President and Co-Founder of Rebuild the Dream. (will be rescheduled)
4:00 pm: Forward on Climate: 350 Silicon Valley...A Call to Action by Glen the Plumber.
5:00 pm: The Frog in the Boiling Water is Singing Outside My Window - Climate Change in a Microcosm by Kitsap River.
7:00 am: Climate Change SOS: Alberta Tar Sands: Canada dumped its Kyoto targets by Roger Fox.
11:00 am: Why We March by Allison Fisher, Outreach Director for Public Citizen's Energy Program.
1:00 pm: We Did Not Come This Far to Turn Around Now #ForwardOnClimate by Rev. Lennox Yearwood Jr., President of the Hip Hop Caucus.
3:00 pm: The Credibility of the Anti-Climate Change Science Industry by gregladen.
5:00 pm: Don't Date Denialists! — Relationship Advice From The Climate Letter Project (and more!) by WarrenS.
5:00 am: Tar Sands: Muskeg Destruction is more than a methane GHG bomb by Roger Fox.
5:00 am: BREAKING: WH arrests to come: Civil Disobedience Action on Keystone XL today by A Siegel.
7:00 am: What Obama can do on Climate Change without congress; because republicans by beach babe in fl.
1:00 pm: Forward on Climate: The Climate Cliff by Congressman Ed Markey, Democratic Candidate for 2013 United States Senate MA Special Election.
1:30 pm: Notes from the paddywagon: Keystone is the test by Bill McKibben.
2:00 pm: Tar Sands to consume all conventional natural gas reserves in Canada and Alaska by Roger Fox.
3:00 pm: The Gulf Stream Stalled, Sea Level Rose & the East Coast Flooded in November 2012 by FishOutofWater.
11:00 am: Marty Cobenais (Ojibwe), U.S. Pipeline & Heavy Haul Resistance Organizer for Indigenous Environmental Network. Liveblogging with Tom Goldtooth (Dine' and Dakota), Executive Director of IEN and Oglala Sioux Tribal Vice President Tom Poor Bear.
1:00 pm: rb137.
3:00 pm: James Wells.
5:00 pm: jlms qkw.
10:00 am: Phaedra Ellis-Lamkins, Chief Executive Officer of Green For All.
11:00 am: Agathena.
3:00 pm: DWG.
5:00 pm: Kelly Rigg.
---
Please remember to republish these diaries to your Daily Kos Groups. You can also follow all postings by clicking this link for the Climate Change SOS Blogathon Group. Then, click 'Follow' and that will make all postings show up in 'My Stream' of your Daily Kos page.