Good morning! Welcome to Day 3 of Daily Kos' weeklong blogathon "Forward on Climate" in the lead up to a huge Sunday, February 17th rally in Washington, D.C. cosponsored by Bill McKibben of 350.org; the Sierra Club; and the Hip Hop Caucus.
This Mothership diary offers lots of news, views, and resources for your entertainment and edification. Today's guest speakers are named at the end of the intro section, before the squiggle; the week's schedule and the core publicity for the Forward on Climate rally follow the squiggle.
Please consider this an open thread on anything and everything related to Climate Change and the upcoming rallies in D.C. and across the country this Sunday.

Title News Story

Major Climate Change Bill Coming to the Senate (George Zornick, The Nation)

Only an hour before President Obama is expected to deliver his State of the Union address—in which he might "go big" on the issue of combating climate change—two Senators announced they will introduce comprehensive climate change legislation this week, presenting a possible vehicle in the Senate for Obama's ambitions.

Senators Bernie Sanders and Barbara Boxer will outline the legislation on Thursday morning. Details are scant, though it's being billed as "major" and "comprehensive" legislation, and will have a carbon tax, per a statement from Sanders's office:

Under the legislation, a fee on carbon pollution emissions would fund historic
investments in energy efficiency and sustainable energy technologies such as
wind, solar, geothermal and biomass. The proposal also would provide rebates to
consumers to offset any efforts by oil, coal or gas companies to raise prices.

[Check out this press release from Sen. Sanders' office for a few more details; press conference this Thursday 2/14 at 11:00 ET.--pk]

Top Climate/Environment Stories from Tuesday, February 12

In a week dominated by the SOTU address and the upcoming Forward on Climate rally, it's not surprising that editorials and analysis should comprise the majority of climate change & environmental coverage. Here are just a few from yesterday, February 12, starting with the editorials:

The New Abolitionists: Global warming is the great moral crisis of our time (Wen Stephenson, Boston Phoenix)

[As] any number of seasoned activists will tell you, it's not ... the climate movement's job to offer detailed policy prescriptions that fit within the confines of our current politics. The movement's job is to tell the truth, however extreme — and to force those in power to recognize that even the outer limit of what our current politics will allow (a modest carbon tax, for example) is utterly inadequate to the crisis. Its job is to force that reckoning. To confront — and be prepared to sacrifice.

Yes, radicalism still carries risks, as it always has. But today those risks are mainly political, in the near-term. And at a moment when political possibility is closed off, we have to ask, are we actually risking anything meaningful at all? You might say I'm understating the risks of radicalization, that there may be other real consequences, from the personal to the social: that friendships, marriages, families may be torn apart; jobs lost, careers ruined, life options foreclosed; that there will be economic hardship, that social unrest, even violence, could erupt (just ask anyone over 55). Yes, I understand.

Meanwhile, the risks of moderation, of accepting and working within our current political constraints, are infinitely more grave. The risks of moderation are a matter of life, death, and suffering for untold millions of human beings, alive today and yet to be born. If we can't radically alter our politics — radically expand the limits of what's politically thinkable, as the abolitionists did in Lincoln's day — then we might as well not even talk about "climate action."

[This is a long, wide-ranging, and interesting essay by a founding member of the grassroots climate-action network 350 Massachusetts; it includes appreciation of Ed Markey's efforts to enact national legislation to mitigate climate change.--pk]

On Climate, A Call for Obama to Speak Forcefully and Act Urgently (Jon Queally, commondreams.org)

Following his remarks on climate change made during his inaugural address last month, progressives and environmentalists are making it clear what they want and expect from President Obama on Tuesday night when he delivers his State of the Union address: More.

[The piece quotes the leaders of the Forward on Climate rally plus others who've taken a strong stance against Keystone XL, including Michael Klare in a recent TomDispatch.com essay.--pk]

Speaking of TomDispatch and Michael Klare, this essay published on 2/10/13, and
reprinted on DKos here
, is worth a read, both for Tom's intro and Michael's analysis.
Tomgram: Michael Klare, Will the Keystone XL Pipeline Go Down? (Michael Klare, with introduction by Tom Engelhardt, TomDispatch.com)

Tom: Congress seems desperate to see that pipeline built. More than half the Senate -- 44 Republicans, including key Rice opponent John McCain, and nine Democrats -- signed a letter to that effect, but it matters little. Because of the international border Keystone XL crosses, only two people stand between us and its construction, the secretary of state and President Obama, who alone will make the final decision on whether the project should proceed.

Michael: The stakes in this battle could not be higher. If Keystone XL fails to win the president's approval, the industry will certainly grow at a far slower pace than forecast and possibly witness the failure of costly ventures, resulting in an industry-wide contraction. If approved, however, production will soar and global warming will occur at an even faster rate than previously projected. In this way, a presidential decision will have an unexpectedly decisive and lasting impact on all our lives.
Presidents almost always toss a few environmental promises into the State of the Union Address. Then they almost always fail to deliver. (The Daily Climate, Peter Dykstra)

An aura of excitement and predictability surrounds the president's annual State of the Union speech: A few days of hyped drama and TV punditry builds to a political Woodstock featuring generals, justices, senators, cabinet secretaries and Congress, all under one roof. Up in the balcony, the First Lady plays host to a few iconic, symbolic taxpayers who recently shared a heroic moment of fame with America.

If the past is prologue, the green talk and pageantry may be the only things delivered on the president's lofty words.
Environmentalists are on higher alert than normal this year, after President Obama made a sweeping inaugural promise to tackle climate change, an issue he'd largely avoided during his first term.

If the president reprises that theme in tonight's speech, he'll join a long list of predecessors to warn that we're leaving a mess for future generations. And if past is prologue, the green talk and pageantry may be the only things delivered on the president's lofty words.

[Now that the SOTU is a matter of record, it's up to us to lean on the President to implement his promises in the direction we would prefer.--pk]

Our own A Siegel wrote a quick response last night to the President's statements about climate change that is well worth a read: SOTU energy/climate highlights: P3: Priority + Payoff = Promise.

President Obama spoke forcefully about climate change and clean energy in the speech. While there are some significant problems embedded in the discussion, such as praise for natural gas, there is significant material worth cheering, supporting, and building on.

[A Siegel is also on this BREAKING story about Civil Disobedience over Keystone XL in the works for the WH today. Time to take a stand indeed!--pk]
Wisconsin Iron Mine Project Faces Challenge From Bad River Band Of Lake Superior Chippewa (Todd Richmond, HuffPo)

Gov. Scott Walker and the Republican-controlled Legislature are pushing to bring a huge iron mine to the Bad River's doorstep and revive an industry that has been dormant for nearly 50 years. Conservationists fear the mine would pollute the area, but supporters disagree and are fast-tracking a bill to clear the way.

In his two years in office, Walker has rolled over his Democratic adversaries and beaten a recall attempt, but he now faces a different kind of opponent. Though only 1,000 members live on the reservation, the tribe has legal status as a sovereign nation and could tie up the project in court, depriving Walker of his signature job creation achievement as he prepares for re-election.

Satellite eye on Earth: January 2013 - in pictures (The Guardian)

[Just in case we needed a reminder of what we're struggling to save, here are some recent photos of our globe--some of them showing indications of climate change effects.--pk]

Video of the Day
"Ghana Youth Against Keystone XL" have created and posted this statement on YouTube. Please help it get more views.

Climate Change Newsletters
I admit it's a dangerous temptation to me as a relative Climate Change activist newbie to want to read and learn about every little last thing about an issue before I actually do something about it.
That caveat provided, I'd like to suggest three sources of information for those who like me are new to the field. (That is, above and beyond the resources offered by the sponsors of the Forward on Climate rally themselves--and in addition to the organizations from which we've drawn diarists for this week's Blogathon.)
If you have other recommendations to offer, please do add them in the comments.
InsideClimate News is, in their words, "a non-partisan news organization that covers energy and climate change—plus the territory in between where law, policy and public opinion are shaped." Most of the stories on their site are the result of their own reportage, plus a few others from the web that their editors think deserve more circulation. They have an entire section devoted to coverage of Keystone XL/Tar Sands extraction issues (including the best coverage I've ever seen of the Kalamazoo River spill of over a million gallons of dilbit from an Enbridge pipeline in July 2010).
Rising Tide North America seeks to "organize locally, promote community-based solutions to the climate crisis and take direct action to confront the root causes of climate change." In service of their agenda, they offer a monthly compilation (see February 2013 Update) of relevant stories from around the world.
The Daily Climate "is an independent media organization working to increase public understanding of climate change, including its scope and scale, potential solutions and the political processes that impede or advance them.... [The] Daily Climate offers enterprise reporting on relevant topics alongside a unique daily aggregation of global journalism on climate science. Our daily news aggregation spans the political spectrum, from center right to center left."

Today's Featured Guest

Congressman Ed Markey, one of our national leaders on environment and energy, has frequently challenged the tar sands pipelines, including the ability of safely delivering "corrosive oil" from Canada to the US.











Today's Diary Schedule (all times PT) EDITED to include early morning diaries

5:00 am:
Tar Sands: Muskeg Destruction is more than a methane GHG bomb
by
Roger Fox
.
5:14 am:
BREAKING: WH arrests to come: Civil Disobedience Action on Keystone XL Today
by
A Siegel
.
6:42 am:
What Obama can do on Climate Change without congress; because republicans
by
beach babe in fl
.
10:30 am:
NEW TIME
Congressman Ed Markey
, Democratic Candidate for 2013 United States Senate MA Special Election.
11:00 am:
Jeremy Bloom
.
3:00 pm:
FishOutofWater
.
5:00 pm:
Roger Fox
.

Follow on Twitter: #nokxl and #ForwardOnClimate
"Forward On Climate" Rally - February 17, 2013, 12:00 pm, Washington, DC

---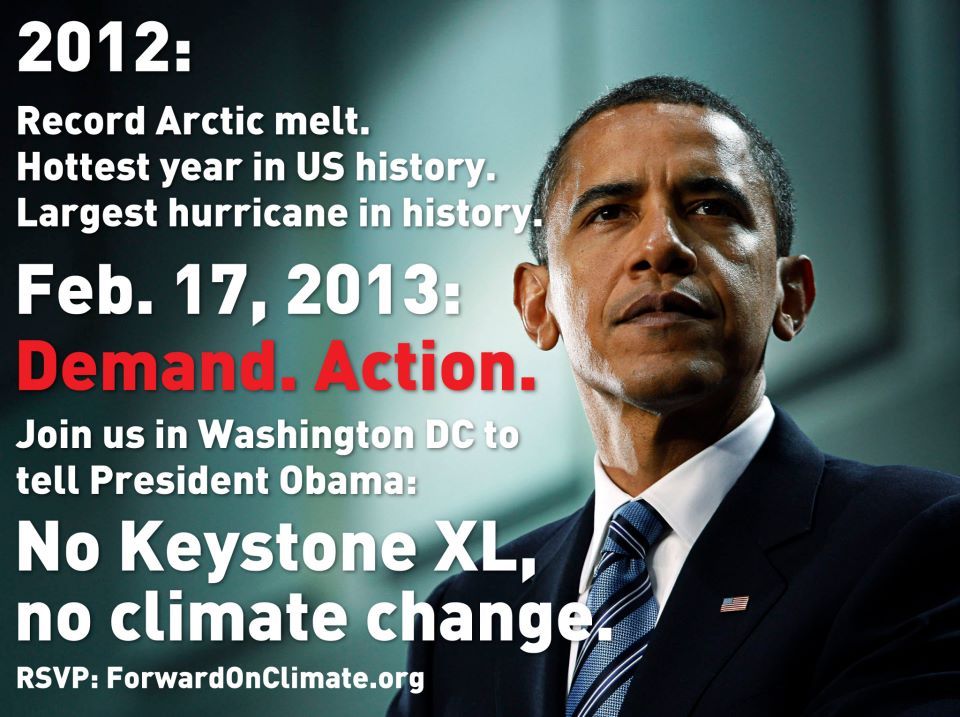 Link - feel free to post on your Facebook pages.
There are Kossack Meet-ups Coinciding with Forward on Climate Rally. Send eeff a kosmail if you're interested in connecting the night before or the night of the event. Check New Day diaries for the latest updates and RSVPs.
Also, if you're trying to hitch a ride to Washington D.C. from other places around the country, check the Sierra Club's excellent bus list.
"Forward On Climate" Blogathon: February 11 - February 15, 2013
Diary Schedule - All Times Pacific
---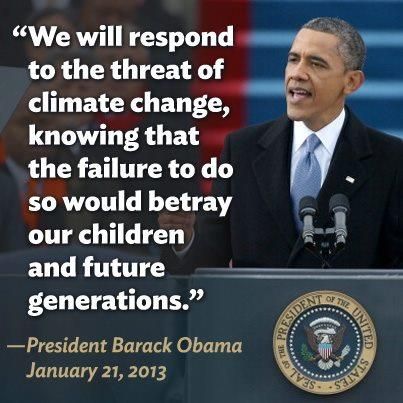 IT IS TIME TO TAKE A STAND
Please join tens of thousands of Americans on the National Mall in Washington, DC on Feb. 17 from 12:00 pm-4:00 pm to urge President Barack Obama to take immediate action on Climate Change.
President Obama has now listed Climate Change as an important part of his second term agenda. Legislative proposals and debate will occur in Congress. President Obama can take executive action to move Forward on Climate now; he can reject the toxic Keystone XL tar sands pipeline. A recent study in Canada has linked tar sands with cancer, something First Nations groups have reported for years - with the result being increased cancer rates, deformed wildlife, and a variety of other negative impacts. President Obama can also direct the Environmental Protection Agency to set carbon standards for power plants.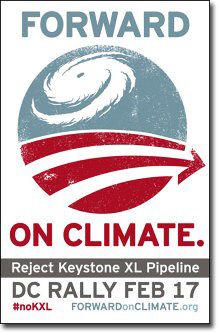 Let your voice be heard.
SIGN UP TO SUPPORT THE "FORWARD ON CLIMATE" RALLY IN WASHINGTON, DC ON FEBRUARY 17TH
Our Daily Kos community organizers (Patriot Daily News Clearinghouse, citisven, boatsie, JekyllnHyde, rb137, and peregrine kate) coordinated this blogathon with Bill McKibben of 350.org to help spread the word.
---
7:30 am: Keystone XL pipeline is not in the U.S. National Interest by A Siegel.
11:00 am: Forward on Climate: Time to Take a Stand! by citisven.
1:00 pm: Keystone XL Would Feed Superstorm Risk by Shaye Wolf, Climate Science Director for Center for Biological Diversity.
3:00 pm: Van Jones, President and Co-Founder of Rebuild the Dream. (will be rescheduled)
4:00 pm: Forward on Climate: 350 Silicon Valley...A Call to Action by Glen the Plumber.
5:00 pm: The Frog in the Boiling Water is Singing Outside My Window - Climate Change in a Microcosm by Kitsap River.
7:00 am: Climate Change SOS: Alberta Tar Sands: Canada dumped its Kyoto targets by Roger Fox.
11:00 am: Why We March by Allison Fisher, Outreach Director for Public Citizen's Energy Program.
1:00 pm: We Did Not Come This Far to Turn Around Now #ForwardOnClimate by Rev. Lennox Yearwood Jr., President of the Hip Hop Caucus.
3:00 pm: The Credibility of the Anti-Climate Change Science Industry by gregladen.
5:00 pm: Don't Date Denialists! — Relationship Advice From The Climate Letter Project (and more!) by WarrenS.
11:00 am: Jeremy Bloom.
1:00 pm: Congressman Ed Markey, Democratic Candidate for 2013 United States Senate MA Special Election.
3:00 pm: FishOutofWater.
5:00 pm: Roger Fox.
11:00 am: Marty Cobenais (Ojibwe), U.S. Pipeline & Heavy Haul Resistance Organizer for Indigenous Environmental Network. Liveblogging with Tom Goldtooth (Dine' and Dakota), Executive Director of IEN and Oglala Sioux Tribal Vice President Tom Poor Bear.
1:00 pm: rb137.
3:00 pm: James Wells.
5:00 pm: jlms qkw.
10:00 am: Phaedra Ellis-Lamkins, Chief Executive Officer of Green For All.
11:00 am: Agathena.
3:00 pm: DWG.
---
Please remember to republish these diaries to your Daily Kos Groups. You can also follow all postings by clicking this link for the Climate Change SOS Blogathon Group. Then, click 'Follow' and that will make all postings show up in 'My Stream' of your Daily Kos page.