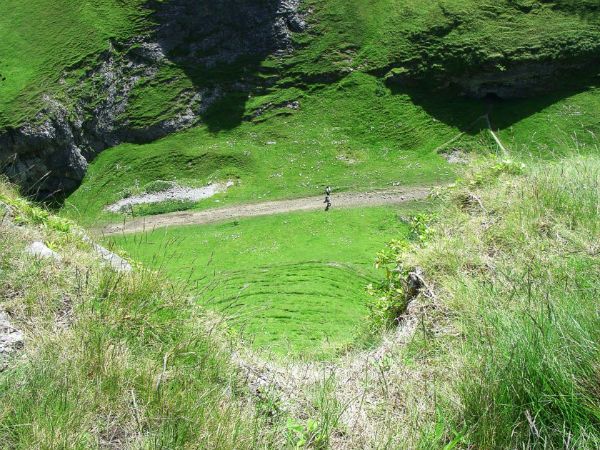 Here is a jewel of the Peak District National Park; Cave Dale is located immediately to the west of the ridge on which the historic Peveril Castle stands. It is a steep sided limestone valley, or dale, in Derbyshire terms. Cave Dale's steep sides are almost impossible for attackers to scale at this point, forming nearly sheer walls around 300 feet high, which is why the Normans (lead by William Peveril) chose this site for their castle. Underneath this dale, there are huge cave systems such as Peak Cavern, Blue John Cavern, Treak Cliff Cavern, and the Speedwell Cavern, most of which can be accessed from Castleton. These caverns are a focus for speleologists, and survey teams have spent decades probing deeper and deeper into the interlinked systems.
The dale is scattered with outcroppings of old lead workings, and some of these can be dangerous, so walkers need to be careful. The Romans mined in this area, and exported ingots of silver and silver/lead alloy (according to the markings), back to Imperial Rome. One of the oldest lead mines in the country, the Odin Mine (closed in 1847) and its well preserved ore-crushing circle, is less than a mile west of Castleton; it is on National Trust land, and is well signposted by them. The Odin Mine was mentioned in early written records as far back as 1260. Rock climbing enthusiasts also enjoy the 'pitches' at the top end of the dale, as some of them are rated 'Very Severe'.
If you look closely, you will see two walkers going down the dale, several hundred feet below you; they are on the Limestone Way, which goes from Castleton, all the way to Rocester in the Dove Valley in Staffordshire . The route is extremely interesting, affording many beautiful views of the Peak District, and includes such notable spots as Miller's Dale, Youlgrave, Winster, Matlock, and Tissington (about 50 miles, in total). If you want to tread this pretty bridle path, then follow the small, green 'Derby Ram' signs!