Do not mistake the Tar Sands Partners for political neophytes, they are politically savvy and from all appearances are planning for all contingencies. The Keystone pipeline is one proposal to get tar sands oil to market. At peak production the Alberta Tar Sands is expected to produce about 4 to 5 million barrels a day. The Tar Sands Partners will need pipeline capacity of 4 to 5 million barrels a day. Of all existing or proposed pipelines the Keystone XL is the largest project of its kind, it represents about a fith of that capacity, about 900,000 barrels a day.
There are more pipeline proposals from the tar sands to the west coast of Canada, multiple routes have been proposed. The Enbridge proposal runs just about due west from the tar sands, thru First Nation lands to Kitimat on the coast where a supertanker loading facility is proposed. Supertankers are the first choice to ship oil long distances, carrying up to 4 million barrels of crude, in this case analysts say to Asia.
There exists another west bound pipeline the Morgan Kinder line. It runs to port at Burnaby, British Columbia. The Burnaby terminal handle tankers up to 650,000 barrels, and Morgan Kinder is looking to add another facility to handle tankers capable of carrying up to 1 million barrels. These smaller tankers head south to California with the tar sands crude.
Integrated plan to deliver tar sands crude oil to market.
Distilled down, there 3 pipelines with 3 distinct goals. The Enbridge proposal would deliver 550,000 barrels a day to Kitimat, where supertankers would take the oil to Market in Asia. Keystone goes to the heart of US oil country, Texas, slated to deliver 900,000 barrels a day. The Morgan Kinder Trans Mountain pipeline in operation since 1953, delivers 300,000 barrels a day to Burnaby B.C., where smaller coastal tankers head south to deliver oil to the West Coast if the US.

The Keystone proposal.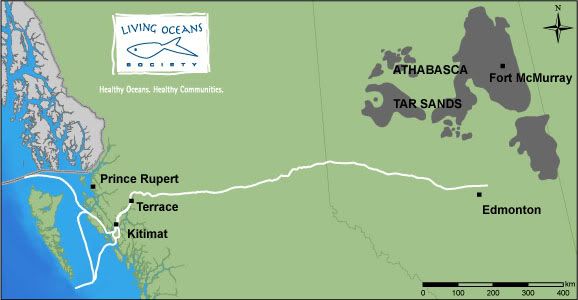 The Enbridge proposal in relation to the Alberta Tar Sands.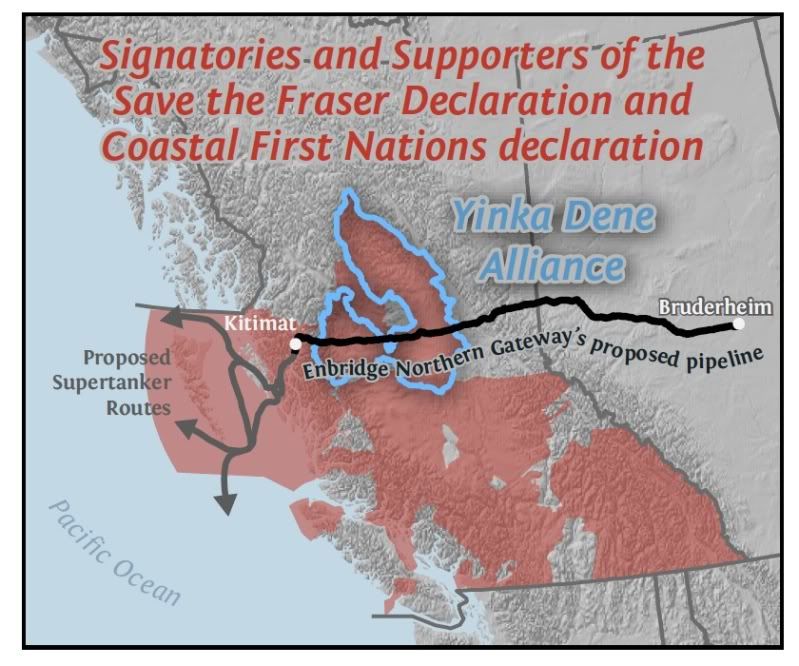 Image from Carol Linnitt showing the Enbridge proposal in relation to First Nation lands.

The Yinka Dene Alliance expressed in May that, under no circumstance, were they interested in negotiating with Enbridge.
http://www.desmogblog.com/...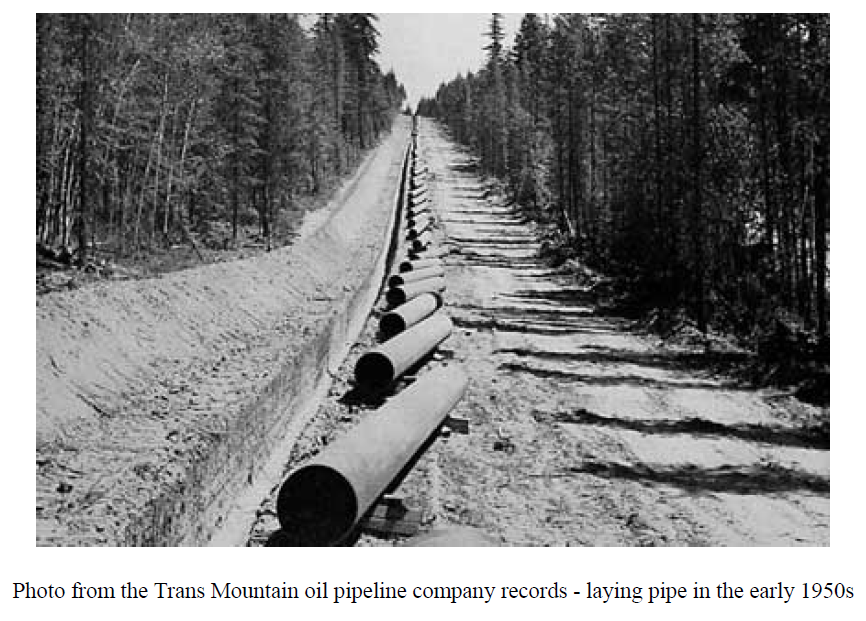 The larger picture.
The Kinder Morgan presentation says the Transmountain pipeline branch to Kitimat would cost $4 billion, compared to the $5.5 billion that Enbridge has budgeted for the Northern Gateway project. The Transmountain pipeline would have a capacity of 450 million barrels a day compared to the Northern Gateway capacity of 550 million barrels a day.
http://nwcoastenergynews.com/...
t
he Vancouver end of the project would require the dredging of Second Narrows to allow large supertankers to visit the port. Tanker traffic in Vancouver would increase,
http://nwcoastenergynews.com/...
An expansion of the Trans Mountain system using its existing right of way is likely to face less opposition than the Northern Gateway has received, with First Nations along that line's planned route pledging to block access to their lands.
http://uk.reuters.com/...
Kinder Morgan has long discussed plans to expand the Trans Mountain system, which it ultimately hopes to bring to 700,000 barrels a day. In 2008, it completed a $750-million project that added 40,000 barrels of pipe capacity by twinning the system through Jasper National Park.
http://uk.reuters.com/...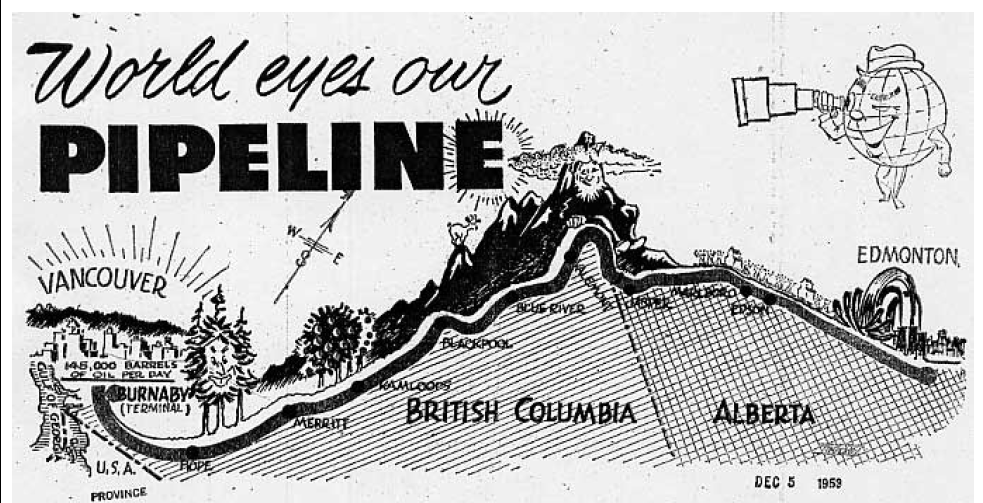 The expansion is underway, the twinning or adding a second parallel pipeline. By adding a northern route that heads to Kitimat, that pipeline avoids the First Nations lands, and a supertanker loading facility at Kitimat means an expansion of the Vancouver facility to handle supertankers isn't as vital.
On the Gulf Coast the Louisiana Offshore oil Platform (LOOP) will soon be connected to Houston and Port Arthur via the Westward Ho pipeline, which will have a 900,000 bpd capacity. This project gives Houston and Port Arthur Refineries and Catalytic Crackers accesses to (Cat Crackers break down long chain hydrocarbons in heavy oil) the Loop, where something like 13% of the Nations oil arrives.
If the Keystone XL is built to Port Arthur, it is more than possible to refine it to light sweet syncrude and load super tankers at the LOOP, and ship the syncrude to Western Europe. The Catalytic Cracker capacity exists, the pipelines could be built, and the LOOP is in 100 ft of water, where super tankers dock. For supertankers making the trip from the LOOP to Western Europe, its a shorter route than from the Mid East. Remember the Suez canal limits the size of tankers to a size known as Suez Max. Supertankers sailing from the Mid East have to go south around the Cape of Good Hope, and brave rouge waves and some of the worst weather in the world to get to western Europe.
Access to Asian markets is also limited to pipeline capacity and the lack of offshore super tanker loading facilities on the Pacific coast of British Columbia. My estimation is that the Tar Sands Partners will do what ever they can to secure at least 2.5 million barrels a day of pipeline capacity if not 3mbpd, to Pacific ports, and a super tanker loading facility, otherwise the Asian markets are closed to Canadian oil or its syncrude products.
Ed Struzik of e360.yale.edu writes that we should not count out the Northern Gateway or Keystone XL, experts note that tar sands development is growing so fast that the oil industry or the governments in Canada can afford to see these pipelines fail. The forces supporting the Northern Gateway pipeline are very powerful, notably the Canadian government.

"The pipeline capacity story is complex, but it is clear that Keystone XL and Enbridge Northern Gateway are critical to support the proposed level of expansion industry wants," says Simon Dyer, policy director of the Alberta-based Pembina Institute, a think tank that tracks energy and environmental developments.

Such assessments are borne out by the statistics. As of November 2011, the 101 oil sands projects in Alberta were producing about 1.3 million barrels of oil a day. Once new projects come on stream, production will increase to 3.5 million barrels a day in 2020 and 5 million barrels a day in 2030, oil industry executives say
"There will have to be Pacific tidewater access in order to avoid a shutdown in western Canadian oil production," says University of Calgary resource economist Robert L. Mansell.
If the Keystone XL and Enbridge Northern Gateway pipelines are built, it is truly game over, the fastest growing carbon emission source on the planet will have a license to triple production and operate for another 85 years.
#ForwardOnCLimate
#noKXL ! ! !
"Forward On Climate" Blogathon: February 11 - February 15, 2013
Diary Schedule - All Times Pacific
---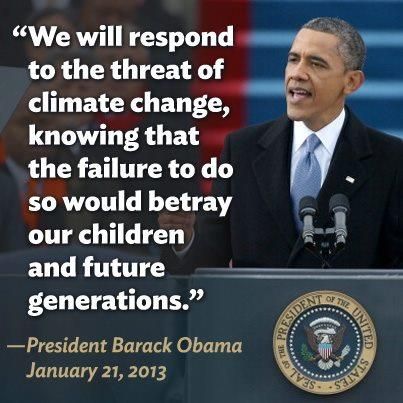 IT IS TIME TO TAKE A STAND
Please join tens of thousands of Americans on the National Mall in Washington, DC on Feb. 17 from 12:00 pm-4:00 pm to urge President Barack Obama to take immediate action on Climate Change.
President Obama has now listed Climate Change as an important part of his second term agenda. Legislative proposals and debate will occur in Congress. President Obama can take executive action to move Forward on Climate now; he can reject the toxic Keystone XL tar sands pipeline. A recent study in Canada has linked tar sands with cancer, something First Nations groups have reported for years - with the result being increased cancer rates, deformed wildlife, and a variety of other negative impacts. President Obama can also direct the Environmental Protection Agency to set carbon standards for power plants.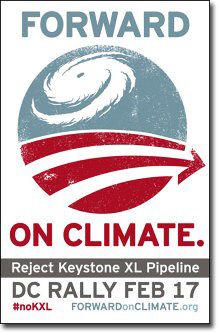 Let your voice be heard.
SIGN UP TO SUPPORT THE "FORWARD ON CLIMATE" RALLY IN WASHINGTON, DC ON FEBRUARY 17TH
Our Daily Kos community organizers (Patriot Daily News Clearinghouse, citisven, boatsie, JekyllnHyde, rb137, and peregrine kate) coordinated this blogathon with Bill McKibben of 350.org to help spread the word.
---
8:00 am: Roger Fox Tar Sands: Muskeg Destruction is more than a methane GHG bomb.
11:00 am: Jeremy Bloom.
1:00 pm: Congressman Ed Markey, Democratic Candidate for 2013 United States Senate MA Special Election.
3:00 pm: FishOutofWater.
5:00 pm: Roger Fox Pipeline bottleneck may force slowdown of Tar Sands.
8:00 am: Roger Fox Tar Sands to consume all conventional natural gas reserves in Canada and Alaska.
11:00 am: Marty Cobenais (Ojibwe), U.S. Pipeline & Heavy Haul Resistance Organizer for Indigenous Environmental Network. Liveblogging with Tom Goldtooth (Dine' and Dakota), Executive Director of IEN and Oglala Sioux Tribal Vice President Tom Poor Bear.
1:00 pm: rb137.
3:00 pm: James Wells.
5:00 pm: jlms qkw.
8:00 am: Roger Fox Forward on Climate-EPA: Tar Sands-82% more GHG than conventional oil.
10:00 am: Phaedra Ellis-Lamkins, Chief Executive Officer of Green For All.
11:00 am: Agathena.
3:00 pm: DWG.
5:00 pm: JekyllnHyde.
---
Please remember to republish these diaries to your Daily Kos Groups. You can also follow all postings by clicking this link for the Climate Change SOS Blogathon Group. Then, click 'Follow' and that will make all postings show up in 'My Stream' of your Daily Kos page.