Unfettered by yesterday's civil disobedience and their arrest as members of the "Forward 48" outside the White House, "jailbirds" 350.org's Bill McKibben and Sierra Club Executive Director Michael Brune this morning attended a Congressional press conference with Senators Bernie Sanders and Barbara Boxer to introduce major climate change legislation.
(Watch video of the Press Conference here.)
Senator Sanders said the bill would be pass when "when Millions of people stand up and tell Congress "You cannot ignore this planetary crisis any longer!"
Sanders will be posting to Daily Kos later today.
"If the sky belongs to anybody it belongs to us and not the fossil fuel industries," said McKibben, speaking of the tens of thousands expected in Washington this weekend for the #forwardonclimate rally.
Brune, whose parents and young children were in the room, said that while his childhood home on the Jersey Shore is still uninhabitable four months after Hurricane Sandy and that the topics being discussed were most certainly frightening, there is not enough discussion about the optimism which underlies the shift in direction necessary to work towards a sustainable future.
"We don't often talk about economic opportunity inherent in clean energy transformatoin," he said. "My children will be the first generation to grow up in a society powered by energy that is safe sustainable."
Under the legislation, a fee on carbon pollution emissions would fund historic investments in energy efficiency and sustainable energy technologies such as wind, solar, geothermal and biomass. The proposal also would provide rebates to consumers to offset any efforts by oil, coal or gas companies to raise prices.
Good morning! It's Day 4 of Daily Kos' weeklong blogathon "Forward on Climate' and just In case you had any doubt about it,
"We Did Not Come This Far to Turn Around Now!!"
The Daily Kos community presents this blogthon to do our part and build momentum for the huge Sunday, February 17th rally in Washington, D.C.
Sponsored by 350.org, the Sierra Club, and the Hip Hop Caucus, the Forward On Climate week of action also features Sunday rallies in locations around the country.

Top Climate/Environment Stories from Wednesday, February 13

Activists Arrested at White House protesting Keystone Pipleine (WAPO)
Shortly after noon, D.C. police began arresting the protesters, who included actress Daryl Hannah as well as prominent climate scientist James E. Hansen, Sierra Club Executive Director Michael Brune and civil rights veteran Julian Bond. Some of the activists tied themselves to the gates with plastic handcuffs; others sat and refused to budge despite officers' multiple requests.

(snip)

"Whether it's convenient or not for our politicians, this is the test," McKibben said in an interview before being arrested, adding that Wednesday's protest and a climate rally slated to take place Sunday in Washington were designed "just to keep this in front of people's minds. . . . This is the first environmental issue that's brought Americans into the streets in many, many years."
See more coverage of WH Civil Disobedience at
HuffPo

Tar Sands Action Site Relaunches
The TarSandsAction website is live again and provided minute-by-minute coverage and pictures of yesterday's arrests.

Climate Change Threatens Health


Air pollution, infectious disease, extreme heat, drought, and flooding are all on the rise. NRDC Senior Scientist Kim Knowlton explains how these climate-related effects can threaten health.
Obama Climate Change Poll Finds Majority Supports 'Significant Steps' To Tackle Problem
Sixty-five percent of Americans support "the President taking significant steps to address climate change now," including 89 percent of Democrats, 62 percent of independents and 38 percent of Republicans.

The survey finds that most Americans see climate change as a tangible threat, as 61 percent said climate change is already affecting them or will affect them sometime in their life. An overwhelming 93 percent say there is a moral obligation to leave an Earth not polluted or damaged to future generations, with 67 percent strongly agreeing.
New York Governor Puts Off Decision on Fracking
Gov. Andrew M. Cuomo is becoming Hamlet on the Shale.
On Tuesday, Mr. Cuomo's administration again delayed making a decision on whether to allow hydraulic fracturing, a controversial drilling method used to extract natural gas from rock formations like the Marcellus Shale, which extends from the Appalachian Mountains to New York.
Clean air activists stage 'coff-in' to protest tar sands mining
SALT LAKE CITY — Clean air activists gathered to protest against tar sands strip mining Wednesday at Gov. Gary Herbert's office in the state Capitol. The protest, led by Utah Tar Sands Resistance and Peaceful Uprising, was called a "Coff-in" (cough-in) in reference to air quality.
Women of the Land Speak: Dispatches from the Front-lines of the Tar Sands to Renewables
In conjunction with Sunday's demonstration, the Women's Earth and Climate Caucus (WECC) delegation to DC hosts an evening featuring indigenous women leaders speaking out against the tar sands and its violation of their lands and communities and the implementation of clean-energy solutions.
Indigenous communities and women of the land are taking the lead to stop the largest industrial project on Earth. From Northern Alberta, which is ground zero with over 20 corporations operating in the tar sands sacrifice zone, to Texas where the XL Keystone pipeline is under construction, the tar sands and related infrastructure are threatening communities across North America. The cultural heritage, land, ecosystems and health of land-based communities are being sacrificed for oil money in what has been termed a "slow industrial genocide."

INTERNATIONAL CLIMATE NEWS
Journal launch: How much carbon is on that farm? Quantifying agricultural greenhouse gases
CCAFS and the Nicholas Institute at Duke University launched a new set of journal articles that explore accurate and cost-effective methods for reporting on agricultural greenhouse gas stocks and emissions. This could help developing countries take stock of their emissions and cash in on emissions reductions.
Why Canadians Should Care about Keystone XL Pipeline Protests at the White House
(DeSmog Canada)
Kevin Grandia writes:

The question for Canadians in all this is not whether we pump tar sands oil down to the United States, but instead a much bigger question of what we want our country to be, and be known for by other people in other countries. In the name of fiscal prosperity at all expense, Stephen Harper's conservative government has decided that Canada will tether itself to the exponential development of the tar sands for decades to come.

Since the Conservative Party and Stephen Harper have taken power, our Canadian government walked away from the Kyoto protocol, when we were one of the first countries to sign it and motivated other countries to follow our lead. Our government fought against a plan by the G20 nations to reduce fossil fuel tax breaks to companies like ExxonMobil, the most profitable company in the history of companies.

Most recently, our government passed a bill that will reduce environmental protections for proposed new tar sands operations. And most egregiously, our government is supporting lobbying efforts to convince the world that our tar sands oil is not only clean, but that is it also "ethical."
UNFCCC expands efforts to increase regional distribution
(via listserv communique)
The United Nations Framework Convention on Climate Change (UNFCCC) secretariat and the East African Development Bank (EADB) have signed a partnership agreement to establish a regional collaboration centre in Kampala, Uganda in an effort to increase participation in clean development mechanism (CDM) projects.

The partnership agreement was signed by the UNFCCC Executive Secretary, Christiana Figueres, and the Director General of EADB, Vivienne Yeda.

The office in Kampala will be operational as of 1 May 2013. Besides hosting the office, the EADB is also expected to provide personnel, as well as administrative and logistical support.

The new office in Kampala is expected to enhance capacity-building and provide hands-on support to governments, non-governmental organizations and businesses interested in developing CDM projects in more than 20 countries in the region. Among the countries that can seek support from the new office are Kenya, Uganda, Tanzania, Rwanda, Burundi, Angola, Botswana, Comoros, Egypt, Equatorial Guinea, Eritrea, Ethiopia, Lesotho, Libya, Malawi, Mauritius, Mozambique, Namibia, Seychelles, South Africa, Sudan, Swaziland, Zambia and Zimbabwe.

Uganda, where the new office will be established, is one of the Least Developed Countries that is leading by example as it has already reaped sustainable development and other benefits from the CDM. There are currently 12 projects and four programmes of activities (PoAs) registered under the CDM in the country.

The regional collaboration centres are intended to support the identification of CDM projects, provide assistance for the design of such projects, address issues identified by validators, and offer opportunities to reduce transaction costs.

This is the second regional collaboration centre established by the UNFCCC and a regional development bank in Africa with the aim to bring the benefits of the CDM to currently under-represented regions. The first centre, which was established a few months ago in Lomé, Togo in collaboration with the Banque Ouest Africaine de Développement (BOAD), provides assistance in the development of CDM projects in Francophone Africa.

The office in Kampala will be operational as of 1 May 2013. Besides hosting the office, the EADB is also expected to provide personnel, as well as administrative and logistical support.

Video of the Day

"I'm expecting that Sunday will be the biggest rally about climate change that there's ever been in this country," Bill McKibben says about this Sunday's #ForwardOnClimate rally in Washington, DC.
Move America #ForwardOnClimate

Halfway to goal of 1.9 Million members with 3 days to go! Join Thunderclap to send your message to President Obama:

"I call on Barack Obama to move #ForwardOnClimate. Pls RT & watch the largest US rally for climate action live: http://thndr.it/...

Follow on Twitter: #nokxl and #ForwardOnClimate
@KXL blockade
Today's Featured Guests

Kelly Rigg is the Executive Director of the Global Campaign for Climate Action or GCCA, a global alliance of 300 organizations cooperating under the banner of the tcktcktck campaign. She has been leading international campaigns for nearly 30 years on climate, energy, oceans, Antarctica and other issues. She was a senior campaign director for Greenpeace International during 20 years with the organization. After leaving Greenpeace she went on to found the Varda Group consultancy providing campaign and strategic advice to a wide range of NGOs, and led the Deep Sea Conservation Coalition's campaign to protect the high seas from destructive bottom fishing.










Today's Diary Schedule (all times PT) EDITED to include early morning diaries

11:00 am: Kelly Rigg. Executive Director of Global Campaign for Climate Action
1:00 pm: rb137.
3:00 pm: James Wells.
5:00 pm: jlms qkw.

Please consider this an open thread on anything and everything related to Climate Change and the upcoming rallies in D.C. and across the country this Sunday.
"Forward On Climate" Blogathon: February 11 - February 15, 2013
Diary Schedule - All Times Pacific
---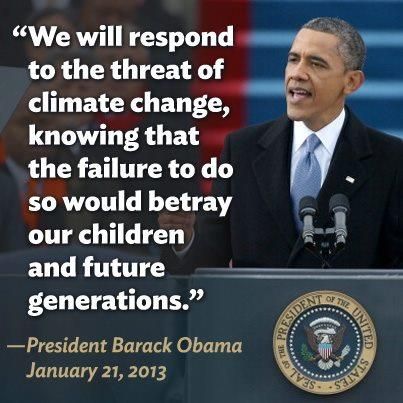 IT IS TIME TO TAKE A STAND
Please join tens of thousands of Americans on the National Mall in Washington, DC on Feb. 17 from 12:00 pm-4:00 pm to urge President Barack Obama to take immediate action on Climate Change.
President Obama has now listed Climate Change as an important part of his second term agenda. Legislative proposals and debate will occur in Congress. President Obama can take executive action to move Forward on Climate now; he can reject the toxic Keystone XL tar sands pipeline. A recent study in Canada has linked tar sands with cancer, something First Nations groups have reported for years - with the result being increased cancer rates, deformed wildlife, and a variety of other negative impacts. President Obama can also direct the Environmental Protection Agency to set carbon standards for power plants.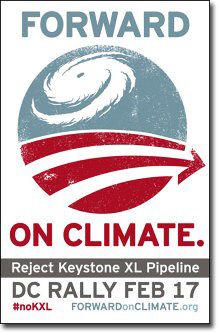 Let your voice be heard.
SIGN UP TO SUPPORT THE "FORWARD ON CLIMATE" RALLY IN WASHINGTON, DC ON FEBRUARY 17TH
Our Daily Kos community organizers (Patriot Daily News Clearinghouse, citisven, boatsie, JekyllnHyde, rb137, and peregrine kate) coordinated this blogathon with Bill McKibben of 350.org to help spread the word.
---
7:30 am: Keystone XL pipeline is not in the U.S. National Interest by A Siegel.
11:00 am: Forward on Climate: Time to Take a Stand! by citisven.
1:00 pm: Keystone XL Would Feed Superstorm Risk by Shaye Wolf, Climate Science Director for Center for Biological Diversity.
3:00 pm: Van Jones, President and Co-Founder of Rebuild the Dream. (will be rescheduled)
4:00 pm: Forward on Climate: 350 Silicon Valley...A Call to Action by Glen the Plumber.
5:00 pm: The Frog in the Boiling Water is Singing Outside My Window - Climate Change in a Microcosm by Kitsap River.
7:00 am: Climate Change SOS: Alberta Tar Sands: Canada dumped its Kyoto targets by Roger Fox.
11:00 am: Why We March by Allison Fisher, Outreach Director for Public Citizen's Energy Program.
1:00 pm: We Did Not Come This Far to Turn Around Now #ForwardOnClimate by Rev. Lennox Yearwood Jr., President of the Hip Hop Caucus.
2:00 pm: The Reluctance to Change vs The Willingness to Change by John Crapper
3:00 pm: The Credibility of the Anti-Climate Change Science Industry by gregladen.
5:00 pm: Don't Date Denialists! — Relationship Advice From The Climate Letter Project (and more!) by WarrenS.
5:00 am: Tar Sands: Muskeg Destruction is more than a methane GHG bomb by Roger Fox.
5:00 am: BREAKING: WH arrests to come: Civil Disobedience Action on Keystone XL today by A Siegel.
7:00 am: What Obama can do on Climate Change without congress; because republicans by beach babe in fl.
1:00 pm: Forward on Climate: The Climate Cliff by Congressman Ed Markey, Democratic Candidate for 2013 United States Senate MA Special Election.
1:30 pm: Notes from the paddywagon: Keystone is the test by Bill McKibben.
2:00 pm: Tar Sands to consume all conventional natural gas reserves in Canada and Alaska by Roger Fox.
3:00 pm: The Gulf Stream Stalled, Sea Level Rose & the East Coast Flooded in November 2012 by FishOutofWater.
5:00 pm: To Keystone Activists: An Homage from the Overpass Light Brigade by noise of rain.
11:00 am: Kelly Rigg. is the Executive Director of the Global Campaign for Climate Action or GCCA, a global alliance of 300 organizations cooperating under the banner of the tcktcktck campaign.
1:00 pm: rb137.
3:00 pm: James Wells.
5:00 pm: jlms qkw.
10:00 am: Phaedra Ellis-Lamkins, Chief Executive Officer of Green For All.
11:00 am: Agathena.
12:00 pm: Marty Cobenais (Ojibwe), U.S. Pipeline & Heavy Haul Resistance Organizer for Indigenous Environmental Network. Liveblogging with Tom Goldtooth (Dine' and Dakota), Executive Director of IEN and Oglala Sioux Tribal Vice President Tom Poor Bear.
3:00 pm: DWG.
---
Please remember to republish these diaries to your Daily Kos Groups. You can also follow all postings by clicking this link for the Climate Change SOS Blogathon Group. Then, click 'Follow' and that will make all postings show up in 'My Stream' of your Daily Kos page.
8:06 AM PT: Sanders: Fear grandchldren will ask "WHERE WERE THEY? WHY DIDN"T USOFA lead internatinal community in cutting GHGs and preventing devvastation damage scientific community told them was sure to come?
what we are dealilng with today is NOT political. what wer are dealing with today is PHYSICS. the projects they made in recent years were wrong.

THey UNDERESTIMATED THE CRISIS & Damage much more serious.
If we continue along our path and take no decisive action this planet could be at least 8 degrees warmer than is currenlty the case...
What would that mean to the planet? Sea levels rise 3-6 feet fllood Boston Miami manhatten make them uninhabitable. more and more extreme weather experiences.

billions ever trillins in cost. devasting hard to economy price food escalate