CNBC has started to use term "goldilocks economy" again for the first time since 2008, and bullish sentiment on Wall Street has reached multi-year highs.
It might make you think that all is well in the global economy.
But a casual glance around the industrialized world would change your mind.
We aren't just talking Greece and Portugal anymore. The "core" nations of the Euro, Germany and Italy and France, are also slipping into recession, as is Netherlands.
Outside of the Euro, things aren't much different.
The official figures were the fourth quarter of negative growth in the last five and mean that the UK flatlined for last year as a whole – posting zero growth.
The economy is smaller than it was in September 2011 and still 3.3pc below its pre-crisis peak.
Making matters worse, there was scant evidence in the data that the economy is rebalancing from consumption to manufacturing. Output by Britain's factories fell by 1.5pc in the quarter and by 1.8pc for the year as a whole – the first annual decline since 2009.
But don't worry. Leading economists (you know, the same guys who failed to predict the 2008 crash) are predicting that UK will avoid a triple-dip recession.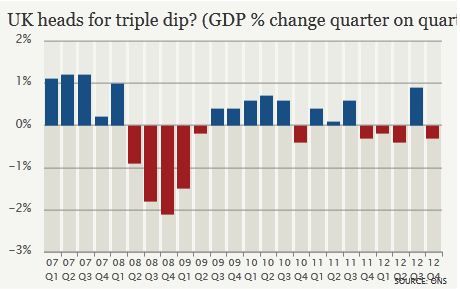 OK. So Europe is a disaster. But what about the rest of the industrialized world?
Let's look at the other side of the world - Japan.
Also, very ungood.
In fact, while the stock and bond markets (even those in Europe) are booming, the real economy for almost the entire industrialized world is deteriorating, especially for the young.
Now it's only fair that I qualify this diary by saying that there is one other G7 nation other than America that isn't in recession - Canada.
But like the U.S., Canada's economy isn't exactly booming either.
Canada has been able to plod along thus far, yet is ill-poised to handle external shocks. Expectations are muted: the recent consensus among economists surveyed by Bloomberg was that our GDP should expand by a meager 1.8% in 2013, a pace commonly known as "stall speed." As a leading trading nation, we are dependent on global demand for crude oil, metals and manufactured goods. If global commodity demand dips— something that looks increasingly likely— you could kiss today's predictions of razor thin GDP growth goodbye.
In 2011, exports from the U.S. totalled $2.1 Trillion and accounted for
13.8% of our GDP
. If the world economy continues to slide, what are the chances that we will continue to avoid a recession? What are the chances that the booming stock market will continue to boom?