I hadn't thought to write about the sinkhole here. Figured someone must have covered it (and, of course, someone has; can't scoop you guys), and besides, it's been all over the news.
Then, talking to a friend in Atlanta, I learned that it hasn't been. Maybe it's because there are always funny or scary sinkhole stories in the news.
Or maybe it's not sinkhole stories that are a glut, but stories of environmental Armageddon. 'Specially 'round our way.
Back in May of last year, authorities in Assumption Parish were alerted to areas of bubbling ground between Bayou Corne and Grand Bayou. Residents reported booms and seismic activity in the area and the parish requested assistance from the US Geological Survey, which confirmed the activity, but could not determine a possible cause.
On August 3, the cause became evident. With a great, reeking diesel fart, a section of the swamp sunk into part of the Napoleonville salt dome. Cleanup workers and parish emergency personnel began surveying the hole, a tough task, as the opening kept expanding. On August 16, two workers in a boat tied to a tree onshore had to be rescued as the the tree and the shore went in. At the time, the hole measured about 500 feet long by 650 wide.
The hole's a fixture now. It's got its own blog. Around eight acres now, it continues to expand. Another 5,000 square feet went in this week.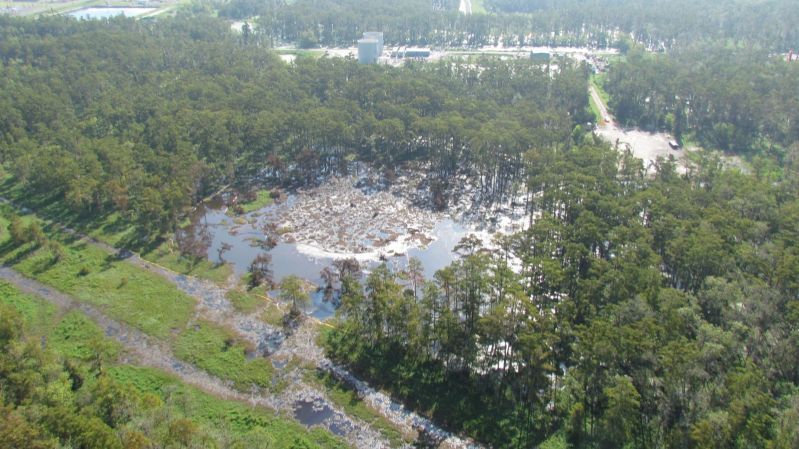 Credit: Assumption Parish Police Jury
Some developments have been surprising. Others are just sadly f'ing predictable, like evacuated residents being told their insurance was being cancelled because their homes had been vacant for more than 30 days. As ordered.
A small village of engineers, workers and equipment has sprung up next to the hole as parish and industry officials try to figure out how to stop it. Still, the hole looks likely to link up Bayou Corne and Grand Bayou before too long.
Along with the stuff in it. Which ain't lovely.
See, here in South Louisiana, we've been doubly blessed, or cursed, depending on your viewpoint. Not only do we have tremendous oil and gas resources, but there are also huge underground salt domes in which extracted oil, chemicals, spent drilling mud, all sorts of goo can be stored, which gives our industry an advantage over that of many other energy-hot locales.
Digging a wet hole is only the first step in making beaucoup bucks in the petro business. You've got to get the stuff to the refinery and then to market. In the meantime, you've got to store it someplace.
In places like, say, West Texas or the Persian Gulf, that means building storage capacity. With our salt domes, we can just stuff it in a hole and plug it up until we're ready to move it. No problem.
Usually.
This particular section of the Napoleonville dome had been leased by a company called Texas Brine, which plugged their lease in 2011 after 30 years of continuous use. Parish officials suspect the plugging process led to the collapse of the dome section, but company spokespersons understandably decline to embrace the theory--and the liabilities.

"There are some indications that it very well may have been connected, but there's just indications," Texas Brine Company spokesman Sonny Cranch told ABCNews.com. "There's nothing concrete that has connected the sinkhole to the cavern."
In the end, though, this is just one company, one lease, one hole. Our state's riddled with similar time bombs set by the drilling industry, the refining industry, the chemical industry, et cetera, et depressing cetera.
Anyone living in an area where fossil energy is extracted and processed has similar stories, from eyeless shrimp to fracked and flaming tap water to mountains of mine tailings coming down the crick.
And the stories will keep coming, so long as we're stuck in this 19th Century model of work and living.
Three years ago, writing about the effects of the Deepwater Horizon explosion and undersea gusher, I asked repeatedly a favor of y'all which I'll ask again today:
If you can, drive a little less. Turn off the lights when you leave the room. Reuse the plastic bags from the grocery.
I know none of that's going to close the hole, or even stop the next one.
The one after that? Who knows?