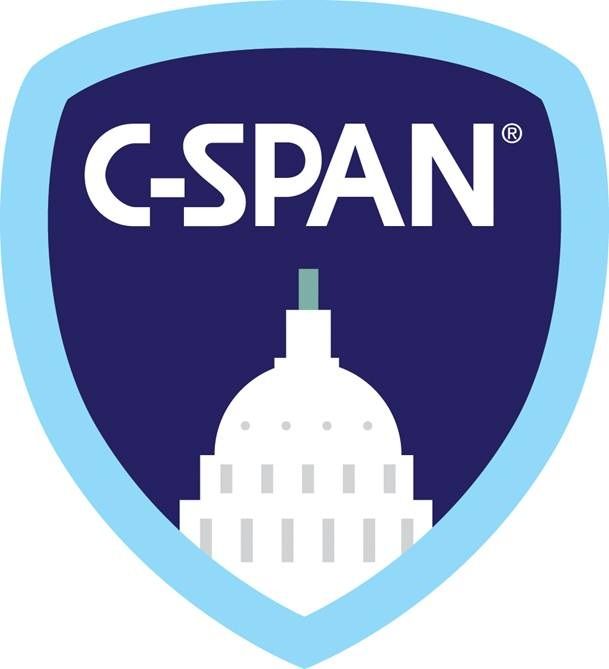 Update #8
C-Span is broadcasting live(see Livestream links here and here) will be rebroadcasting the massive Climate Change Rally that took place today in Washington, DC. It is being sponsored by the Sierra Club, Hip Hop Caucus, and 350.org.
Tune on C-Span at 6:30 pm EST or watch it online on your computer.

Senator Sheldon Whitehouse (D-RI) and Van Jones will be speaking at a climate change rally held on the National Mall. Organizers are expected to urge President Obama to begin his second term with energy policies that included limiting carbon emissions, utilizing renewable resources and rejecting the proposed Keystone XL pipeline.

Michael Brune ; Sierra Club Executive Director
Bill McKibben ; 350 . org President, Scholar at Middlebury College
Van Jones ; Rebuild the Dream President, NYT Best-Selling Author
U.S. Senator Sheldon Whitehouse ; Rhode Island
Maria T. Cardona ; Latinovations Founder, Dewey Square Group Principal
The Rev. Lennox Yearwood ; Hip Hop Caucus President and CEO
Chief Jacqueline Thomas ; Saik'uz First Nation
Crystal Lameman ; Beaver Lake Cree First Nations
--
Update #7
A statement was just released by the rally organizers
"Forward on Climate" Rally: More Than 35,000 Strong March on Washington for Climate Action

Washington, D.C., February 17, 2013 – Today, during President's Day weekend, more than 35,000 people are marching to the President's doorstep to support immediate action to contain climate change. People from more than 30 states across the country whose land, homes and health is being threatened by the climate crisis, as well as students, scientists, indigenous community members and many others are participating in this largest climate rally in U.S. history.

"For 25 years our government has basically ignored the climate crisis: now people in large numbers are finally demanding they get to work. We shouldn't have to be here—science should have decided our course long ago. But it takes a movement to stand up to all that money," said 350.org founder Bill McKibben...

"The Yinka Dene Alliance of British Columbia is seeing the harm from climate change to our peoples and our waters," said Chief Jacqueline Thomas, immediate past Chief of the Saik'uz First Nation in British Columbia and co-founder Yinka Dene Alliance ("People of the Earth"). "We see the threat of taking tar sands out of the Earth and bringing it through our territories and over our rivers. The harm being done to people in the tar sands region can no longer be Canada's dirty secret. We don't have the billions of dollars that industry has. But we do have our faith that people will do the right thing to protect Mother Earth. The Forward on Climate Rally shows that we are not alone in the fight to stop tar sands expansion and tackle climate change."
--
Important Update #6
- C-Span has already updated their archives and the coverage shown earlier today can be seen by
clicking this link
.
C-Span Video: Forward on Climate Rally, Feb 17, 2013 - one hour, 24 minutes

--
Important Update #5 - LIVESTREAM LINK #2
joanneleon posted another link (Global Revolution) in this comment below.

--
Important Update #4 - LIVESTREAM LINK #1
See this comment below by citisven for livestream link of the rally.

--
Important Update #3
-
Call Now!
- C-Span asked for viewers to also call in tomorrow morning.
C-Span is asking viewers to call in now. Lots of fantastic phone calls so far the past few minutes in support of the rally. The number for Democrats to call is (202) 585-3886). Let C-Span know what you think.

The event will be shown again later today on C-Span at 6:30 pm EST.

Update #1
The Keystone XL Tar Sands Climate Threat
The video co-released by the NRDC and 350.org today brings the message from these four experts.

It features Dr. Danny Harvey, professor at the University of Toronto who noted that "The human race is in big trouble. There is overwhelming scientific evidence that climate change is real. If Keystone is approved, we're locking in several more decades of fossil fuels and higher levels of carbon dioxide and global warming."

Dr. John Abraham, an Associate Professor at the University of St. Thomas said the exploitation of tar sands will significantly worsen the climate. "Climate change is the story related to Keystone. The drought and heat wave in Texas cost Texans $5.2 billion. Hurricane Sandy cost us $70 billion. Some people say it's too expensive to develop clean energy. I say it's too expensive not to. We can choose to expand clean energy or make the crazy choice to extract and use the dirtiest of the dirty."

Lorne Stockman, Research Director for Oil Change International announced new research that shows that the emissions from tar sands oil are worse than originally believed. This is because the climate emissions from a byproduct of tar sands, petroleum coke which is made in the refinery process and is used in coal-fired power plants, have not been previously considered.

Nathan Lemphers, a Senior Policy Analyst with the Pembina Institute talks about how Keystone XL is a critical ingredient to significant expansion of tar sands. He dispels the myth being promoted by the tar sands oil industry that tar sands development is inevitable with our without Keystone XL.

Update #2
For those of you without access to cable television news, you can watch all the channels for free on your computer. This is a perfectly legal way of doing so and I've been watching online for the past couple of years.
It is very possible that later on today, MSNBC or CNN will have coverage of this event which will last until 4:00 pm EST.

Never, Ever Pay Again for Cable TV


You can watch all cable news channels on your computer for free as well as hundreds of American tv and other channels from all over the world.

Not sure if it'll work while logging on from other countries. Bookmark the links.


Try the wwitv.com link first. Scroll down and look for MSNBC under the USA channels.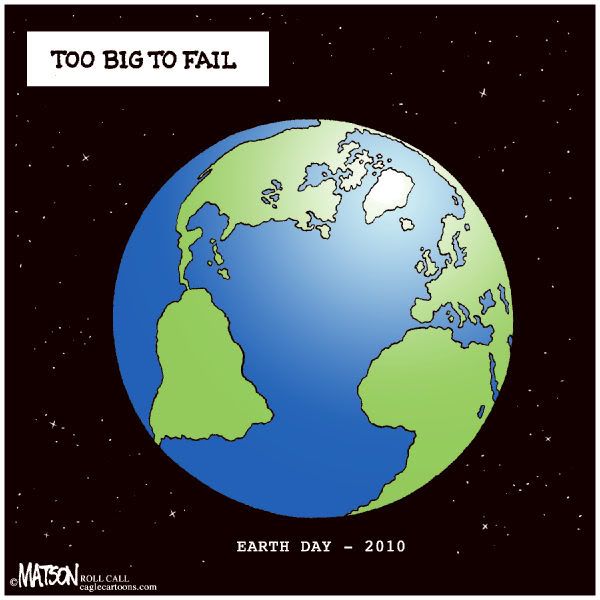 Climate Change is the mother of all public policy issues facing the planet. In its unique way, each diary posted over the past few days shed light on a variety of problems confronting Mother Earth. We, supposedly its stewards, are doing one hell of a good job destroying it. The time has come for all of us - politicians and constituents alike - to oppose entrenched interests, raise our collective voices in protest, and demand real change. Absent that, not much will happen.
This week, we saw almost thirty diaries posted by elected officials, environmental activists, and Daily Kos diarists. Numerous others contributed to this effort by making invaluable suggestions through diary comments, Kosmail, and email.
Here is the complete list of diaries posted this week
"Forward On Climate" Blogathon: February 11 - February 15, 2013
Diary Schedule - All Times Pacific
---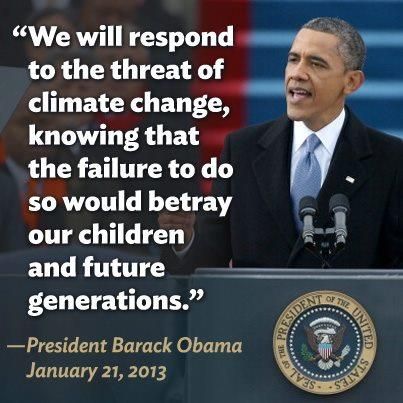 IT IS TIME TO TAKE A STAND
Please join tens of thousands of Americans on the National Mall in Washington, DC on Feb. 17 from 12:00 pm-4:00 pm to urge President Barack Obama to take immediate action on Climate Change.
President Obama has now listed Climate Change as an important part of his second term agenda. Legislative proposals and debate will occur in Congress. President Obama can take executive action to move Forward on Climate now; he can reject the toxic Keystone XL tar sands pipeline. A recent study in Canada has linked tar sands with cancer, something First Nations groups have reported for years - with the result being increased cancer rates, deformed wildlife, and a variety of other negative impacts. President Obama can also direct the Environmental Protection Agency to set carbon standards for power plants.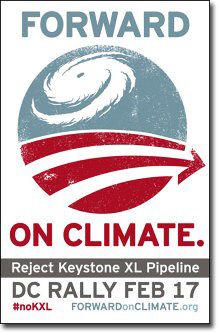 Let your voice be heard.
SIGN UP TO SUPPORT THE "FORWARD ON CLIMATE" RALLY IN WASHINGTON, DC ON FEBRUARY 17TH
Our Daily Kos community organizers (Patriot Daily News Clearinghouse, citisven, boatsie, JekyllnHyde, rb137, and peregrine kate) coordinated this blogathon with Bill McKibben of 350.org to help spread the word.
---
7:30 am: Keystone XL pipeline is not in the U.S. National Interest by A Siegel.
11:00 am: Forward on Climate: Time to Take a Stand! by citisven.
1:00 pm: Keystone XL Would Feed Superstorm Risk by Shaye Wolf, Climate Science Director for Center for Biological Diversity.
3:00 pm: Van Jones, President and Co-Founder of Rebuild the Dream. (will be rescheduled)
4:00 pm: Forward on Climate: 350 Silicon Valley...A Call to Action by Glen the Plumber.
5:00 pm: The Frog in the Boiling Water is Singing Outside My Window - Climate Change in a Microcosm by Kitsap River.
7:00 am: Climate Change SOS: Alberta Tar Sands: Canada dumped its Kyoto targets by Roger Fox.
11:00 am: Why We March by Allison Fisher, Outreach Director for Public Citizen's Energy Program.
1:00 pm: We Did Not Come This Far to Turn Around Now #ForwardOnClimate by Rev. Lennox Yearwood Jr., President of the Hip Hop Caucus.
3:00 pm: The Credibility of the Anti-Climate Change Science Industry by gregladen.
5:00 pm: Don't Date Denialists! — Relationship Advice From The Climate Letter Project (and more!) by WarrenS.
5:00 am: Tar Sands: Muskeg Destruction is more than a methane GHG bomb by Roger Fox.
5:00 am: BREAKING: WH arrests to come: Civil Disobedience Action on Keystone XL today by A Siegel.
7:00 am: What Obama can do on Climate Change without congress; because republicans by beach babe in fl.
1:00 pm: Forward on Climate: The Climate Cliff by Congressman Ed Markey, Democratic Candidate for 2013 United States Senate MA Special Election.
1:30 pm: Notes from the paddywagon: Keystone is the test by Bill McKibben.
2:00 pm: Tar Sands to consume all conventional natural gas reserves in Canada and Alaska by Roger Fox.
3:00 pm: The Gulf Stream Stalled, Sea Level Rose & the East Coast Flooded in November 2012 by FishOutofWater.
11:00 am: Canada's Tar Sands: All Dressed up and No Place to Go? by Kelly Rigg, Executive Director of the Global Campaign for Climate Action.
1:00 pm: Forward on Climate: The Problem with Novel Technologies by rb137.
3:00 pm: Forward on Climate: The Ringwraiths of Despair by James Wells.
5:00 pm: Forward on Climate: Divestment, Action, & Change by jlms qkw.
10:00 am: Why People of Color Should Care about the Keystone Pipeline by Phaedra Ellis-Lamkins, Chief Executive Officer of Green For All.
11:00 am: Forward on Climate: The Tar Sands Ecocide NEEDS the Keystone XL! by Agathena.
11:00 am: A Climate Crisis by Senator Bernie Sanders (D-VT), Member of the United States Senate Committee on Environment and Public Works.
12:00 pm: Marty Cobenais (Ojibwe), U.S. Pipeline & Heavy Haul Resistance Organizer for Indigenous Environmental Network. Liveblogging with Tom Goldtooth (Dine' and Dakota), Executive Director of IEN and Oglala Sioux Tribal Vice President Tom Poor Bear. (will be rescheduled)
1:00 pm: Climate Change is Here, Now by Senator Ben Cardin (D-MD), Member of the United States Senate Committee on Environment and Public Works.
3:00 pm: Forward on Climate: Canada's reckless environmental policies by DWG.
5:00 pm: Forward on Climate: Doing the Impossible by James Wells.
---
Please remember to republish these diaries to your Daily Kos Groups. You can also follow all postings by clicking this link for the Climate Change SOS Blogathon Group. Then, click 'Follow' and that will make all postings show up in 'My Stream' of your Daily Kos page.
"Forward On Climate" Rally - February 17, 2013, 12:00 pm, Washington, DC

---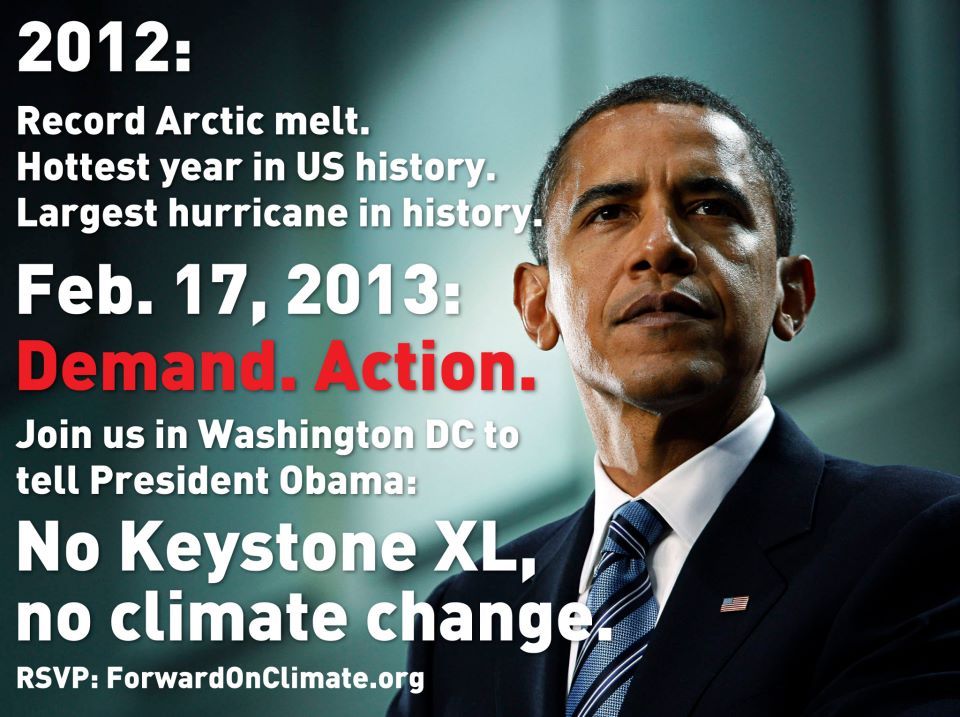 Link - feel free to post on your Facebook pages.
There are Kossack Meet-ups Coinciding with Forward on Climate Rally. Send eeff a kosmail if you're interested in connecting the night before or the night of the event. Check New Day diaries for the latest updates and RSVPs.
Also, if you're trying to hitch a ride to Washington D.C. from other places around the country, check the Sierra Club's excellent bus list.