Not a comprehensive look at professional wrestling ..... just simply some recollections of a guilty pleasure from my mis-spent youth, after the jump ....
But first: Top Comments appears nightly, as a round-up of the best comments on Daily Kos. Surely you come across comments daily that are perceptive, apropos and .. well, perhaps even humorous. But they are more meaningful if they're well-known ... which is where you come in (especially in diaries/stories receiving little attention).

Send your nominations to TopComments at gmail dot com by 9:30 PM Eastern Time nightly, or by our KosMail message board. Please indicate (a) why you liked the comment, and (b) your Dkos user name (to properly credit you) as well as a link to the comment itself.
Whenever myself and my brother would watch professional wrestling in our youth, our Dad would shake his head and ask,
"Don't you boys know that's fake?"
Our reply went along the lines of
"C'mon, Dad, tell us something that we don't know".
As noted, this is not a comprehensive history, but just some notes on its history here in North America, and my own relationship to it.
Though I wasn't any good at it, I always liked amateur wrestling - even wrote a Top Comments feature on its most celebrated figure last year. But it was a real sport, which placed it alongside team sports. Professional wrestling, though, was entertainment.
Though we never discussed it, my brother and I (and later my best friend) always rooted for the villains in professional wrestling. I attribute it to two factors: (a) we were nice, suburban boys raised by a gentle father ... who lived vicariously through the villains (or "heel" wrestlers, in the league parlance). And secondly, since management wanted you to support the heroes (or "face" - short for babyface - wrestlers) ... well, we wanted to rebel against the authorities. In fact, during those pre-cable days, we were so desperate to get more wrestling, we installed a UHF antennae on our roof ... hoping we could pick-up some Spanish language programs. (It didn't work, alas).
I think other reasons why we liked it were watching the little old ladies with umbrellas yelling at the villains - who may have been among the few who believed it was on the up-and-up. I had a part-time job (at an insurance company) while attending college, and recall one of the 30-something underwriters rolling his eyes at Esther (an elderly file clerk) as she complained about the under-handed tactics used by a wrestler against her favorite. I chimed in with, "But Lee, you don't understand: the referee didn't see it!" ... which brought an amused "Oh, really?" laugh from him. People such as Esther were among the few that didn't accept the show was scripted.
And that's why wrestling in the 1960's to mid-1980's was such a hoot: it was cheesy, didn't pretend to be anything else and was happy to be so. It changed later on, which will be discussed ..... but first, a quick look at history.
----------------------------------------------------------------------
Most accounts seem to attribute its origins to started out as petty acts in sideshows, traveling circuses and carnivals which caught on as pure theater so well that it developed into its own acts. It was all loosely-knit until 1901, when the National Wrestling Association was formed, which did have a unified championship. Still, wrestling tended to be regionally-based.
After World War II, formal regional leagues came into being. These included:
National Wrestling Alliance or the NWA (very strong in the Southeast).

The American Wrestling Alliance or AWA (based in the Midwest).

The World Wrestling Federation based in the Northeast (or WWF).
There were also prominent leagues in Florida, California, etc. But all had a gentleman's agreement - do not poach upon each other's territory. They did have some cross-sectional championships, but mostly the arrangements held.
Television helped popularize wrestling: from 1948 to 1955, each of the major television networks broadcast wrestling shows - the largest supporter being the long-since defunct DuMont Television Network - because it was cheap and easy to sell. But it became vastly overexposed, and soon only local stations (broadcasting local leagues) became the norm. And so wrestling's voyage into a national audience was short-lived. Or ... so we thought.
It was during this time that I - as a Northeast resident - started to watch wrestling. But we were limited to who was on showcase then. Some of the names I recall were Bobo Brazil, Walter "Killer" Kowalski, Professor Toru Tanaka (and his tag-team partner, Mr. Fuji), Black Jack Lanza and numerous others.
But it was through the various wrestling magazines that we learned of wrestlers afar, and wished we could see them, too. Perhaps the wrestler we most admired from afar was Baron Von Raschke - whose real last name, interestingly, was Raschke - but who by the time he finally came east ..... had been made-over into a hero wrestler. Yikes.
We felt that the on-air wrestling interviews were often more entertaining than the matches themselves. This is where the villain wrestlers shone; rather than the heroes who had to give standard "I respect my opponents" lines to the host. Baron Von Raschke, in fact, came up with a classic line spontaneously. Not being able to see the clock (due to lighting issues) and concerned he might be running late: for a question he didn't entirely hear he responded, "Dat .. is all da people need to know" and then storming off to the next match. The producers told him to use that line, to his surprise, after he couldn't recall it.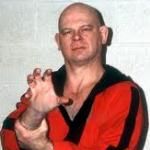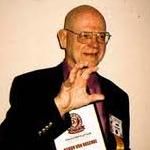 The advent of wide-spread cable TV in the 1980's caused a Back to the Future moment. The WWF under the leadership of Vince McMahon, Jr. (photo left) who had bought-out his father Vince Sr. (center photo) in the 1960's (and is married to two-time losing Senate candidate Linda McMahon, photo right) decided to "go national" not only on TV, but also raiding other leagues.
Vince McMahon also did one other significant thing in the 1990's: he admitted publicly that wrestling matches were scripted. Partly this was done to obtain lighter regulation from state athletic commissions (which had some success) and also it allowed for more outlandish scripts and more compelling television. This eventually led to the changing of the league's name to World Wrestling Entertainment - no longer needing to maintain the pretense.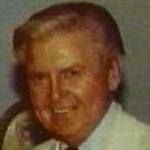 Before long, there were really only two wrestling leagues: the WWE and Ted Turner's WCW that lasted from 1998-2001 ... but was eventually bought-out by Vince McMahon.
By the time I finally relocated to an area that had cable TV (in 1987), I had started to lose interest in wrestling. Not only from turning age 30, but because there were some trends in wrestling I didn't like. There used to be a clear demarcation between good and bad-guy wrestlers (and I always cheered-on the villains). Then the lines became blurred .... and lost its lustre. Mostly, though, it was because wrestling went from being cheesy to being ... hip. When Cyndi Lauper was a featured guest, when there were wrestling action figures and ice cream bars ... well, I dropped out.
My brother Pat stayed on for several years, until admitting to me that it was when the shows became too sexist and racist in the 1990's and beyond that he became embarrassed (especially after having a daughter). Add to that the deaths that have occurred to its wrestlers, poor health care available to them as well ..... and so it's no wonder that Linda McMahon - while having a fortune to spend on running for the US Senate from Connecticut - had to answer for an awful lot that her family's league put on.
----------------------------------------------------------------------
Still, there are some final aspects I'd like to touch on. First, there are numerous small, independent leagues that exist today - perhaps putting on shows at a gym near you.
Secondly, wrestling in the Spanish-speaking market - where it is called Lucha Libre - still sticks (by-and-large) to its old story-line, with masked wrestlers a particular draw. Jack Black once starred in a film called Nacho Libre - and while there is not a single original thought in the film: it's not a bad flick to watch .. if you check your brains at the door.
And there are two names from wrestling that made a larger impact on the world around us. Like many of you, I was shocked when the state of Minnesota elected as governor Jesse Ventura - I have to say that "The Body" was a funny, flamboyant wrestler, and quite entertaining as Vince McMahon's color commentator on matches. He didn't last more than one term, of course.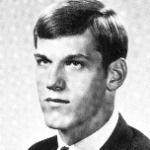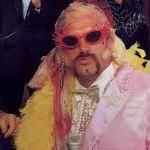 And finally .... Captain Lou Albano - the best interview subject I have ever seen. He was a wrestler before my time (in the early 1960's) as part of a tag team with Tony Altomare (photo left, Lou on the right) as part of The Sicilians - then became a manager of (as he proudly said) twelve tag-team champions. He became famous outside the wrestling scene as the angry father in Cyndi Lauper's Girls Just Wanna Have Fun - and later, the rock band NRBQ even hired him as a "manager", with Terry Adams saying "The Captain knows how to handle things". Near the end of his tenure, he was changed into a "good guy" manager, which is usually the kiss-of-death for me ...... but he was just so damn entertaining, and at his death in 2009 .... I could only recall the fun times watching him.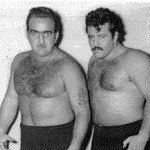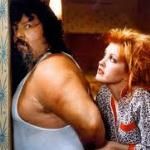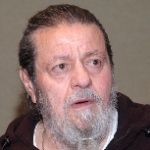 I'll close with the song that NRBQ wrote for him, called Captain Lou - and below you can hear it. As the chorus asks us to do: I will indeed "Stick with the Guiding Light".

Some say the man's not wrapped too tight
But when he's on the scene, everything's alright
Captain Lou, Captain Lou Albano

With a man of a thousand faces,
I know we'll be goin' places
I'm gonna stick with "The Guiding Light,"
Captain Lou, Captain Lou Albano

Lou don't worry 'cuz it's figured in
And he's got sharp teeth like Rin Tin Tin
Captain Lou, Captain Lou Albano

With a man of a thousand faces,
I know we'll be goin' places
Let's all stick with the "Guiding Light"
Captain Lou, Captain Lou Albano
Now, on to Top Comments:
-------------------------------------
From Melanie in IA:
In the diary by NeverThere about the NRA's David Keene attempting to show some flexibility - grover provides a description of the dangers of hammers, and why there are so many hammer deaths in the US.
From
Noddy:
In the front-page story about how Chuck Grassley would appear to be making a pro-choice argument - ht dave wonders about the order of things that follow.
From
BeninSC:
I liked this comment from theKgirls on Chuck Grassley's hypocrisy, in Kaili Joy Gray's fine diary about his inadvertent pro-choice comments.
From
Dallasdoc:
In the diary by ericlewis0 about a report of a possible reason for the resignation of Pope Benedict - Gordon20024 has some fabulous compliments on soon-to-be-ex-Pope Ratzi's judgment.
And from
Ed Tracey
, your faithful correspondent this evening ........
In the front-page story about former senator Pete Domenici's love child, ApacheTrout gets us caught-up with the family values that Pete always preached.

Then, OrdinaryIowan goes on to name-drop some of our other world-class adulterer hypocrites.
TOP PHOTOS
February 20, 2013
Next - enjoy jotter's wonderful PictureQuilt™ below. Just click on the picture and it will magically take you to the comment that features that photo.


(NOTE: Any missing images in the Quilt were removed because (a) they were from an unapproved source that somehow snuck through in the comments, or (b) it was an image from the DailyKos Image Library which didn't have permissions set to allow others to use it.)
And lastly: yesterday's Top Mojo - mega-mojo to the intrepid mik ...... who rescued this feature from oblivion:

1) Given my experiences with gamers, by allergywoman — 110
2) Wow, I hope she wins! by Heavy Mettle — 107
3) His hypocrisy scorched Democrats to the bone by bronte17 — 104
4) Our Chocolate Lab / Miss Molly / 2001-2013 by Common Sense Mainer — 102
5) That is the kind of joke that even racists by commonmass — 94
6) The old "everybody else is doing it" defense? by Catte Nappe — 92
7) If the truth hurts, we should still hear it. by YucatanMan — 83
8) Posting early this morning. by Bill in Portland Maine — 82
9) Has Orly certified this yet? by jalapeno — 82
10) It's my whoredom and sword that is keeping me by zett — 81
11) These are hilarious by hnichols — 80
12) Farewell, Miss Molly by Debbie in ME — 75
13) The tougher he gets on these bozos, the more by elwior — 74
14) Indeed. I can relate. by brooklynbadboy — 74
15) In a word, yes by Land of Enchantment — 70
16) Oooh, no need to make new law for this bit by Catte Nappe — 70
17) If Part 1 offended you so much by Puddytat — 69
18) what ? by greenbird — 69
19) I click on the Greenwald link at the bottom of.... by bobswern — 68
20) This is why the WH blocked access... by Jacoby Jonze — 68
21) Handsome papa by pat of butter in a sea of grits — 68
22) I walked my wife through naturalization. Getting by oldpotsmuggler — 67
23) That tea party person needs to change churches by hayden — 67
24) Any employer stupid enough to... by quiet in NC — 66
25) You do have an inalienable right by homunq — 65
26) Thanks, MB by navajo — 64
27) Book 'em, Danno by Karl Rover — 63
28) And yes by kos — 63
29) Nice way to refer to your adult son ... by Yellow Canary — 63
30) Breath taking stupidity of the Tea Baggers by Boston Beans — 62
31) And the good news is that as deep a hole as the by elwior — 62